2019-2021 Kitchen Design Contest Entries
2019-2021 Kitchen Design Contest Global Winner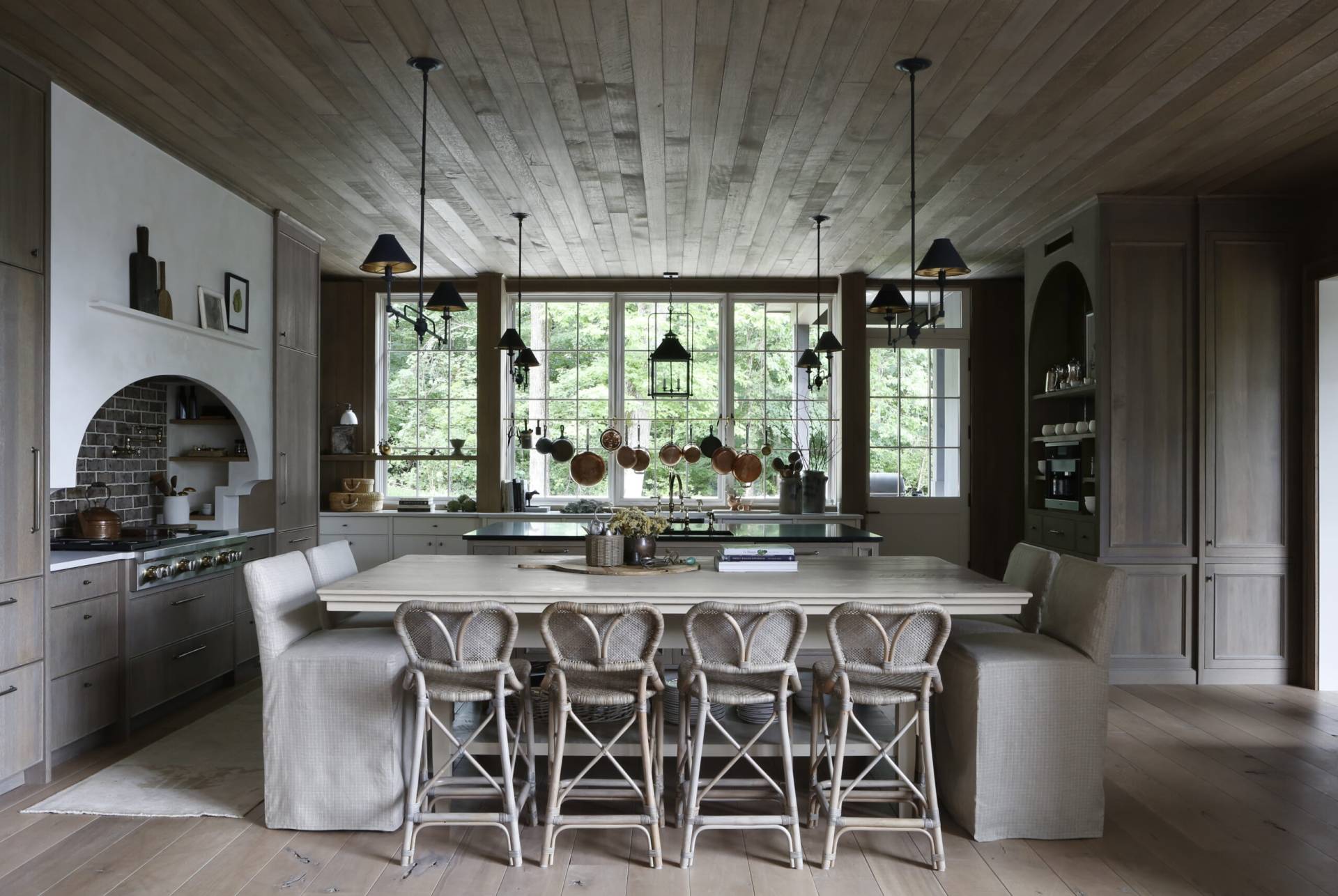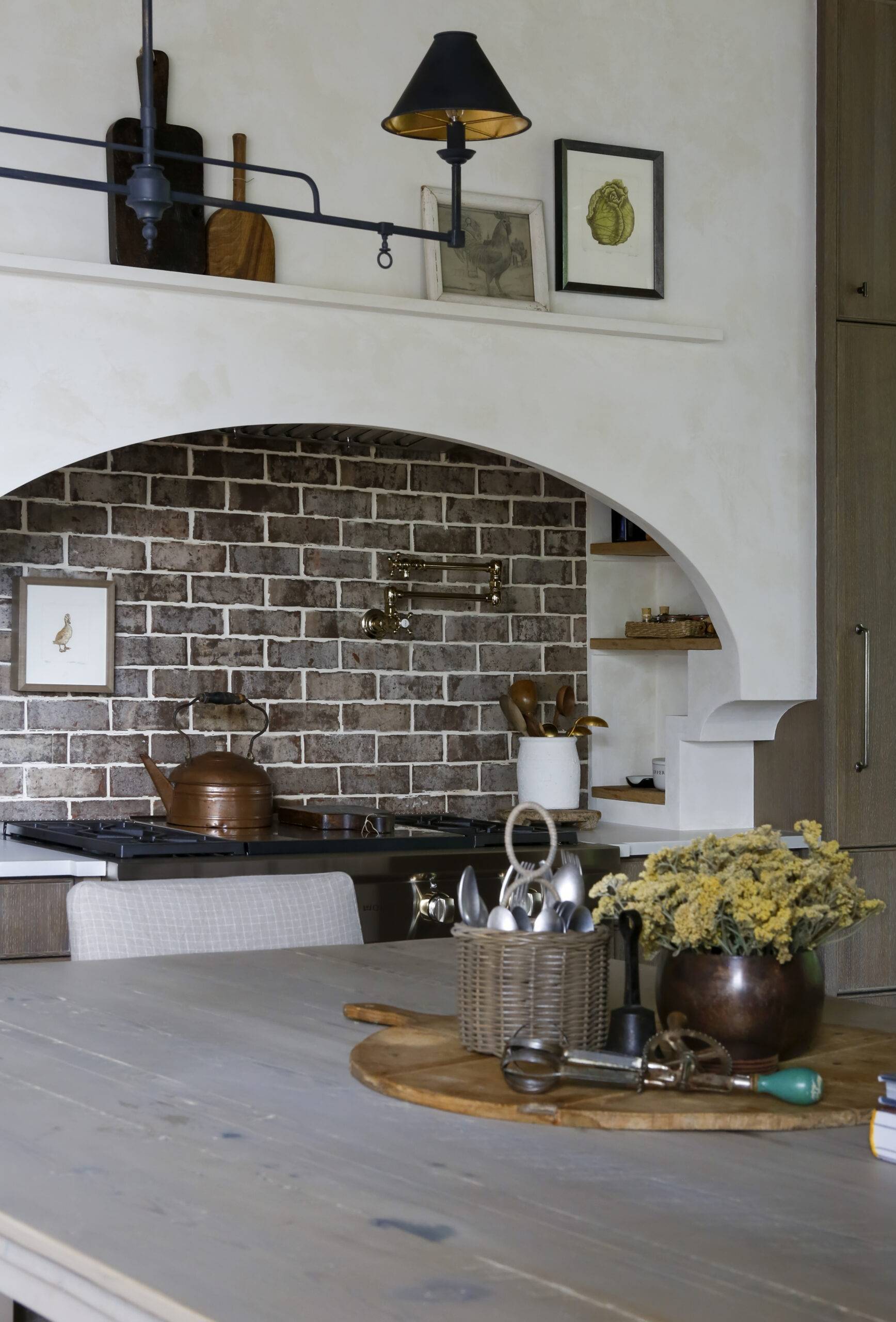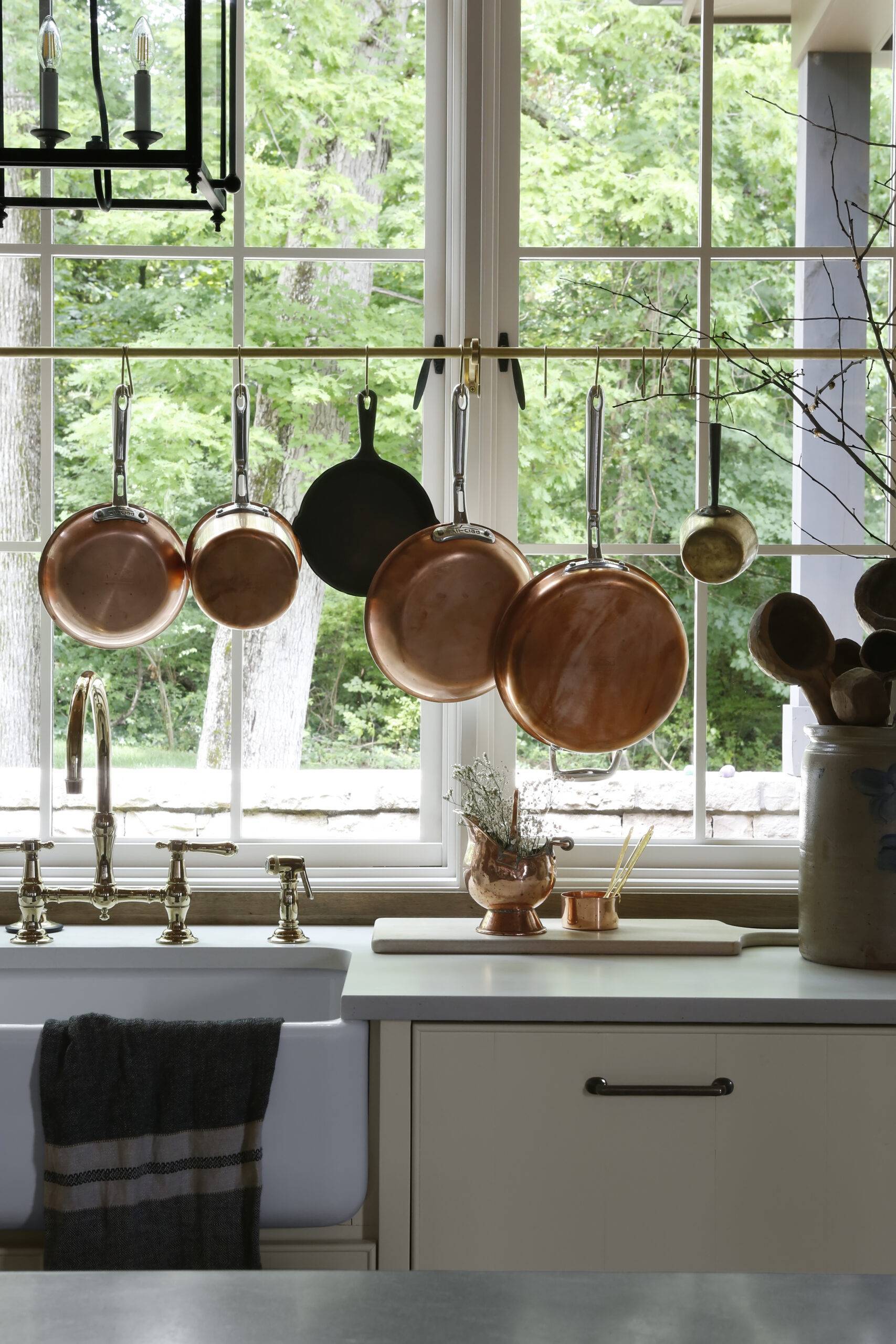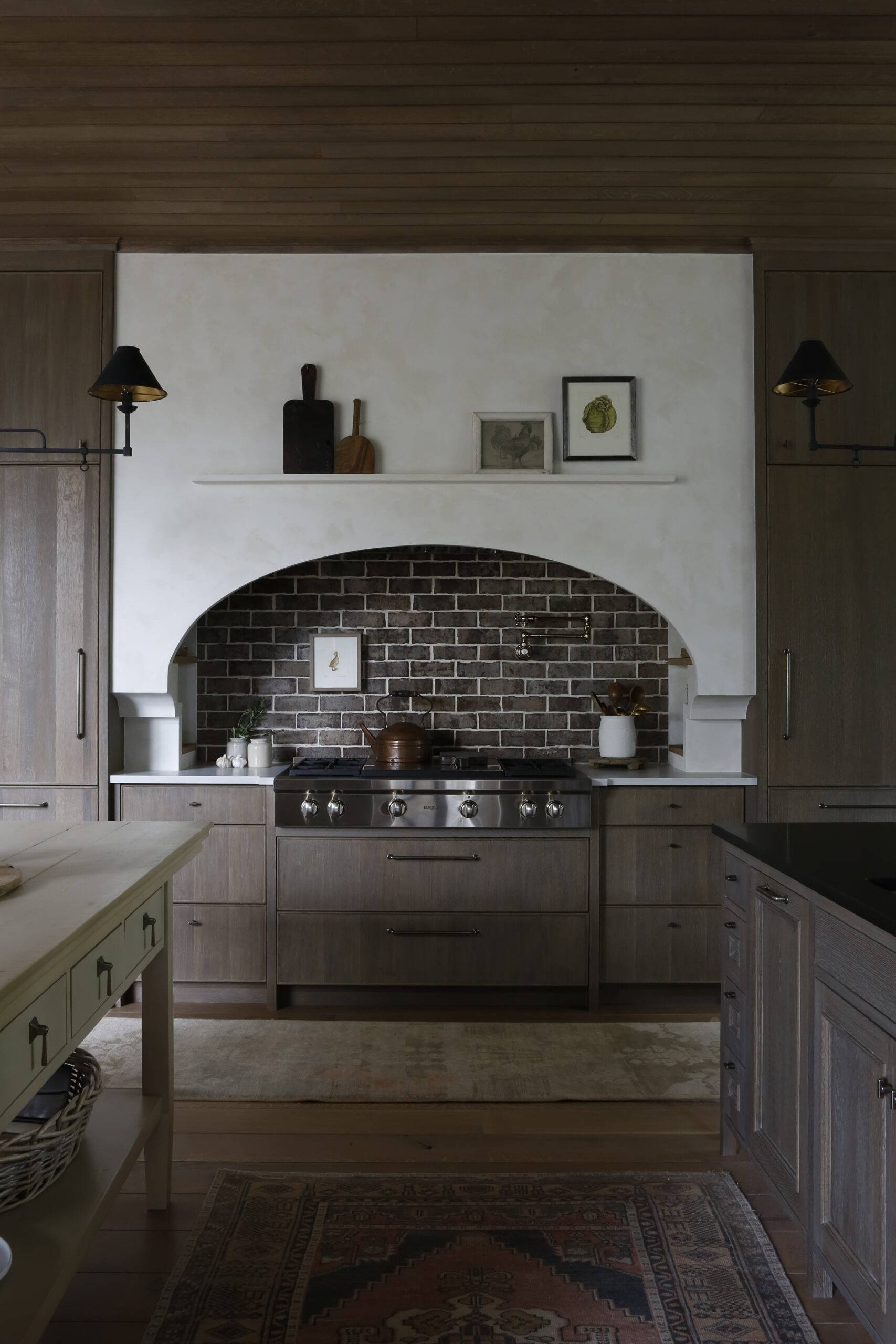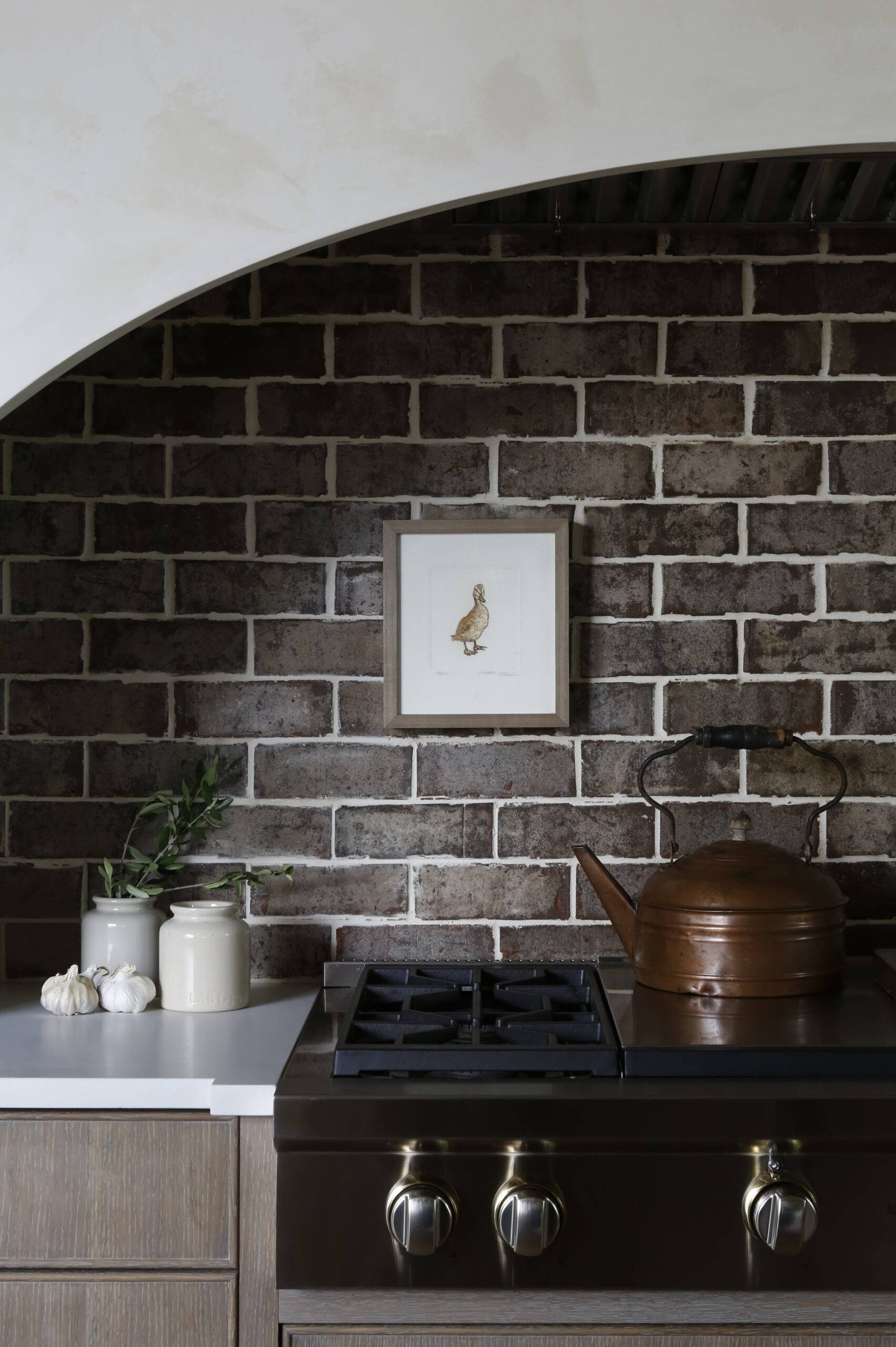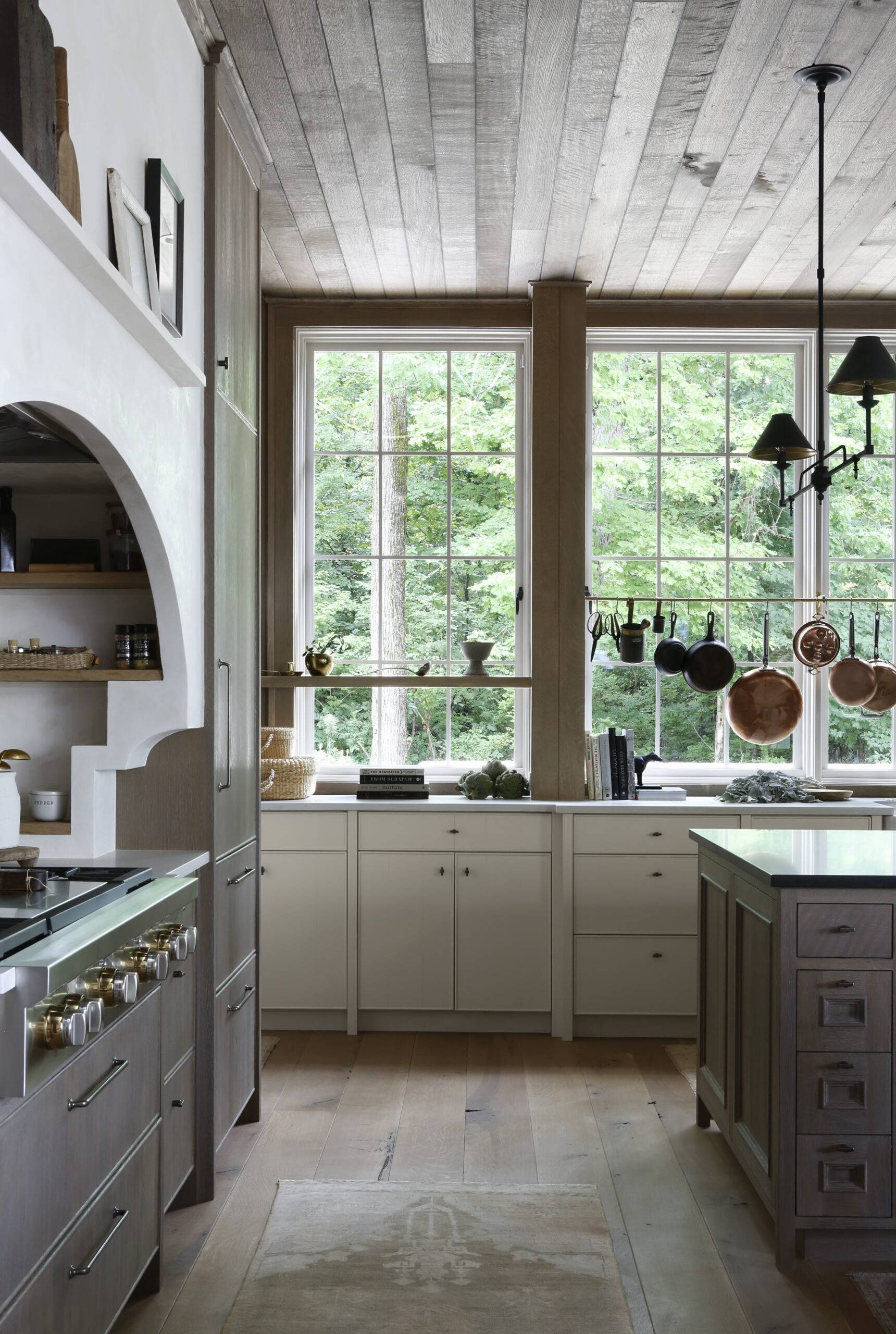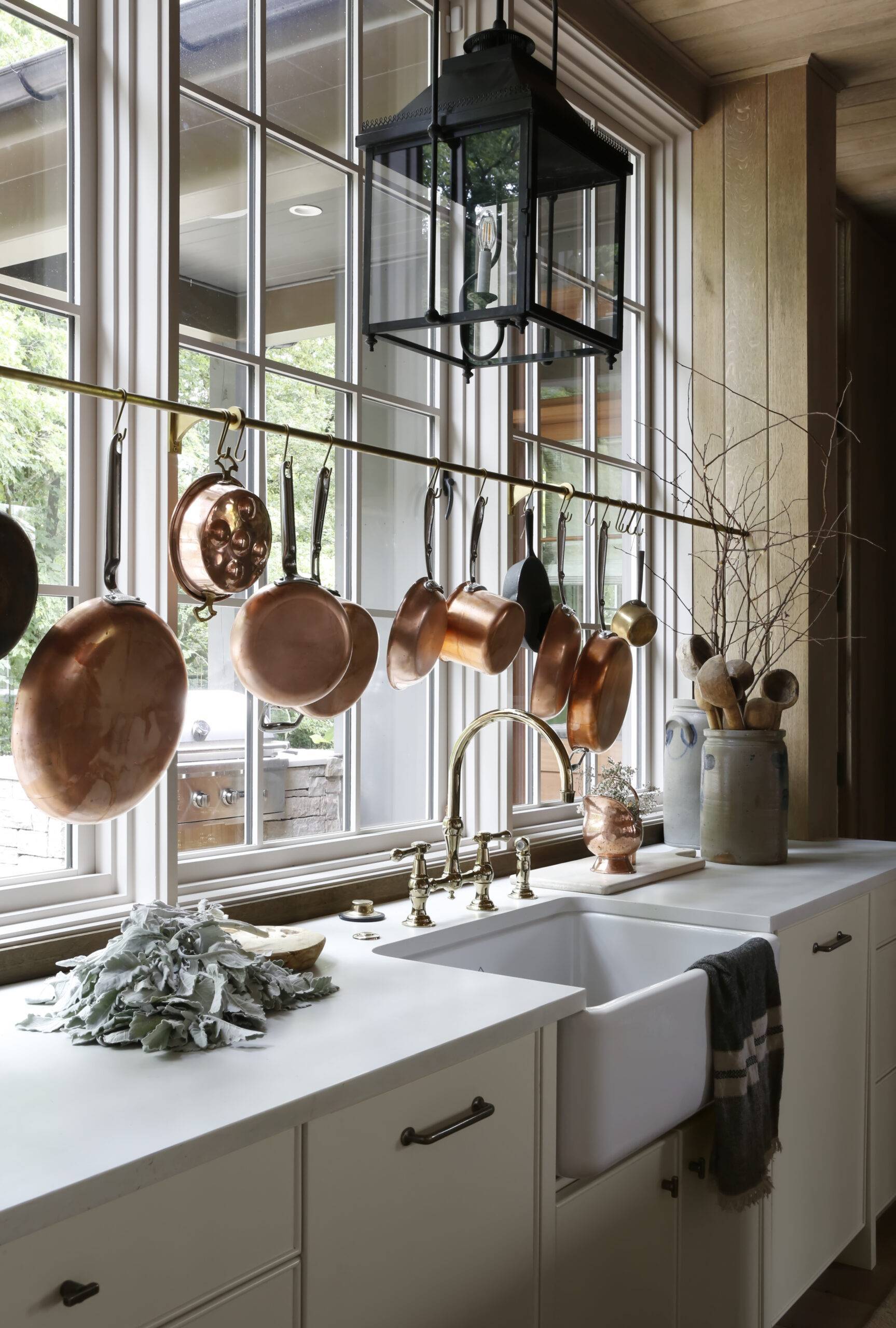 With extended families within miles of their home plus a growing family of their own, these homeowners wanted, or rather needed, a kitchen to accommodate large groups. "I really wanted it to feel like our grandparents' homes," said the homeowner, "where family and friends would gather for Sunday night dinners and birthday parties and life's special moments". Overall, they wanted the kitchen, the heart of their home, to feel cozy, wrapping each person who steps inside "in a hug".
PFEFFER TORODE ARCHITECTURE
2019-2021 Kitchen Design Contest
Amy Kreutz | Conceptual kitchens & Millwork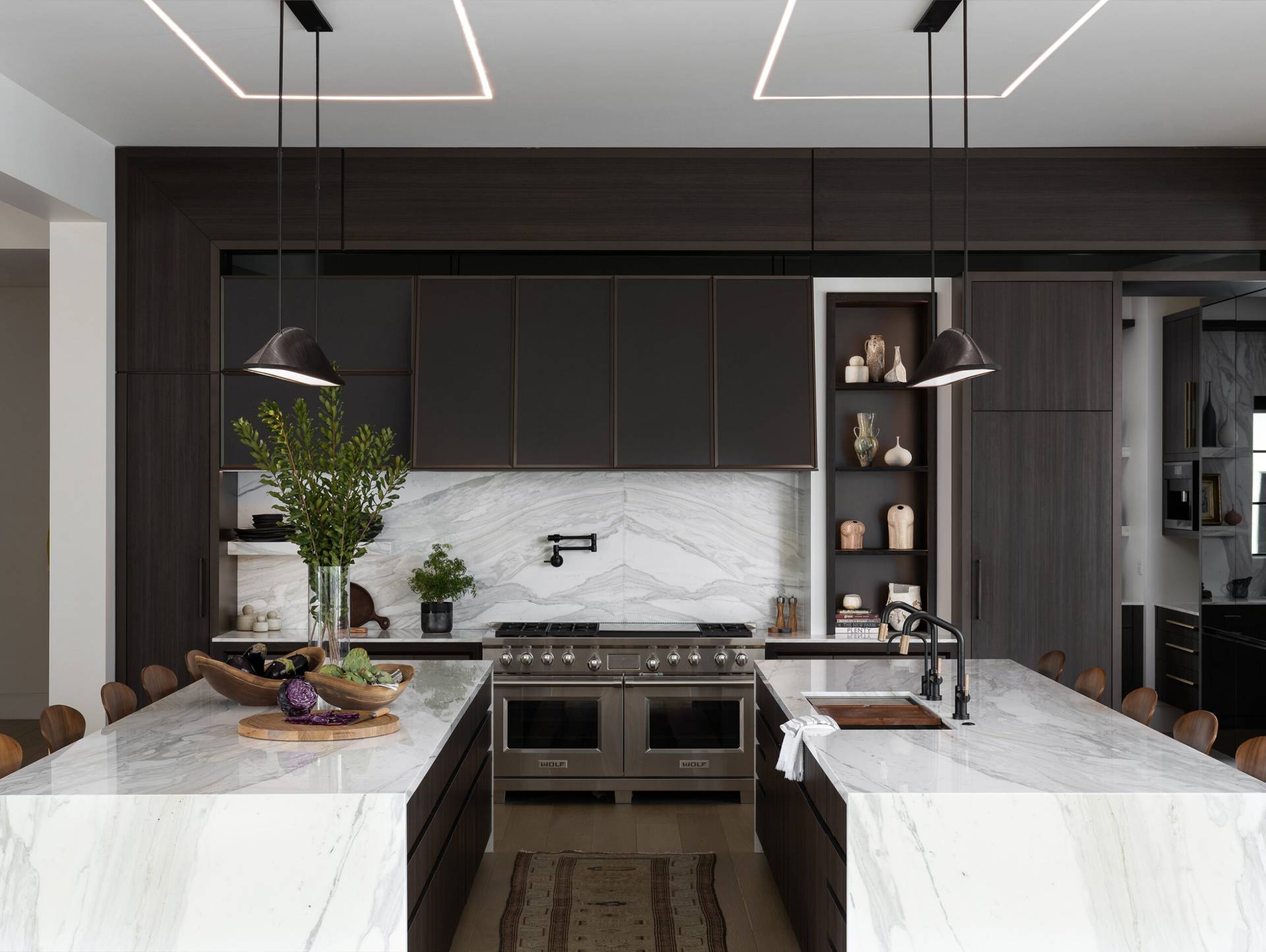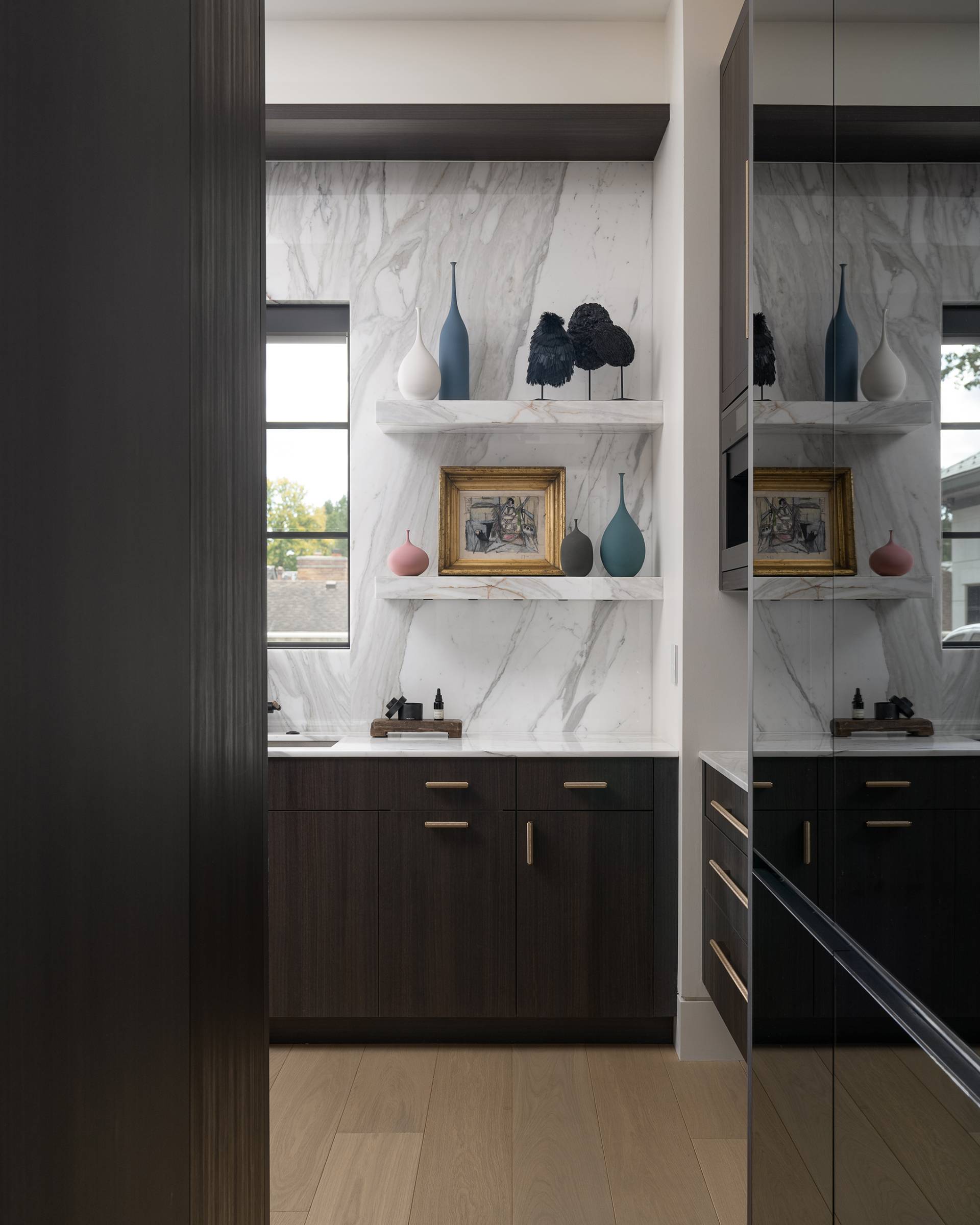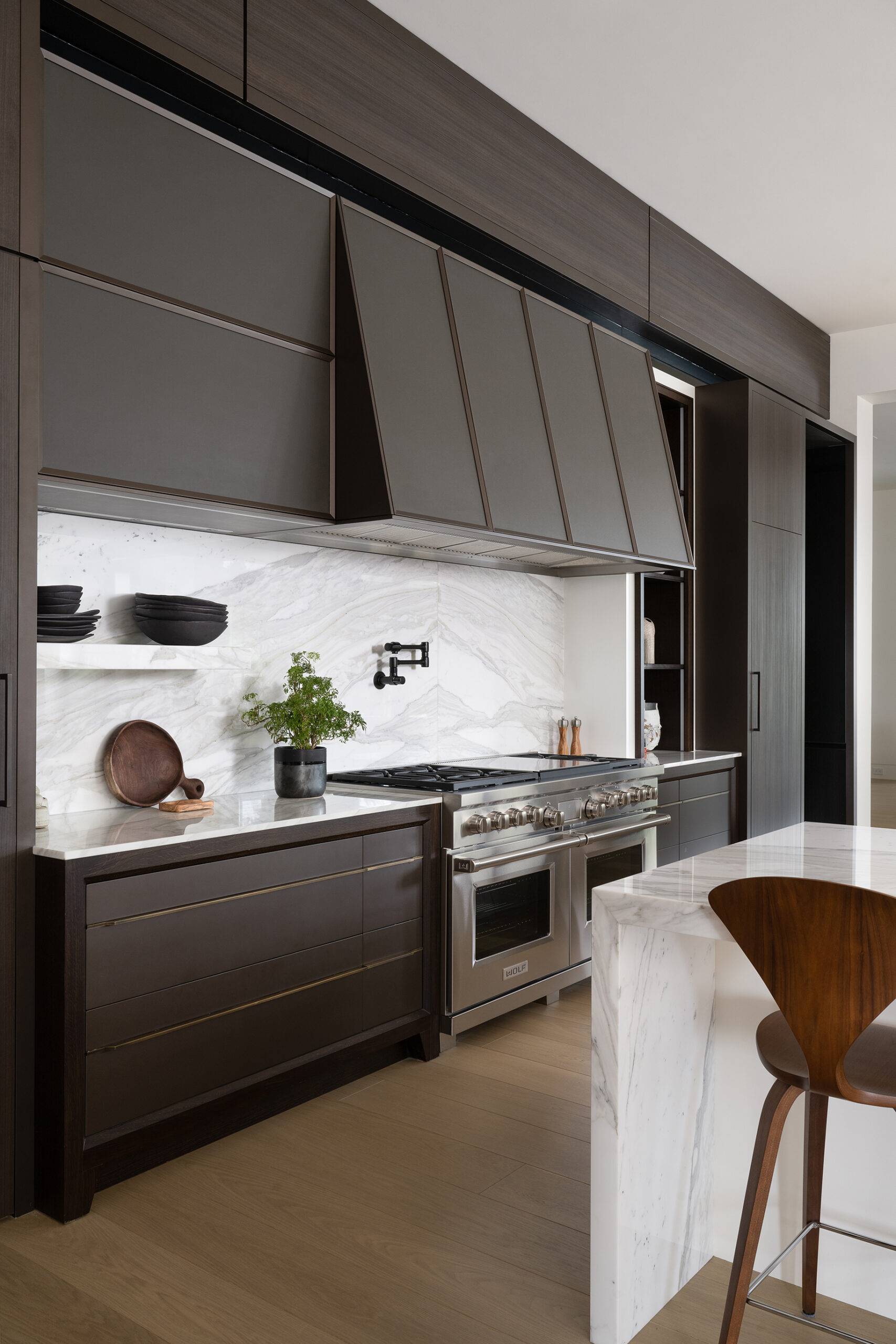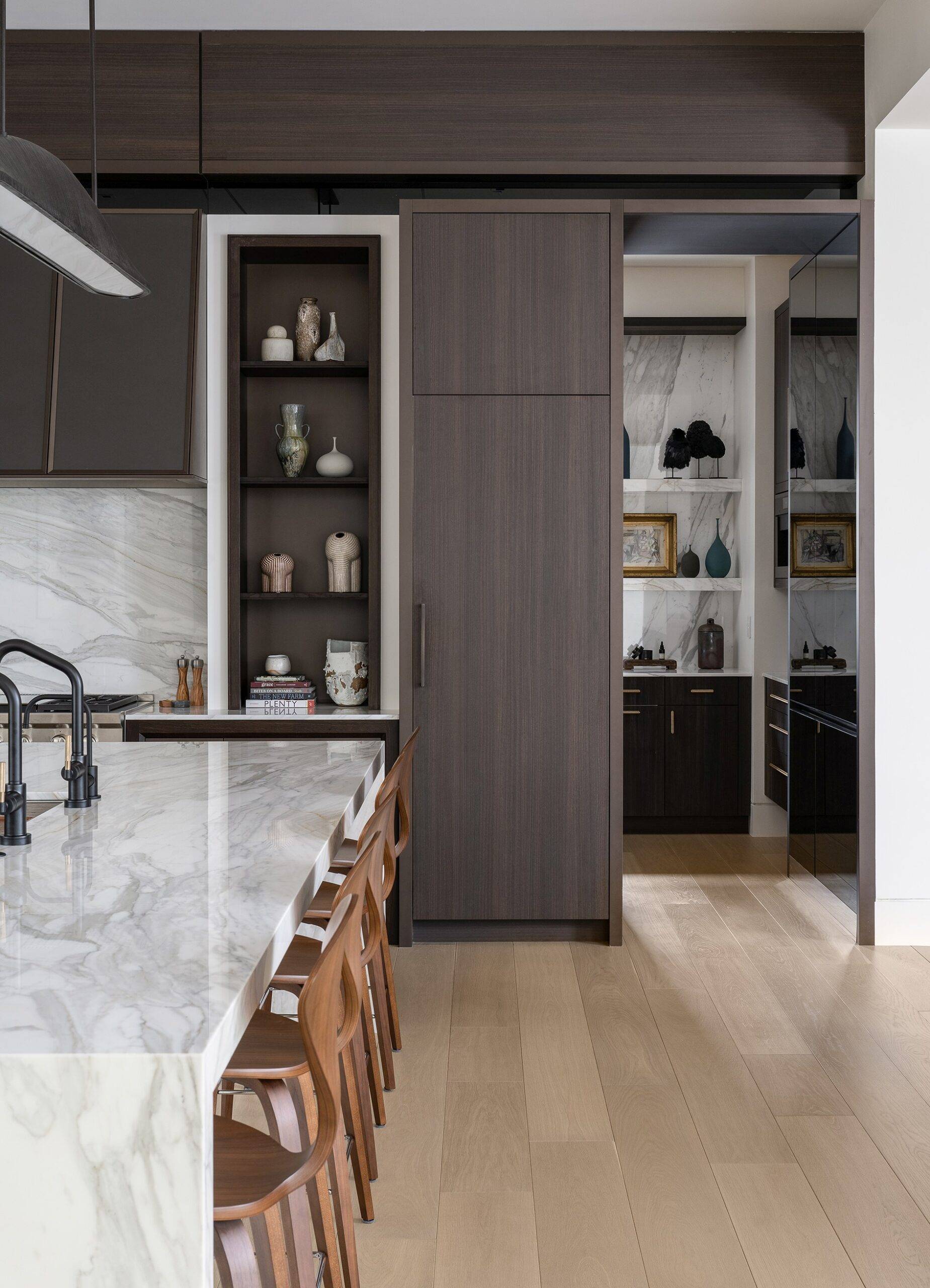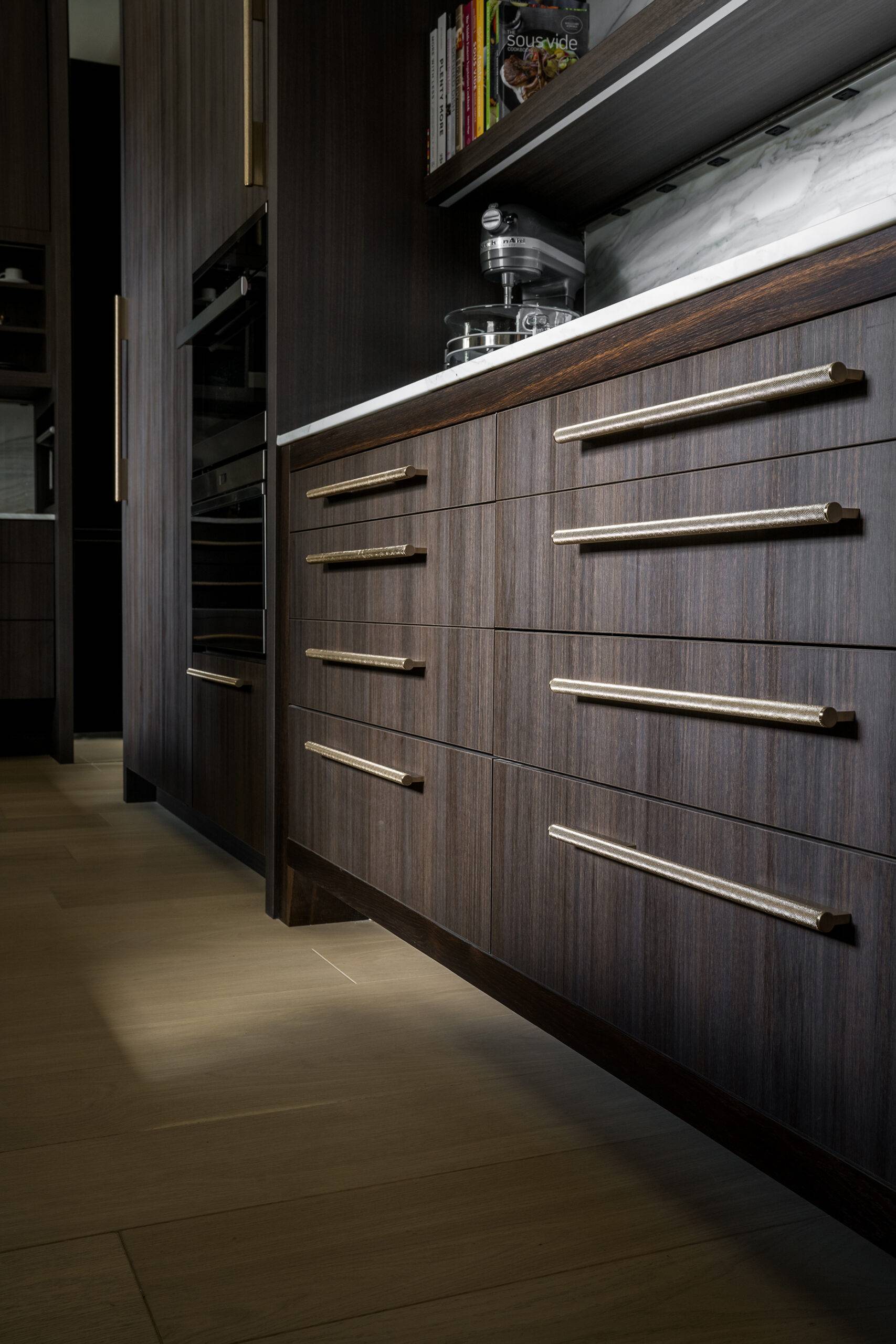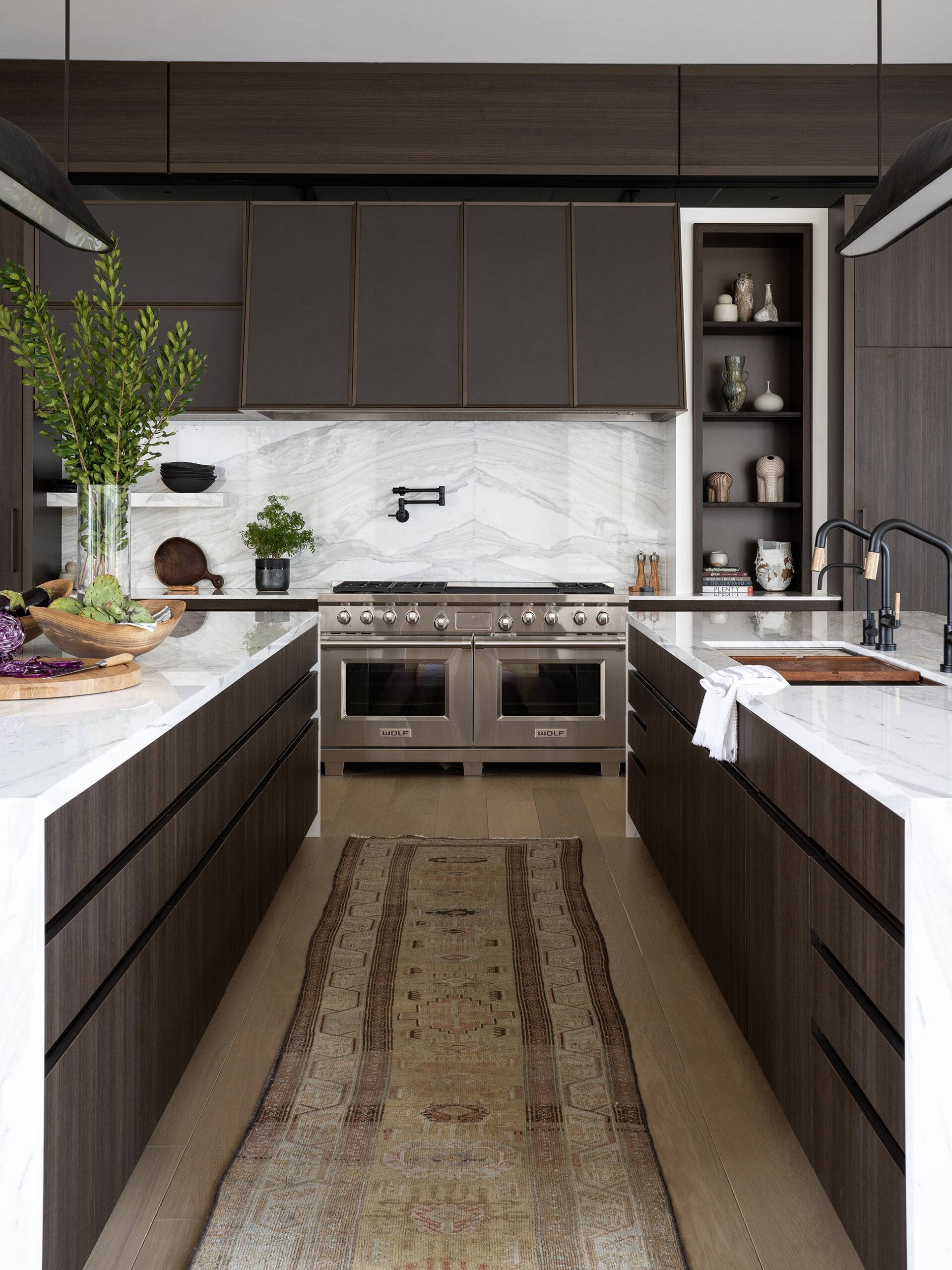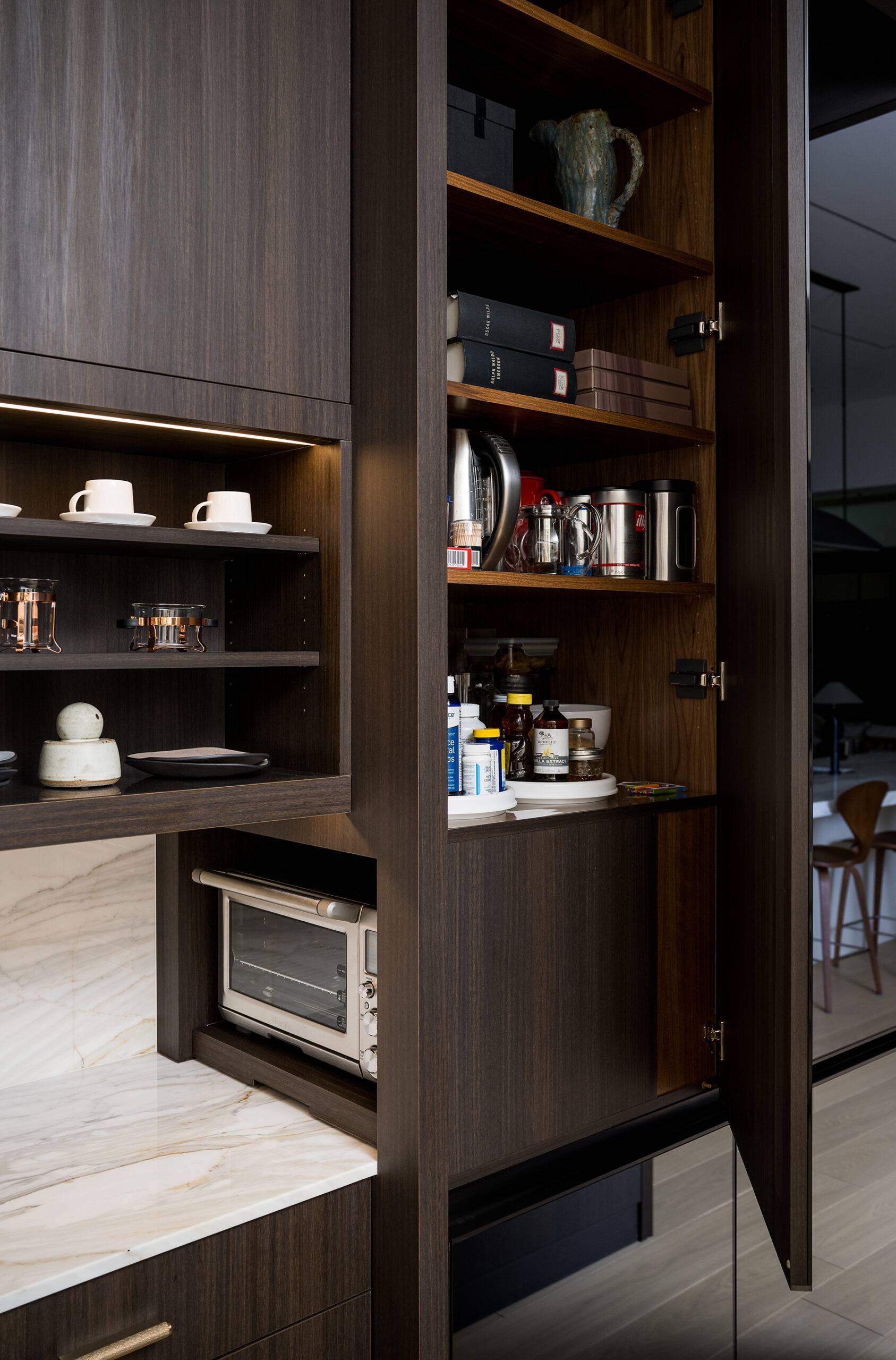 co-entrant | Rob Klein, Kitchen Designer
The homeowners challenged us to design a warm, rich, modern kitchen, equipped for entertaining, that harmonizes with the surrounding architectural elements of their open floor plan. The two islands in front of the range function simultaneously as the kitchen's prime space for prep work and storage. Their orientation consolidates the brunt of the kitchen's activity into a single aisle, keeping an open line of sight into the living room. Spectator seating for ten was placed along the perimeter, responding to the homeowners' love of holding court in the kitchen and placing the hosts center stage.
Amy Kreutz | Conceptual kitchens & Millwork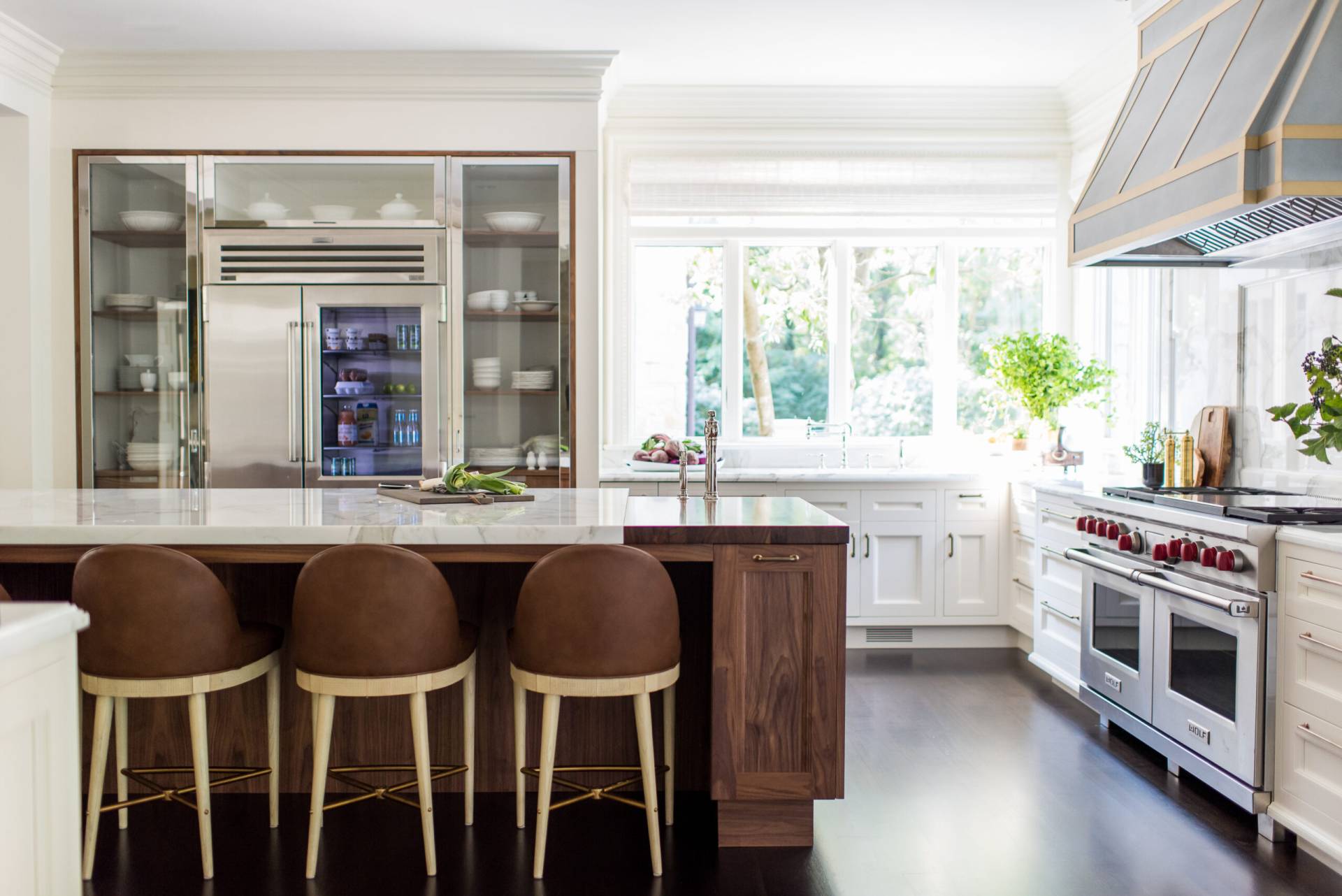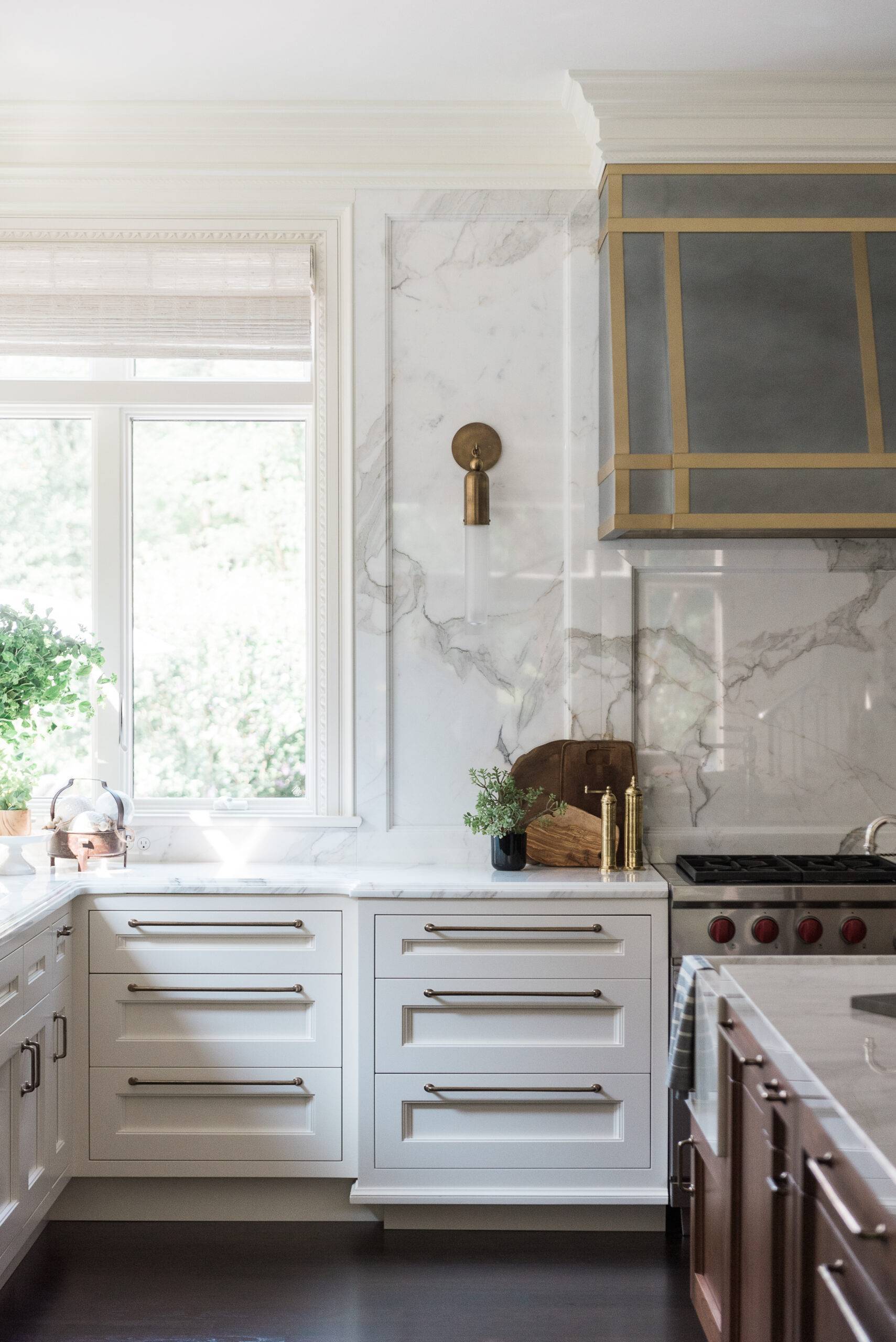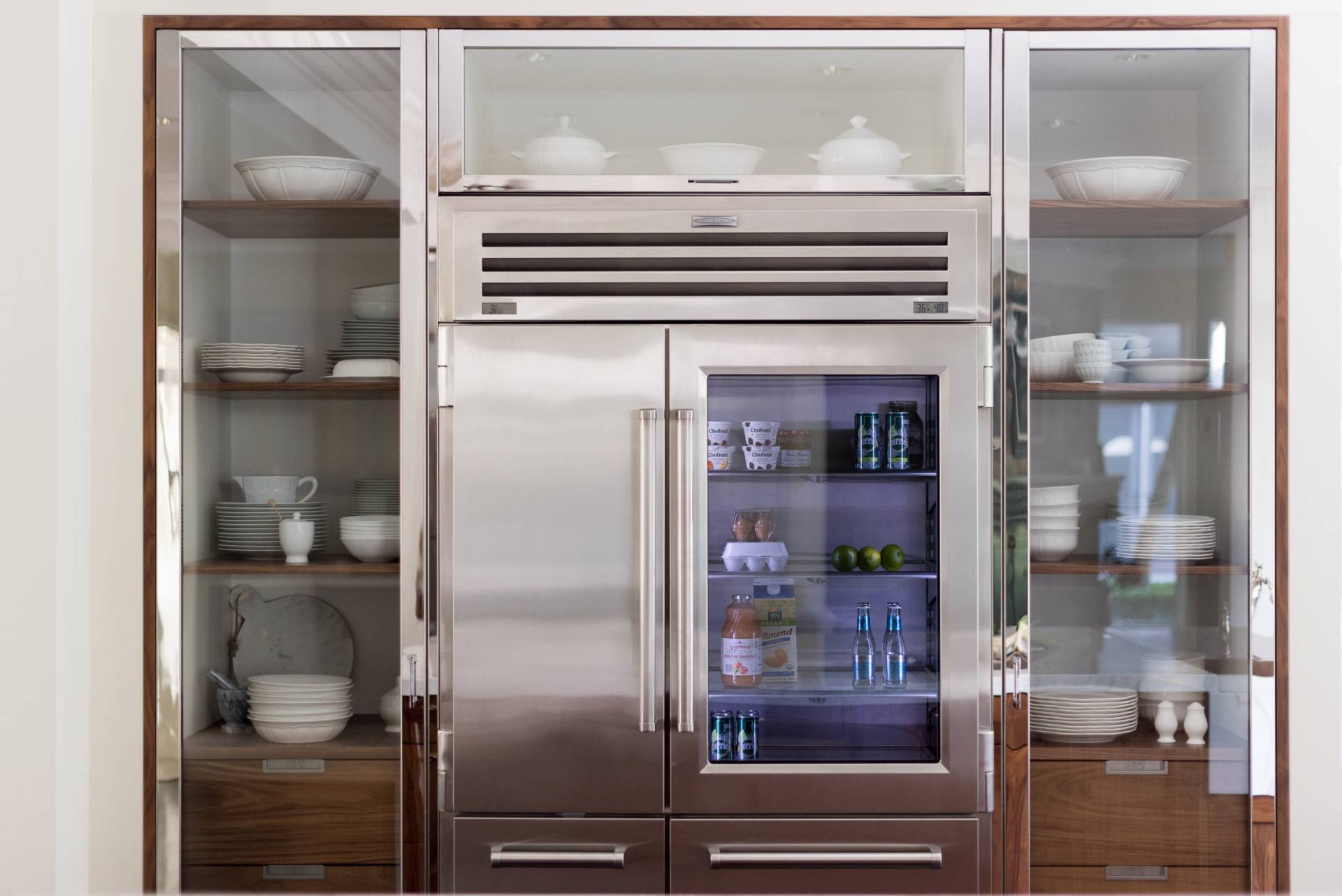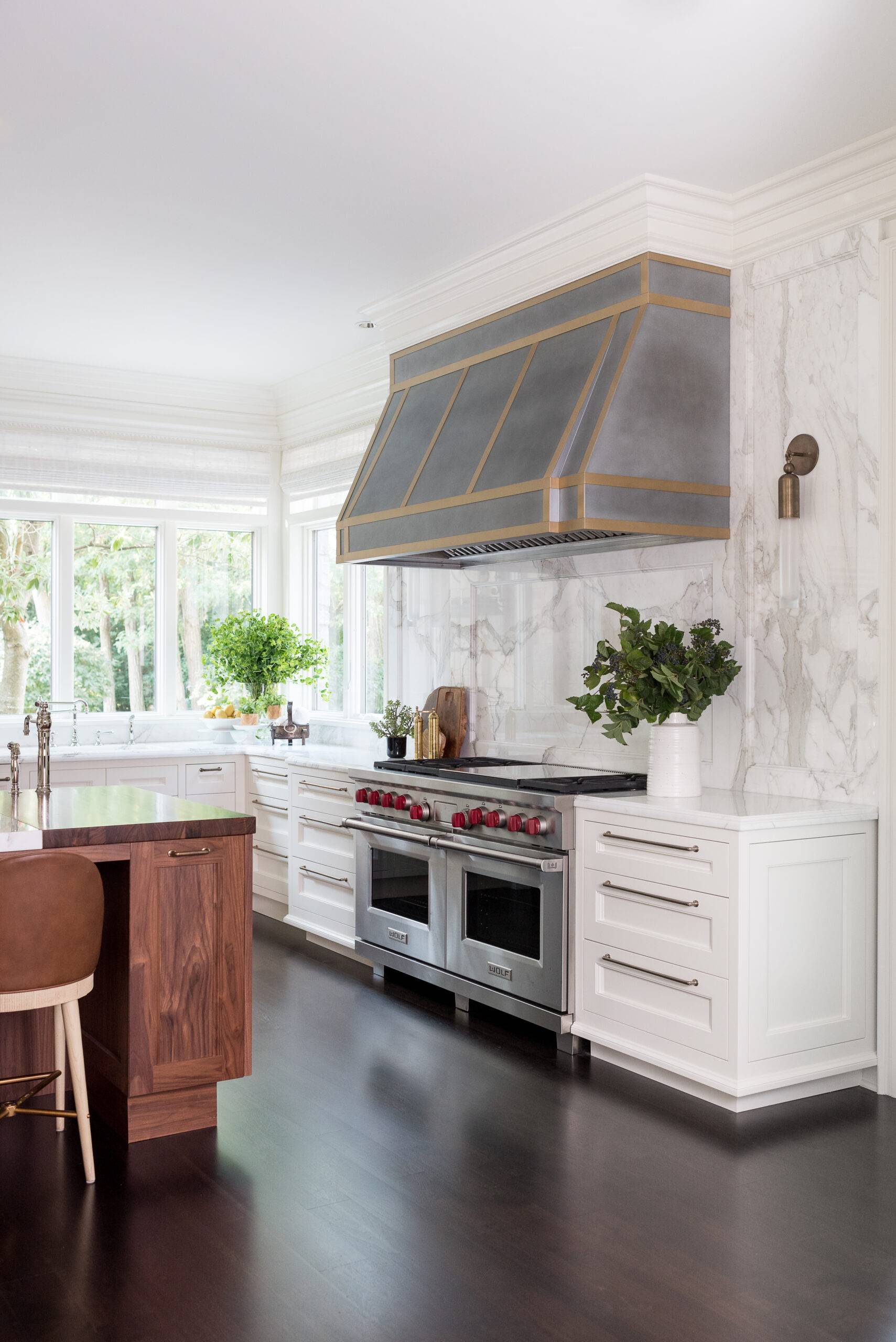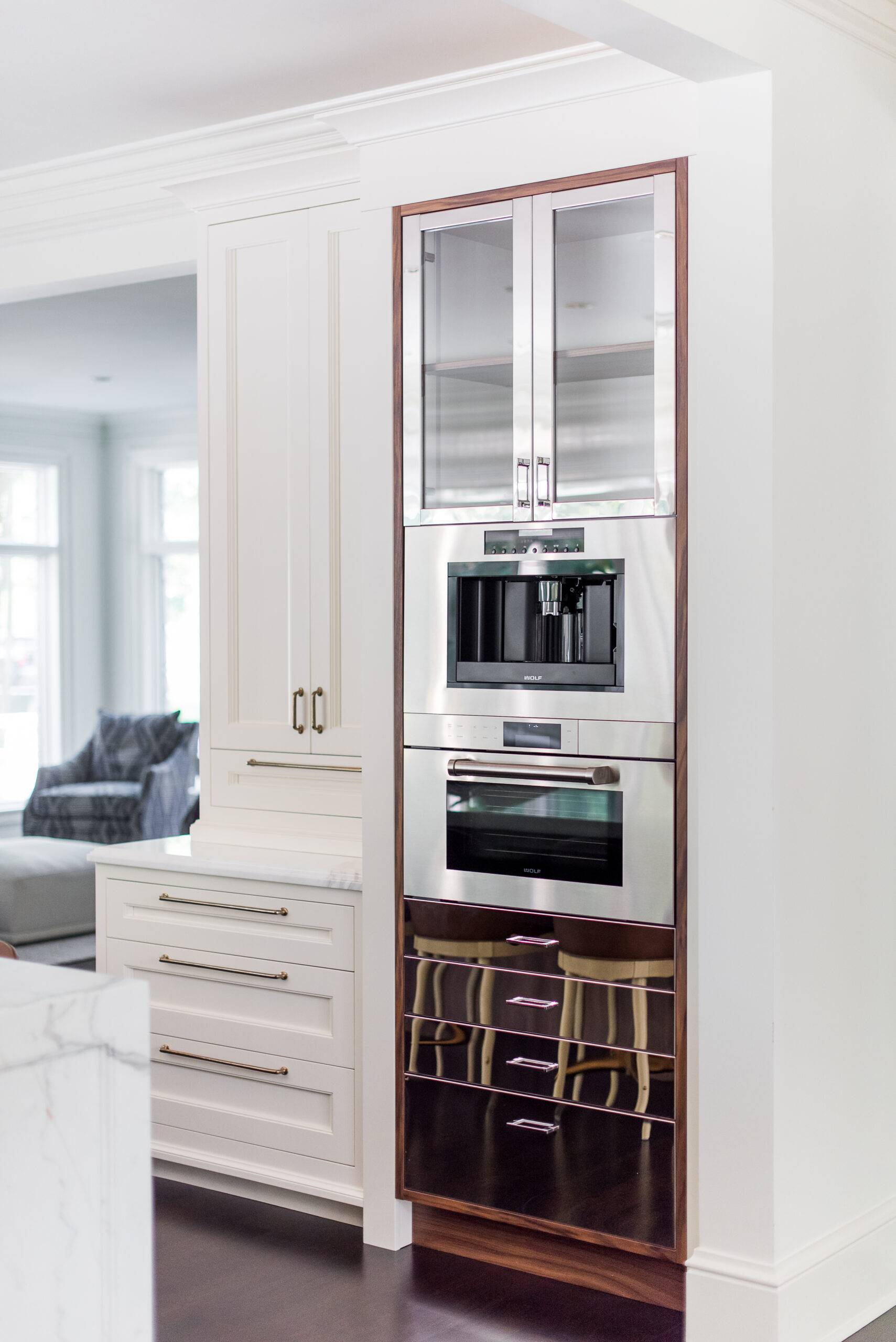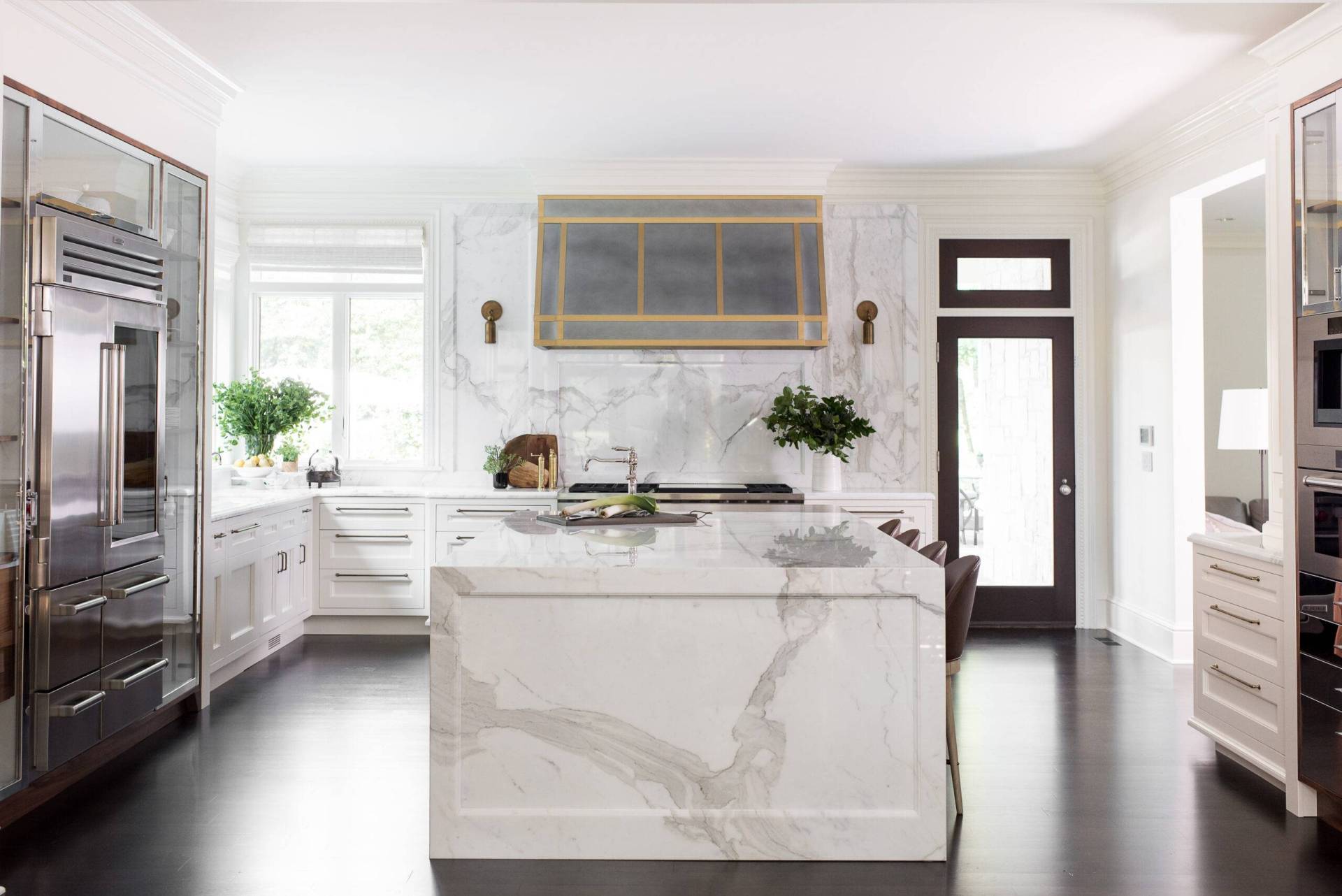 co-entrant | Rob Klein, Kitchen Designer
The contrasts of light and dark are unmissable in this design, and the composure and positioning of each element is strategically placed to achieve a balance of the dark wood finishes and light marble surfaces. A key goal of the project as a whole was to bring a harmonious feel between contemporary and classic. Creating a seamless design required a careful selection process to source timeless materials. This kitchen integrated a proportionate mix of sleek custom stone with the rich depth of wood cabinetry to achieve a bright minimalistic look that feels both warm and functional.
AMY Kreutz | Conceptual Kitchens & Millwork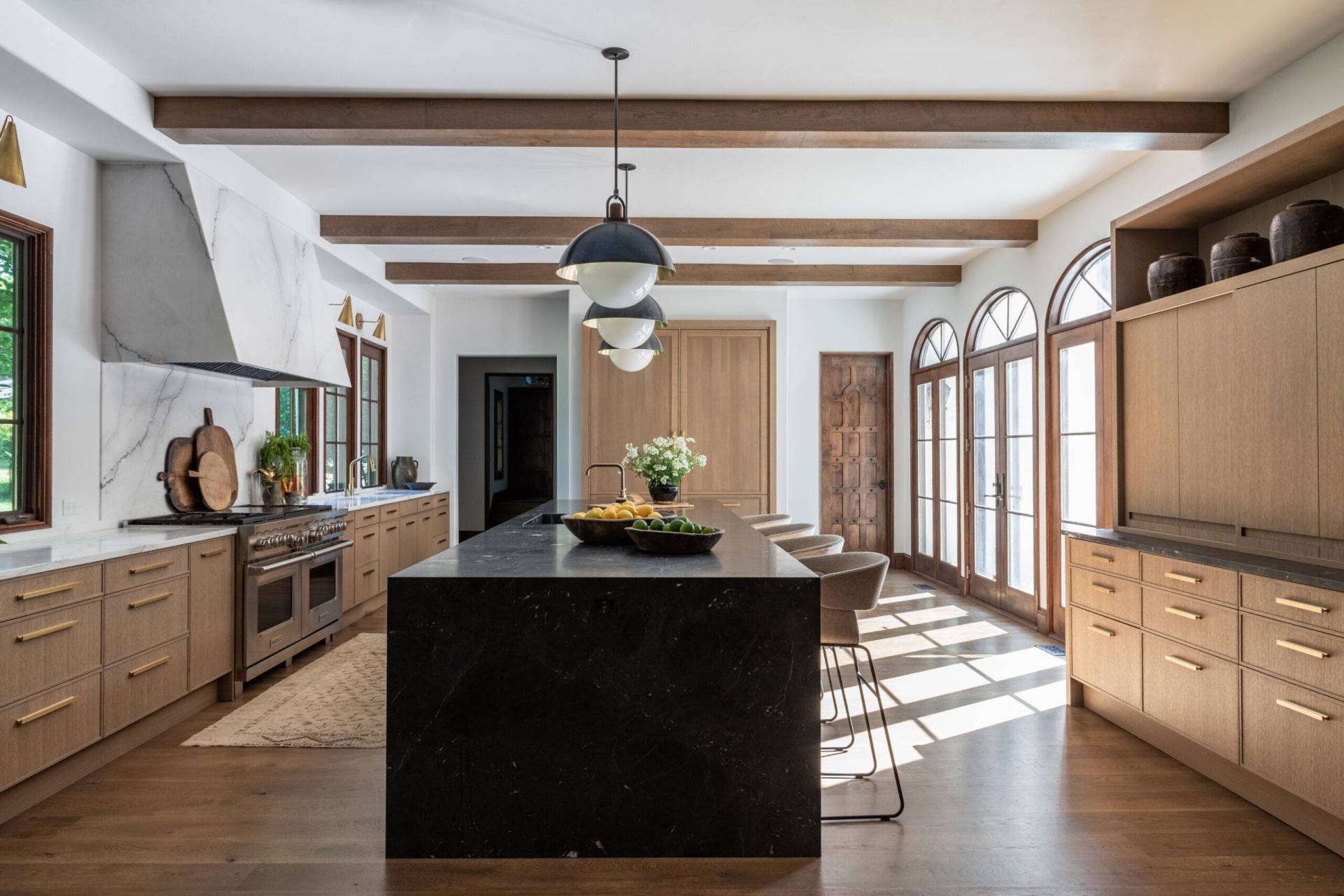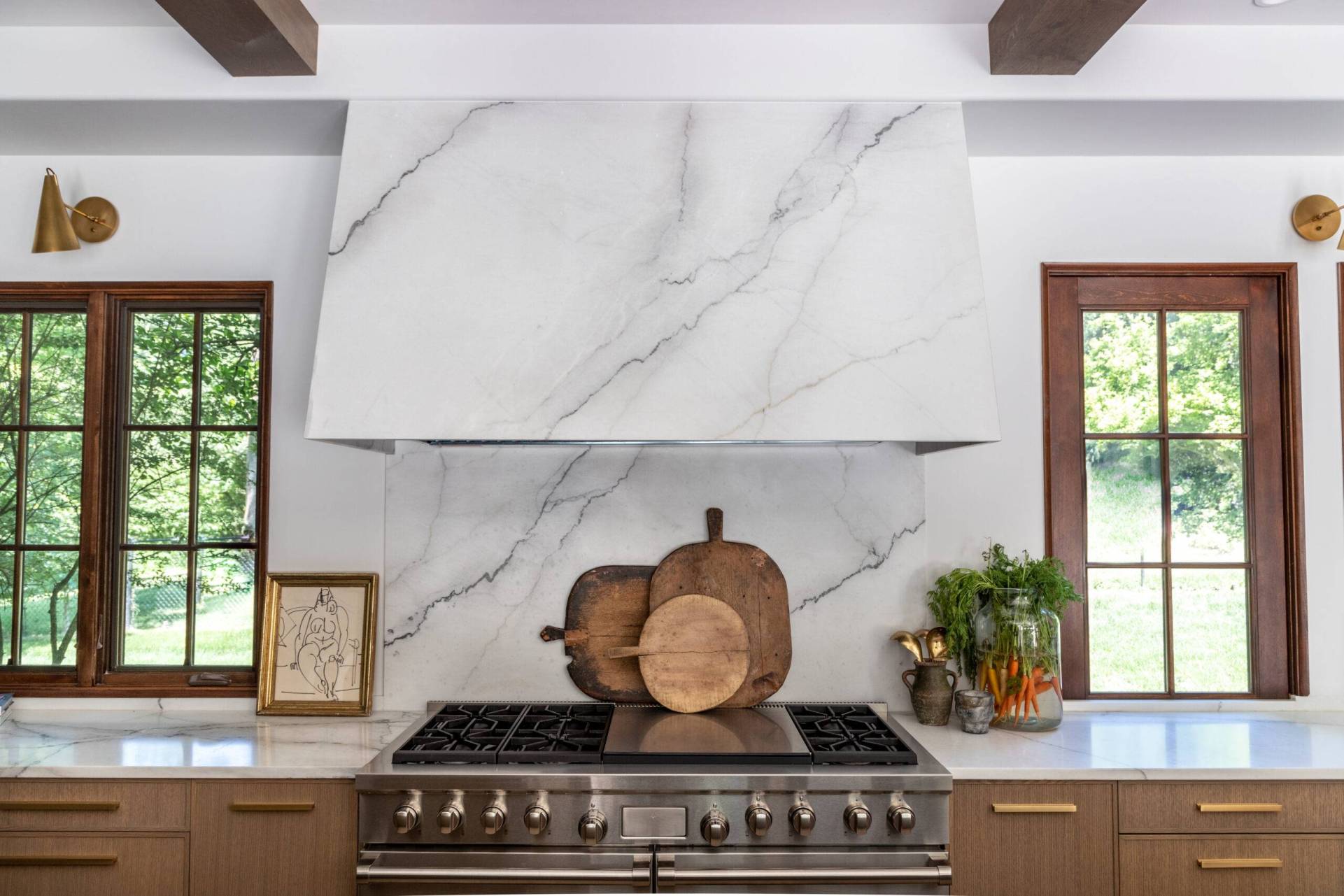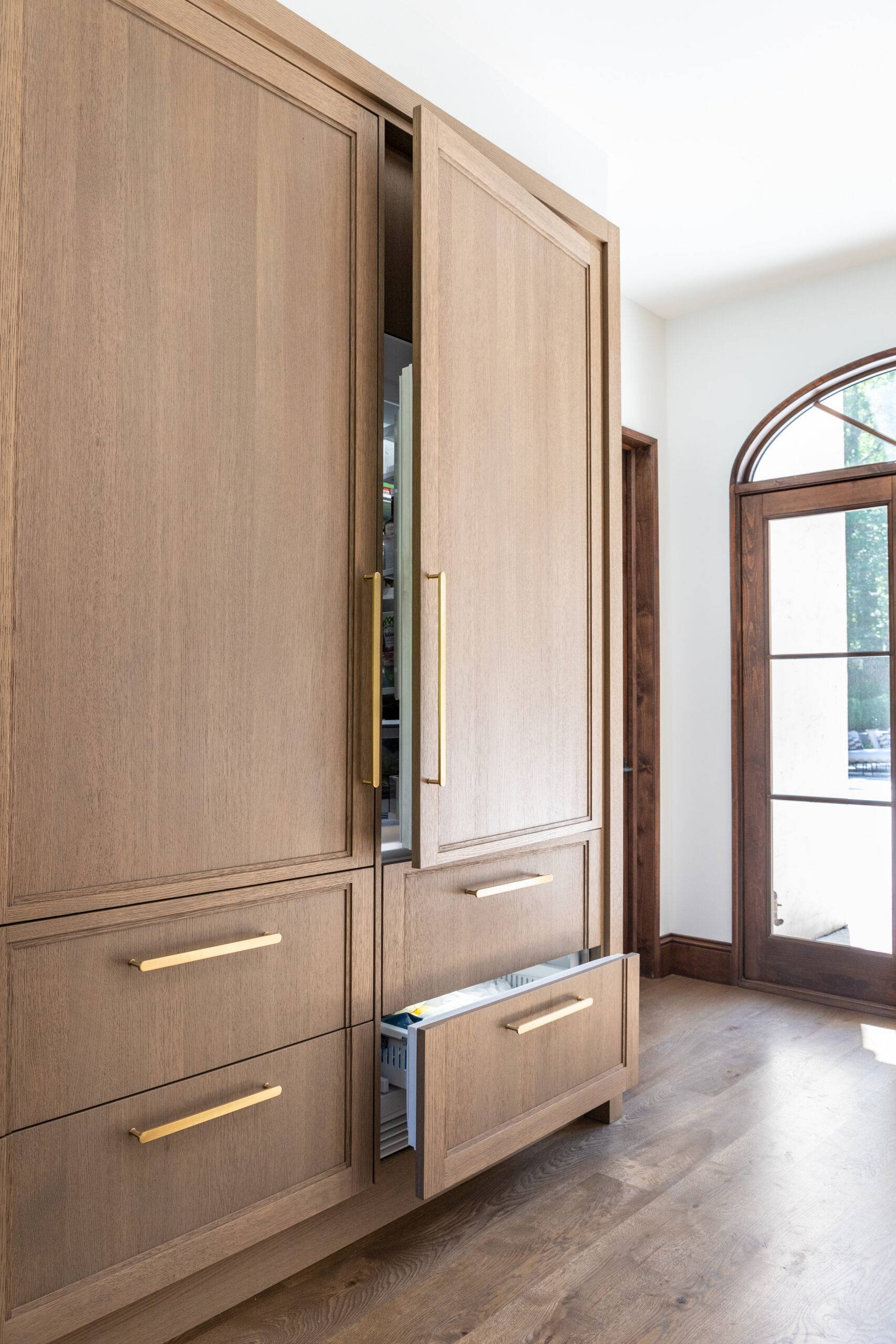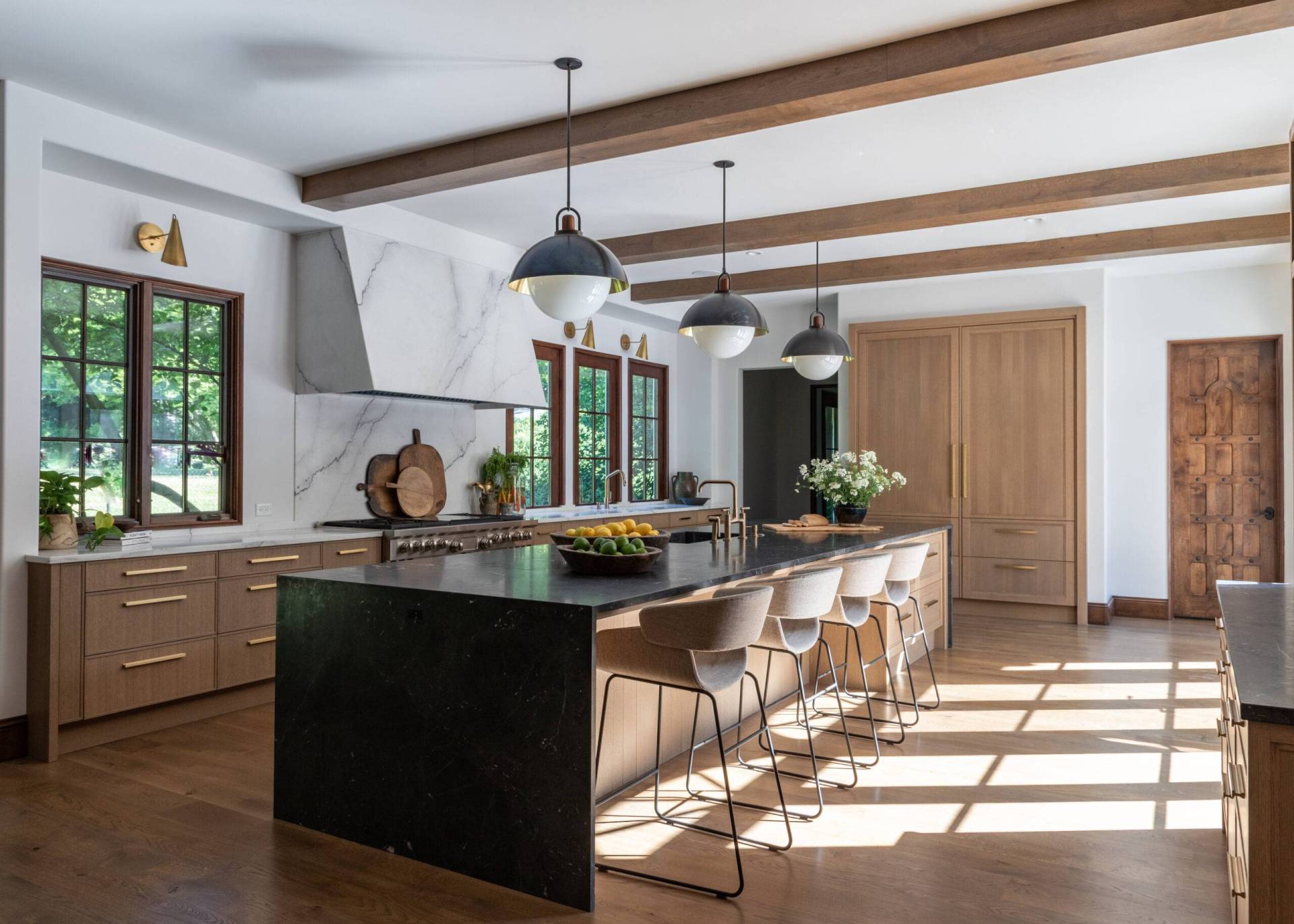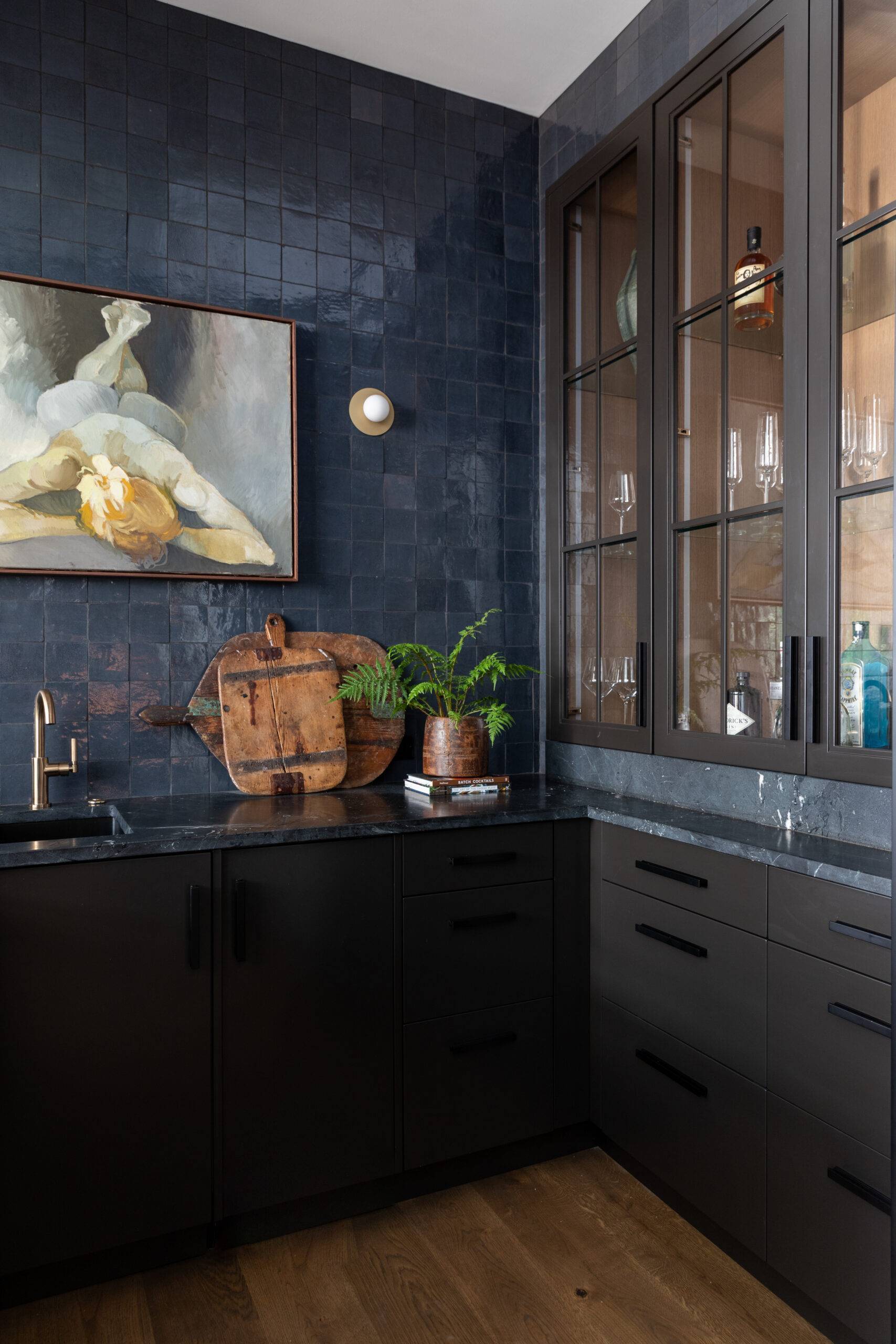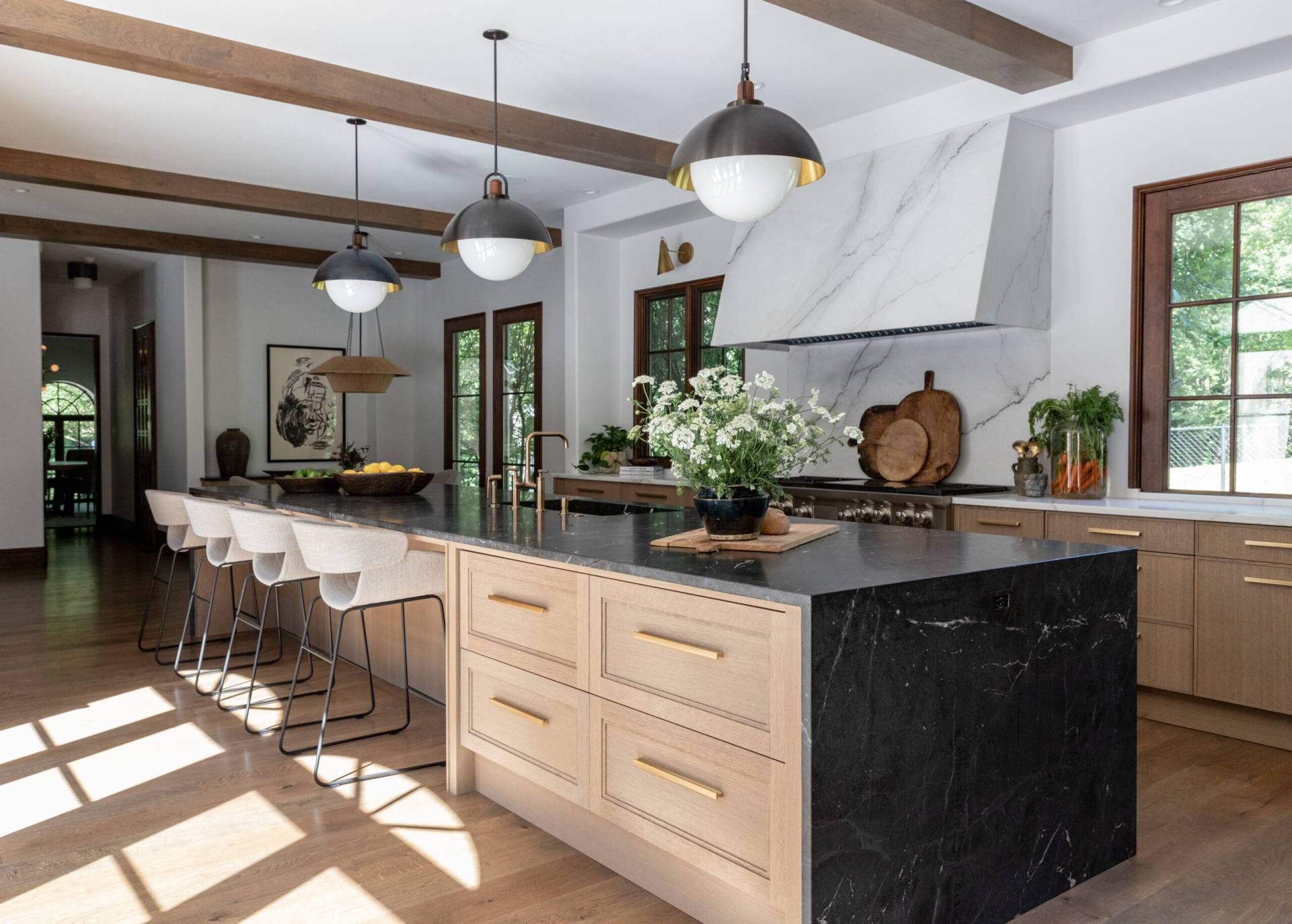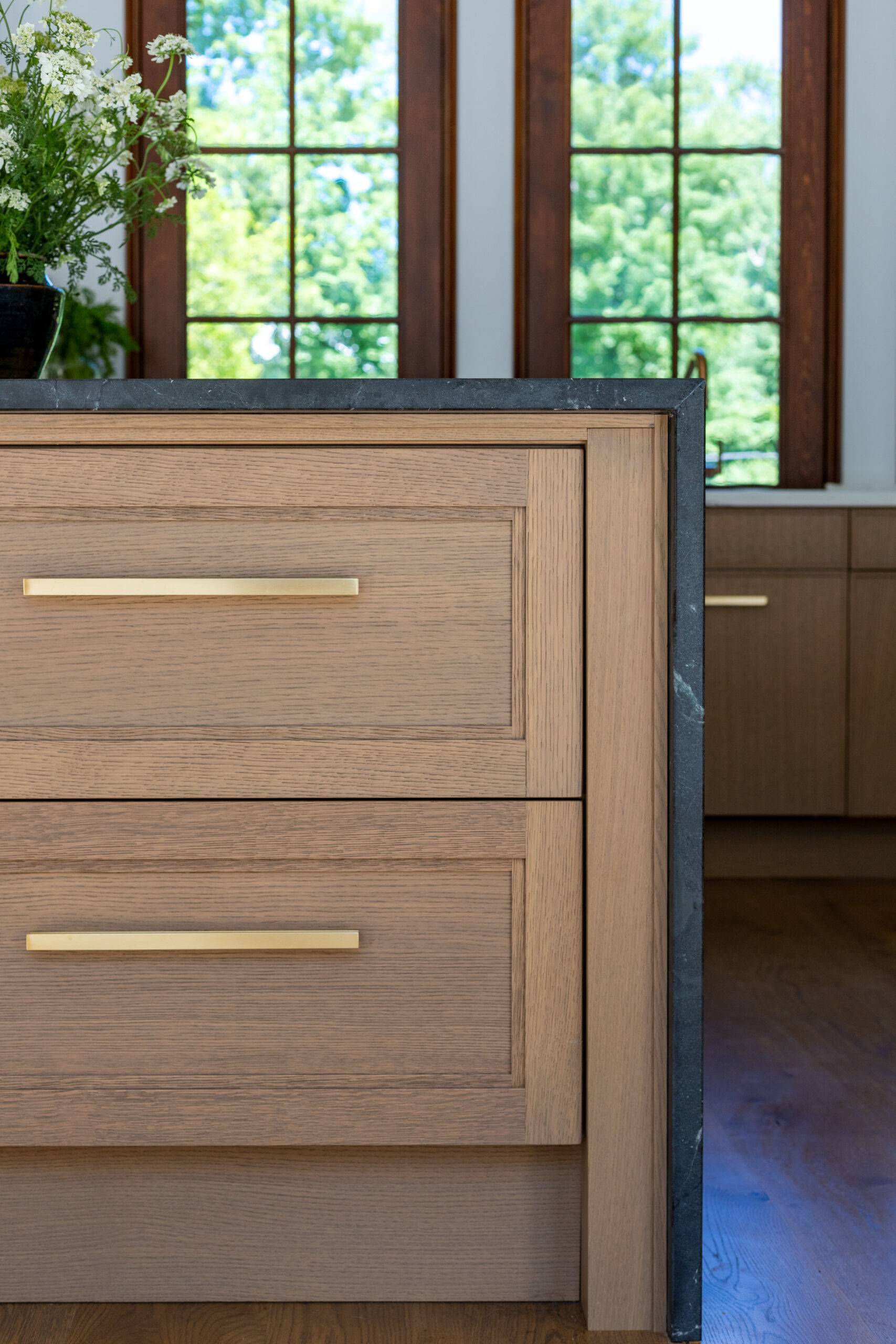 co-entrant | Rob Klein, Kitchen Designer
In keeping with the Spanish revival style of the house, we incorporated soft elements of rich wood, arched windows and clean walls to create a design that is warm and inviting, yet sleek and simplistic. The wood beams accentuated the simple form of the space, connecting the wood cabinetry on the range wall to the wood finish of the Sub-Zero and breakfast bar stationed on the opposing wall. Clean lines and neutral colors are featured throughout the design, and the natural texture and organic shape of the bar stool legs paired with the sharp lines of the Sub-Zero and waterfall island edge signal the harmony of the contemporary influence to Spanish traditions.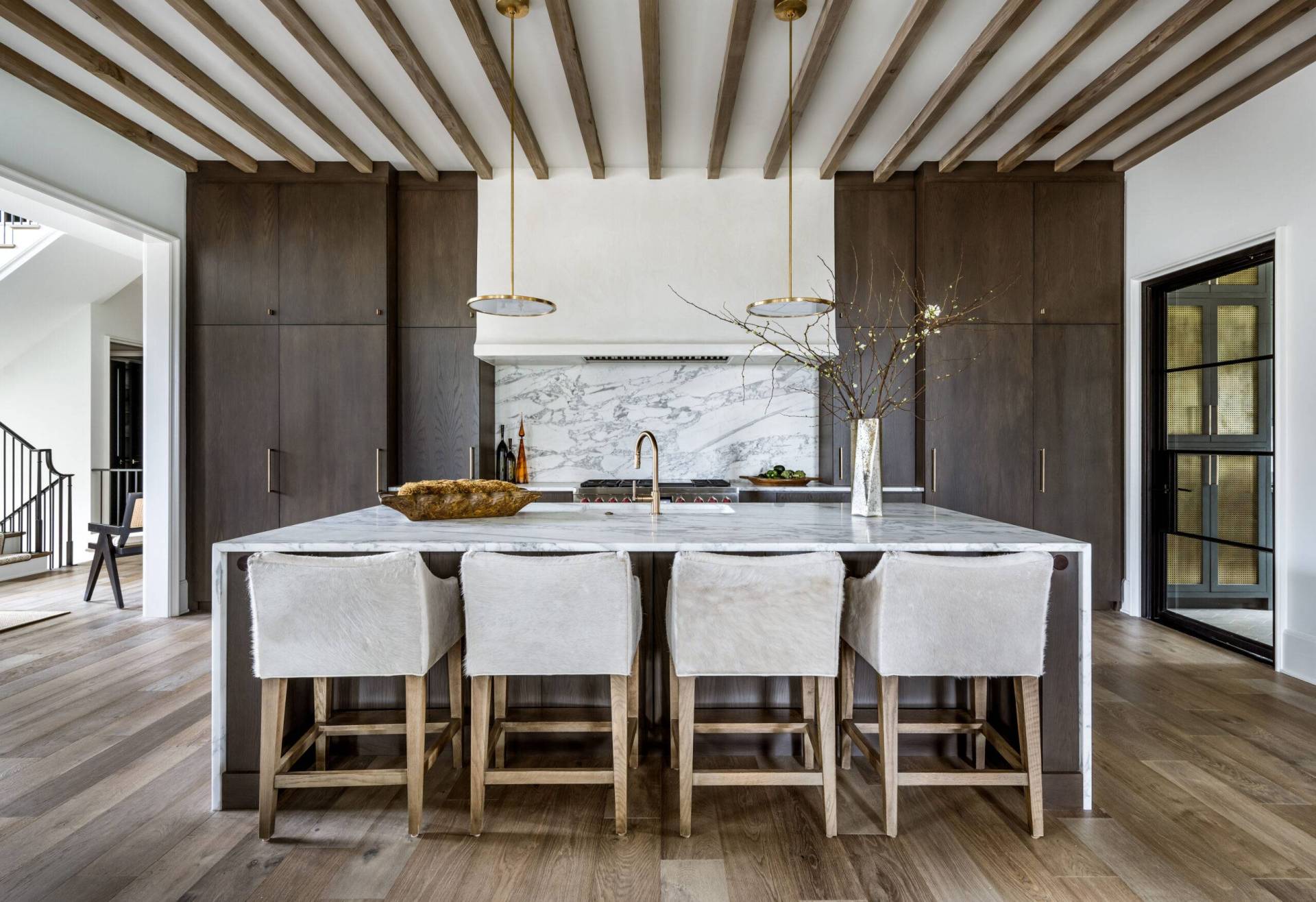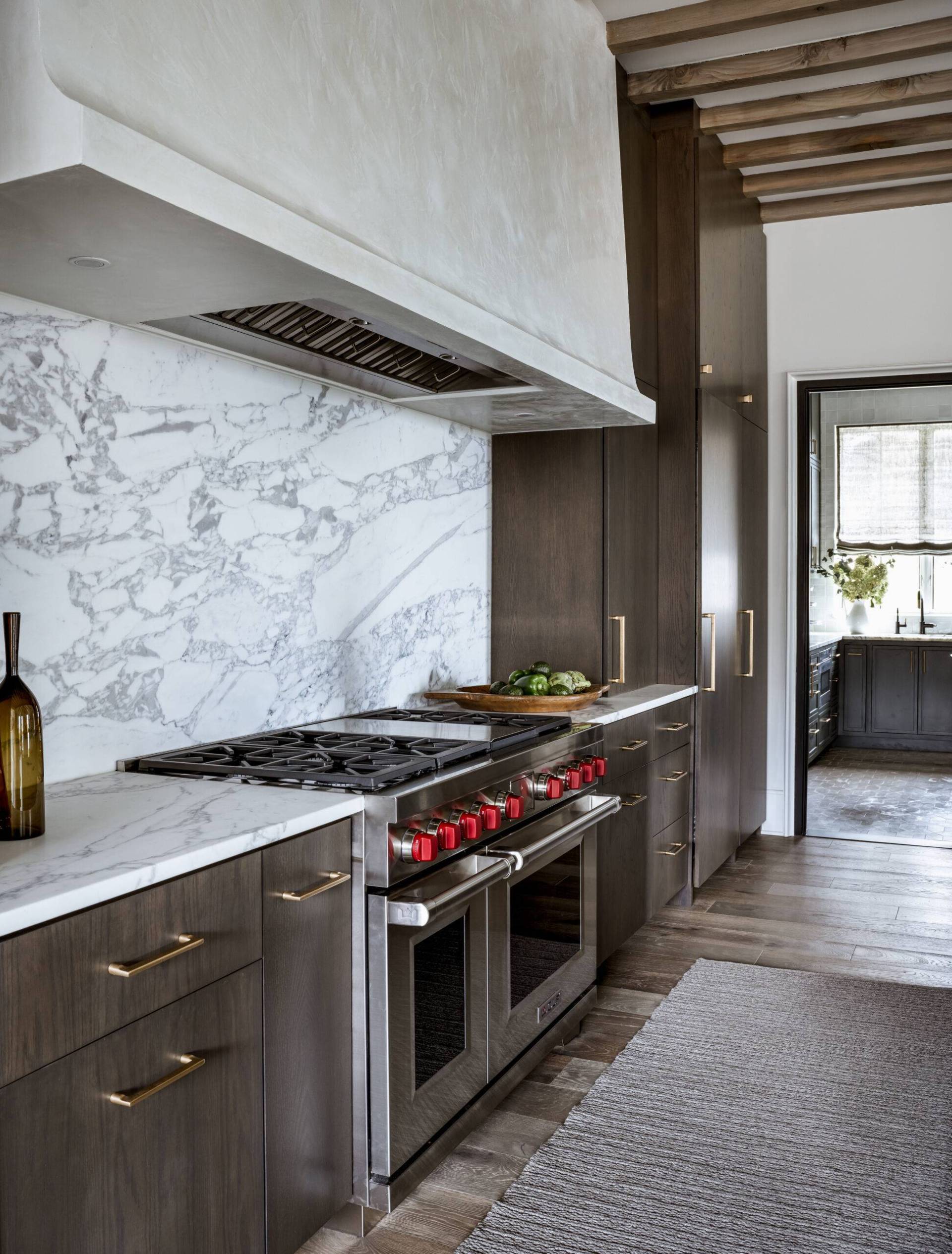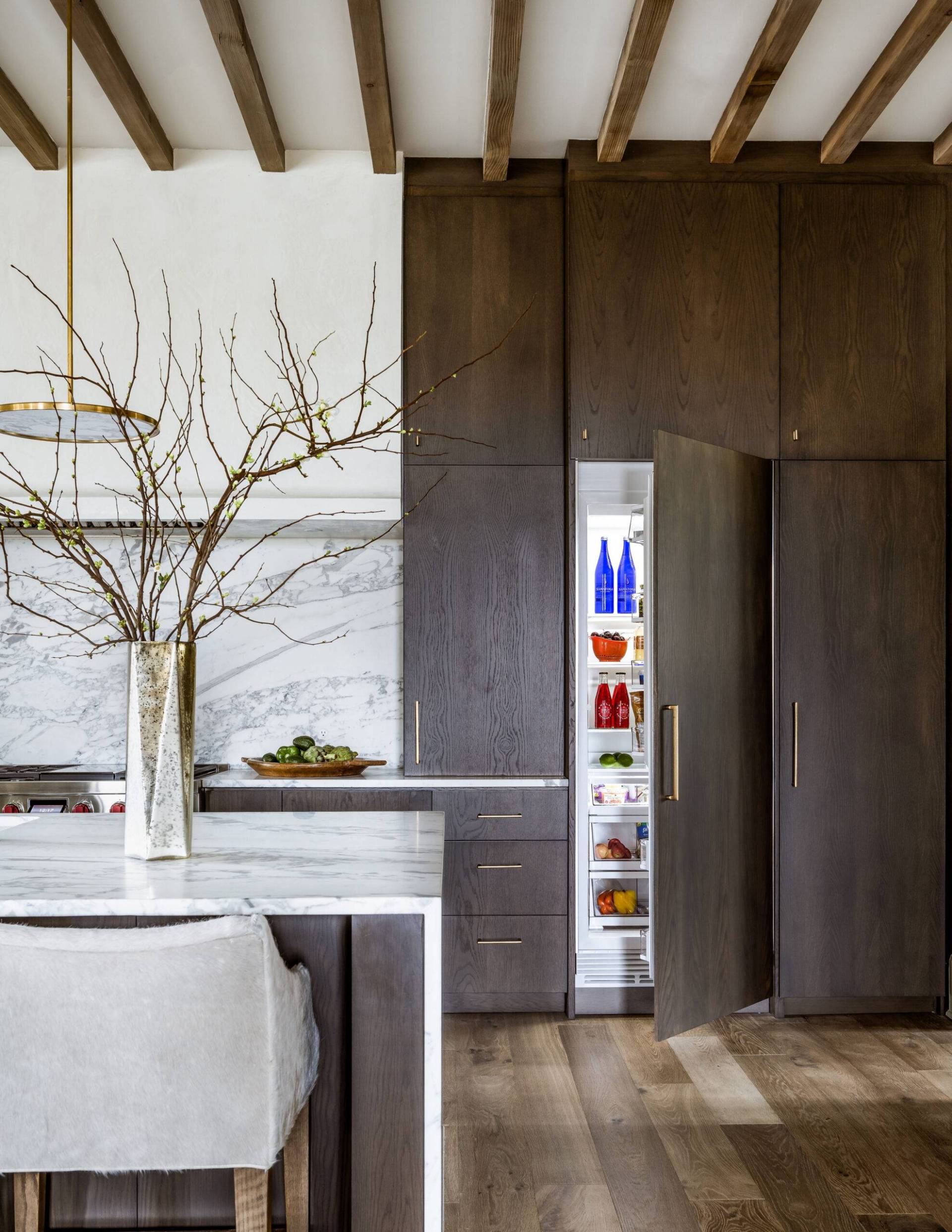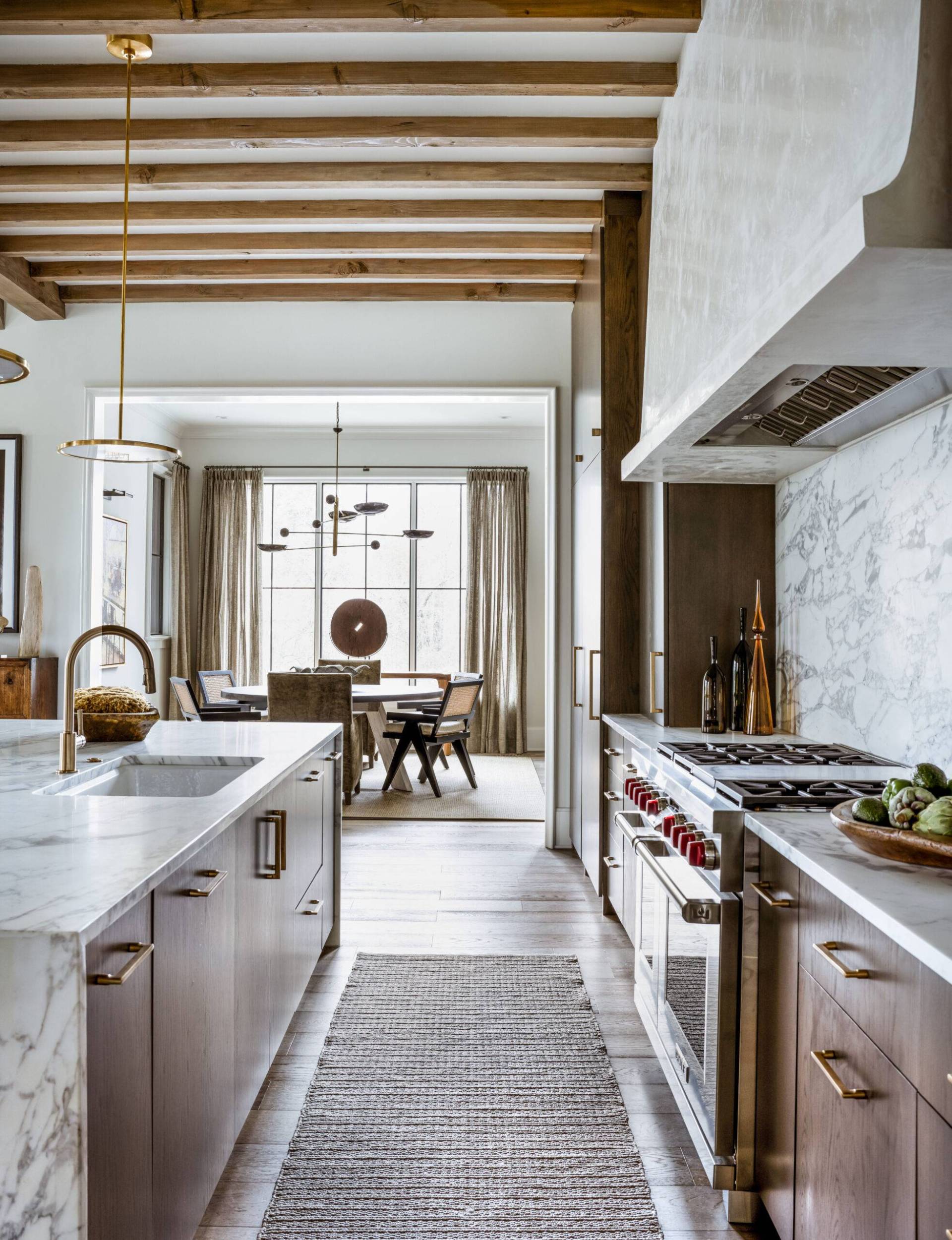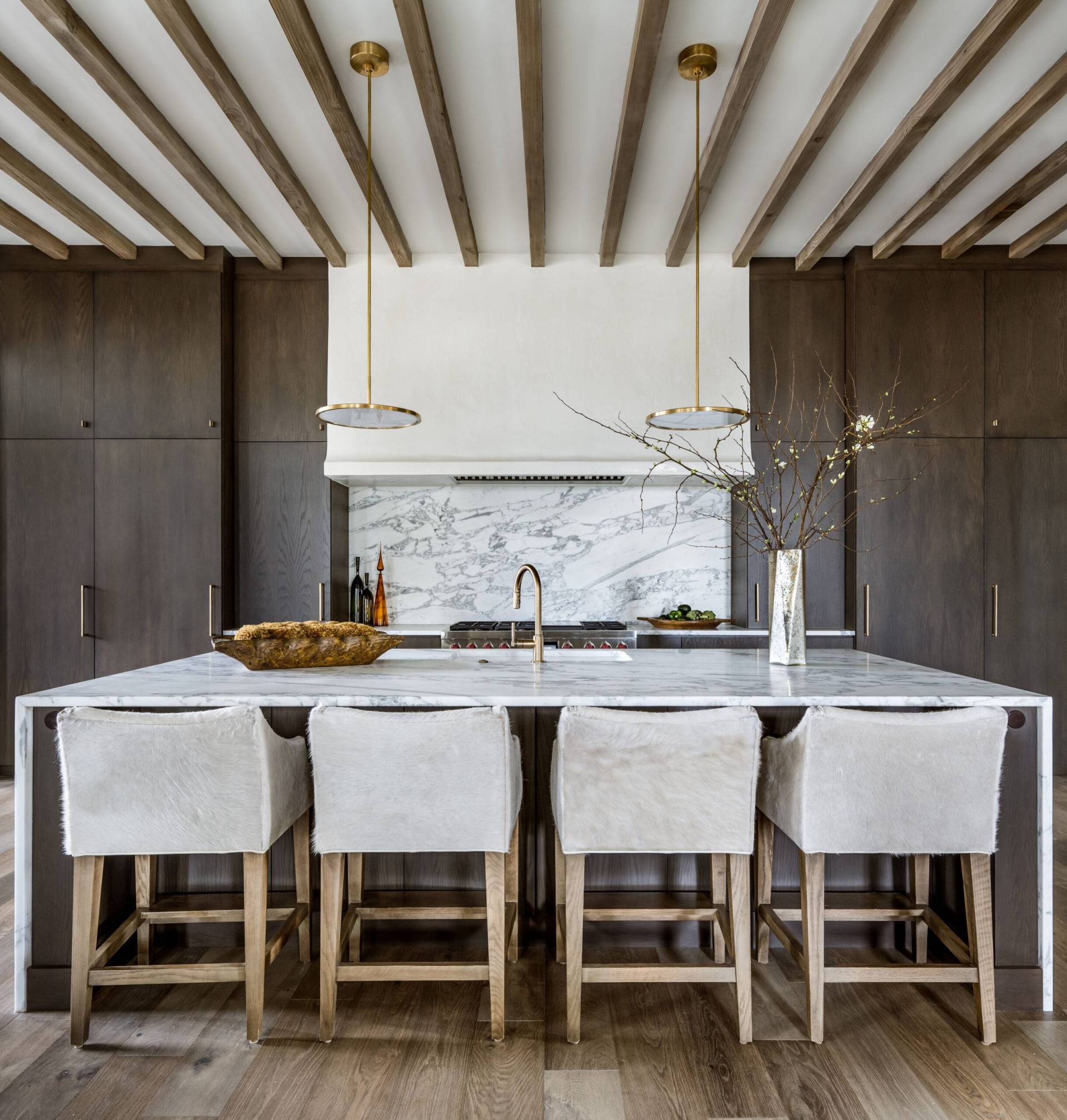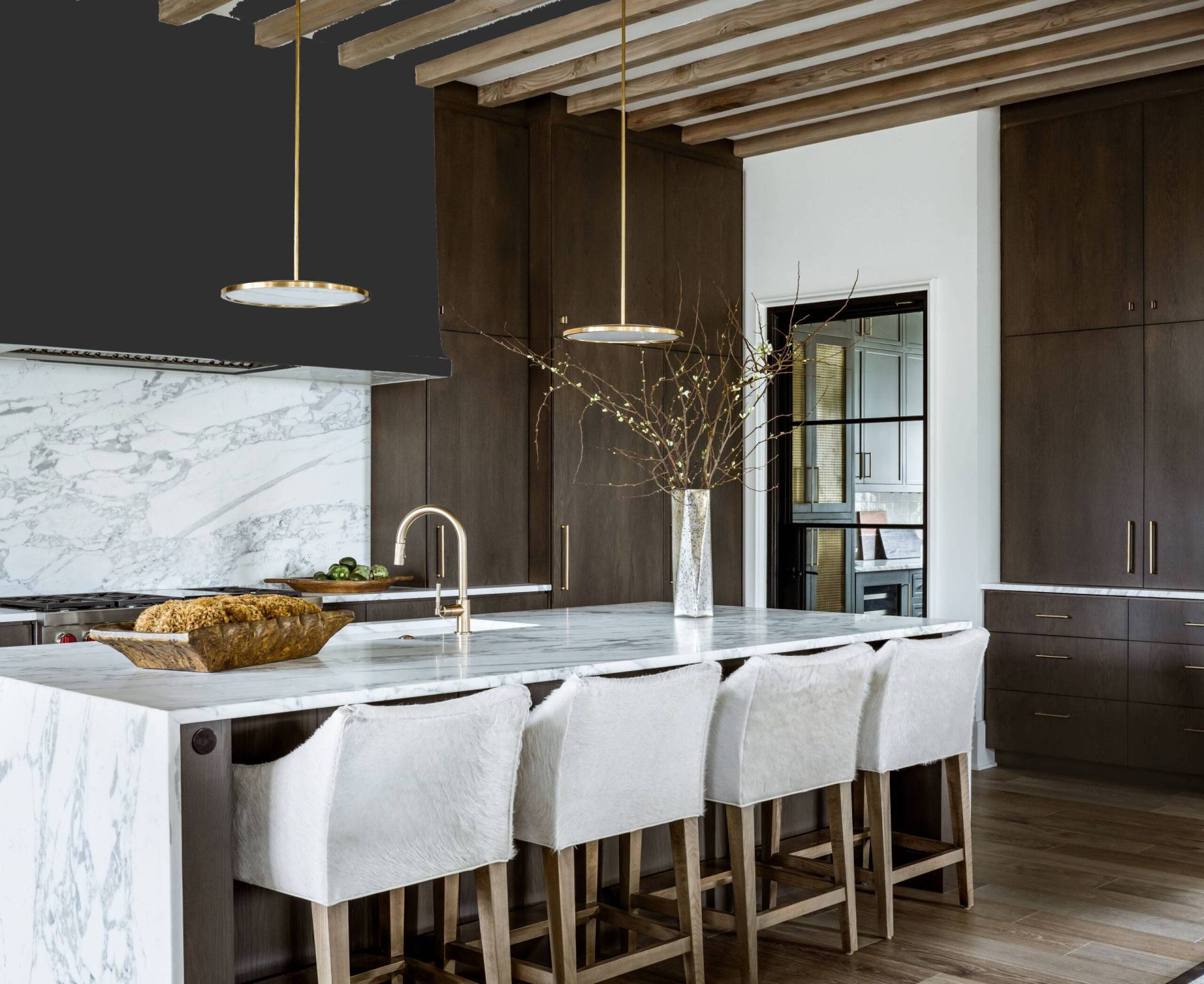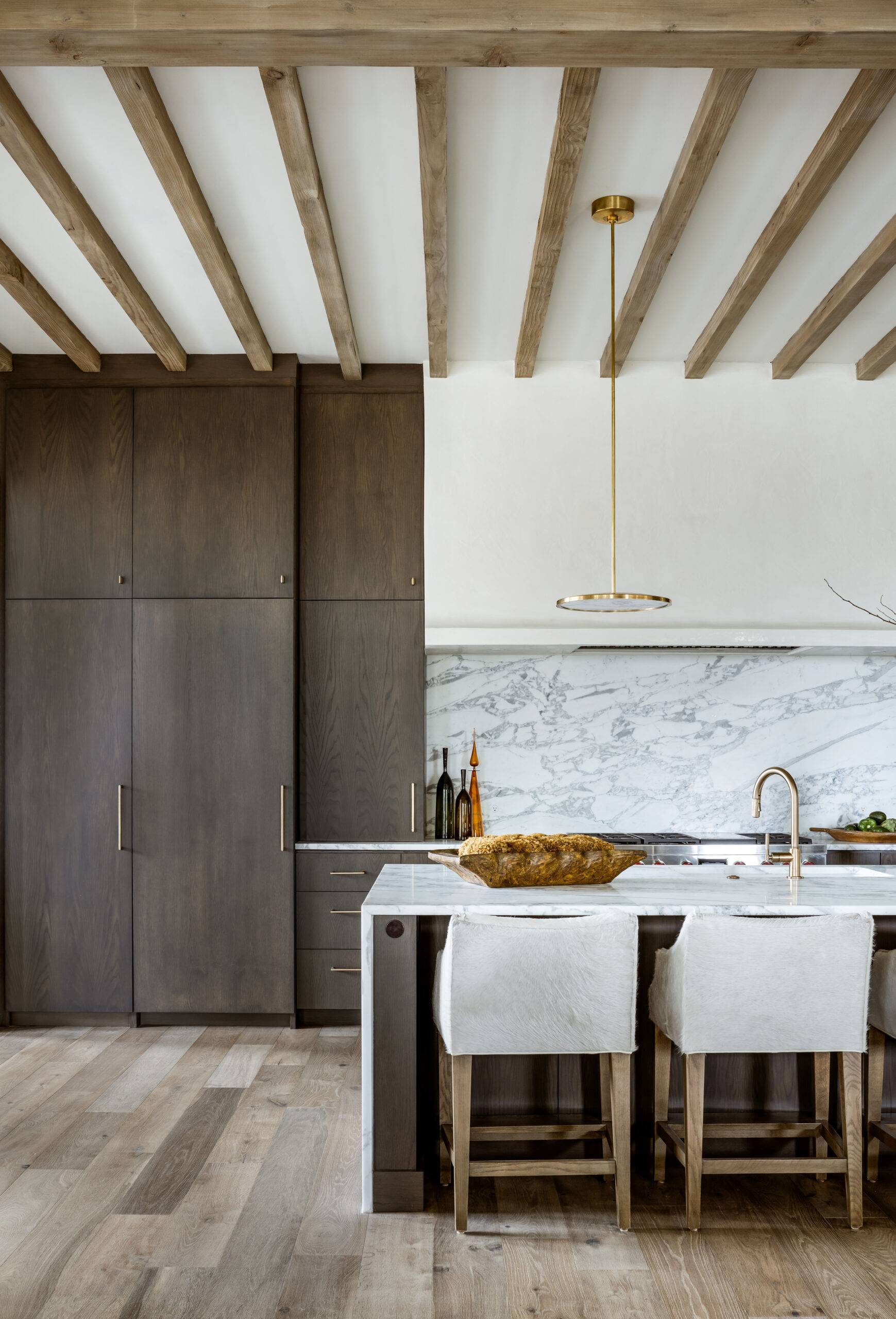 PHOTOGRAPHER: LESLIE BROWN
Our goal with this large open space was to keep the finish selections warm and inviting and be mindful of the scale & proportions within such a tall ceiling height. We sized the hood for the space and partnered that focal point with the statement piece, 48″ Wolf Range. It was important to our team & the client aesthetic to be mindful of tight reveal lines within the appliance integration and to have the newest appliance series on the market. They were thrilled to receive the new generation Wolf range. We love the ease of custom paneling the Sub-Zero Designer series refrigeration to keep them truly hidden.
Tiffany Skillings Interiors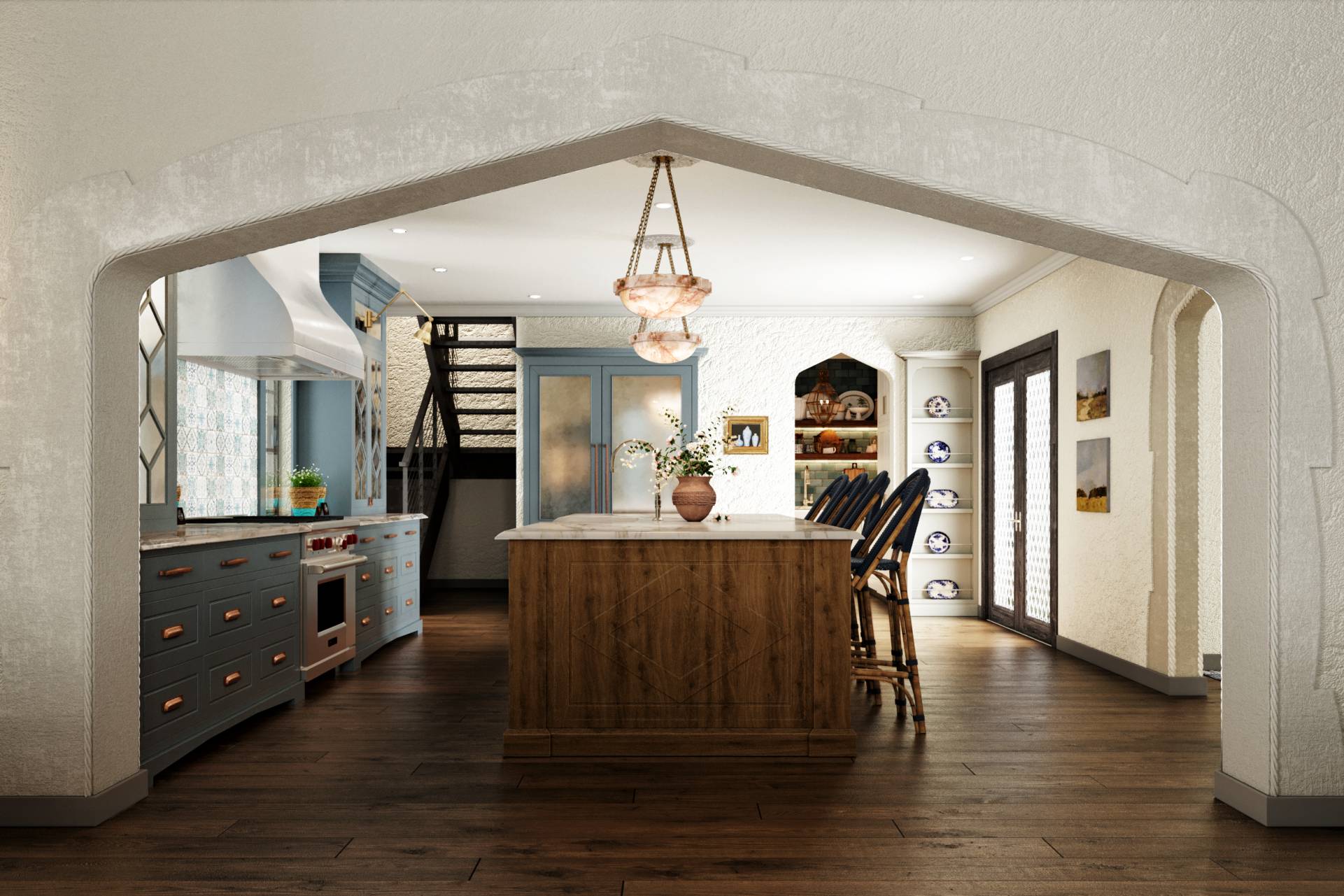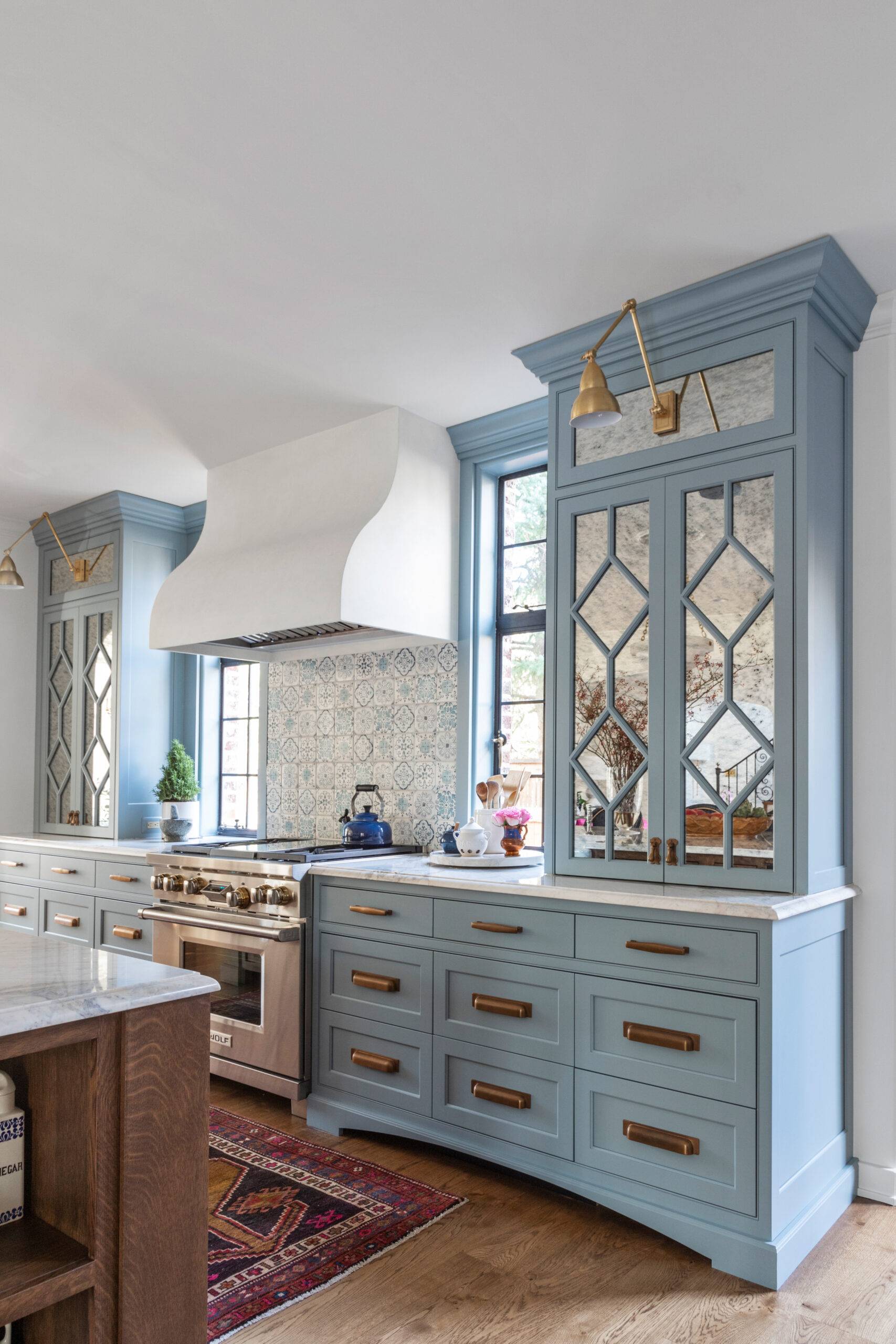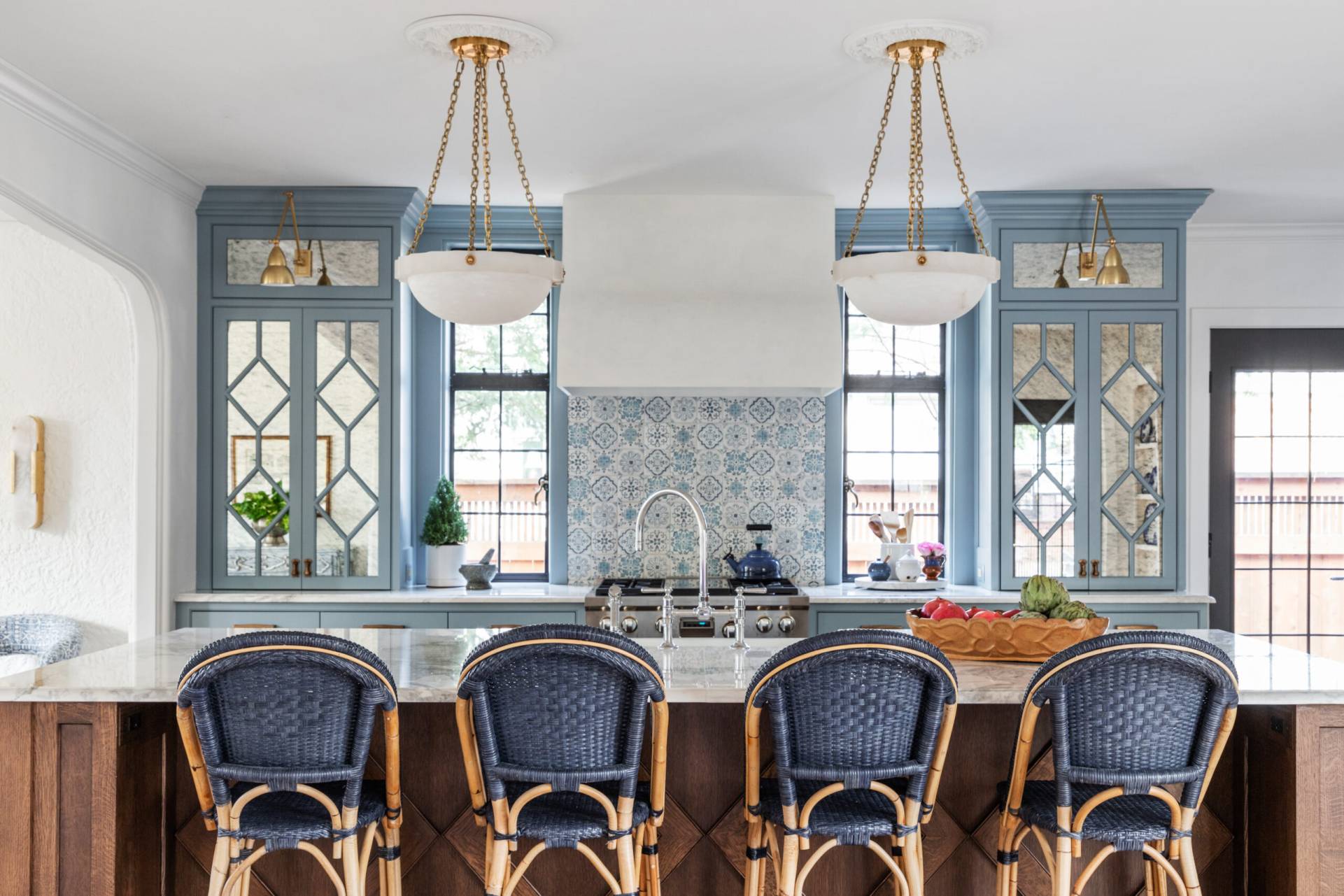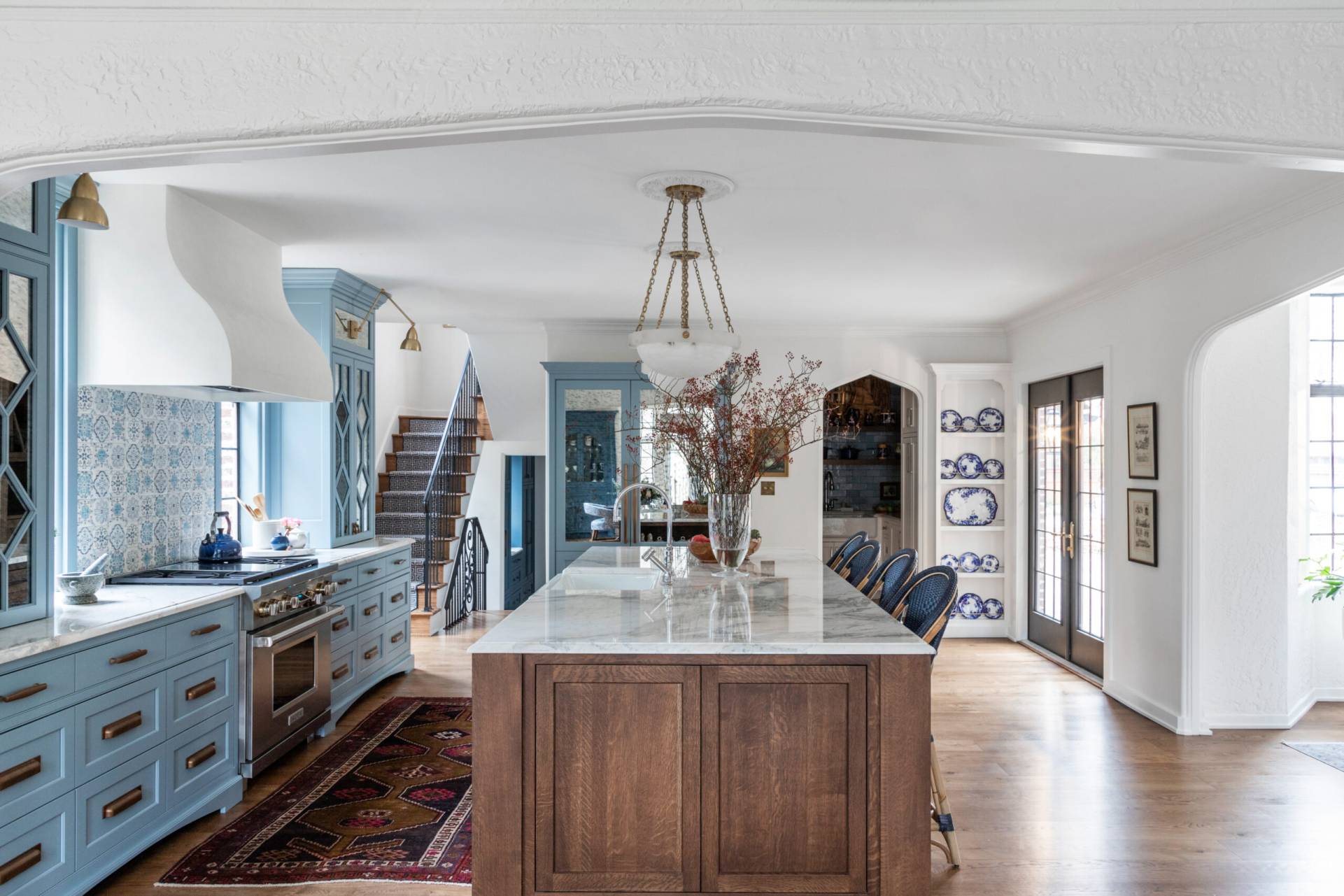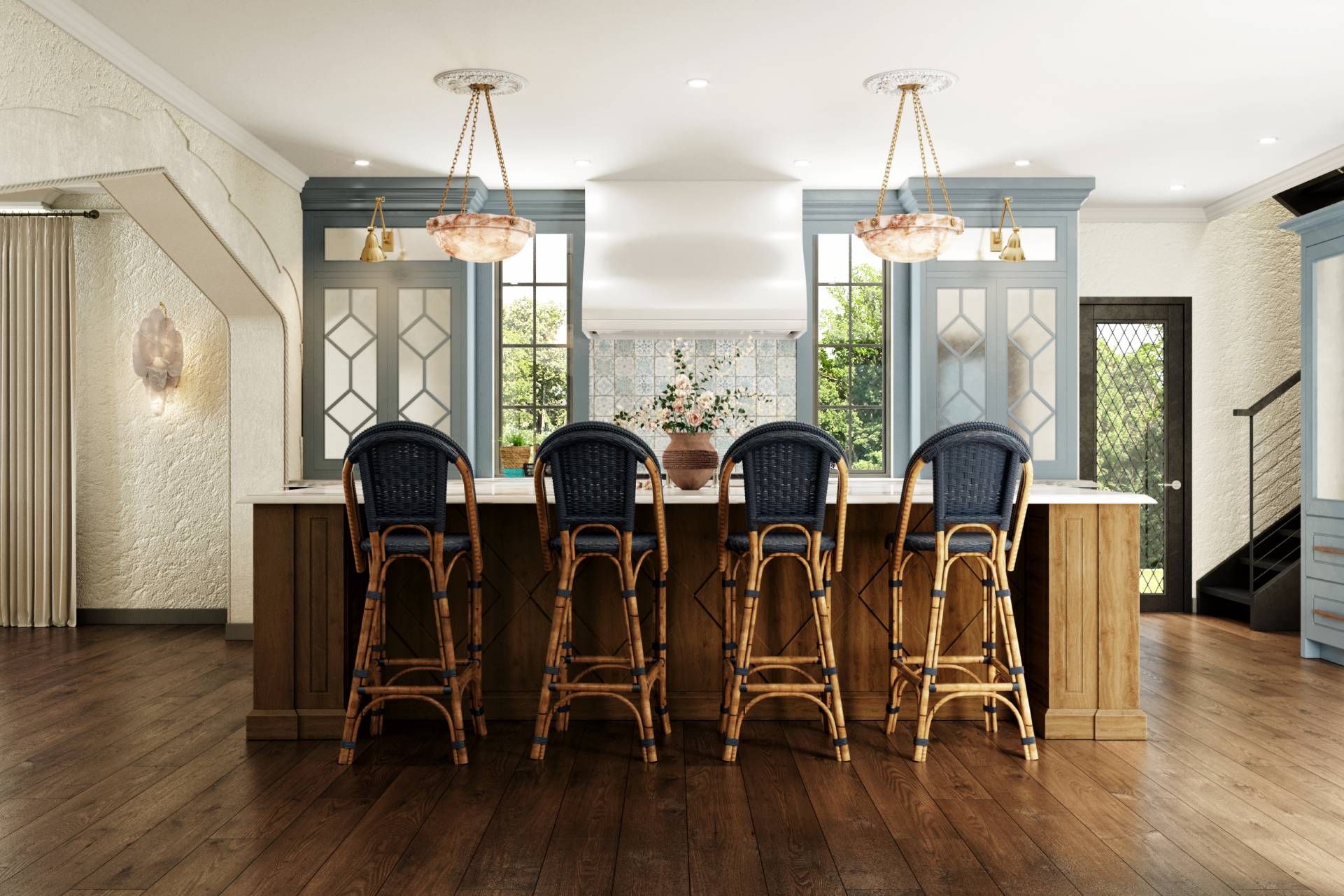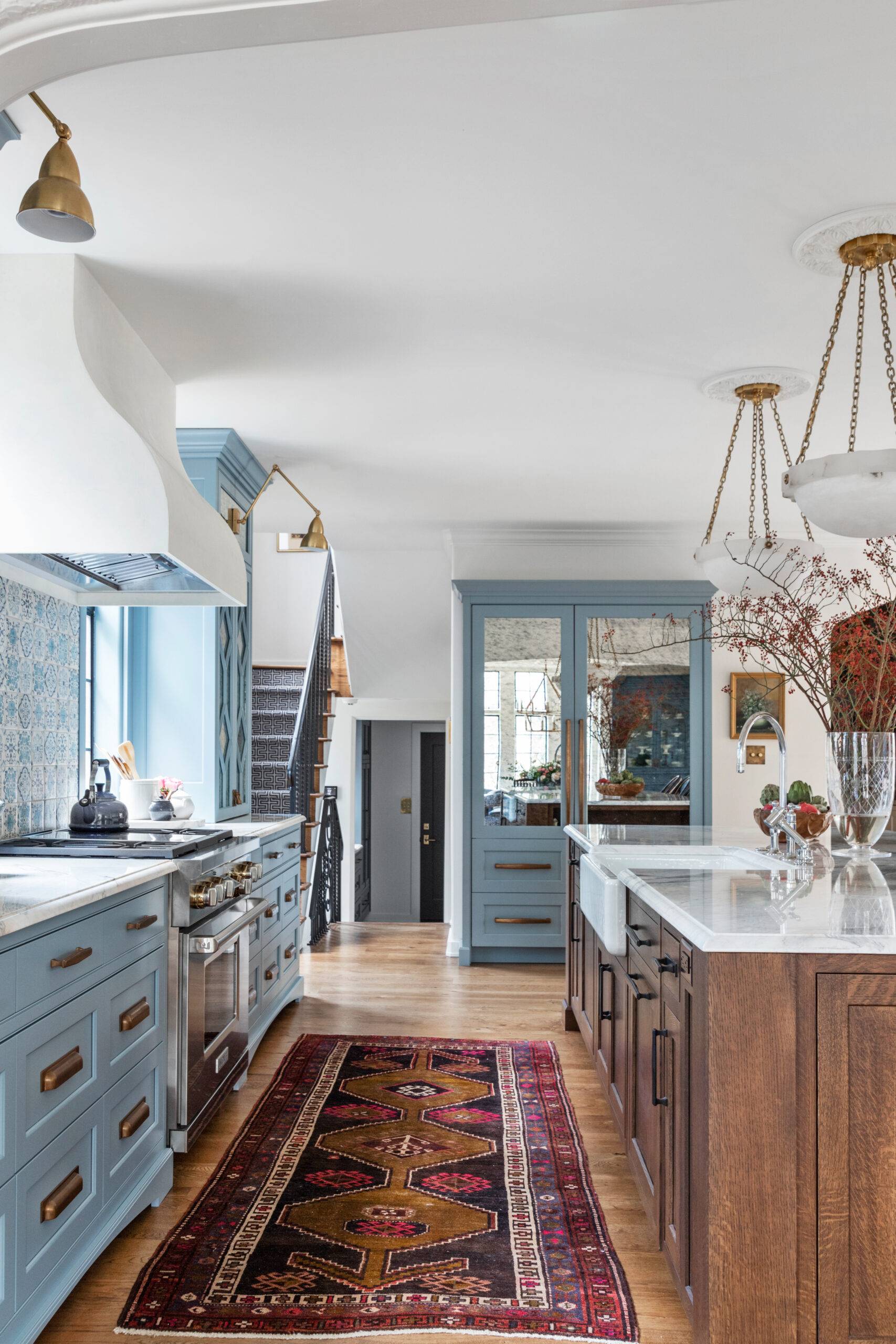 PHOTOGRAPHER: Ashlee Kindred
Since this project was a complete home renovation – every room was touched – our top design goal was to preserve as many architectural details as possible while keeping the overall design of the home cohesive throughout. We started with the kitchen as it is the central space; every other concept for the home sprouted from the initial kitchen design. We wanted the design to be timeless and visually interesting, as well as unique to the homeowners. Our goal as a design firm is always to tell our clients' stories through our designs, and showcasing special collections is one way we do this.
Connie Vernich | Vernich Interiors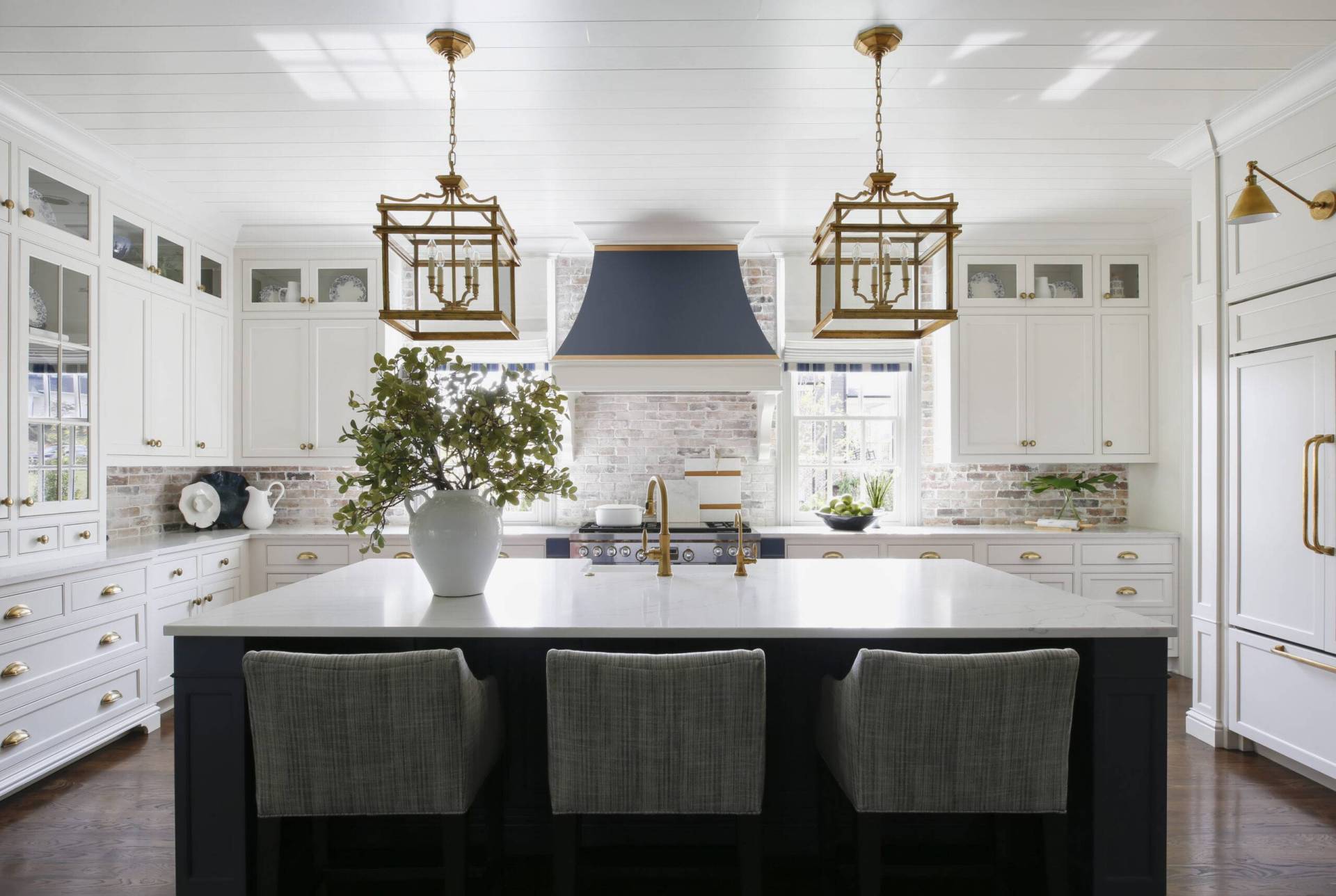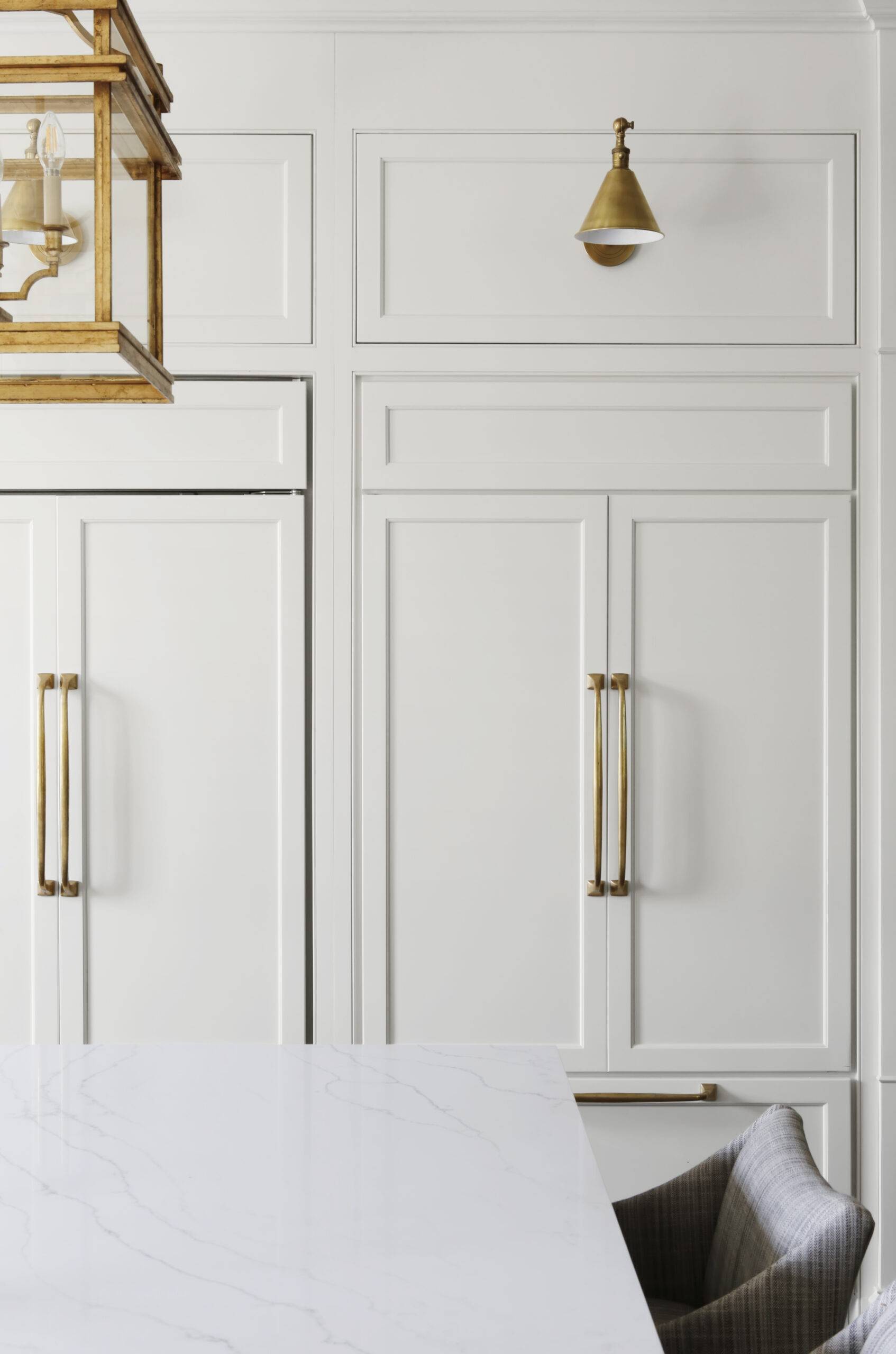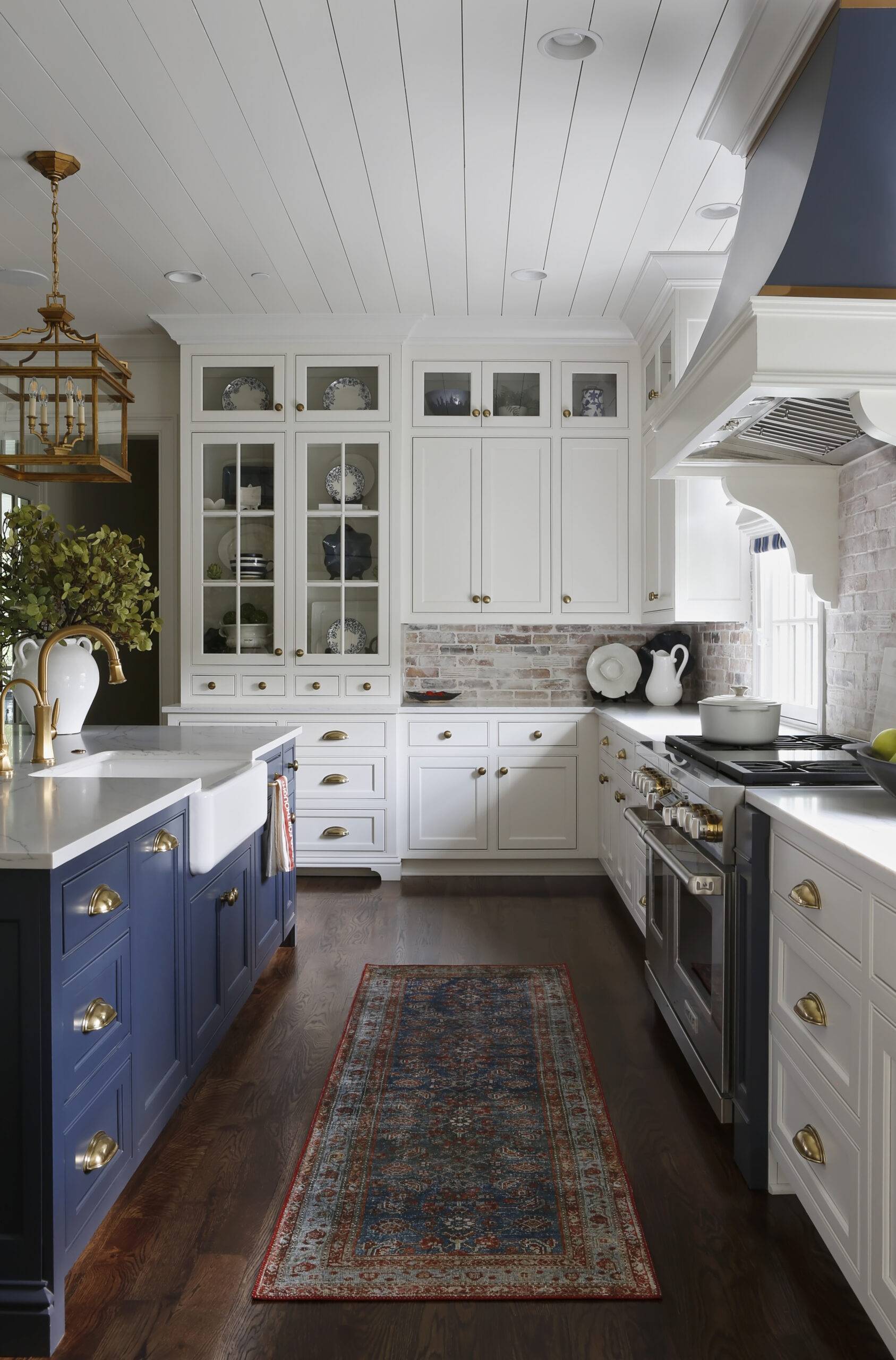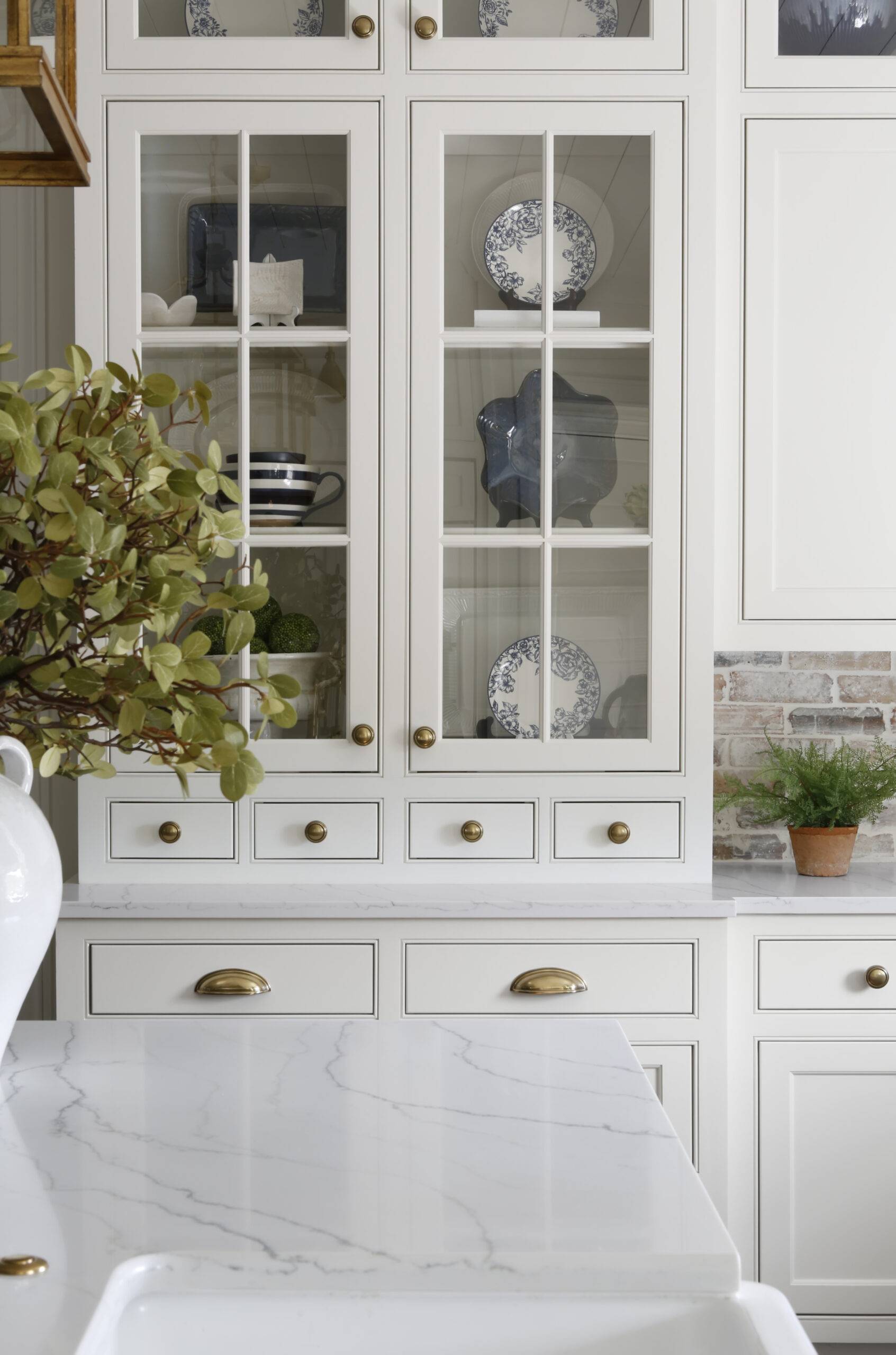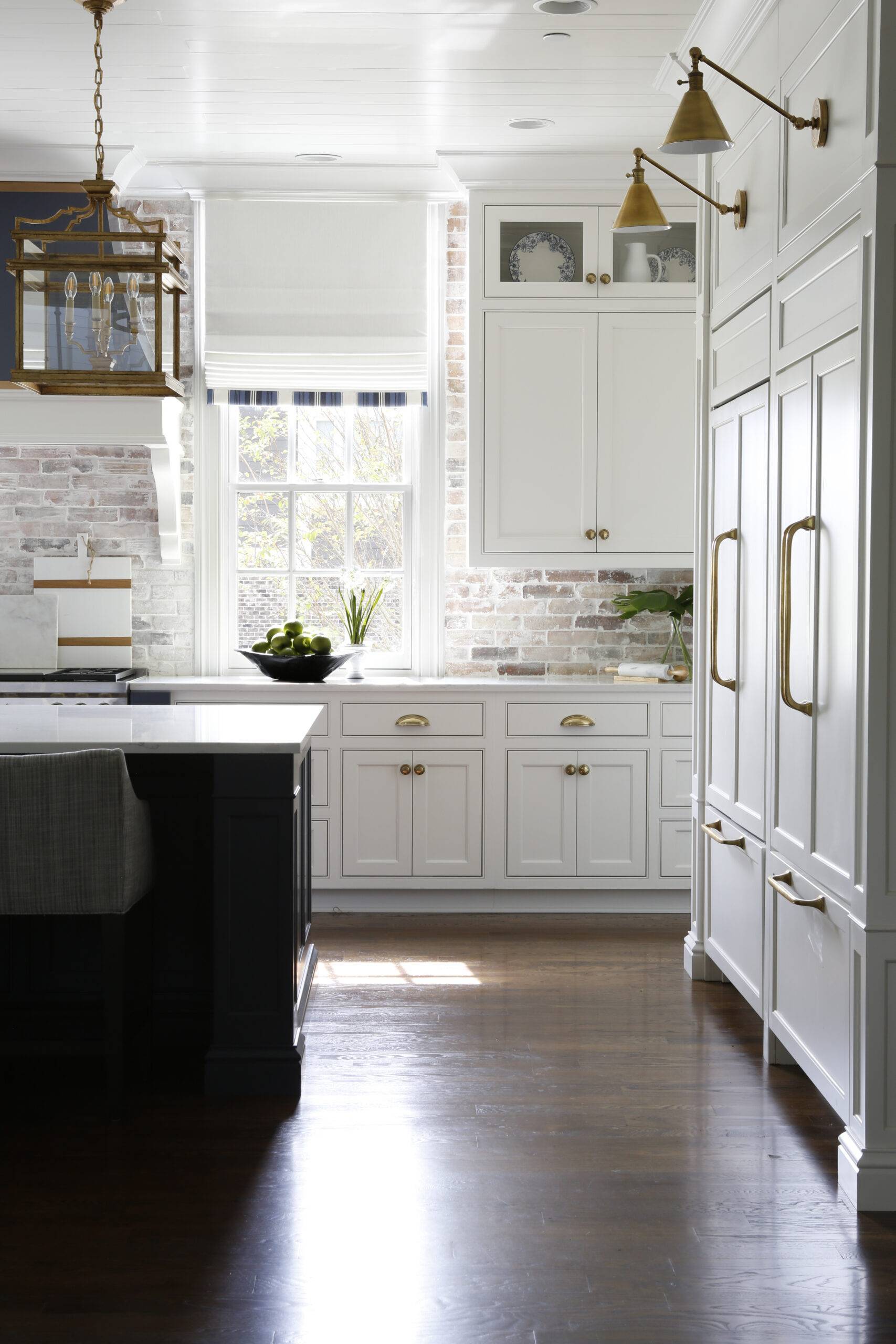 co-entrantS
Justin Davis | BUILDER | David Properties
Alyson Sailer | ARCHITECT | Sailer Design
The overall interior design concept was centered around making the brand new home feel comfortable and worn in. By mixing old with new and using timeless colors and patterns, the house will still feel fresh in 25 years. From the cabinetry to the hardware, classic touches with a vintage feel were used. When trying to make a new home feel like it has been around for years, it is important to add vintage touches. To accomplish this look we found old brick from Chicago and added them to the kitchen backsplash. Wolf appliances and Sub-Zero refrigeration make the most extravagant parties easy to host.
An Airy & Inviting Family Kitchen
JACQUELYN CUMMINS, CKBD | Kitchens Unlimited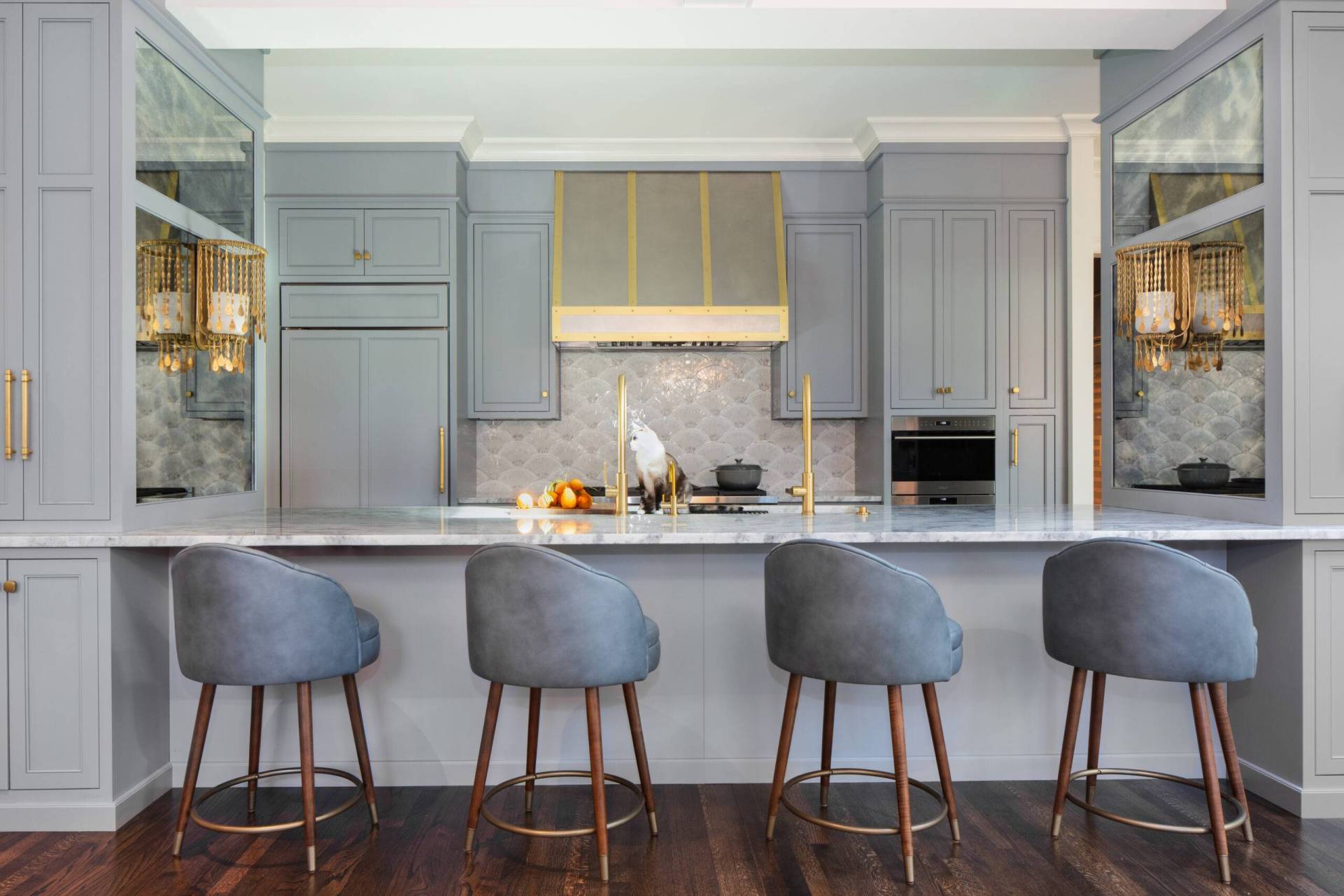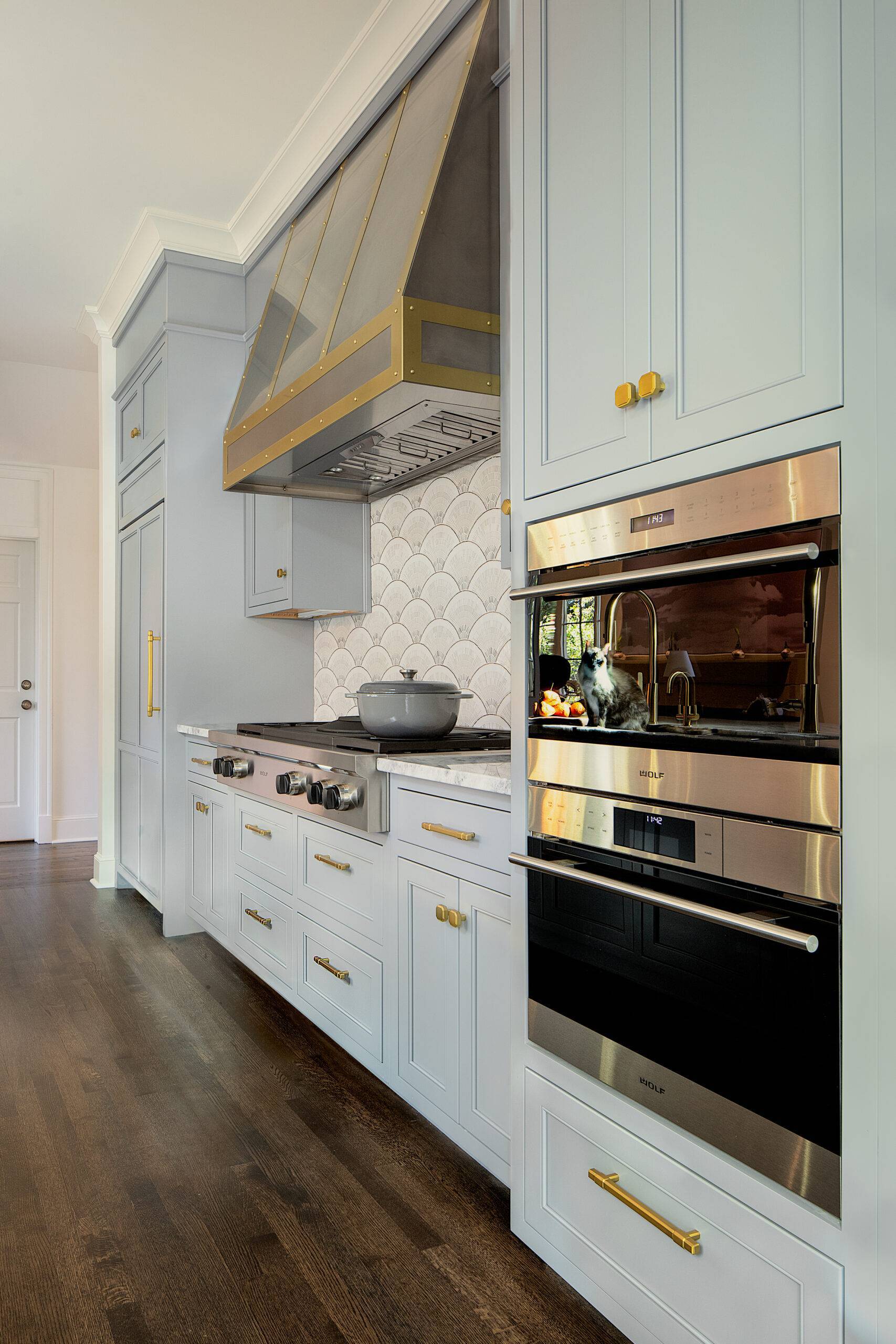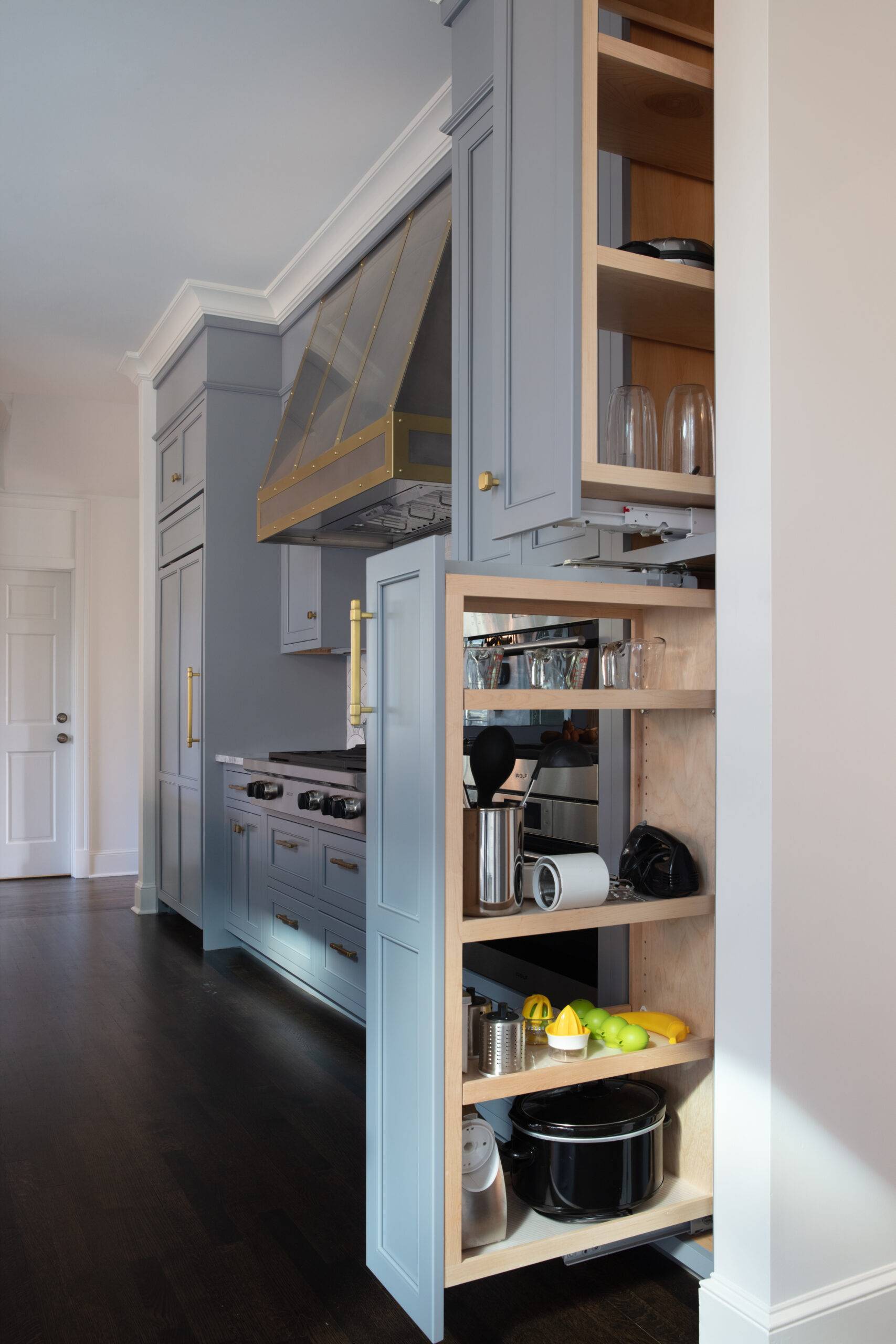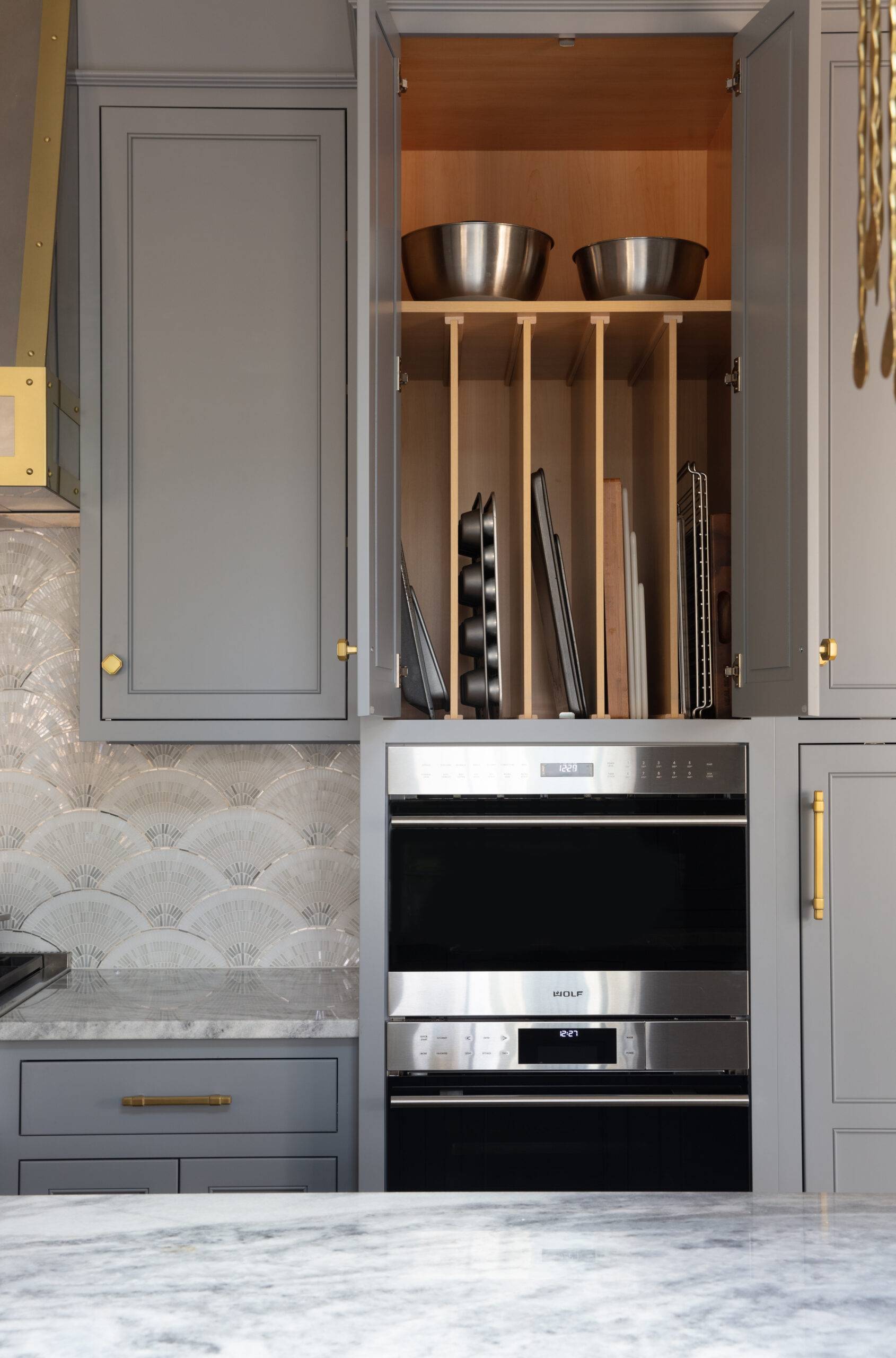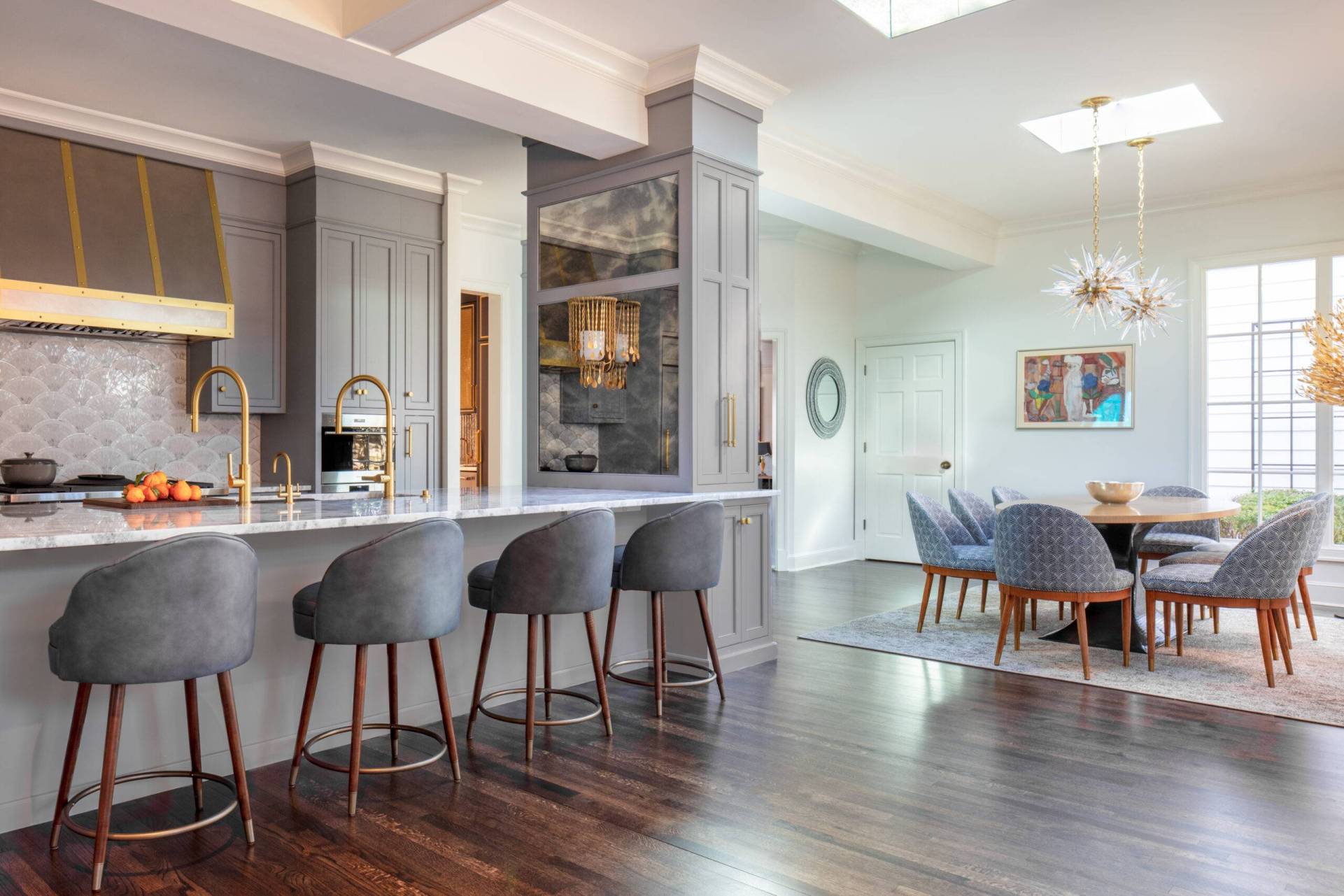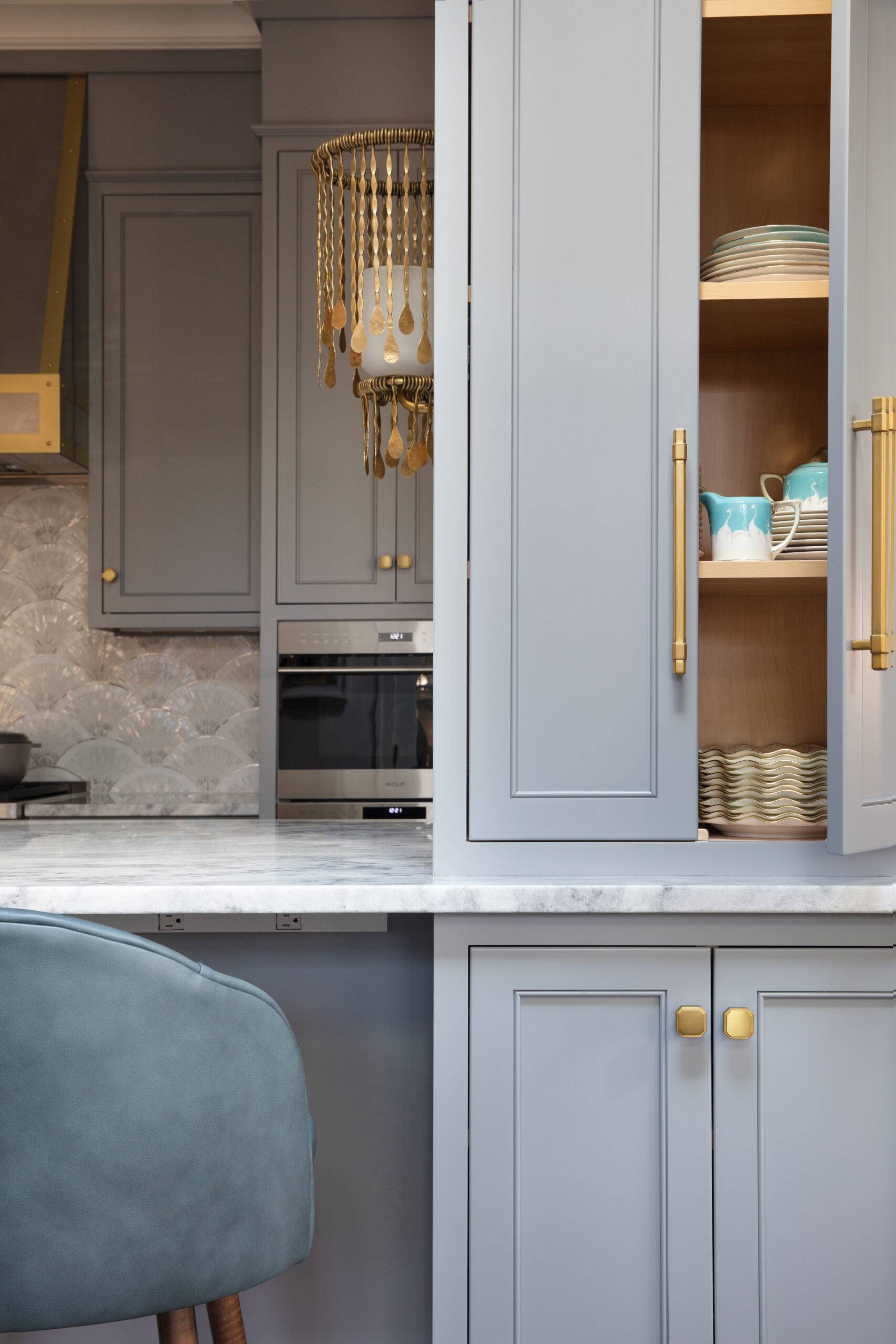 CO-ENTRANTS
GREG BAUDOIN | GREG BAUDOIN INTERIOR DESIGN
CHARLES SHIPP | CHARLES SHIPP ARCHITECTS
The homeowners wanted to address the scattered kitchen layout and enlarge the footprint to better accommodate a newly blended family of 6, as well as brighten up the space with light and airy tones while maintaining a sophisticated look. The home originally had large wood beams, dark wood floors, and a massive stone fireplace, which made it feel dull and too rustic. The finish palette featured soft grey and white tones with a touch of warm gold. We used traditional architectural details in an open floor plan to blend but define the family spaces.
Sydney Marszalek | Craftsman Residential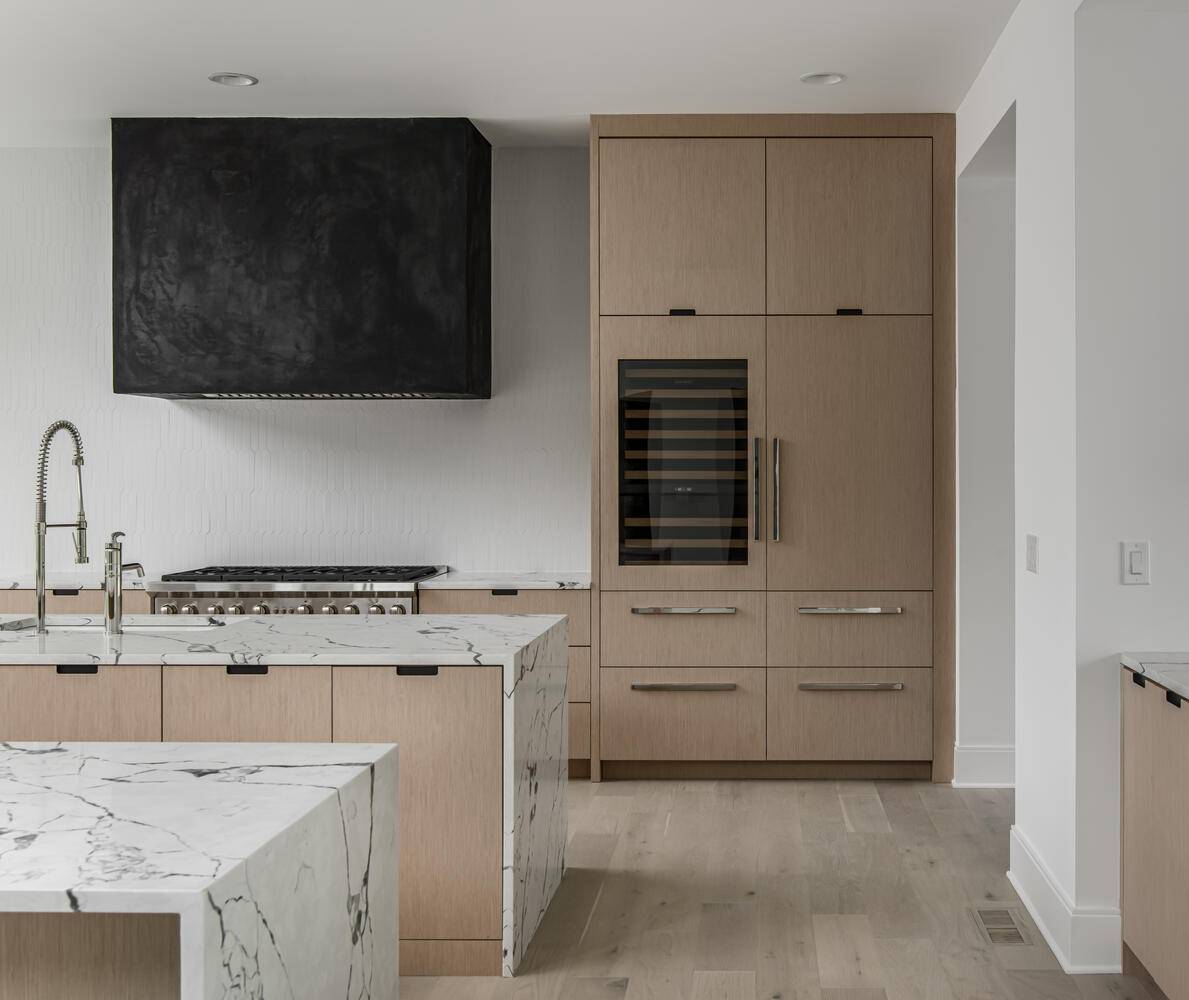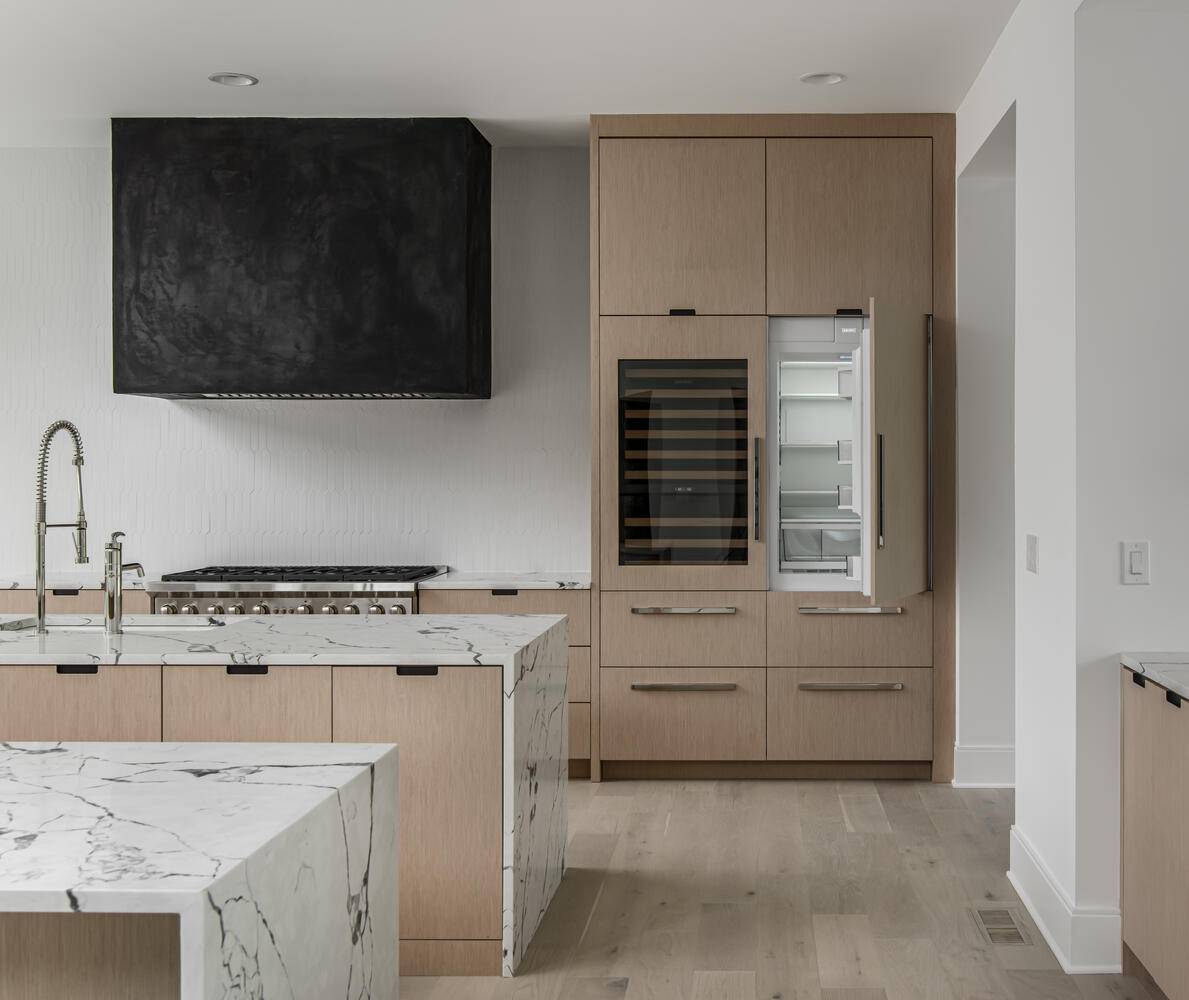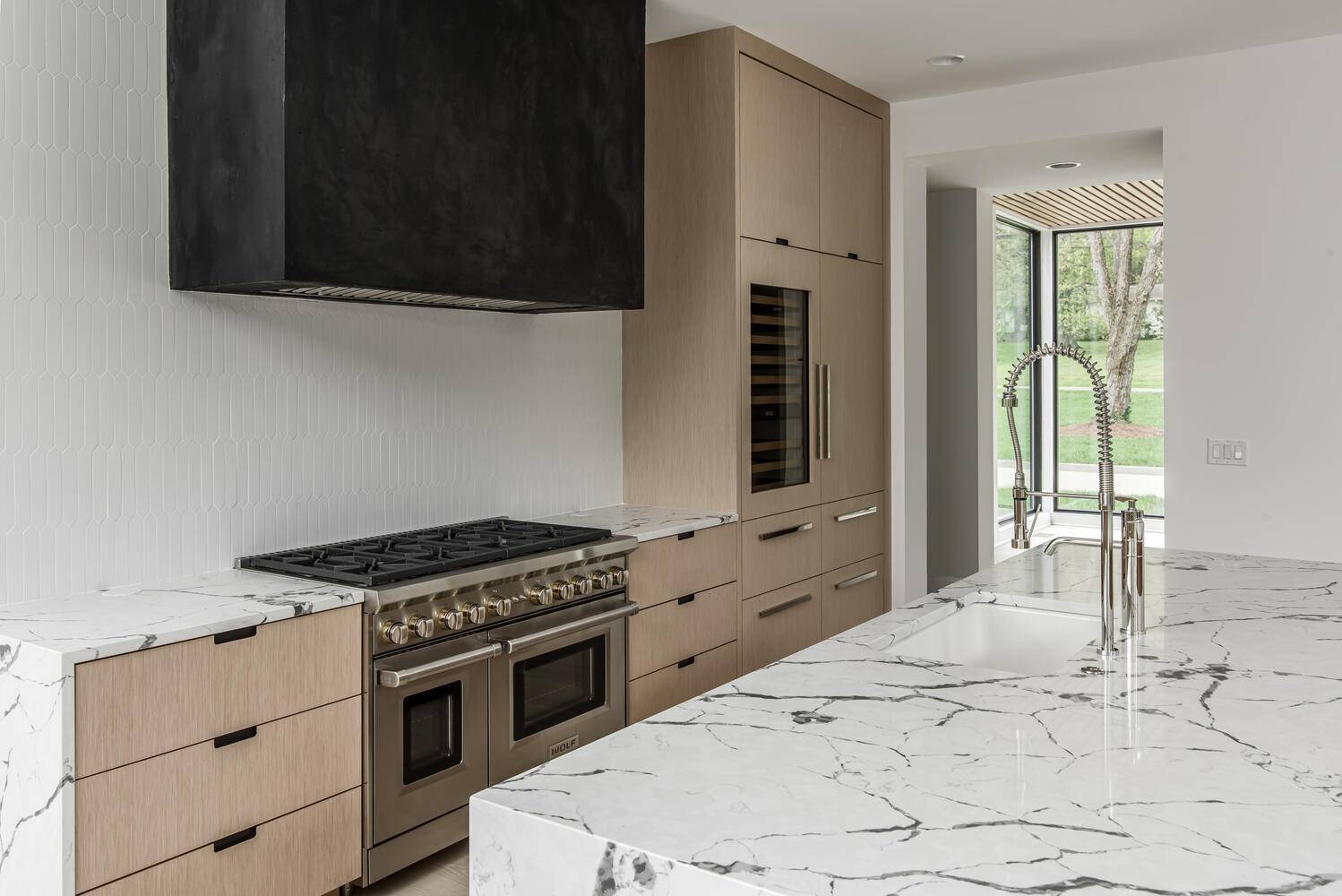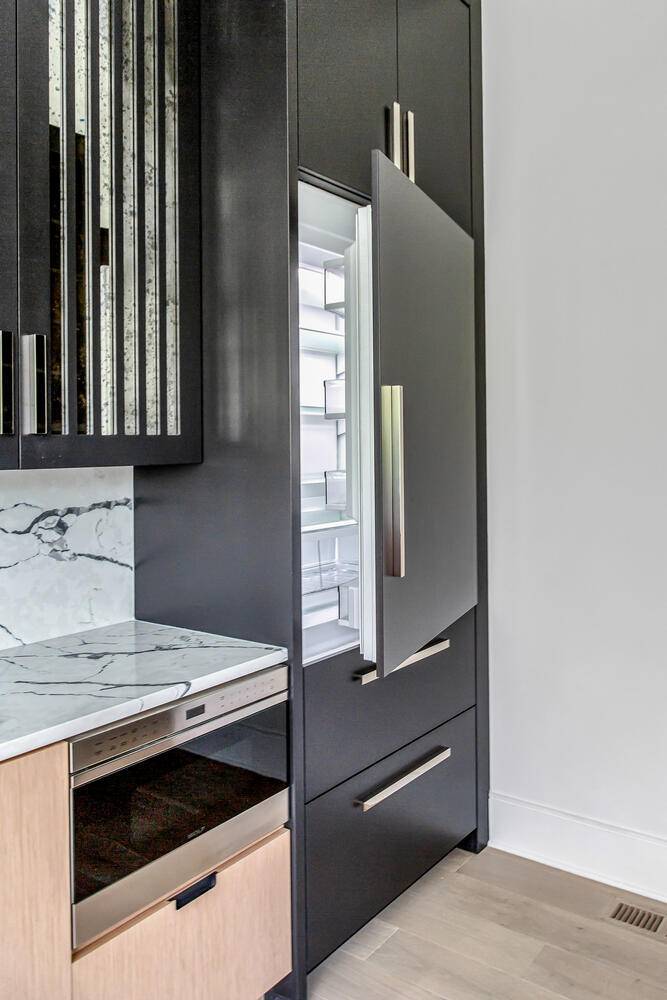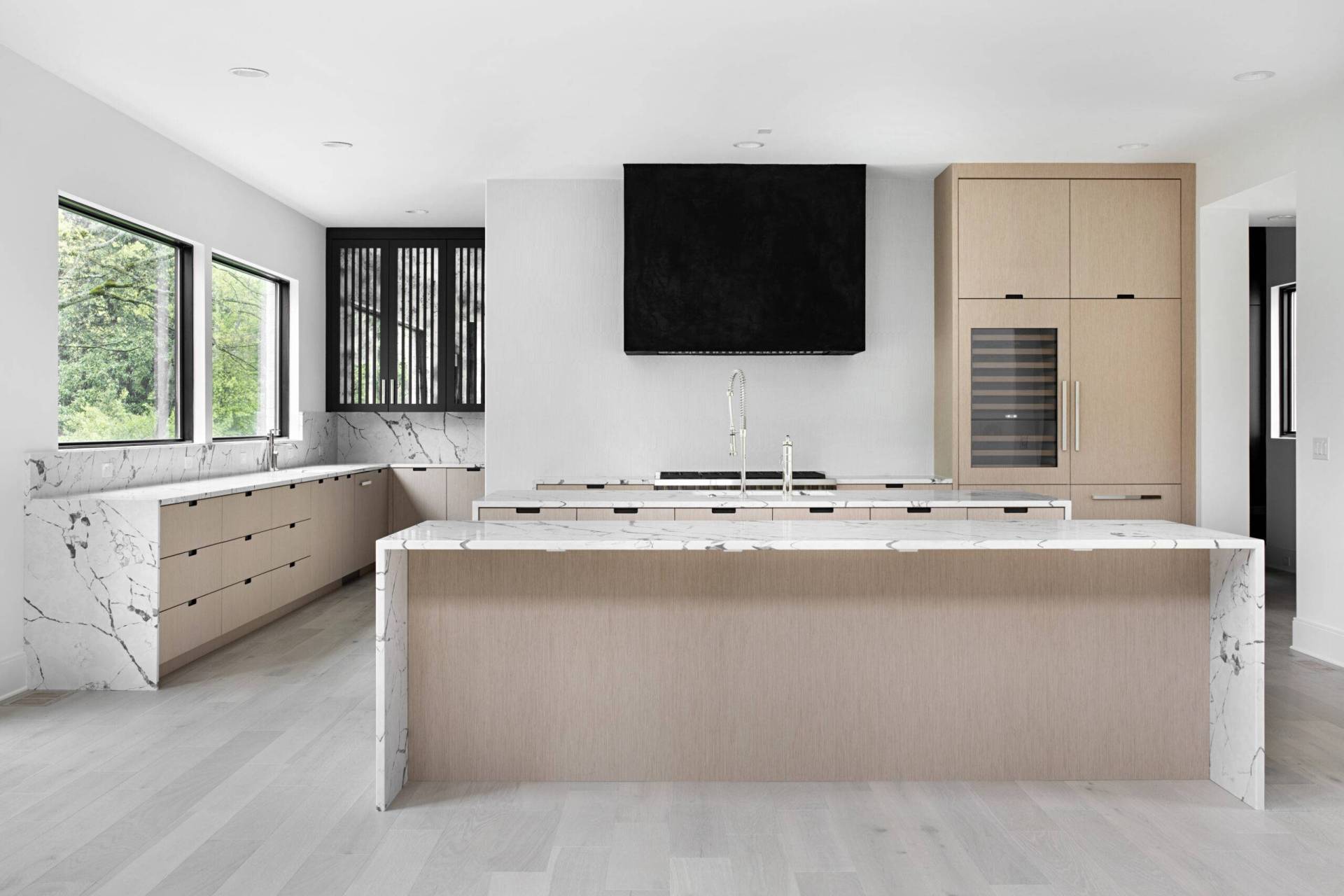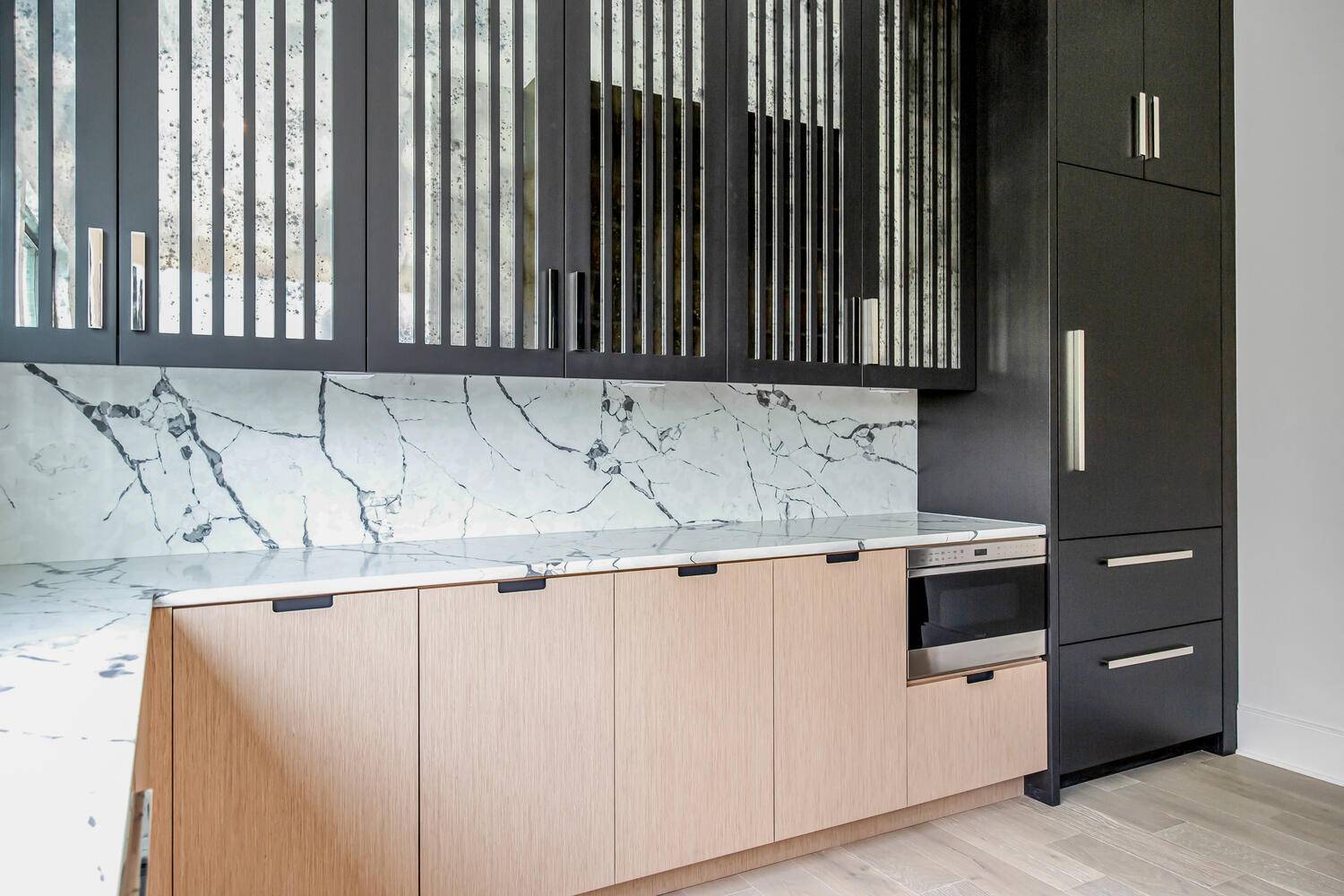 One of the homeowners goals was to have space to entertain in a modern kitchen, that offers lots of room for their wine and company. This family wanted a fridge that was designated for their kids, so putting a 36″ Sub-Zero fridge in the working pantry made sense, while leaving the 36″ wine column in the main kitchen for entertaining. As a design professional, it was my goal to showcase the wine column while keeping the other fridges seamless in the design, which provided a clean aesthetic in the end. Another design goal was to showcase the 48″ Wolf range by adding an oversized range hood really pulling your eye into the core design feature.
Jessica Davis | JL Design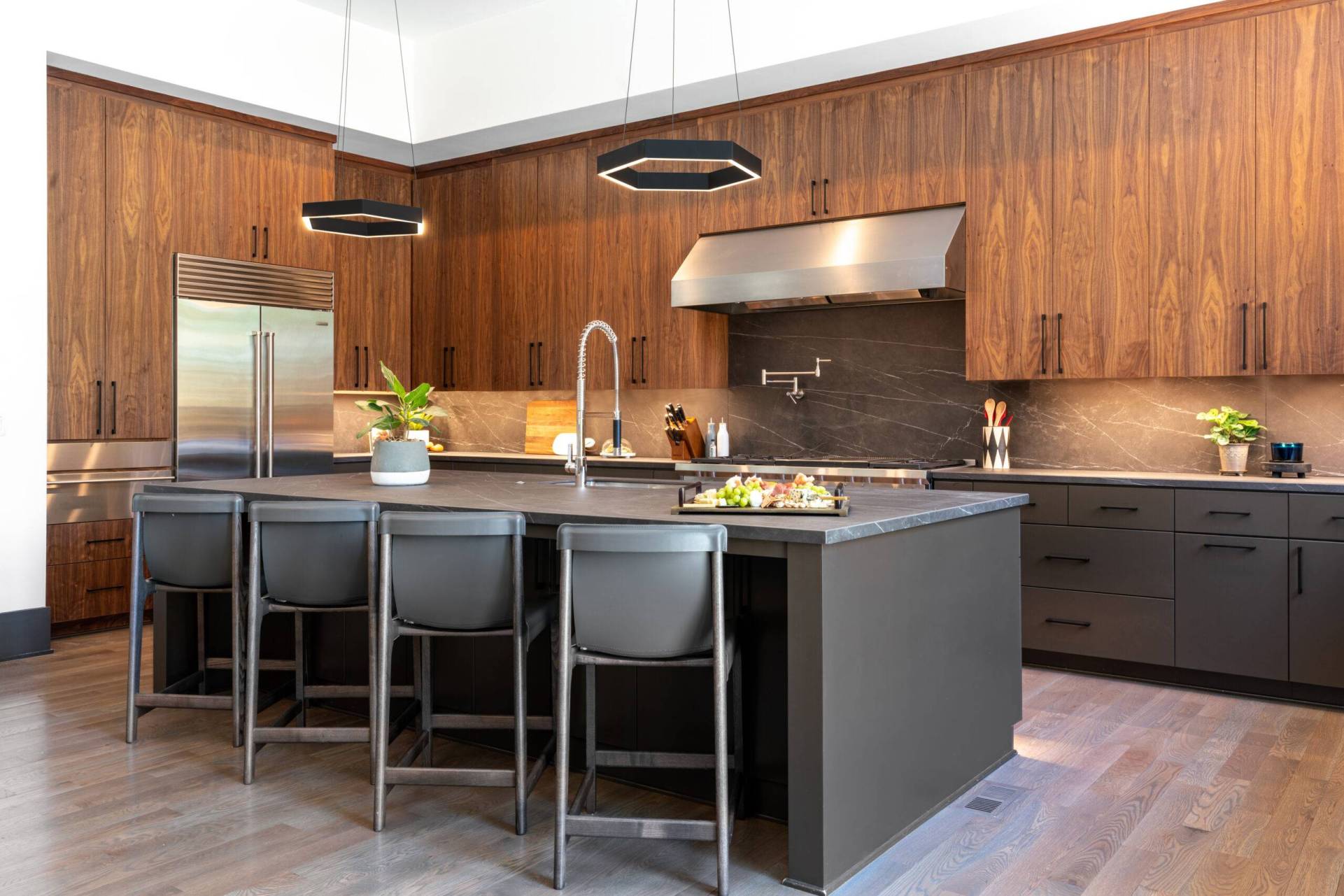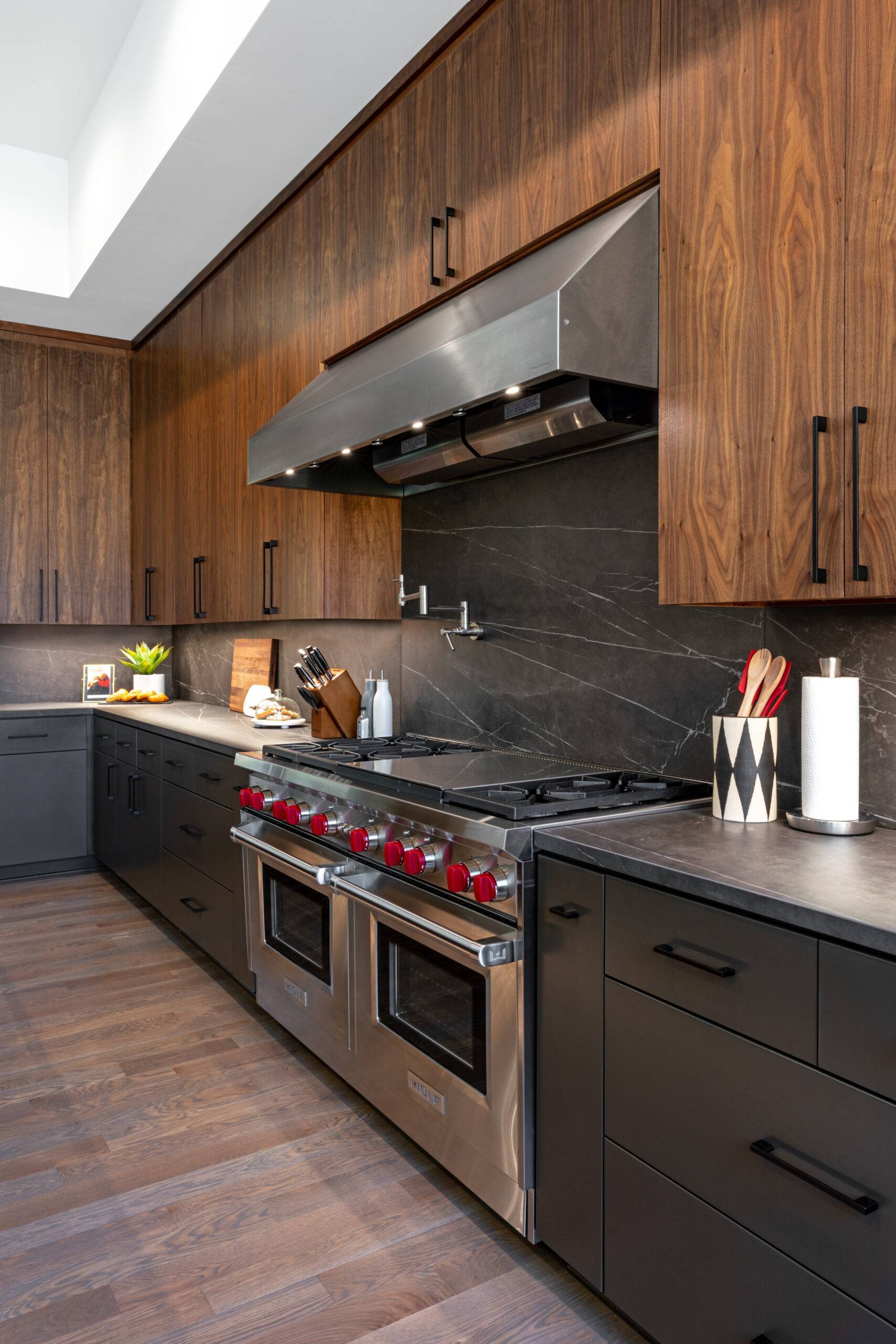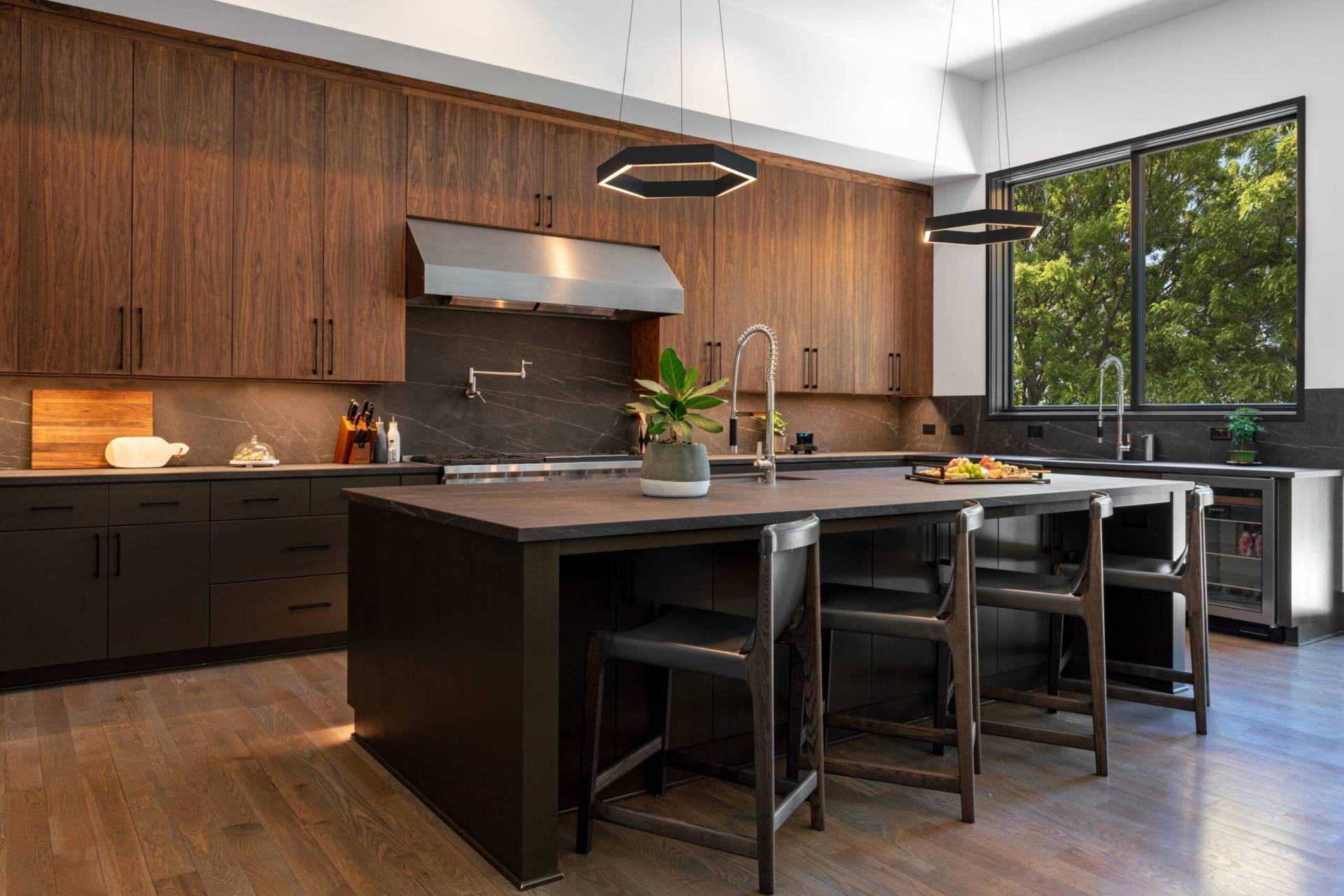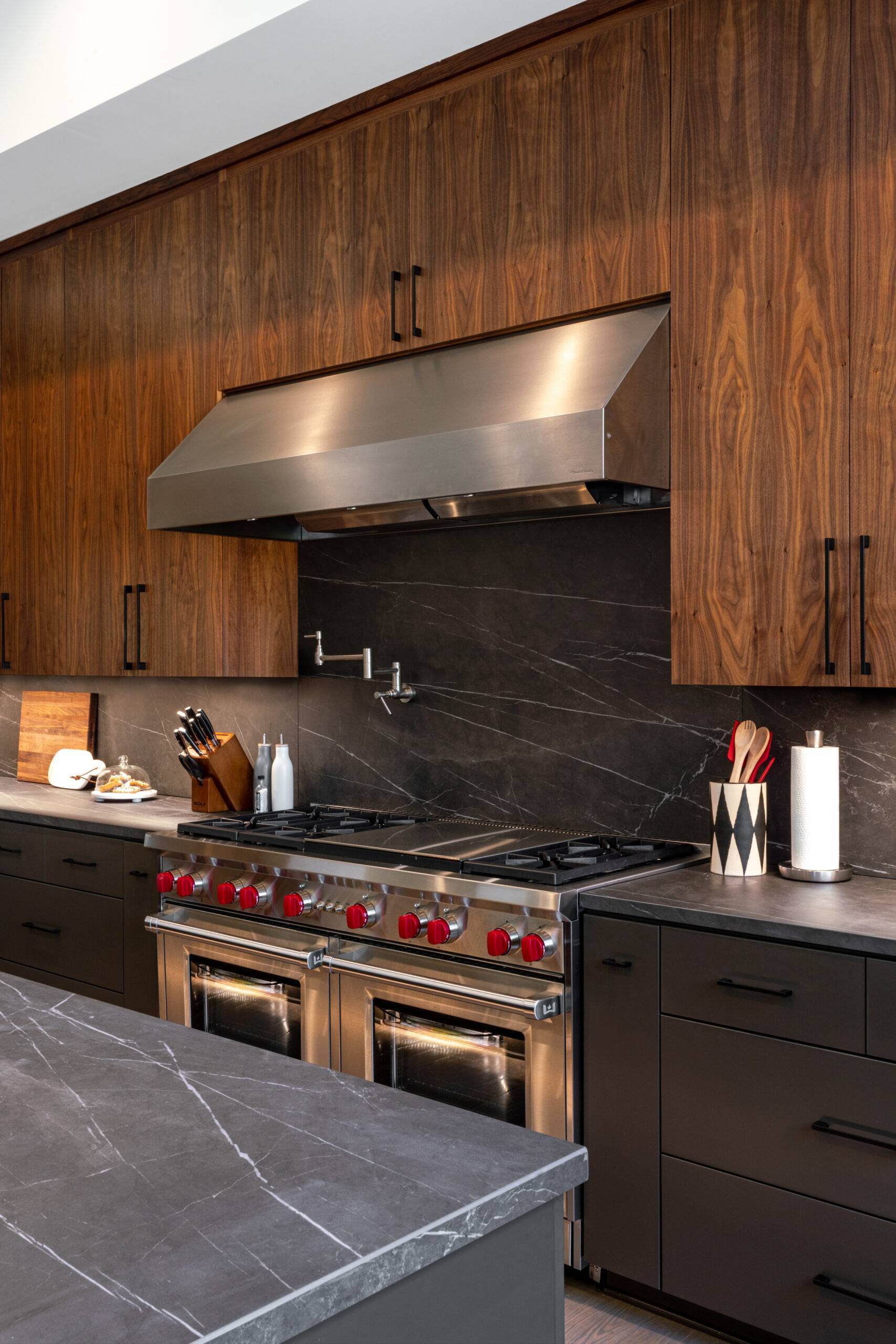 PHOTOGRAPHER: Reagen Taylor
We wanted to create a masculine space with a modern aesthetic that still had an approachable feel, and to provide lots of concealed storage for the homeowner and his two young boys. We also wanted to incorporate elements of "surprise" throughout, to break up a monochromatic palette and keep the user interested and curious throughout the space.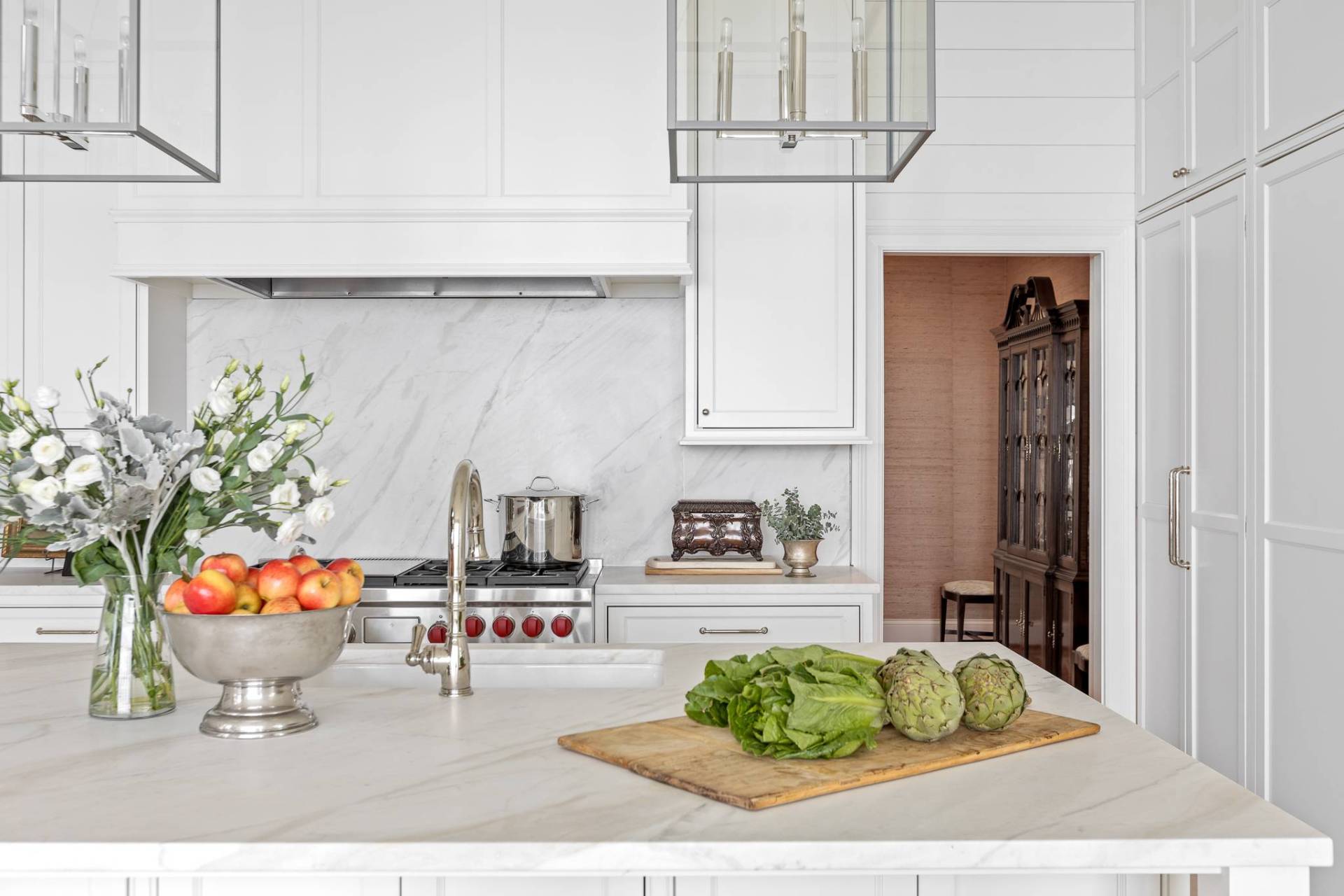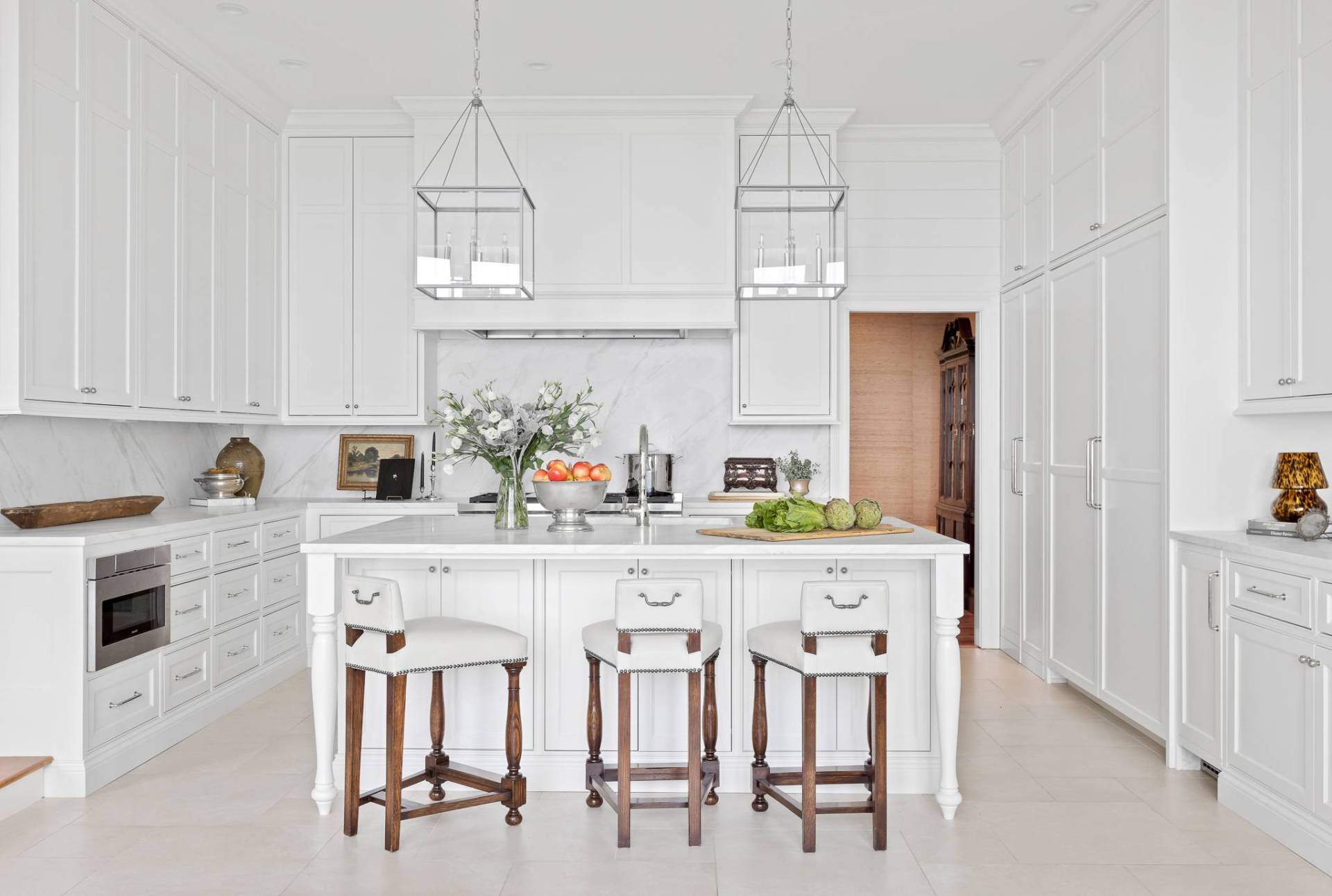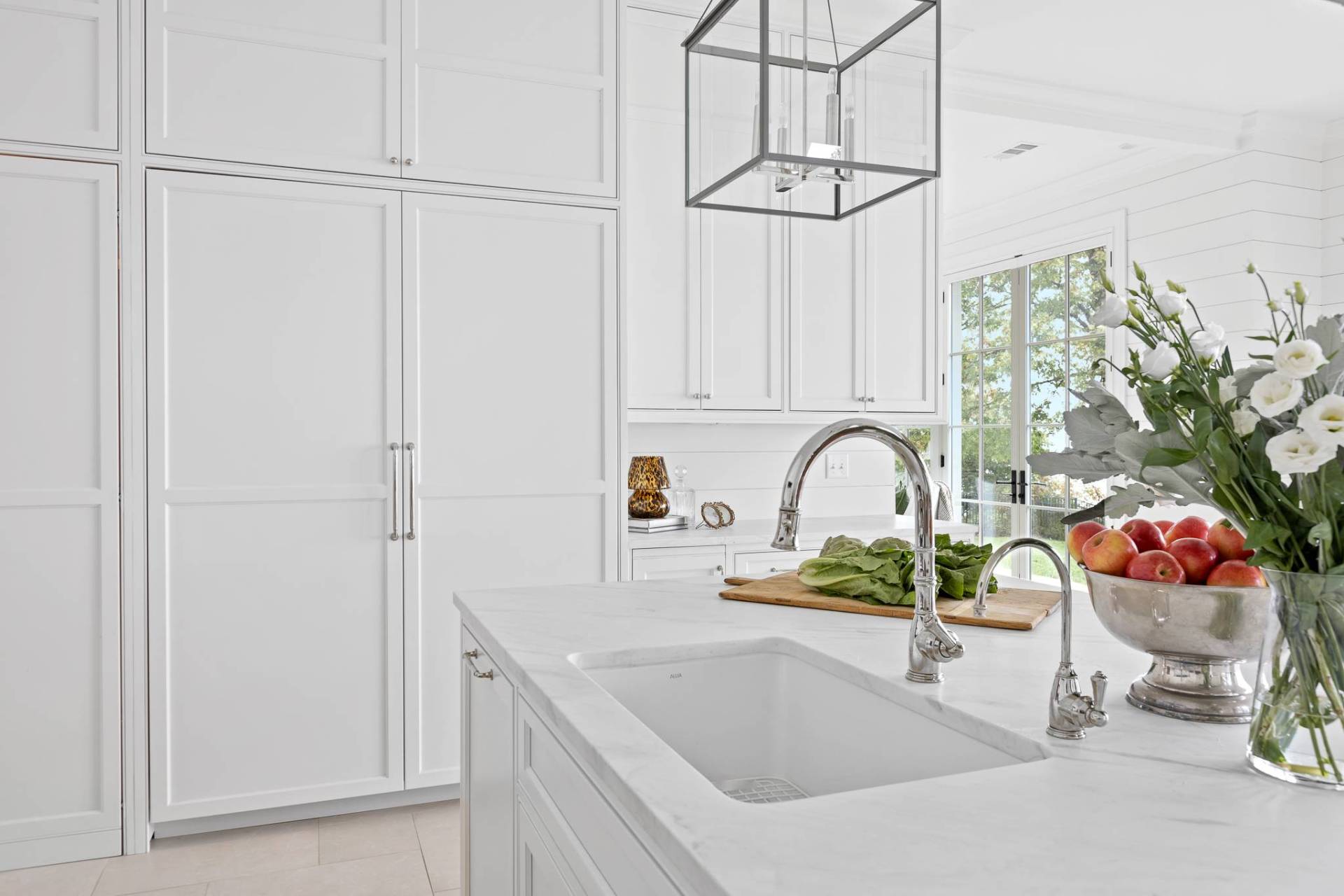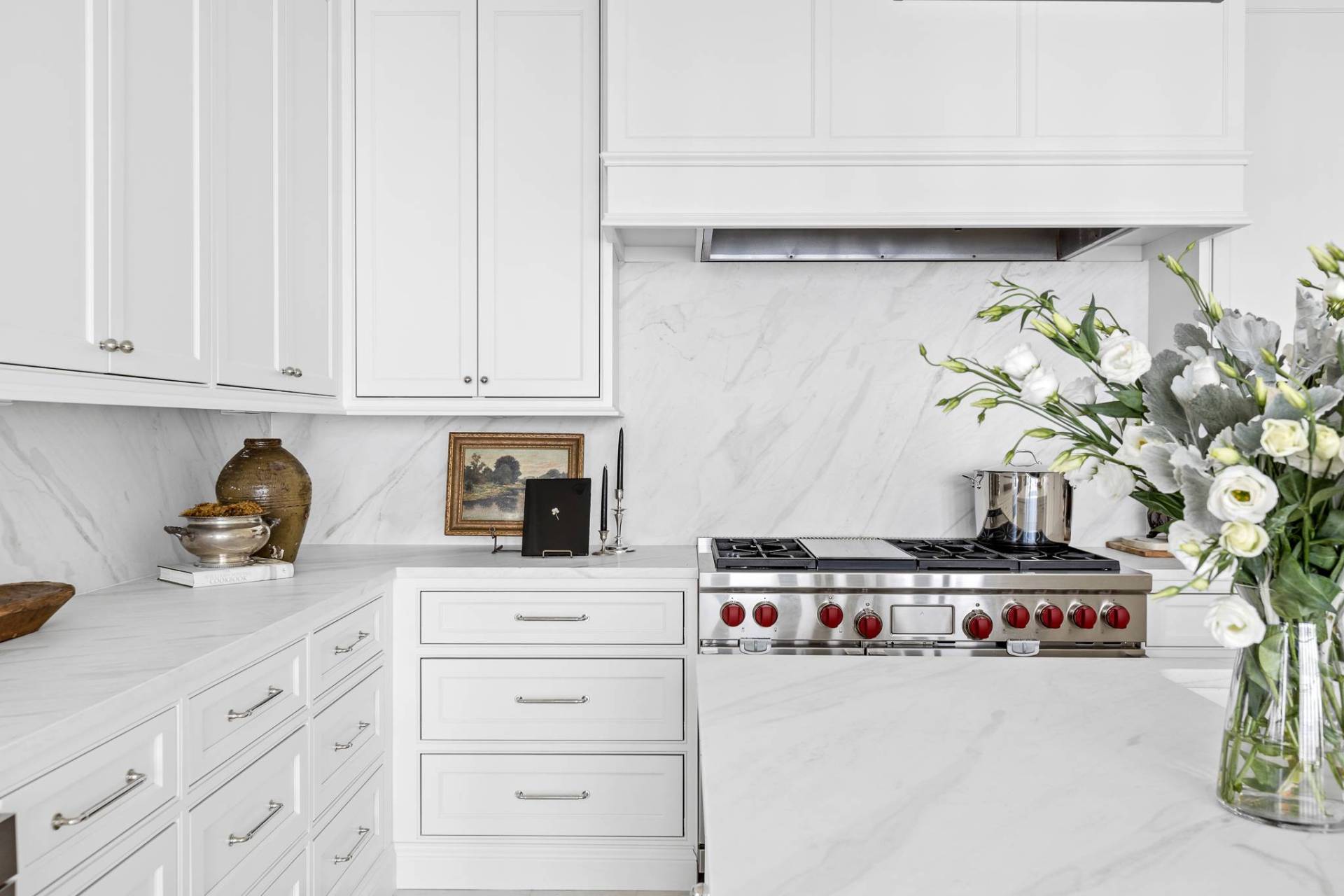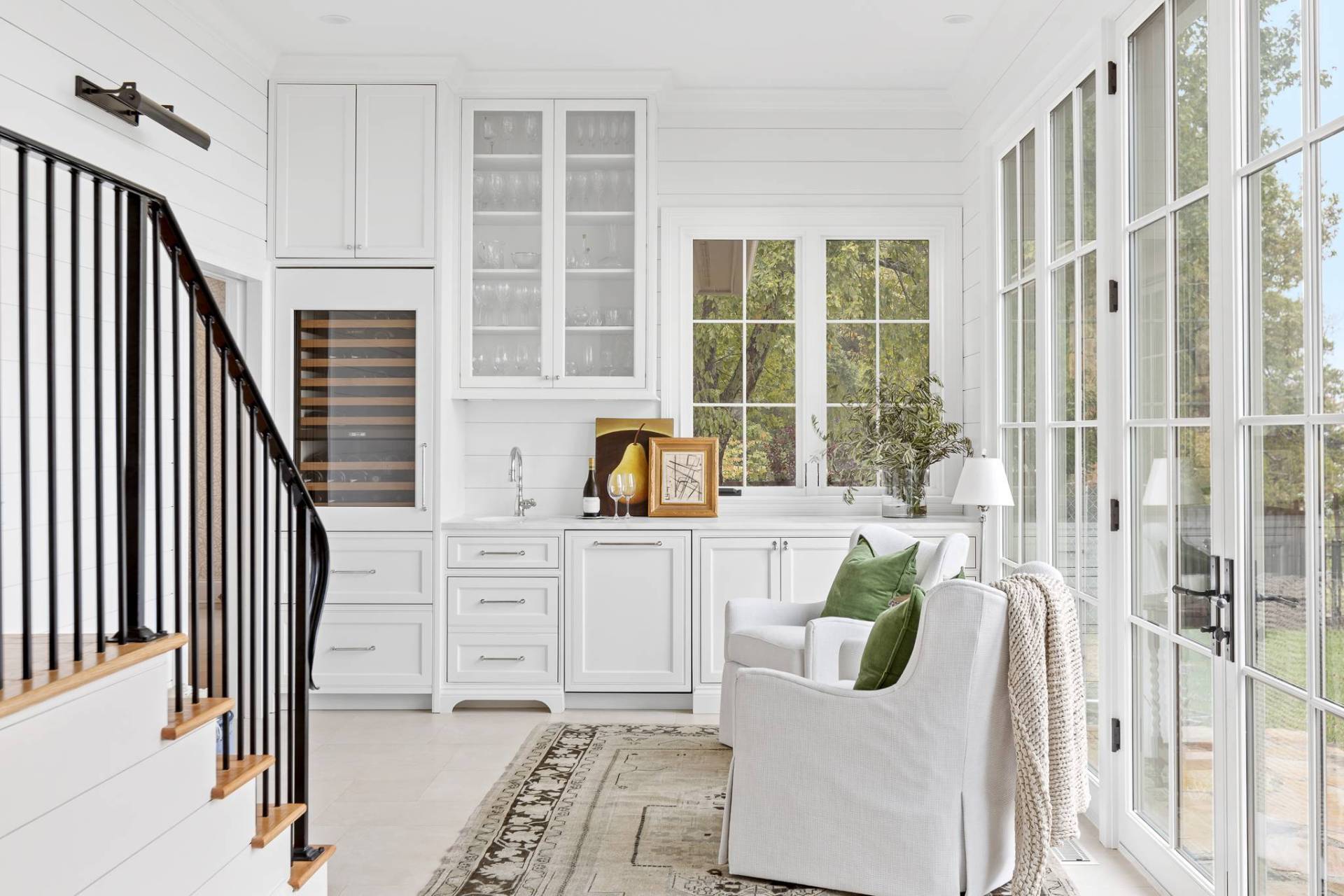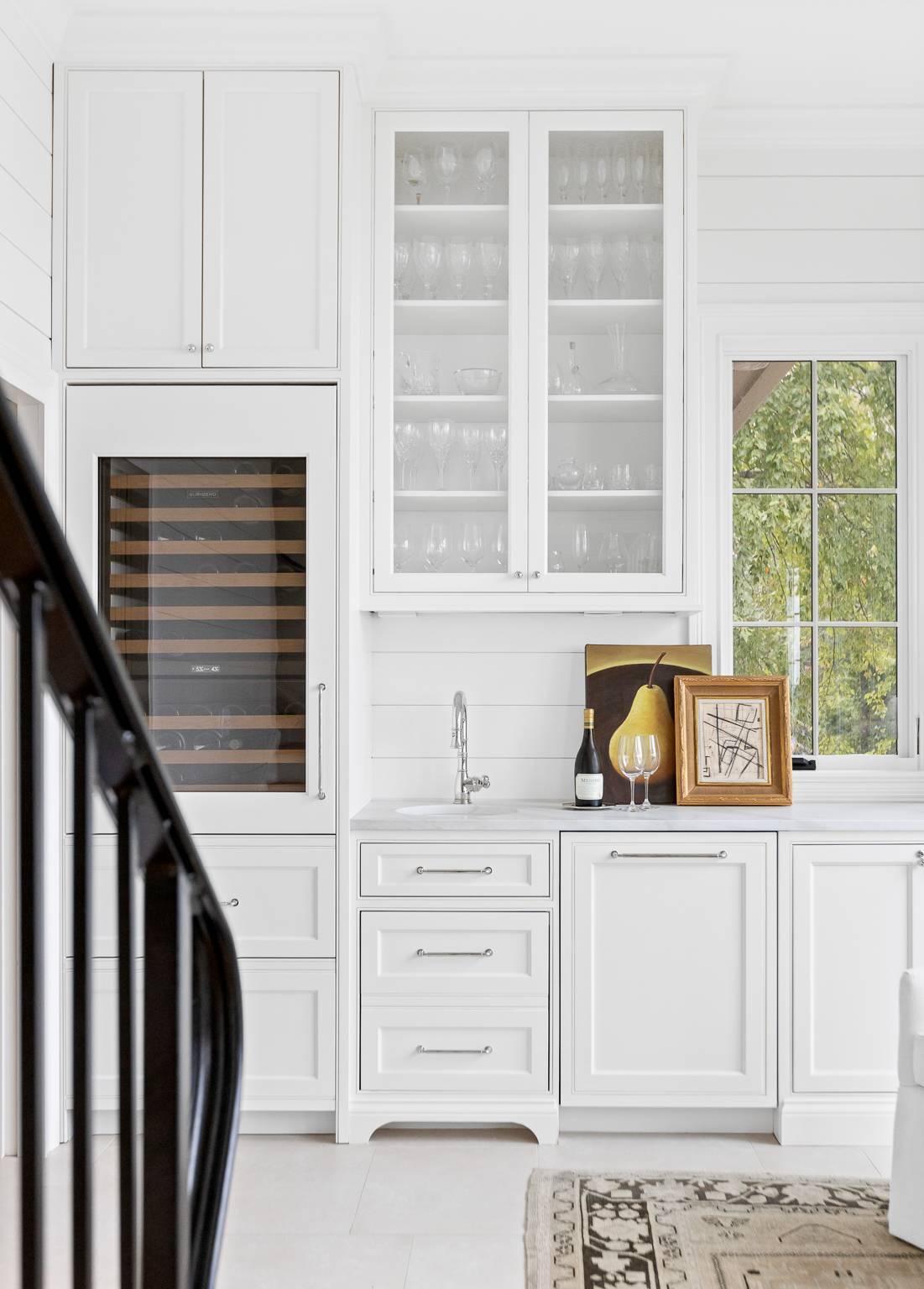 My client and I both think that Sub-Zero is a superior product and the panel ready options let us hide the fridge, so that the doors to the pantry would look like the refrigerator fronts as well, but they are actually doors to a hidden pantry beyond.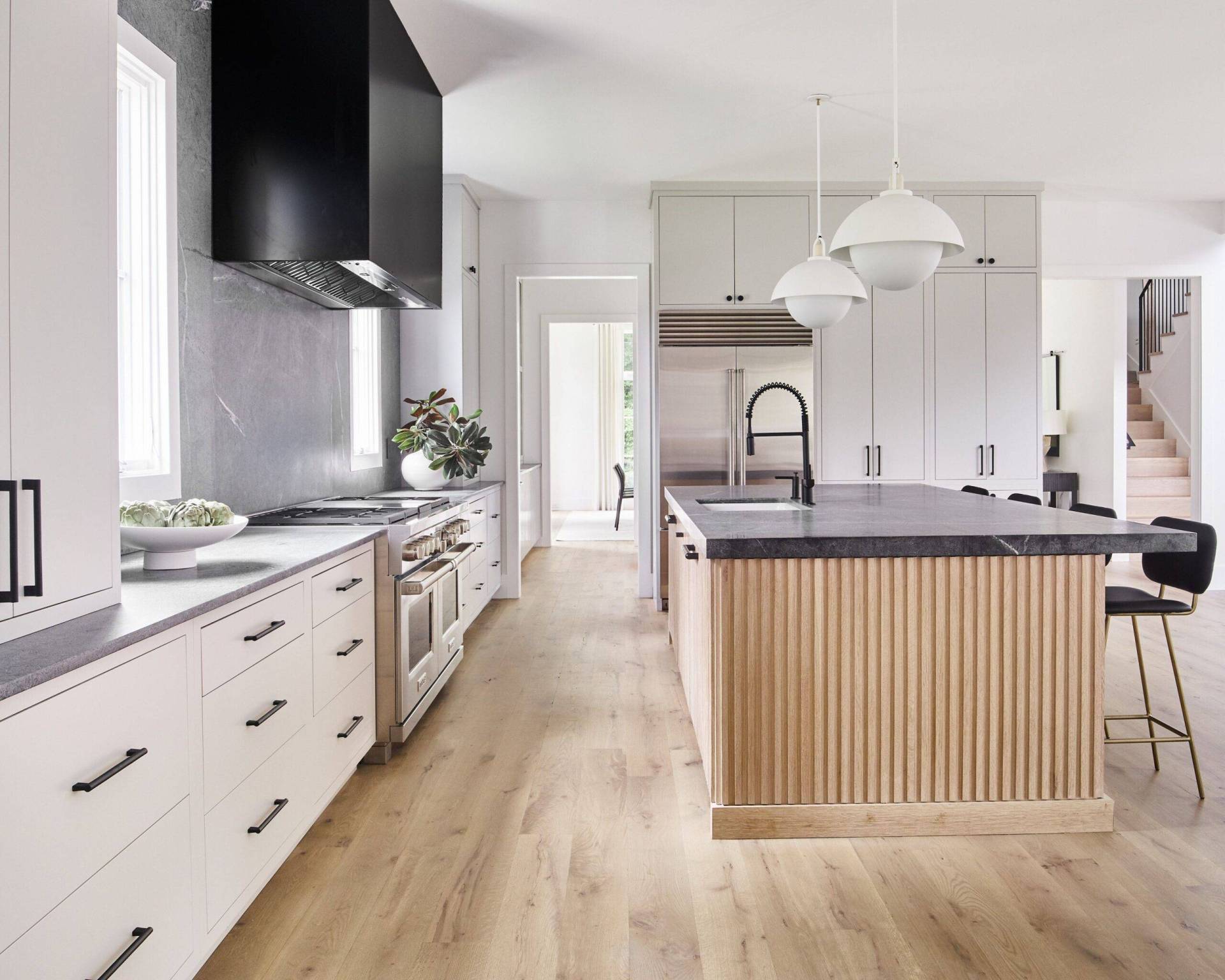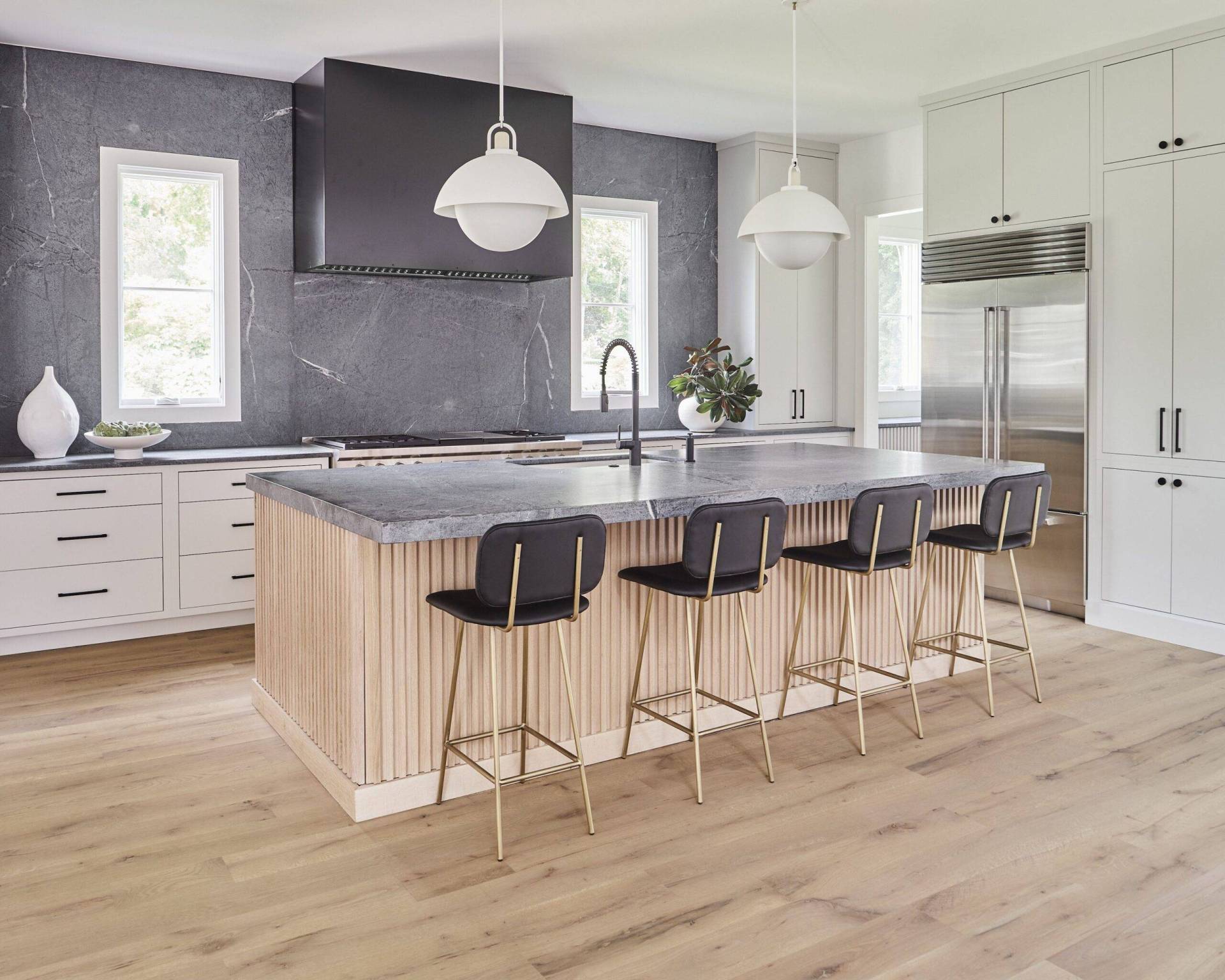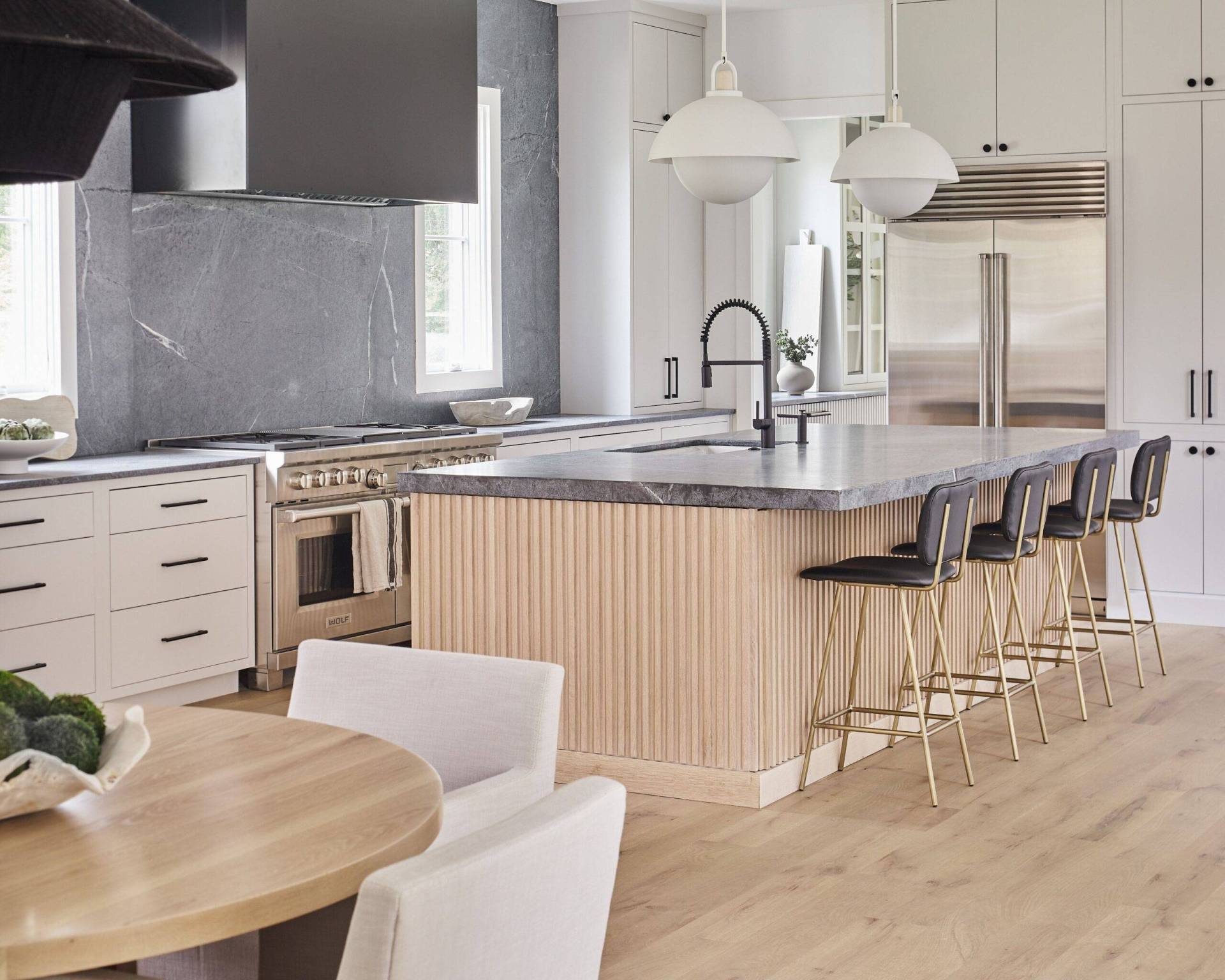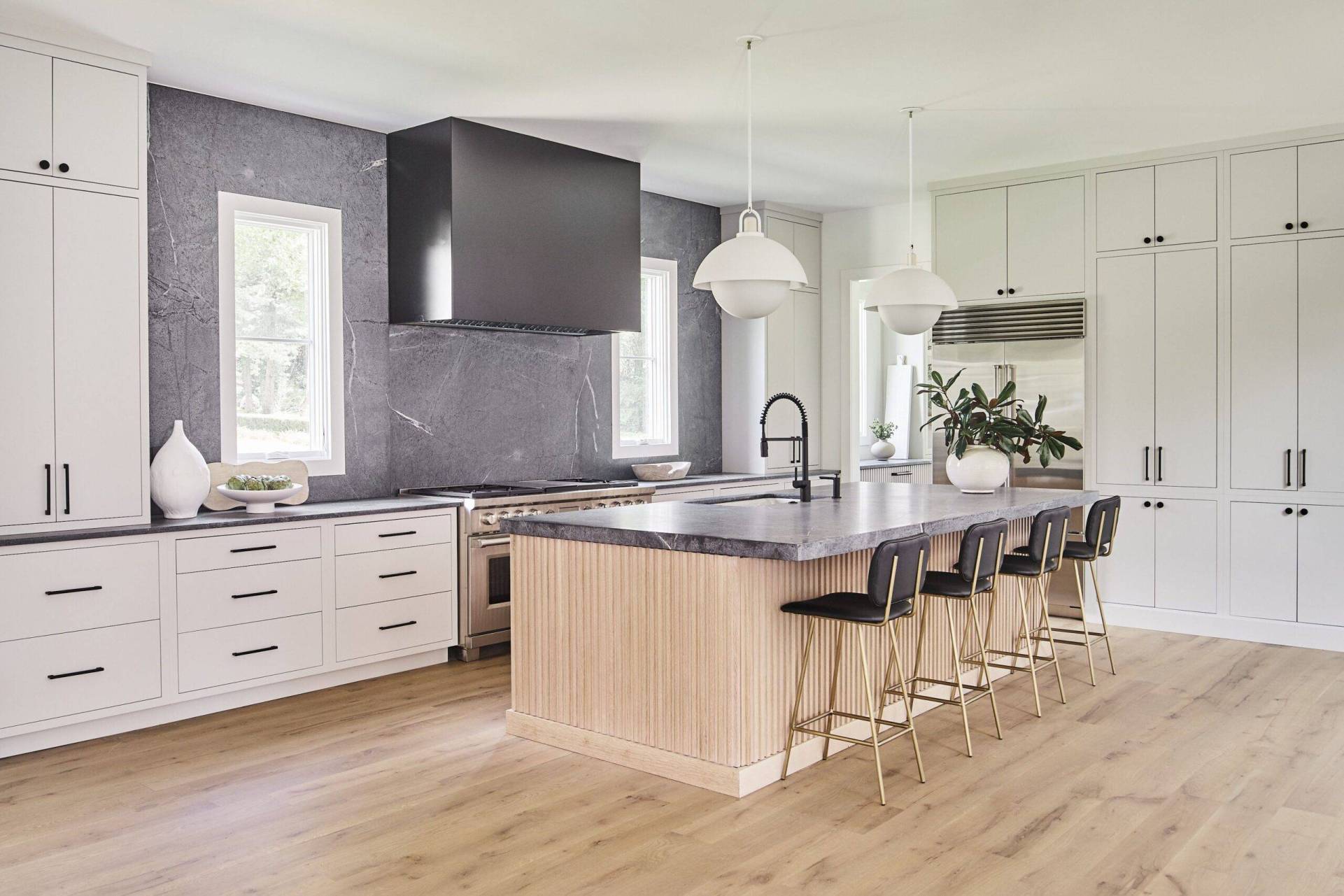 I wanted to customize the space to make it feel like they had built their dream home from the ground up. Our goal was to make it feel clean, modern and high end, but still livable and comfortable for their family. I put a lot of focus on the kitchen being unique and different from anything I've seen. We did a full height soapstone backsplash to add drama behind their 60″ range. We also did a very textured white oak wood island, which was complicated but turned out perfectly.
Terri Sears, Allied ASID, NKBA | Hermitage Lighting Gallery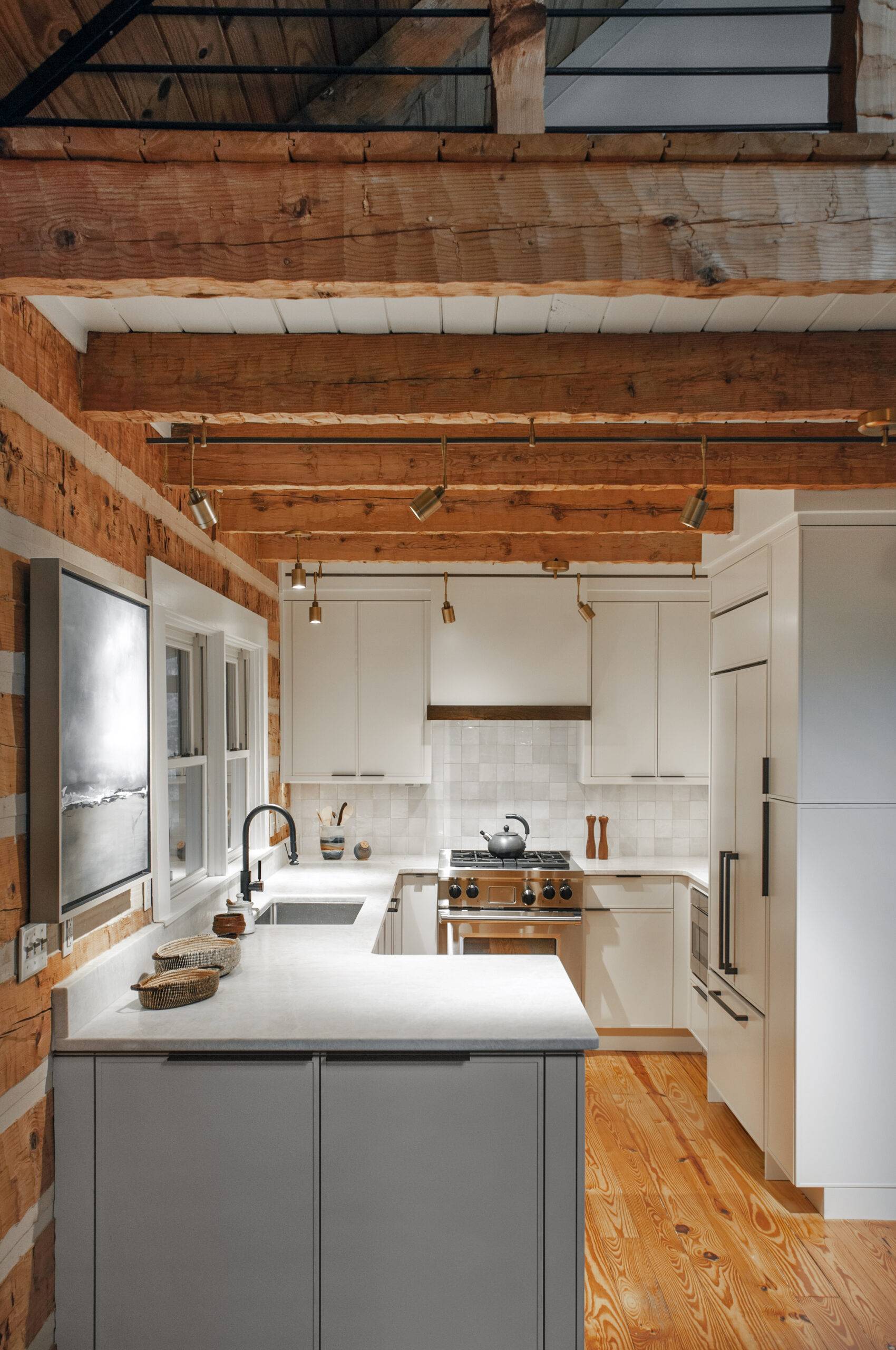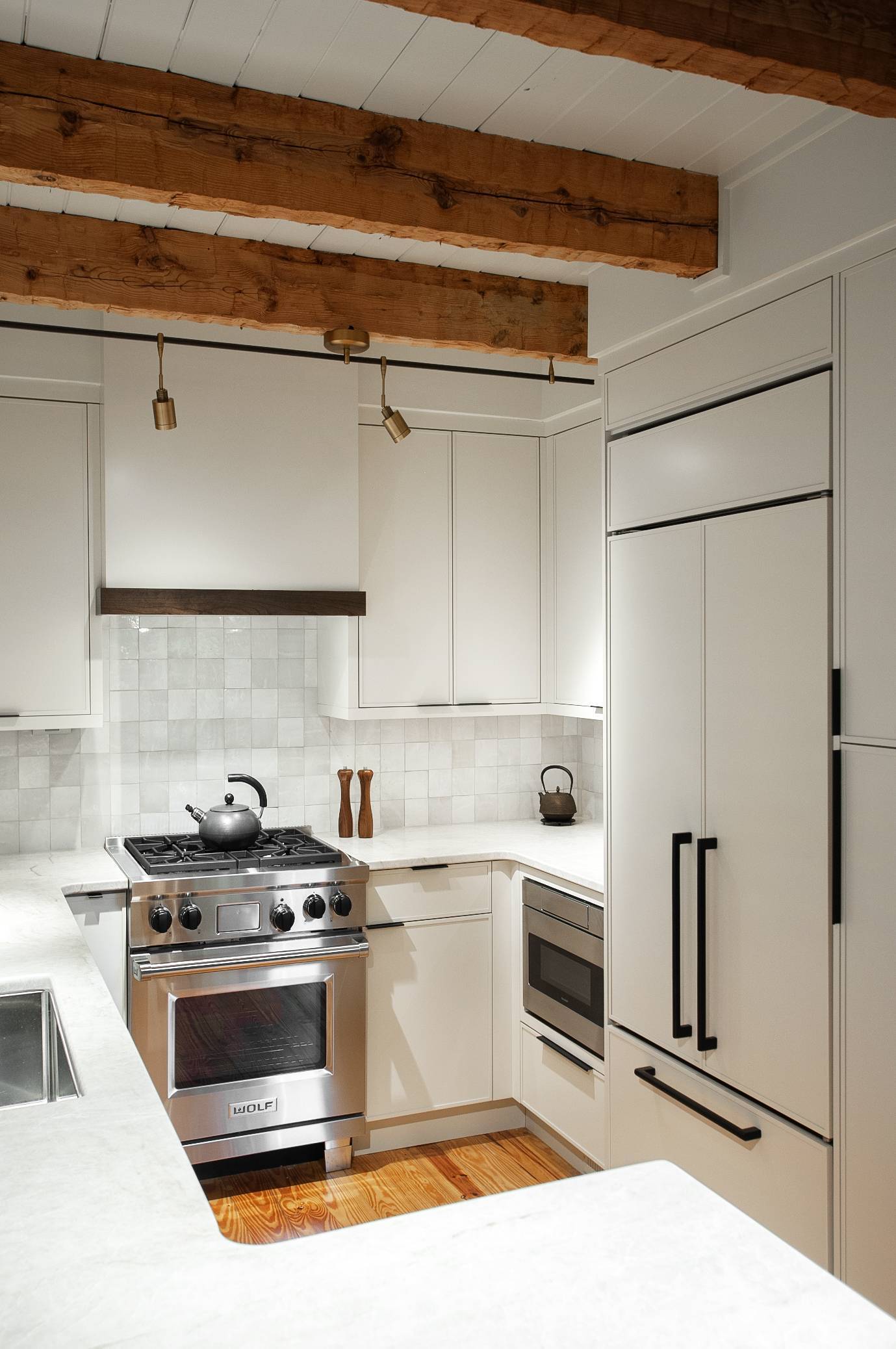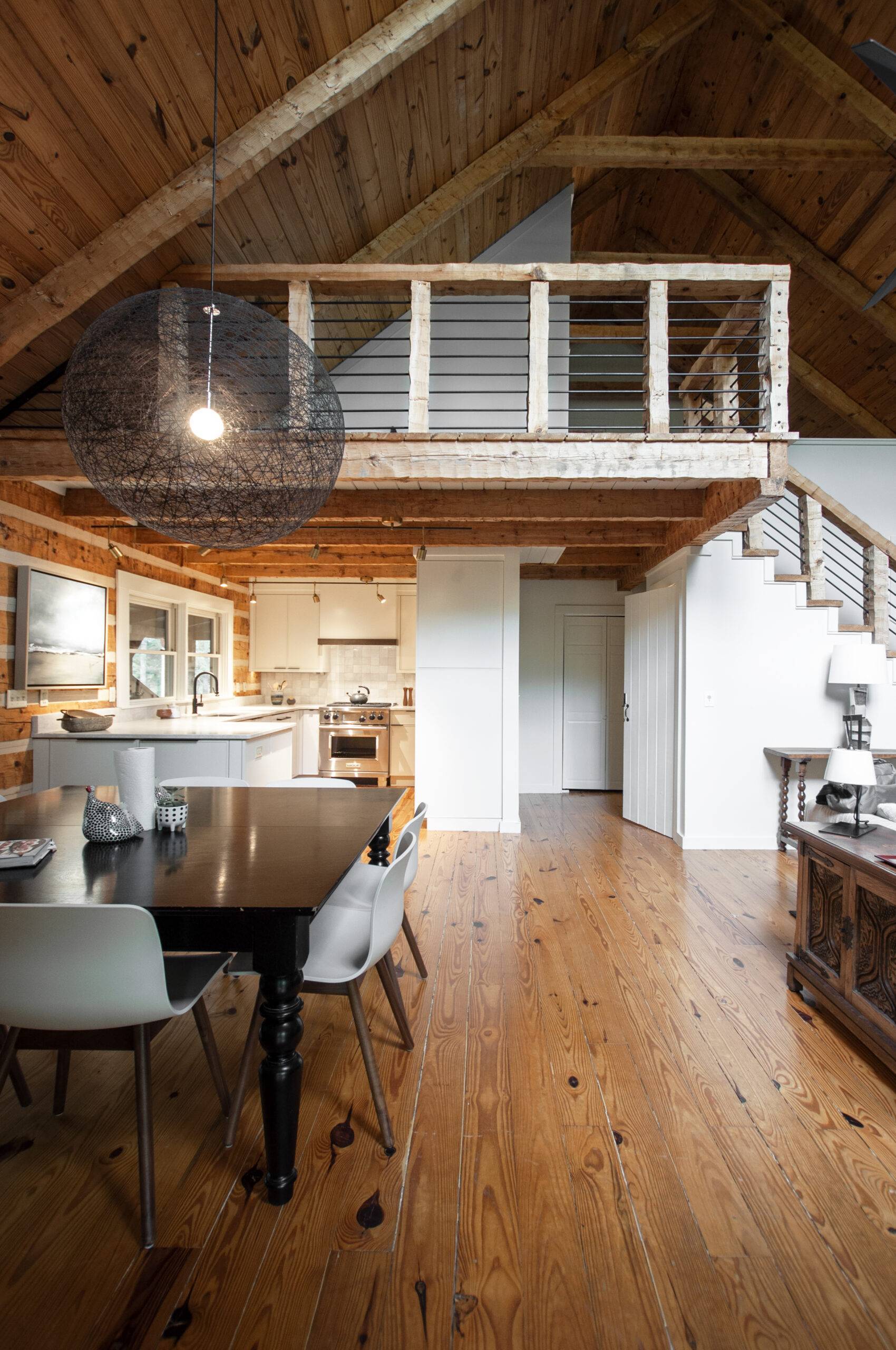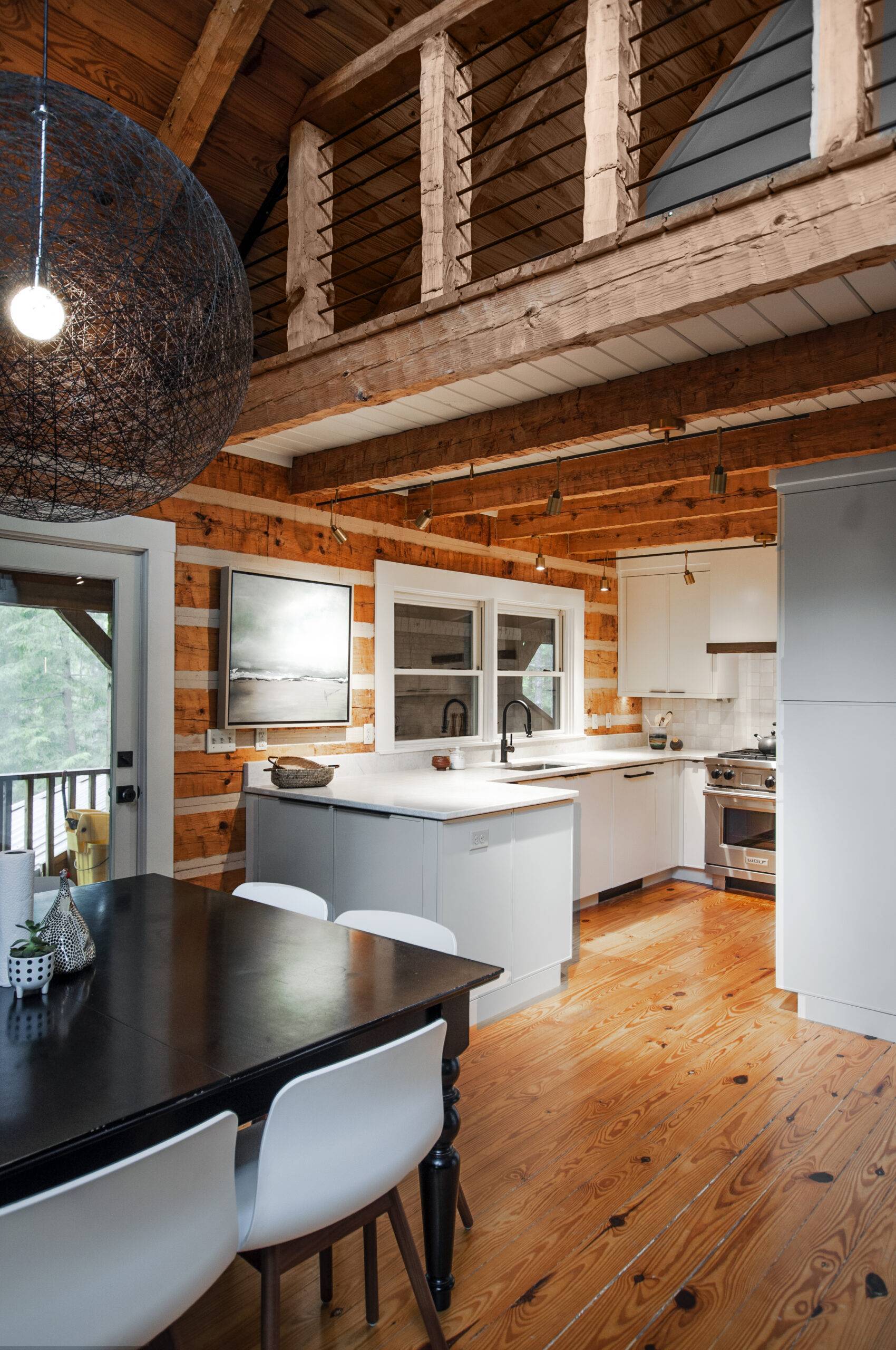 CO-ENTRANT
Carla Taylor | Hermitage Kitchen Design Gallery
The clients have a full-size Sub-Zero and Wolf kitchen in their current home and they wanted to bring all that function and style to their mountain cabin retreat. High-performance appliances, bright and easy to clean surfaces. Giving the cabin an update that will last another 25 years.
Heather Looney | Castle Homes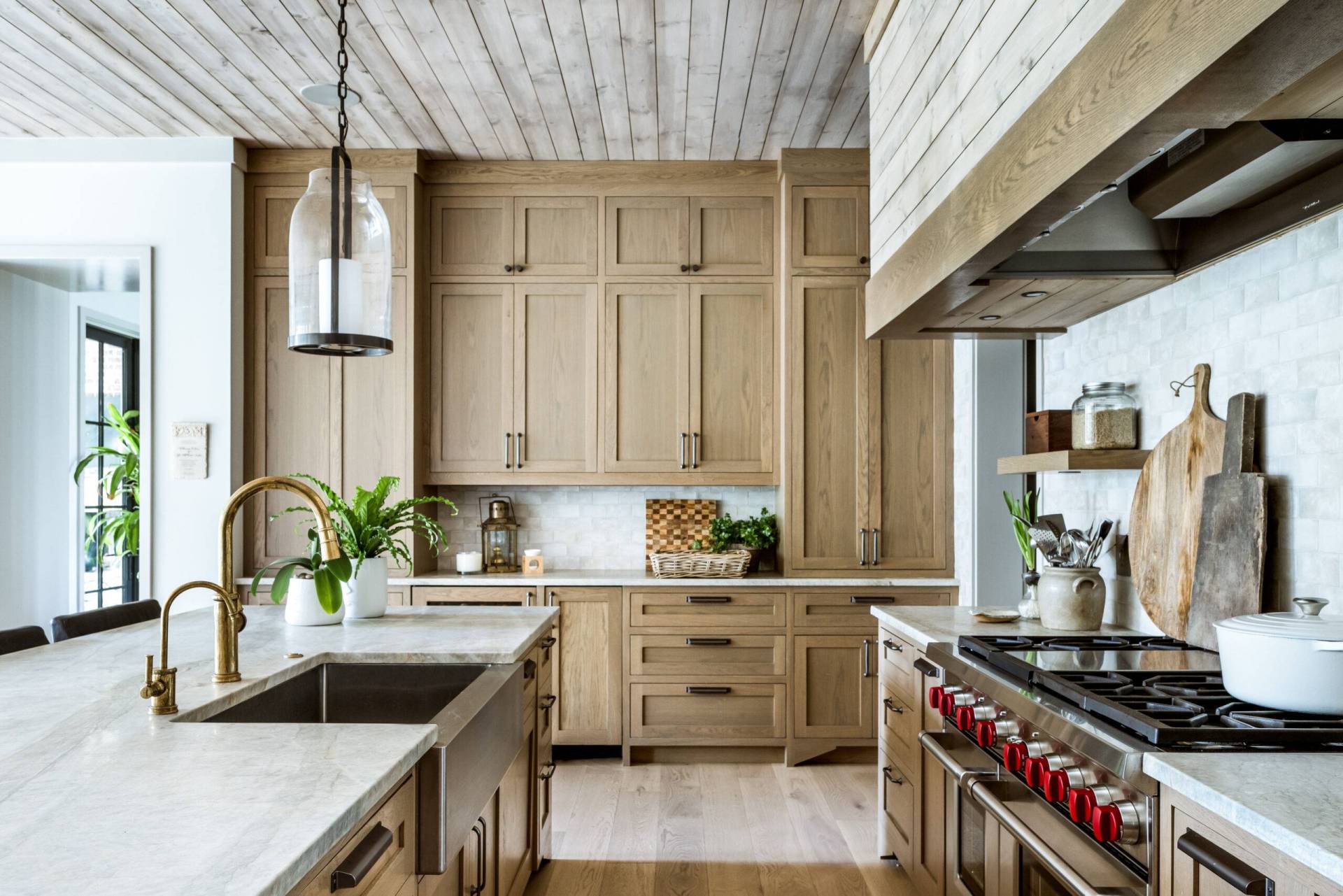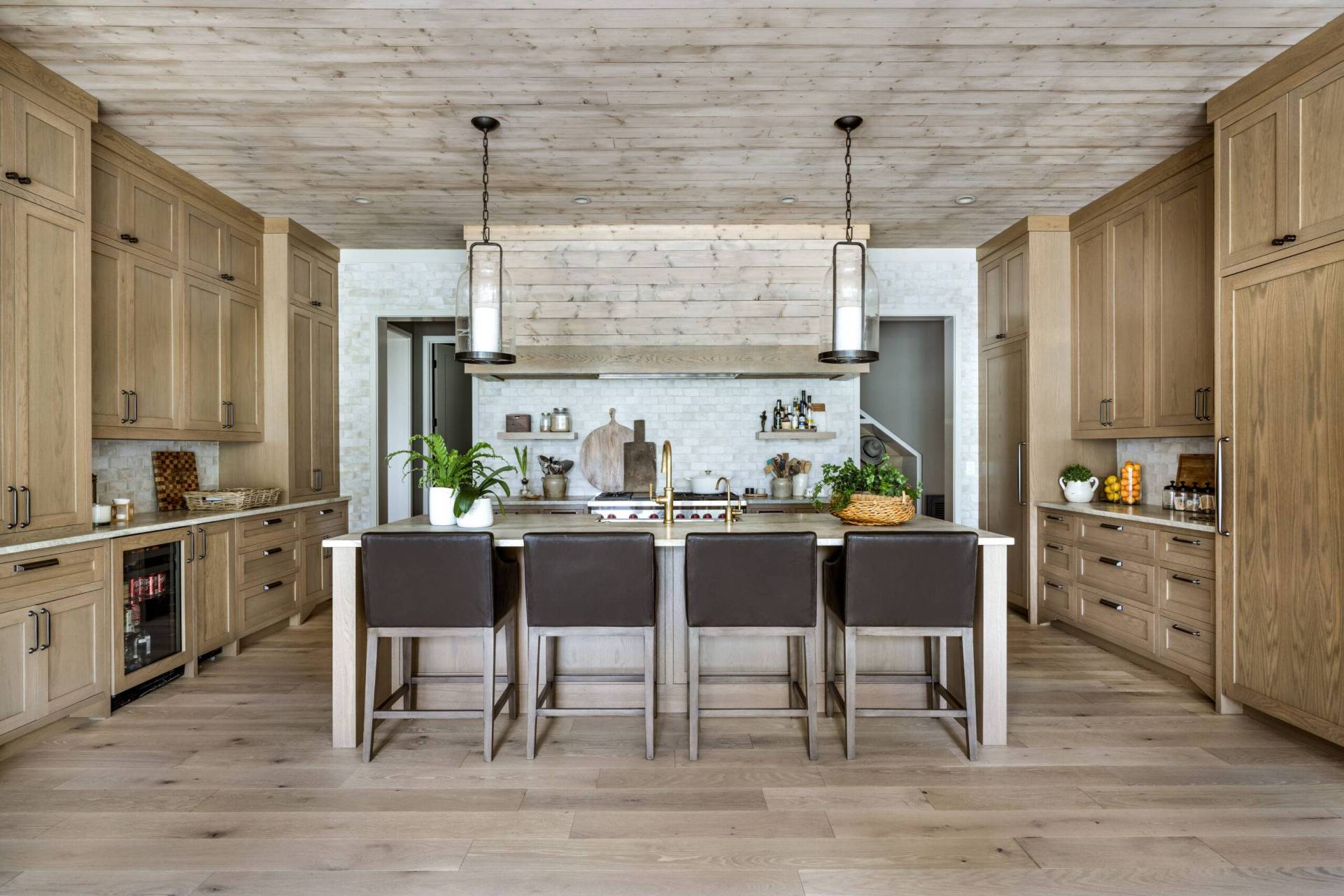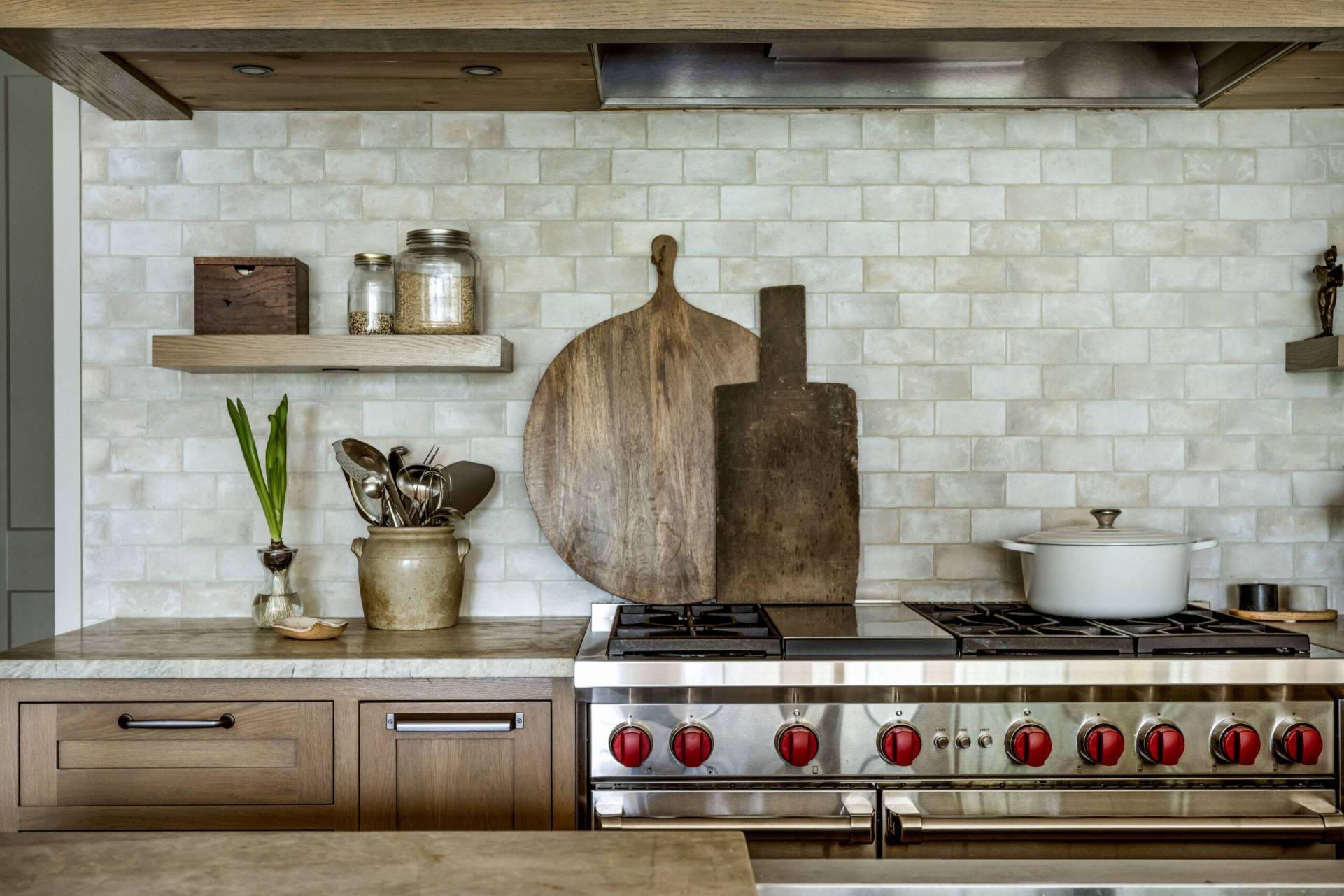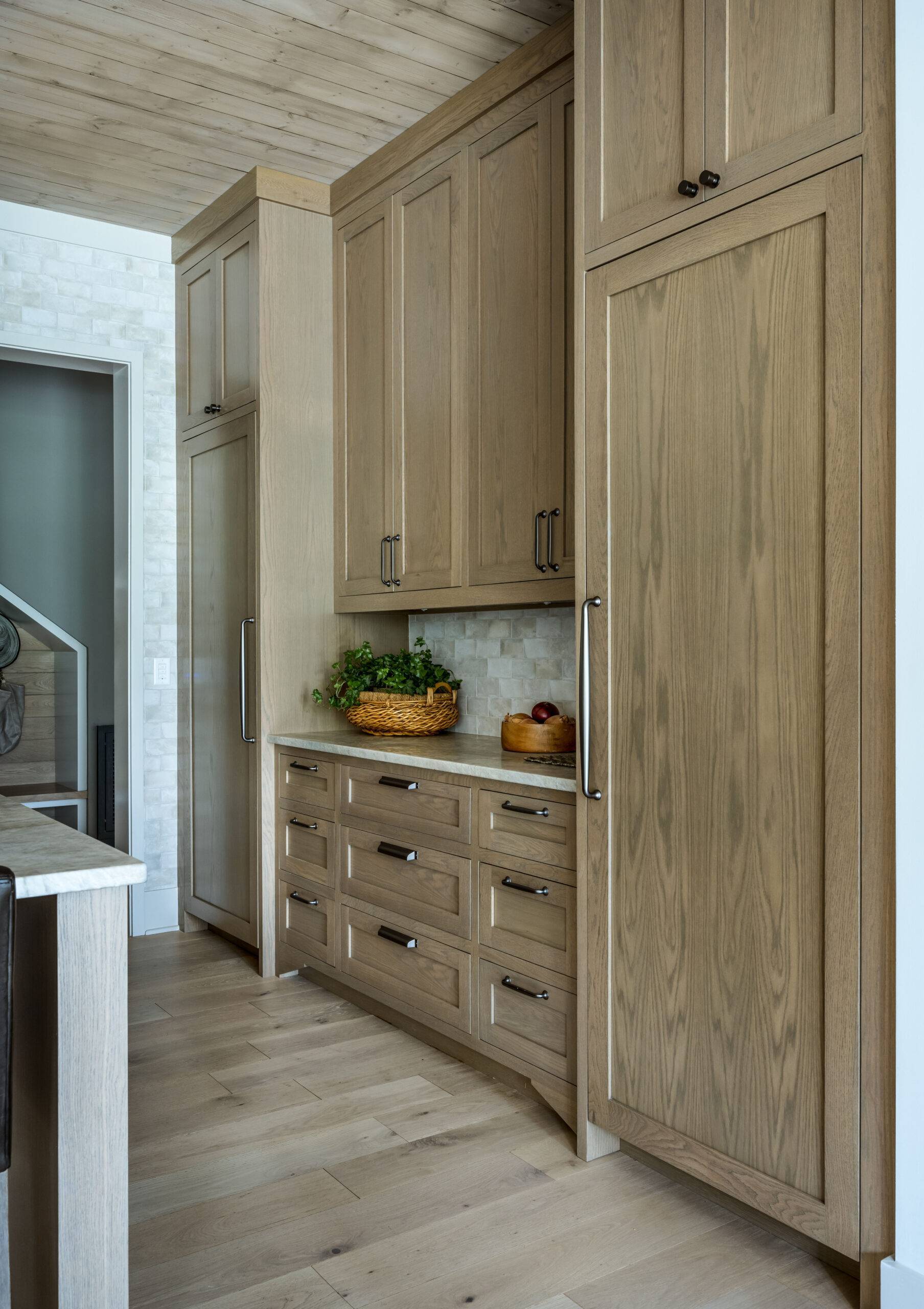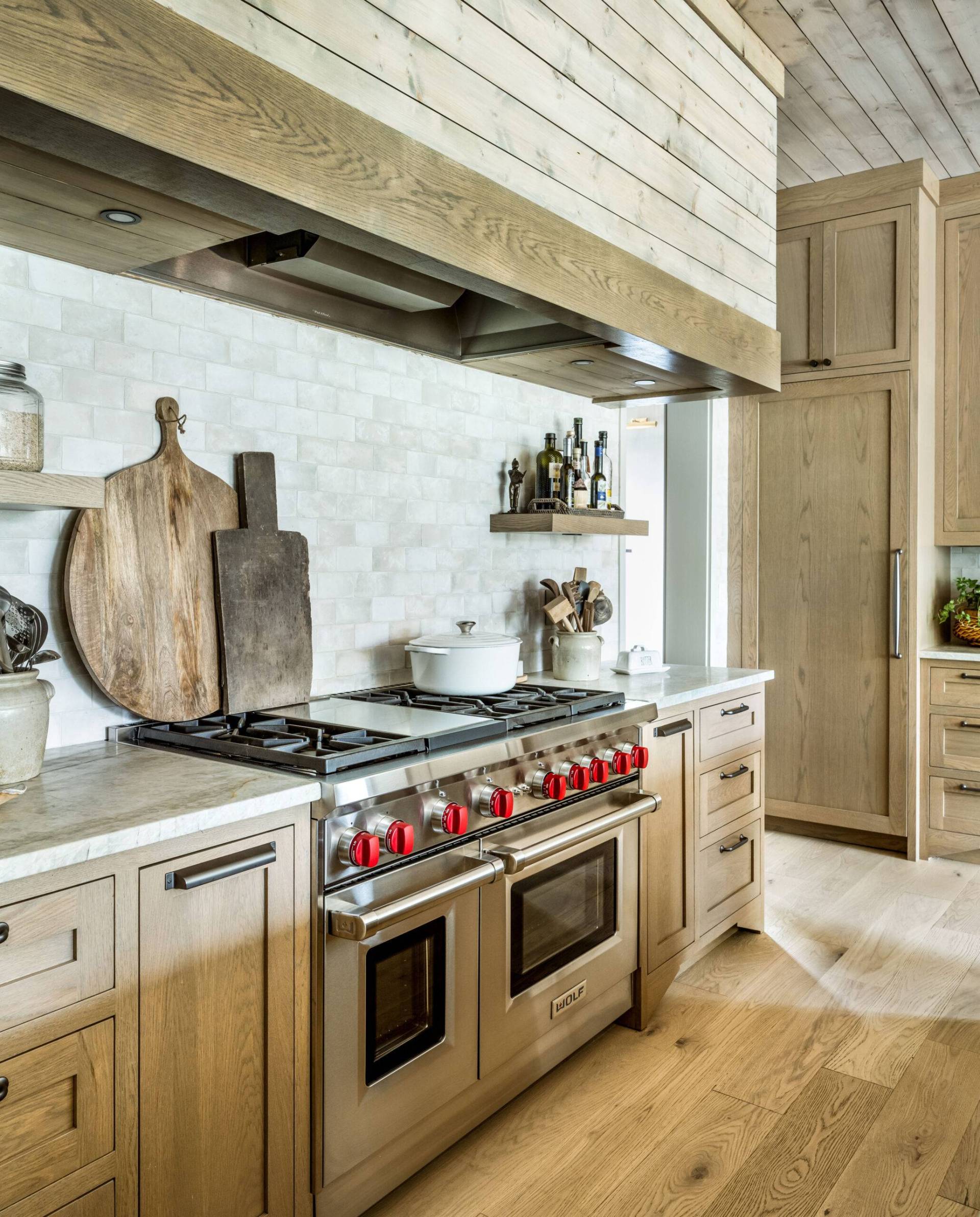 PHOTOGRAPHER: LESLIE BROWN
I wanted to honor the clear directive of my client while ensuring a highly functional kitchen space for a large family to operate within.  It was important to custom panel all applicable appliances to showcase an uninterrupted aesthetic. The abundant island seating and the quick ability to safely pivot within the kitchen to access the cooking and refrigeration while keeping an eye on young children were also top of mind.
Forest Hills Transitional
Katie Henderson | Craftsman Residential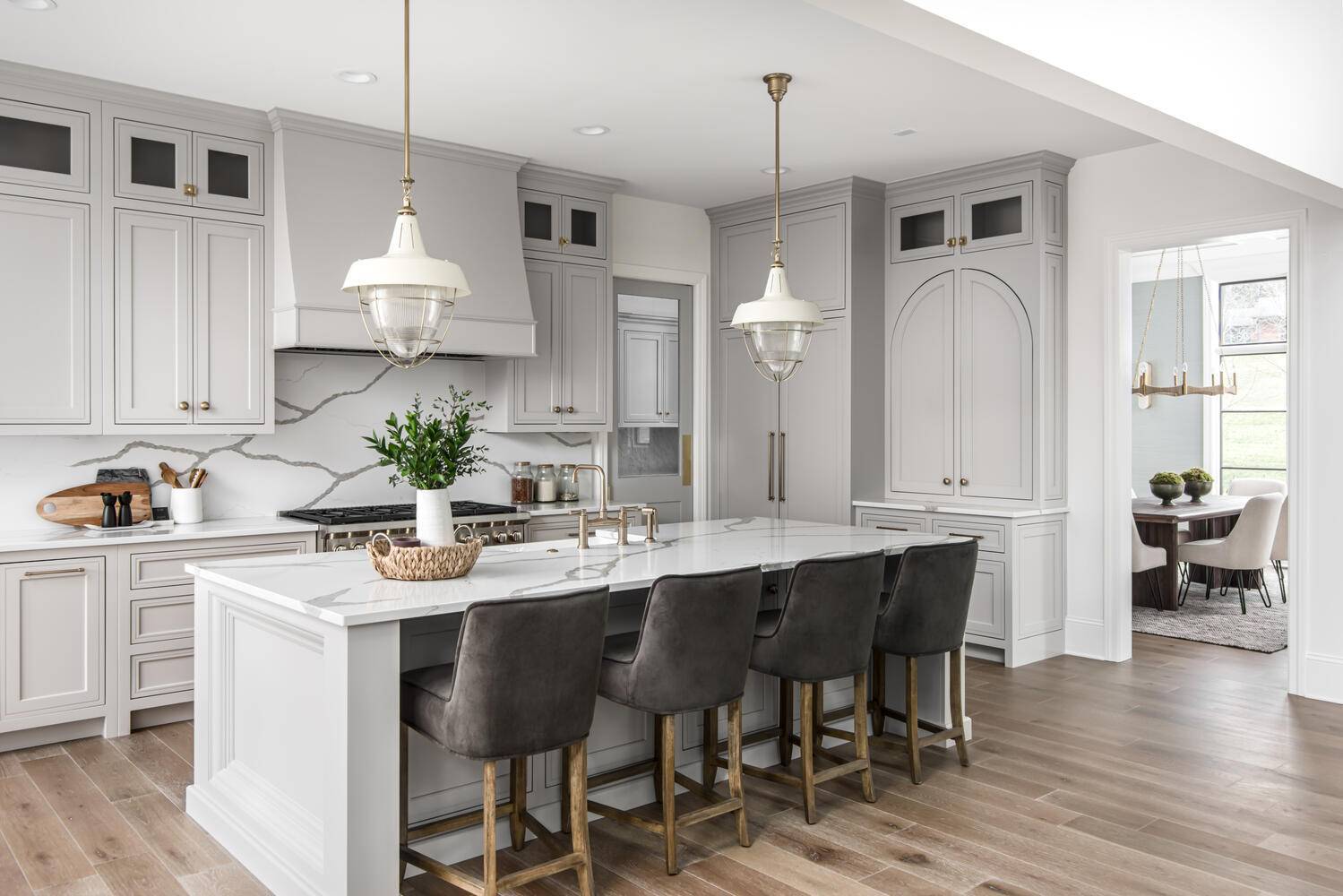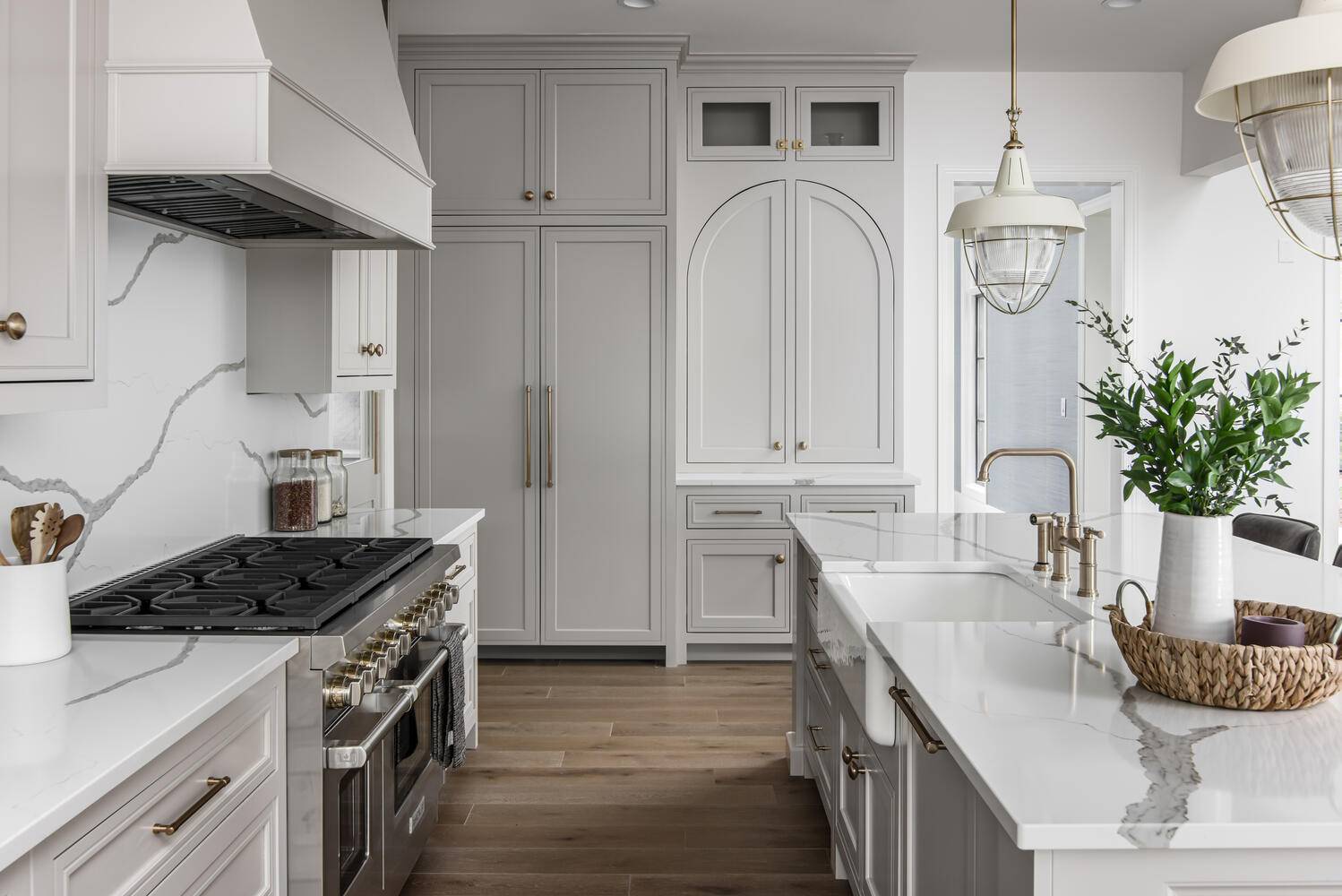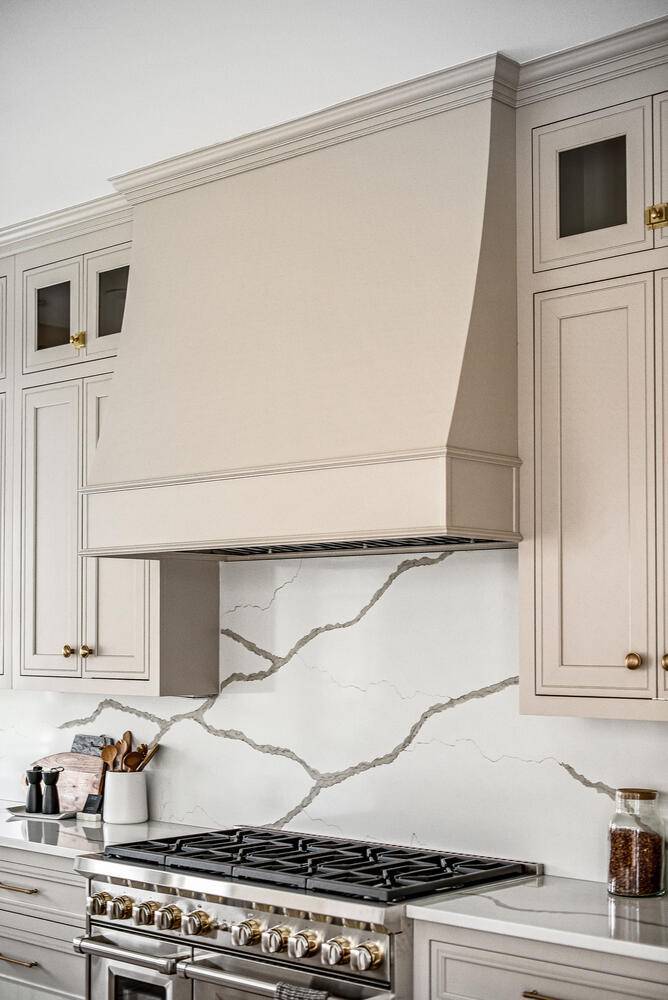 CO-ENTRANT
Sydney Marszalek | Craftsman Residential
The homeowners' top design goals were to create custom craftsman style cabinetry that held visual weight on the cabinet as a whole, and to create a layout for a breakfast nook in the kitchen.
Sydney Marszalek | Craftsman Residential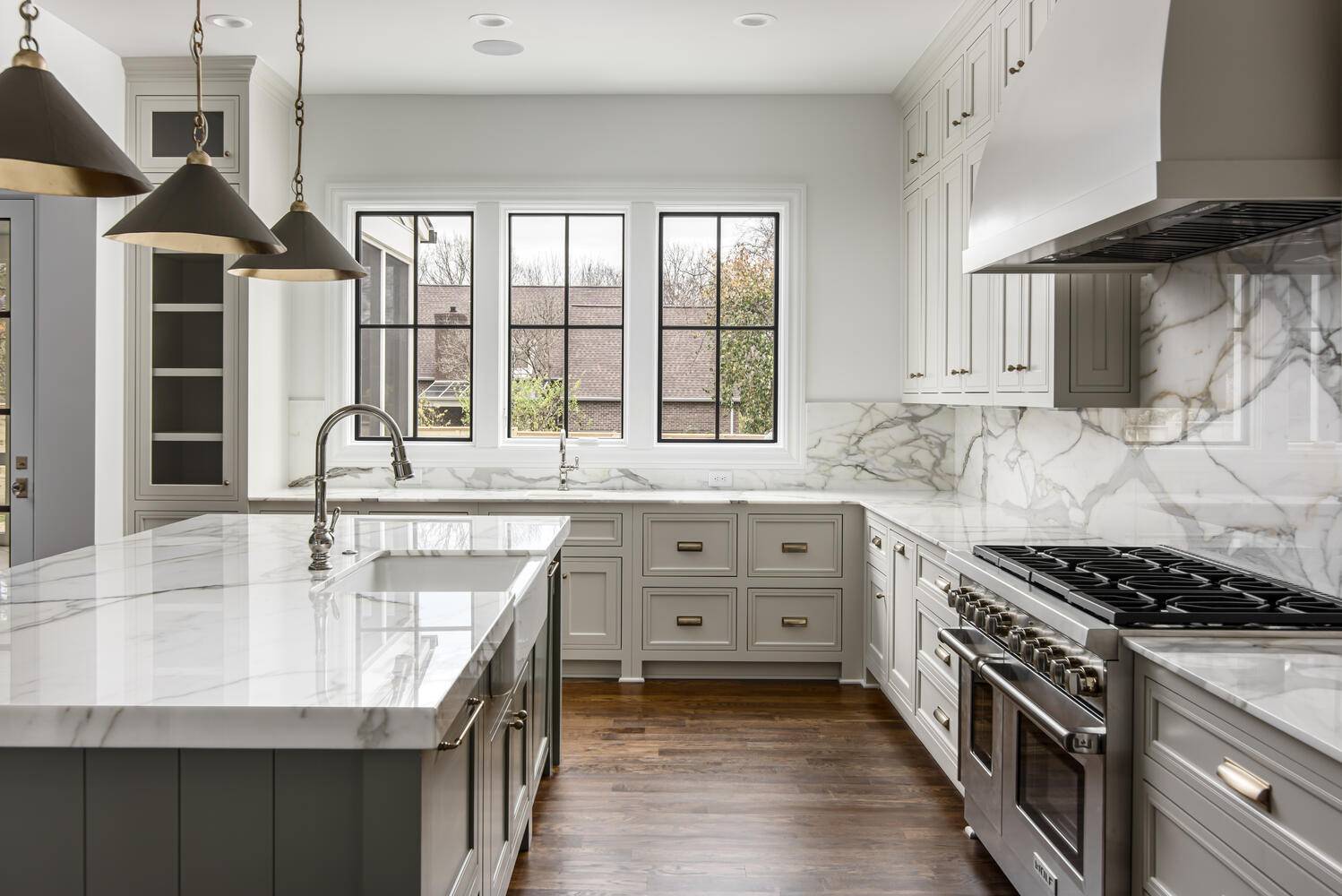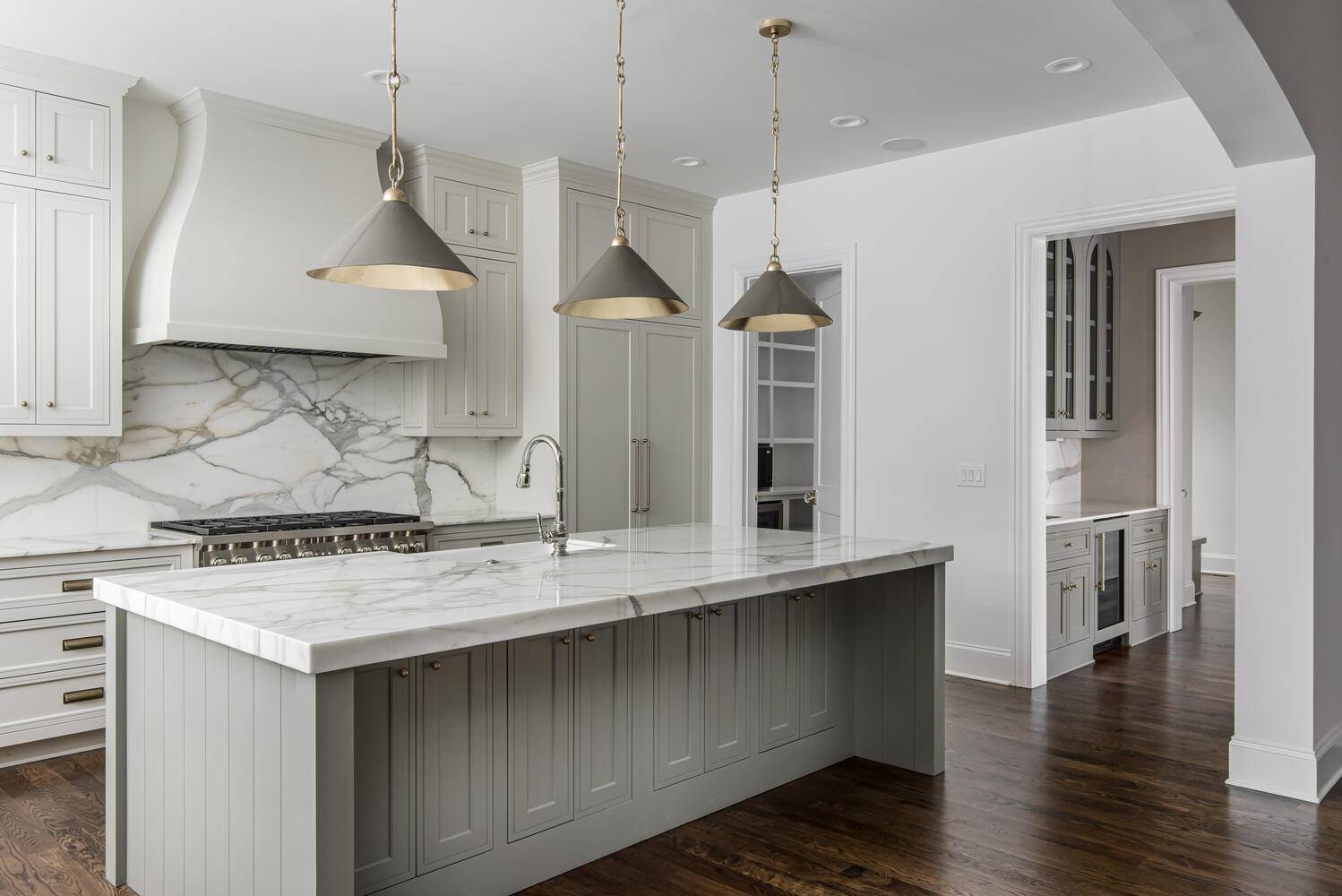 Our clients wanted to achieve a European traditional aesthetic by bringing in an earthly color palette and natural stone slabs. Their wish was to draw attention to the range by carrying the marble slab to the bottom of the range hood.
Terri Sears, ALLIED ASID, NKBA | Hermitage Lighting Gallery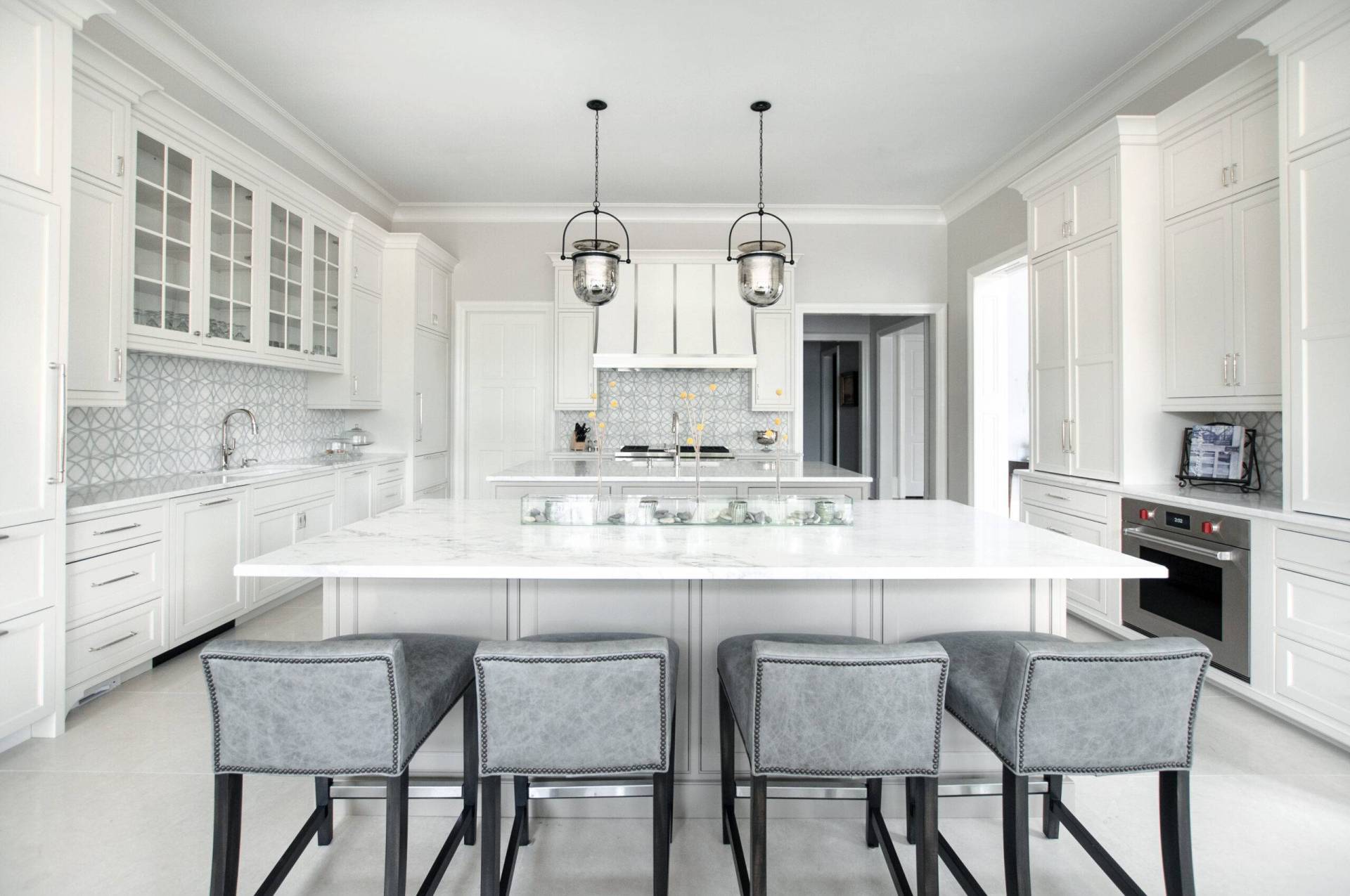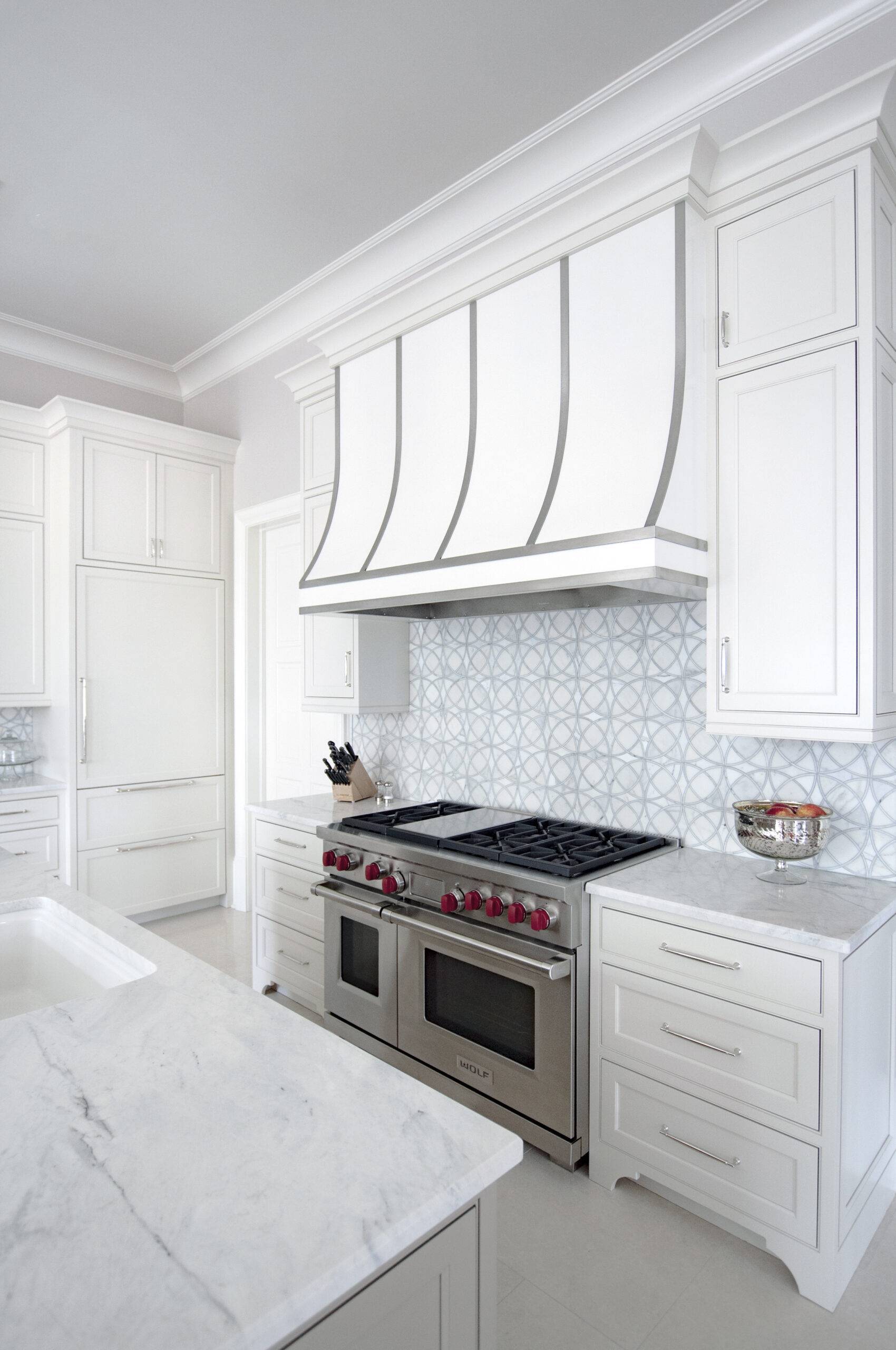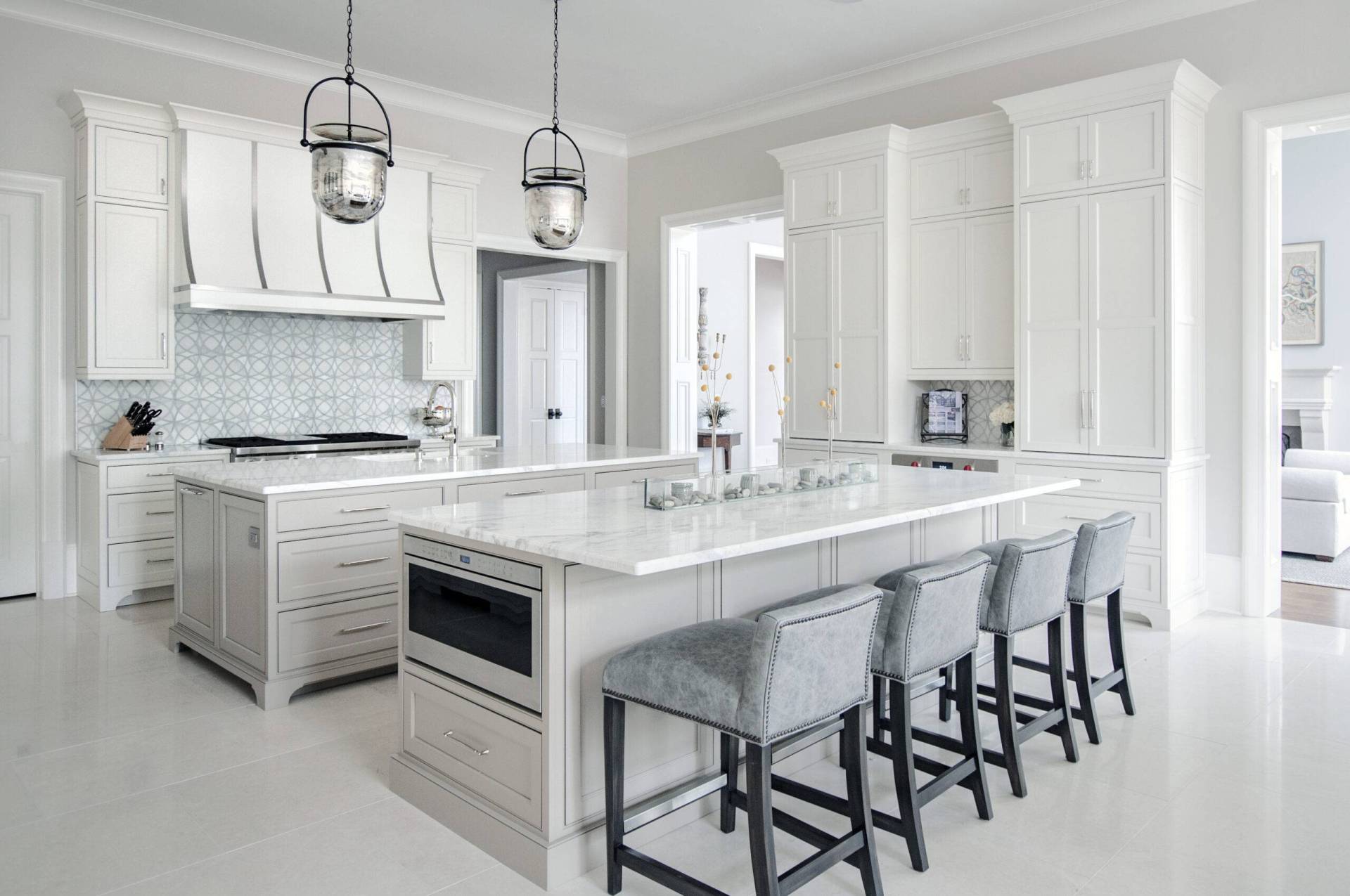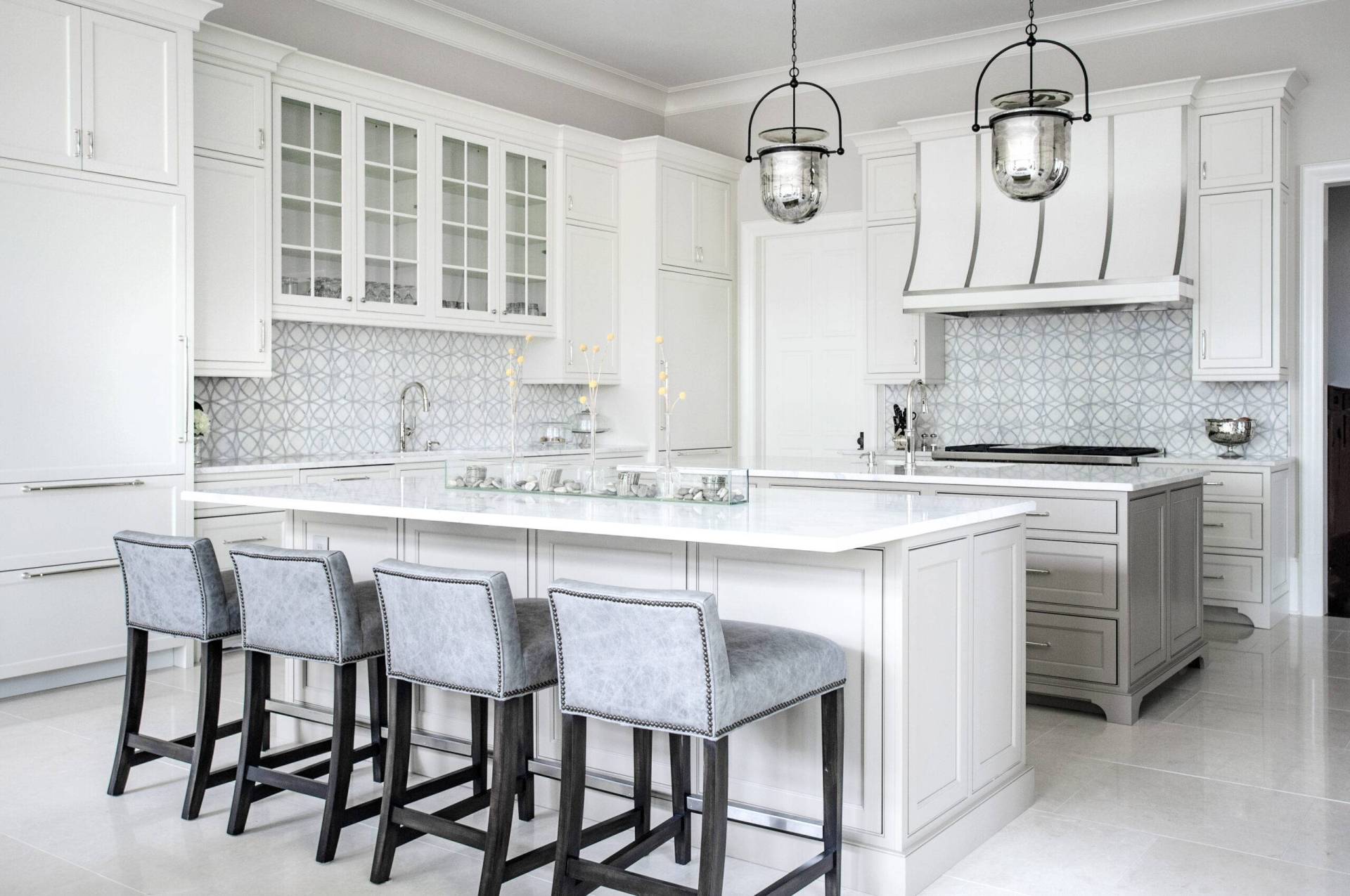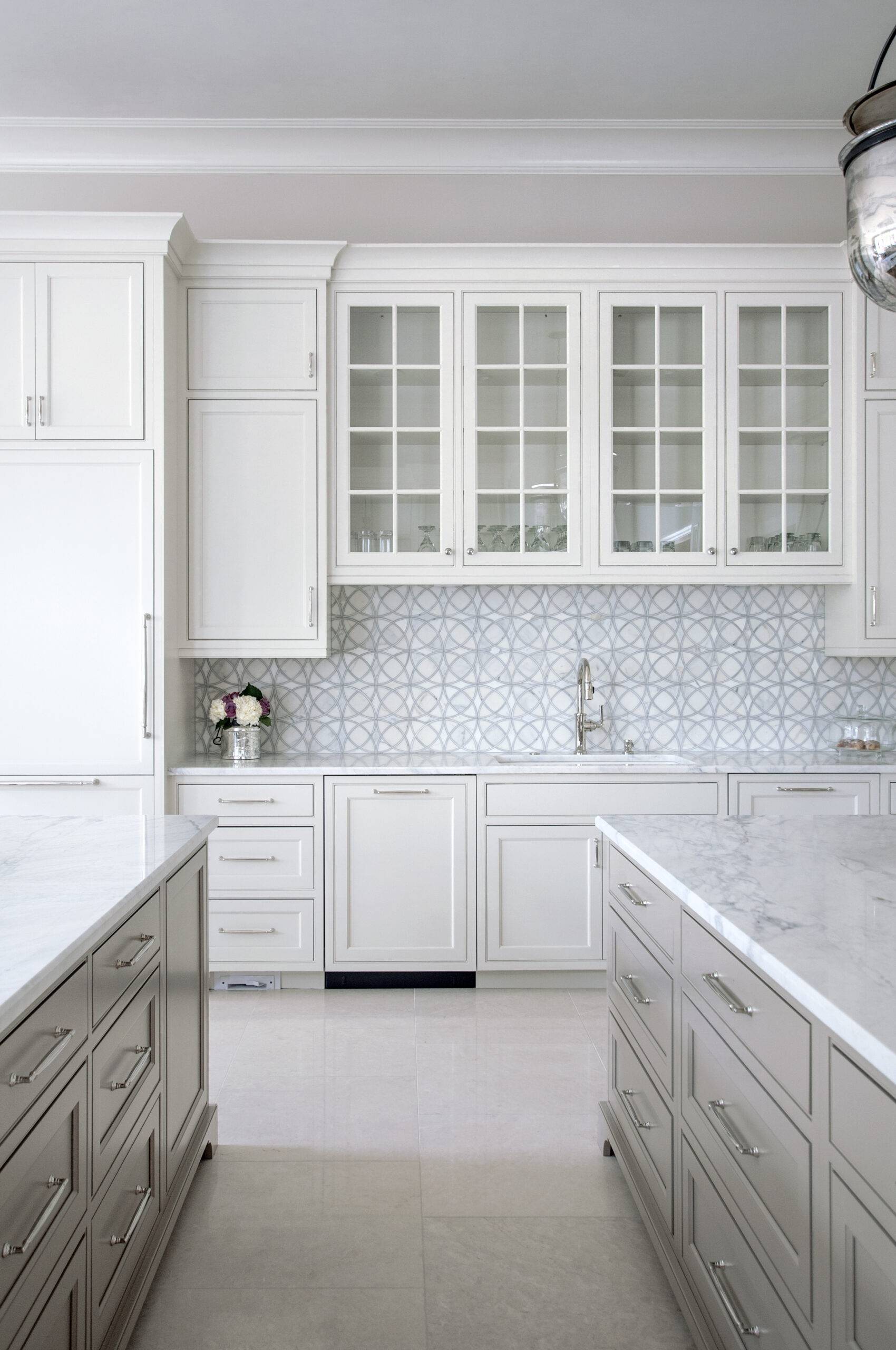 CO-ENTRANTs
Carla Taylor | Hermitage Kitchen Design Gallery
Brad Ramsey | Brad Ramsey Interiors
The homeowner was very interested in having lots of integrated food storage and having stations of high-performance appliances, i.e. a baking station and a range big enough for an all-hands-on-deck holiday meal! She wanted a lovely anchor to the room and what better than a 48″ Wolf range?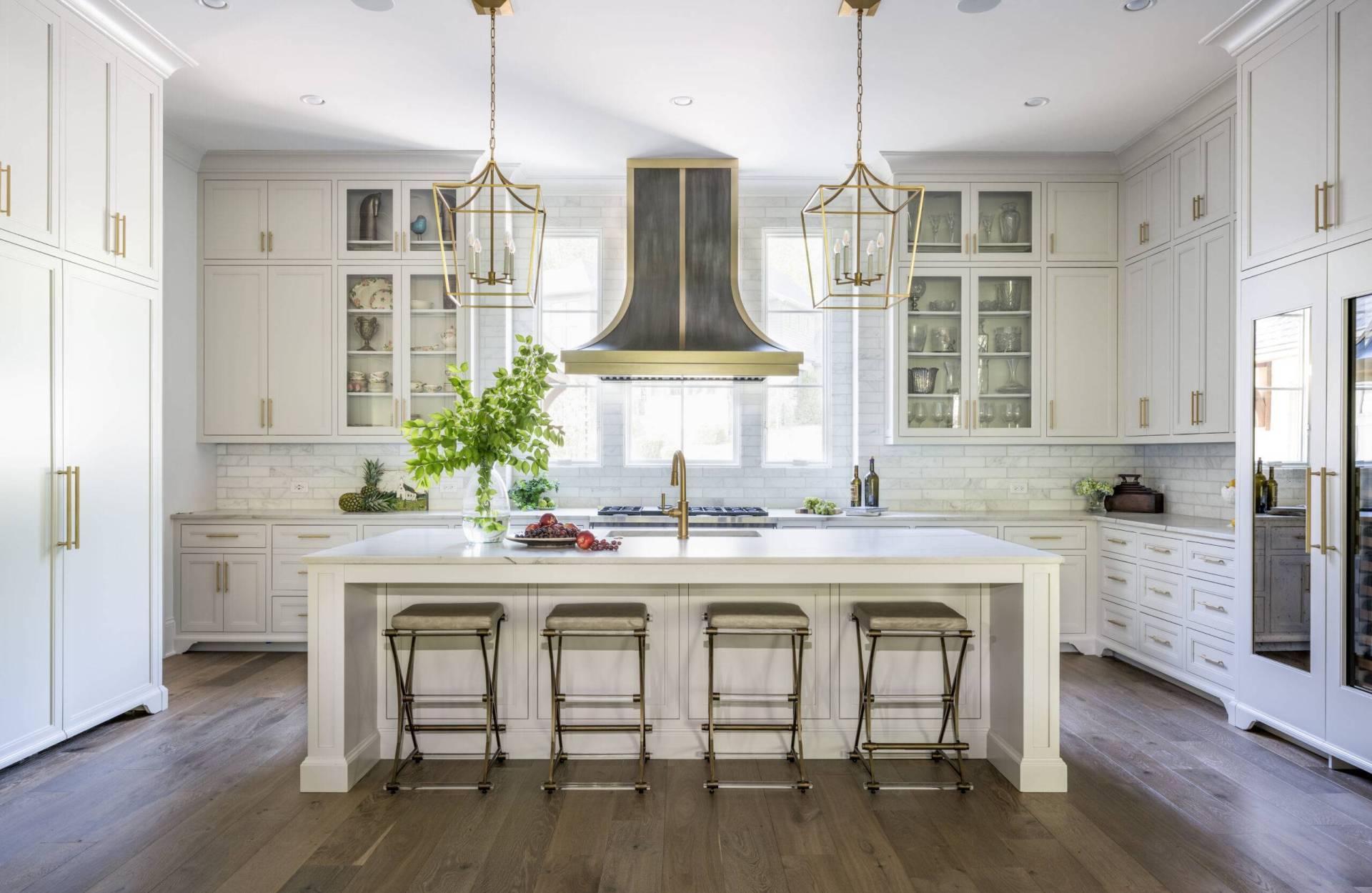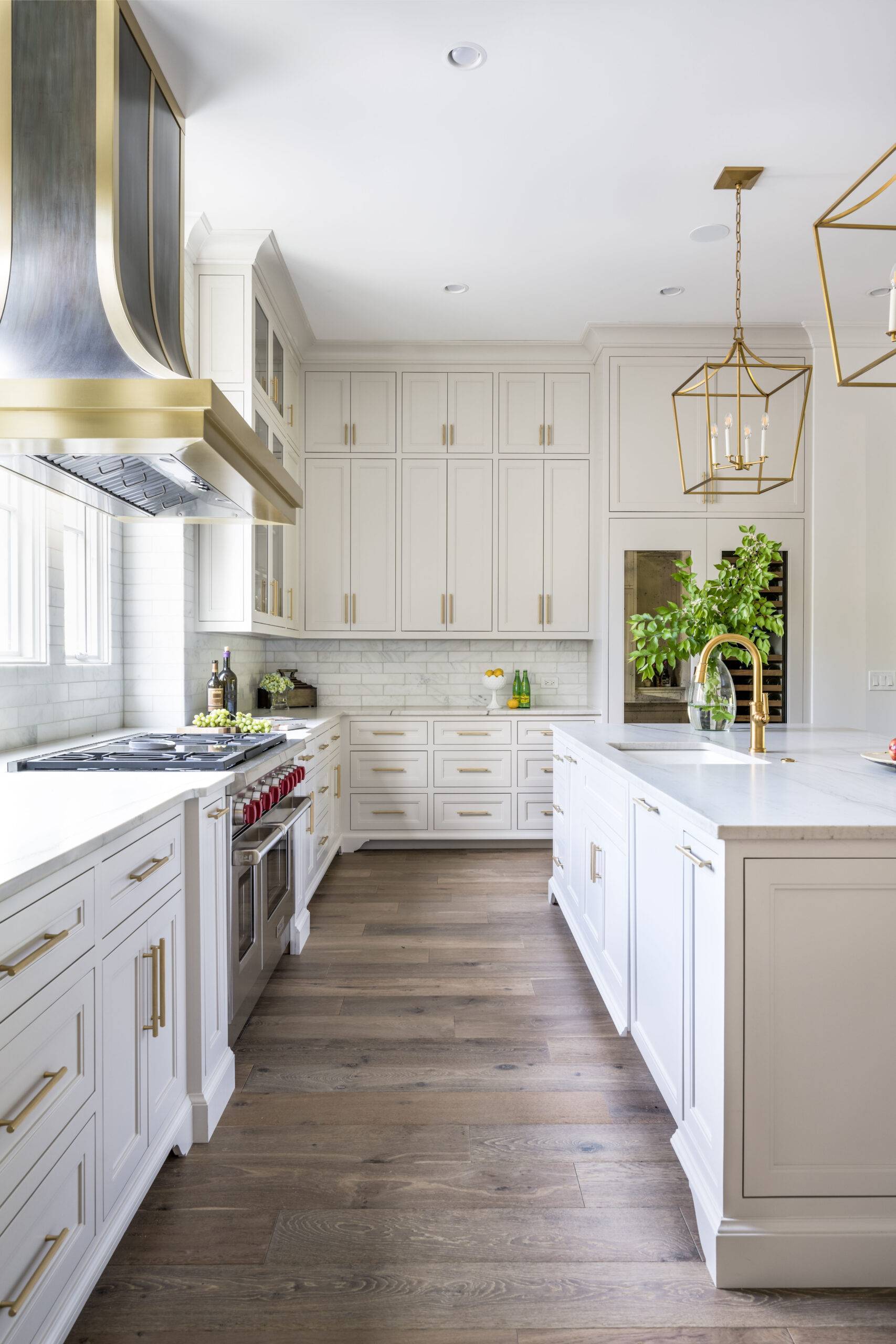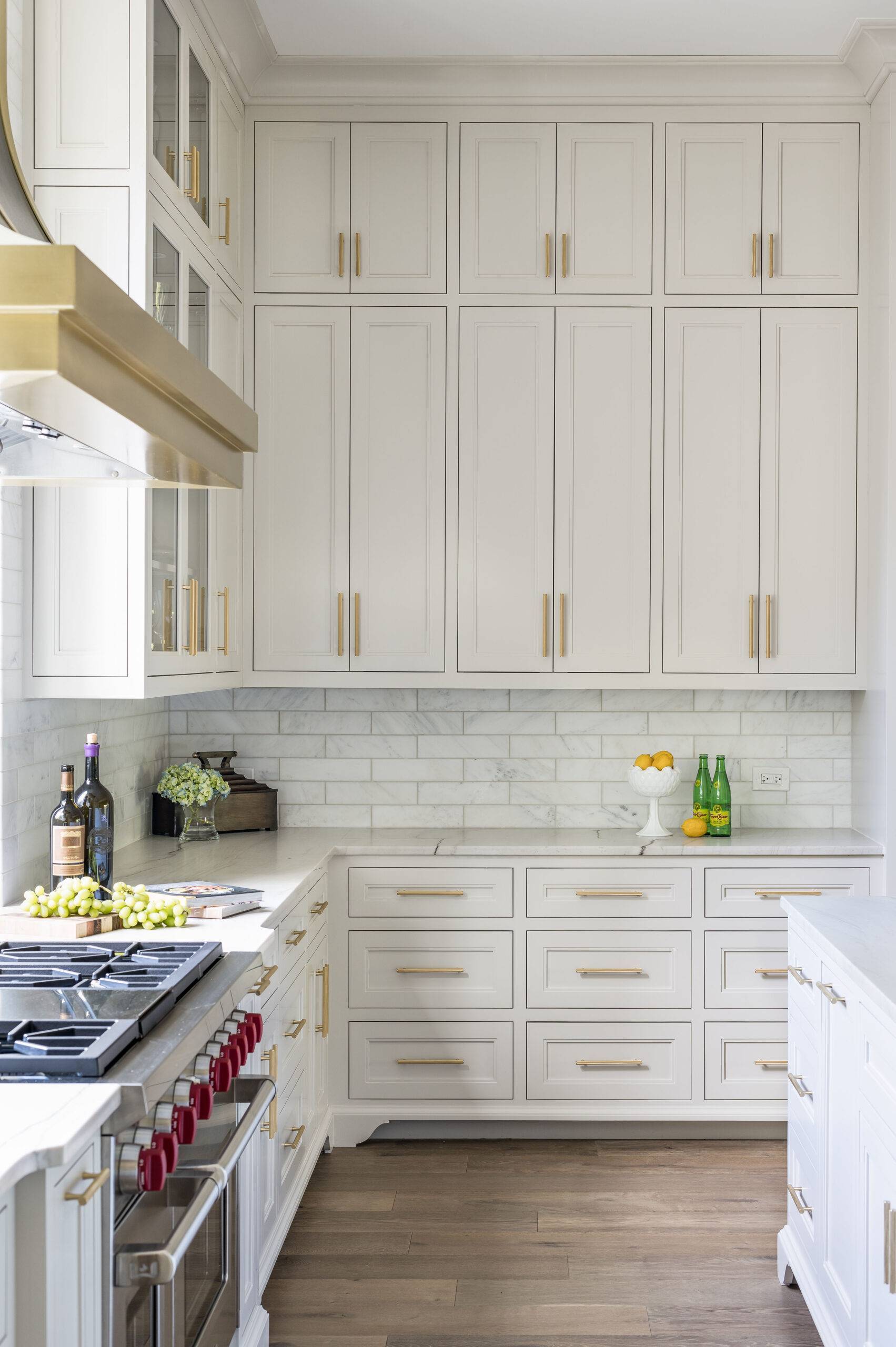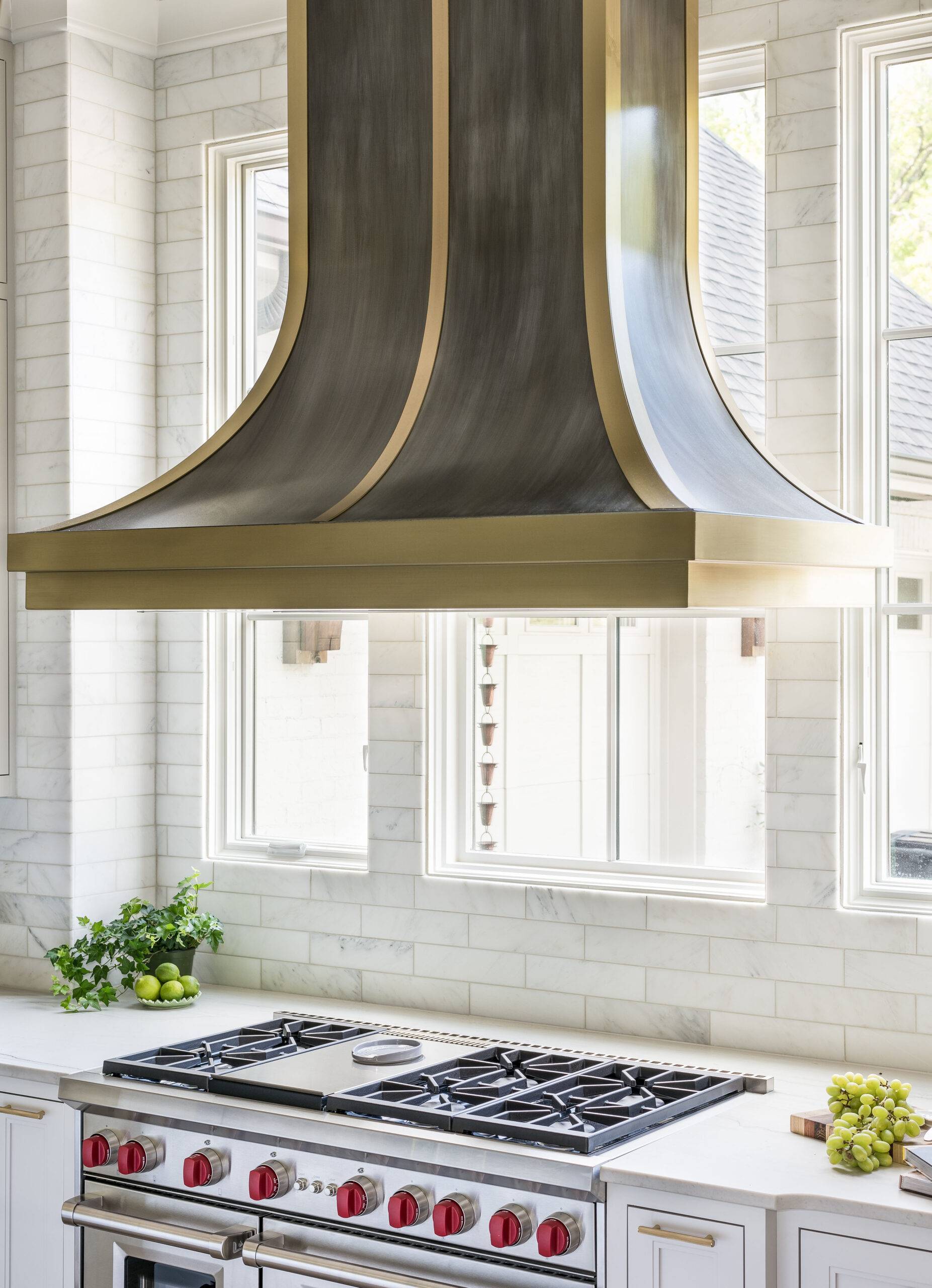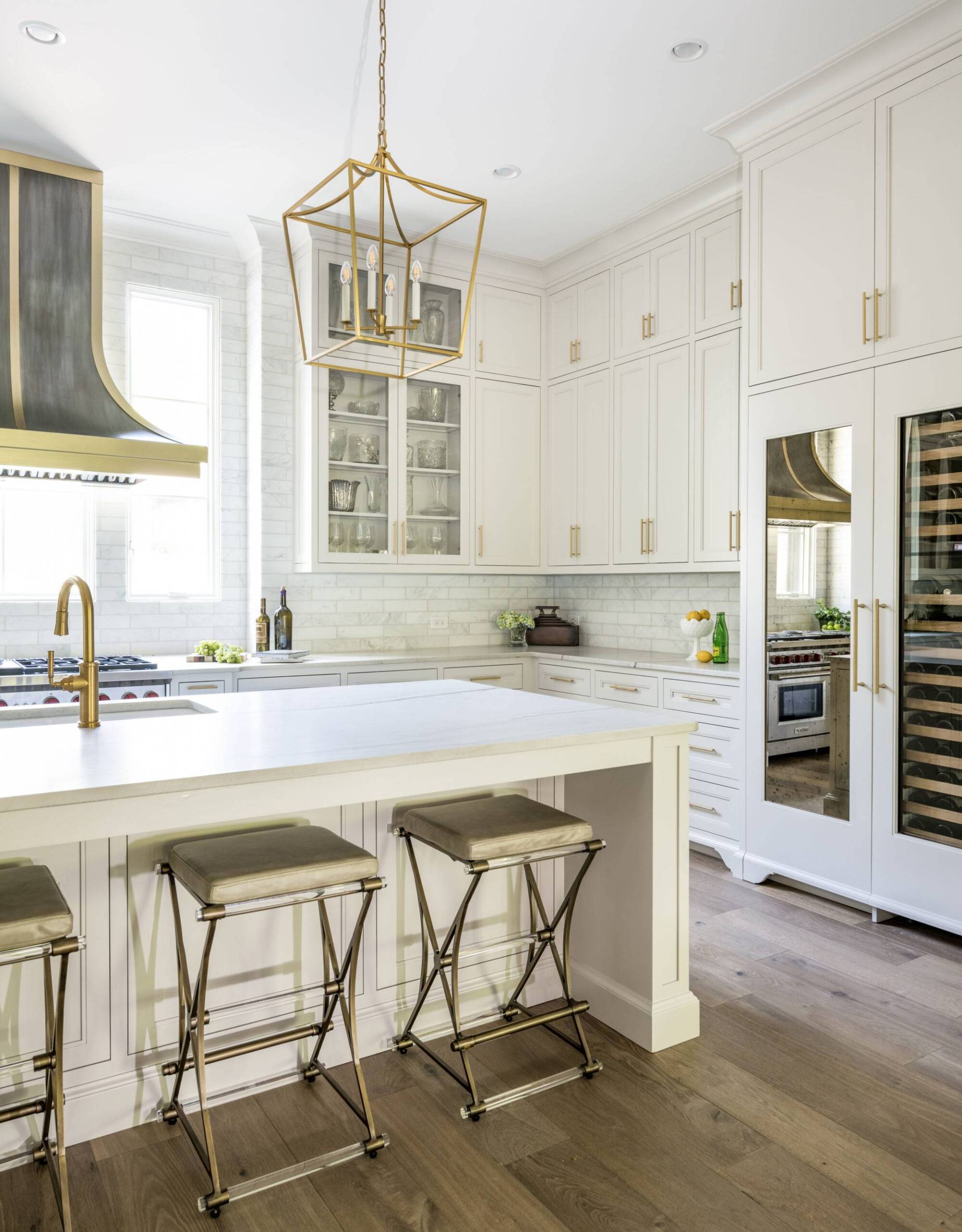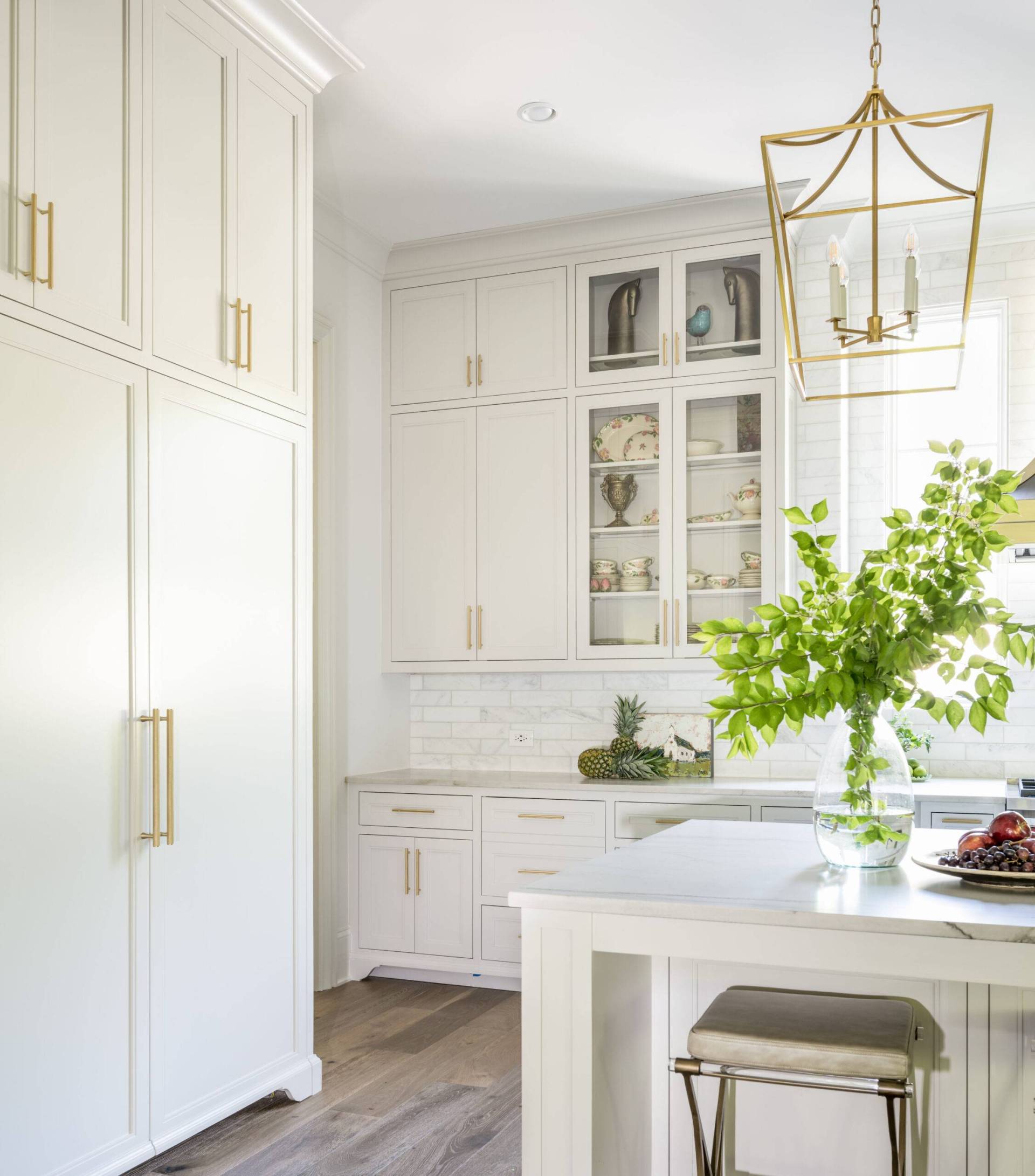 PHOTOGRAPHER: LESLIE BROWN
I wanted the kitchen to flow, but also be a statement, so we used rich deep metal finishes in the oversized range hood that hovers in front of the windows, as well as accents within the lighting and hardware choices.  I designed an antique bronze mirrored liquor and bar cabinet that pairs with the glass-framed Sub-Zero wine storage so that guests had full access to what they may need without entering the work triangle.
LORI SAIN SMITH | DAFFODILLY DESIGN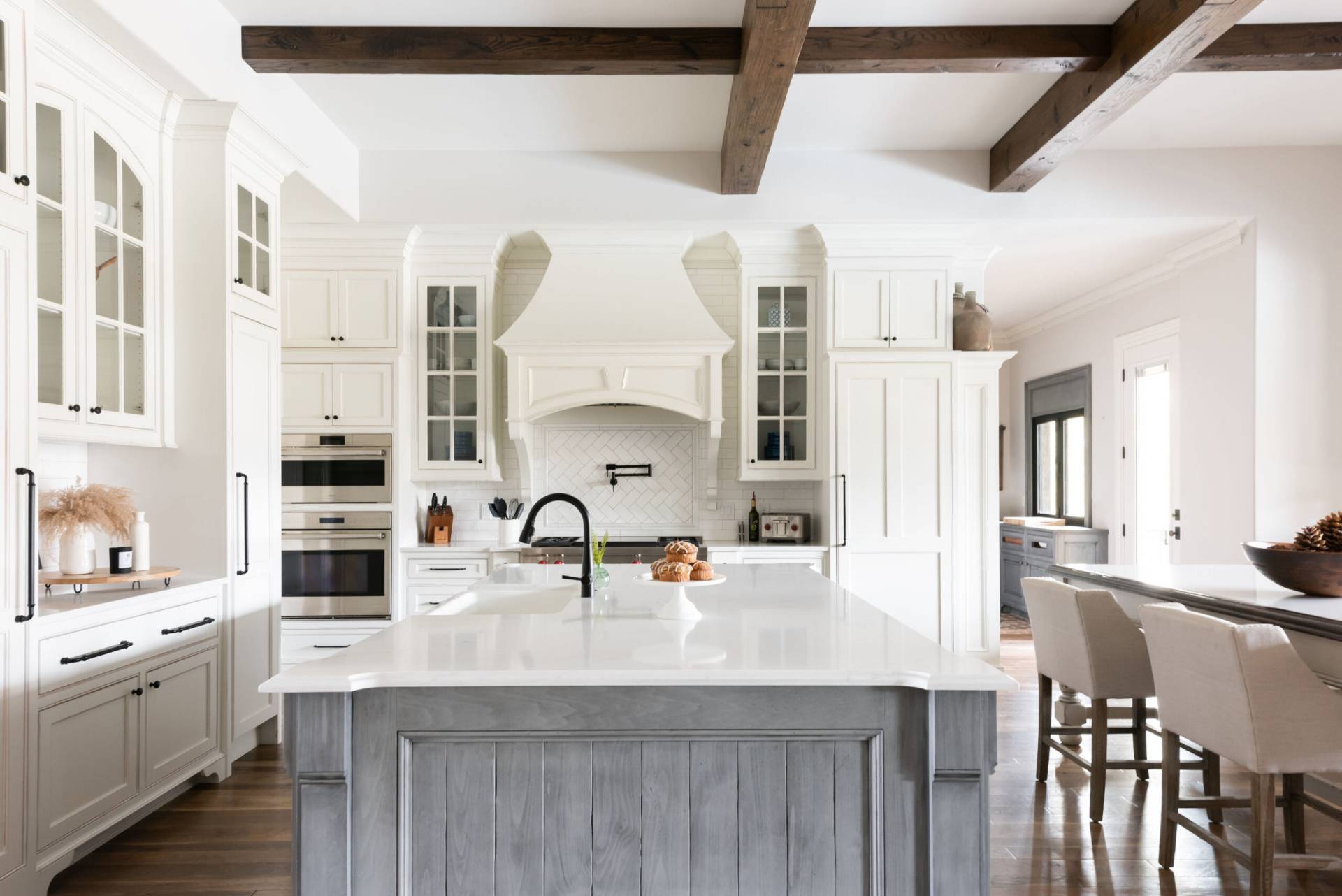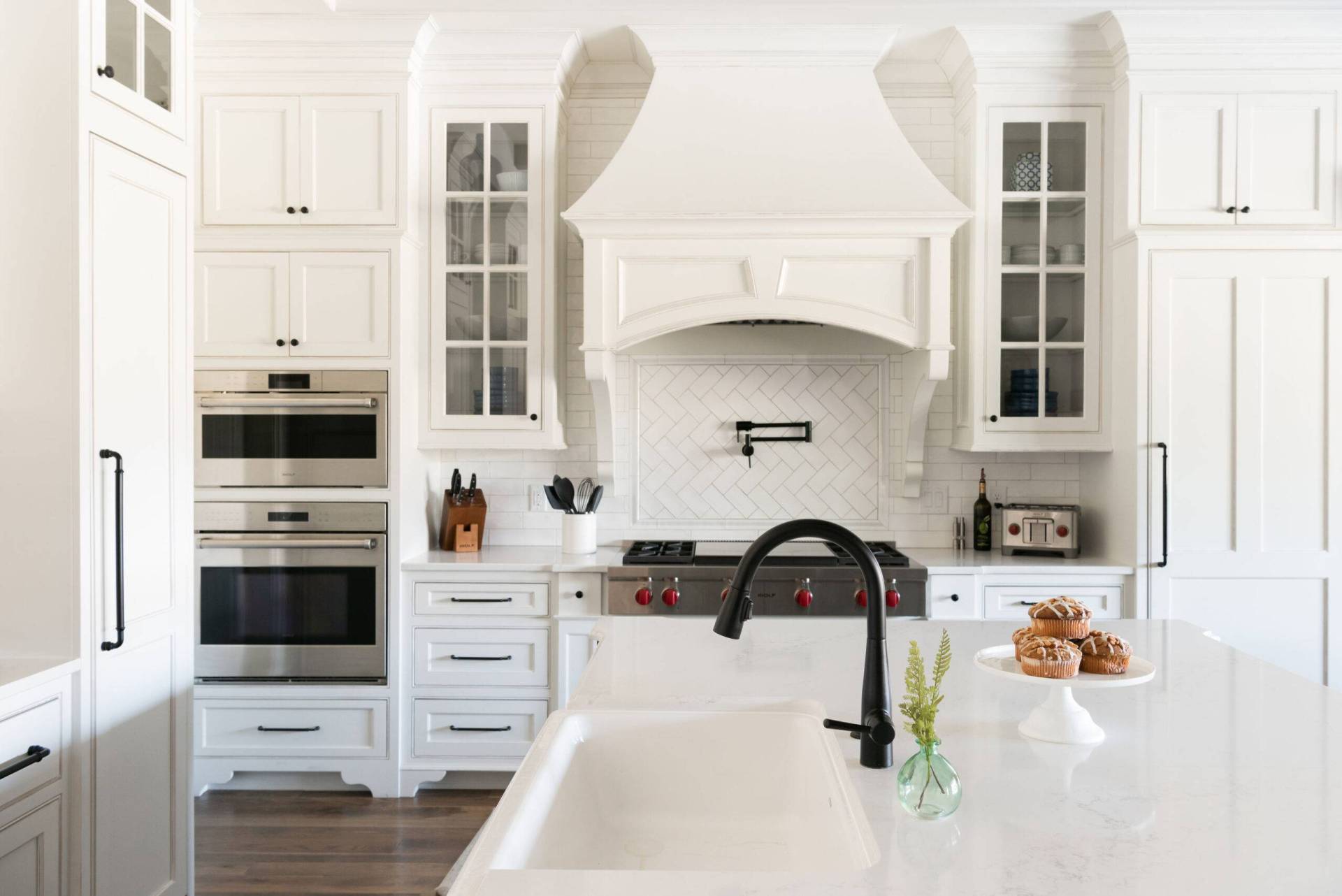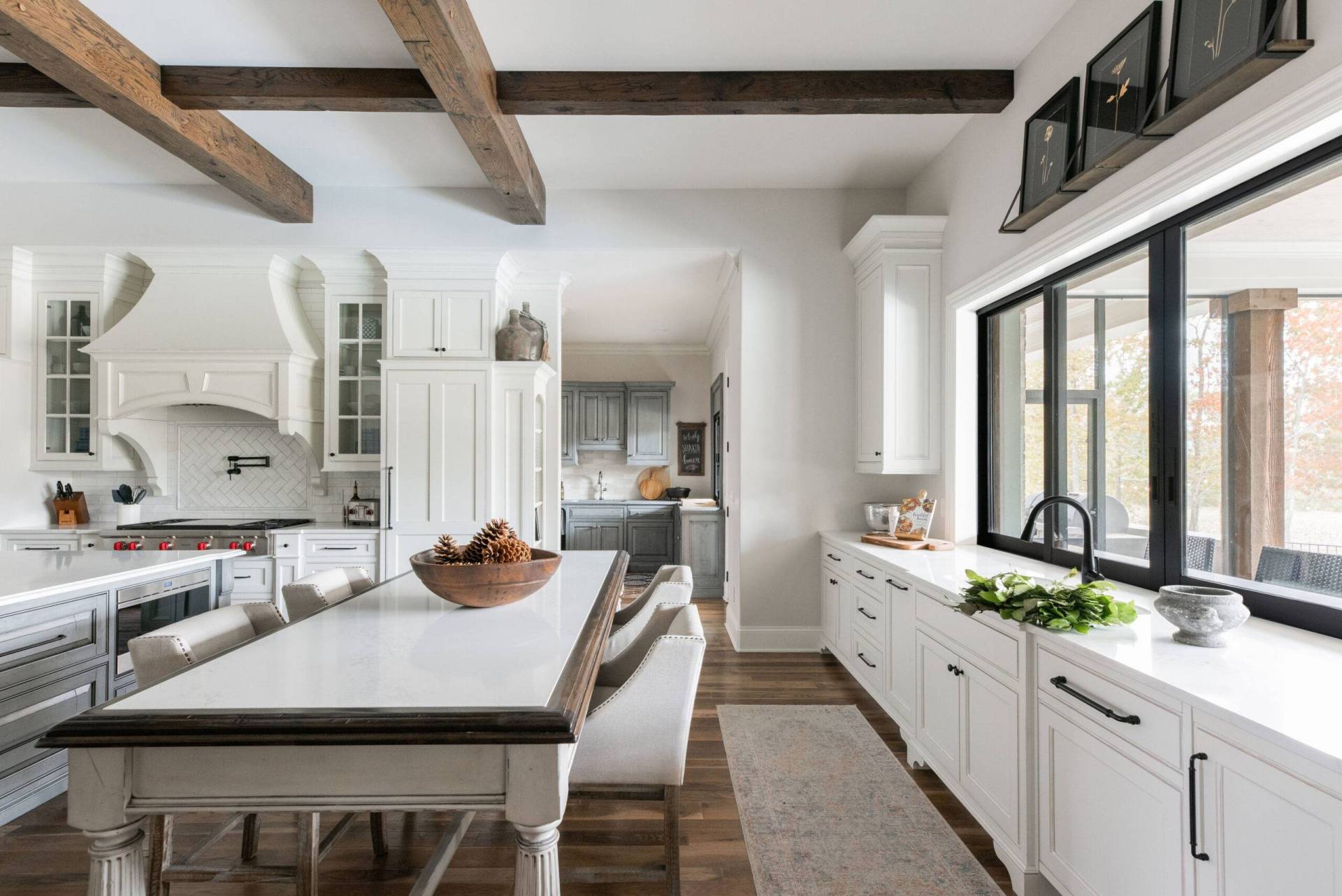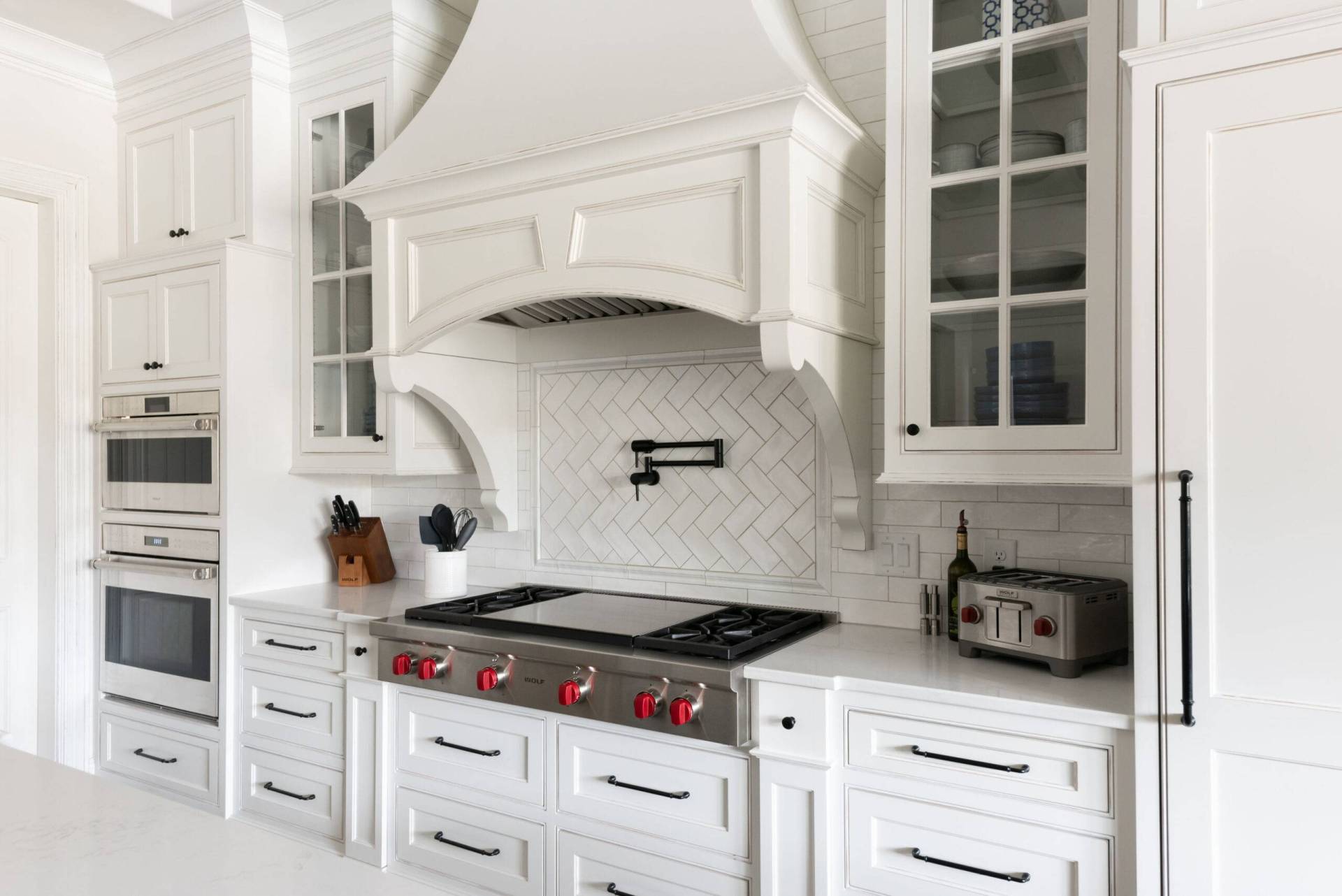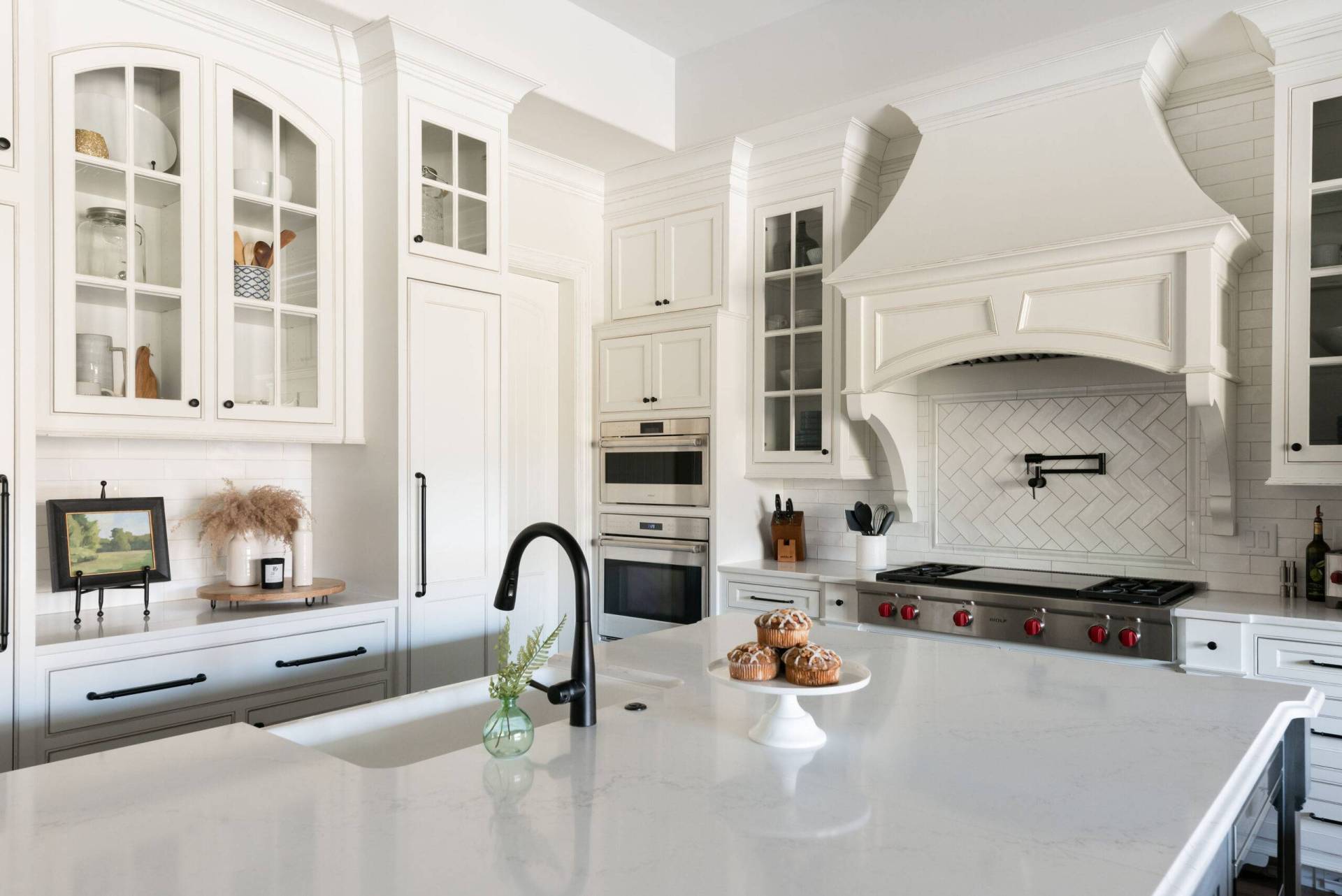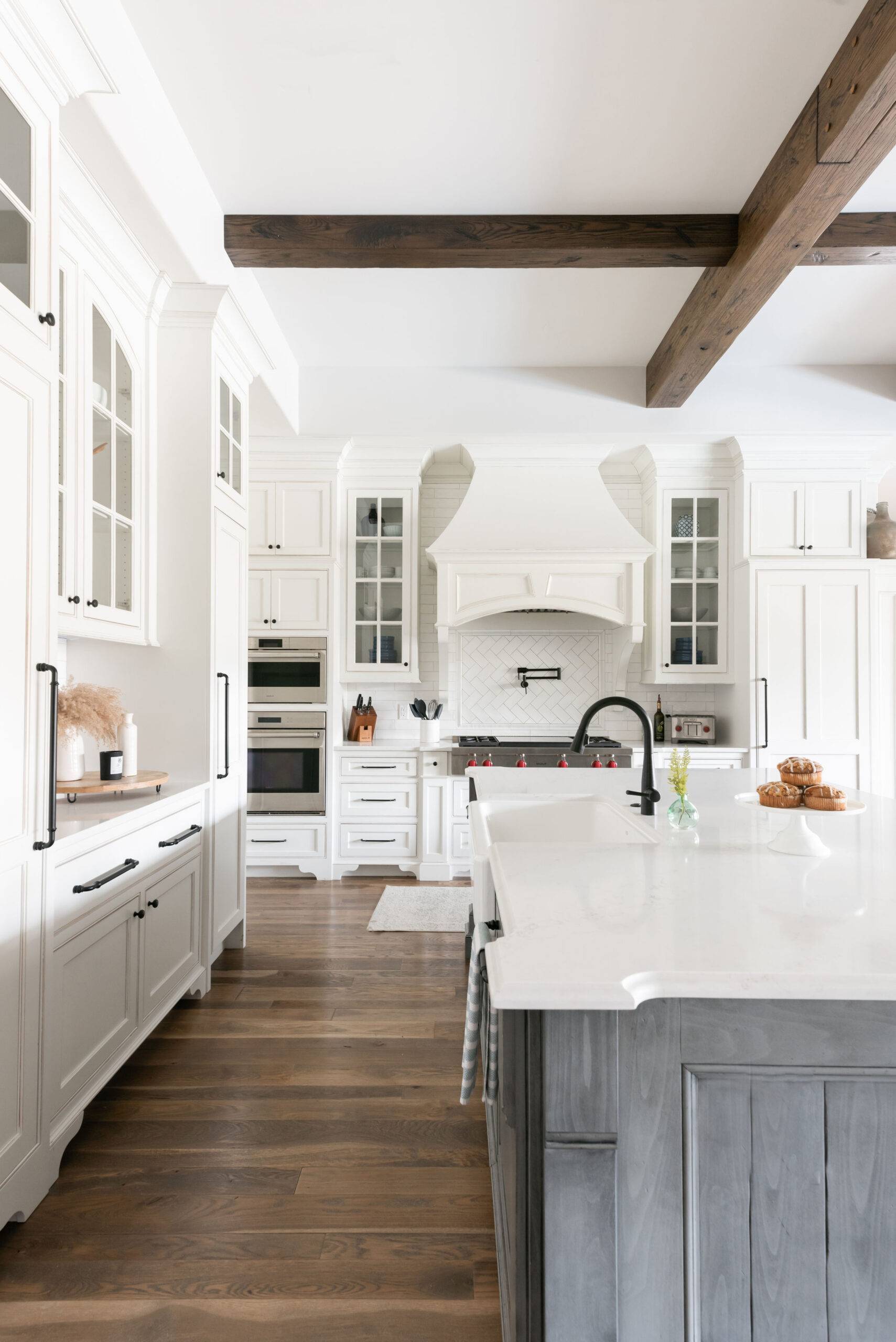 Photographer: Allison Elefante
The clients had a vision of a home that invites family and guests to feel welcome and well-entertained from the moment they enter. With busy lifestyles and active schedules, the main priority for the open kitchen area design was to serve their daily needs with appliances and materials that are innovative and built to perform.
NATE Slabaugh | NATHAN ALAN DESIGN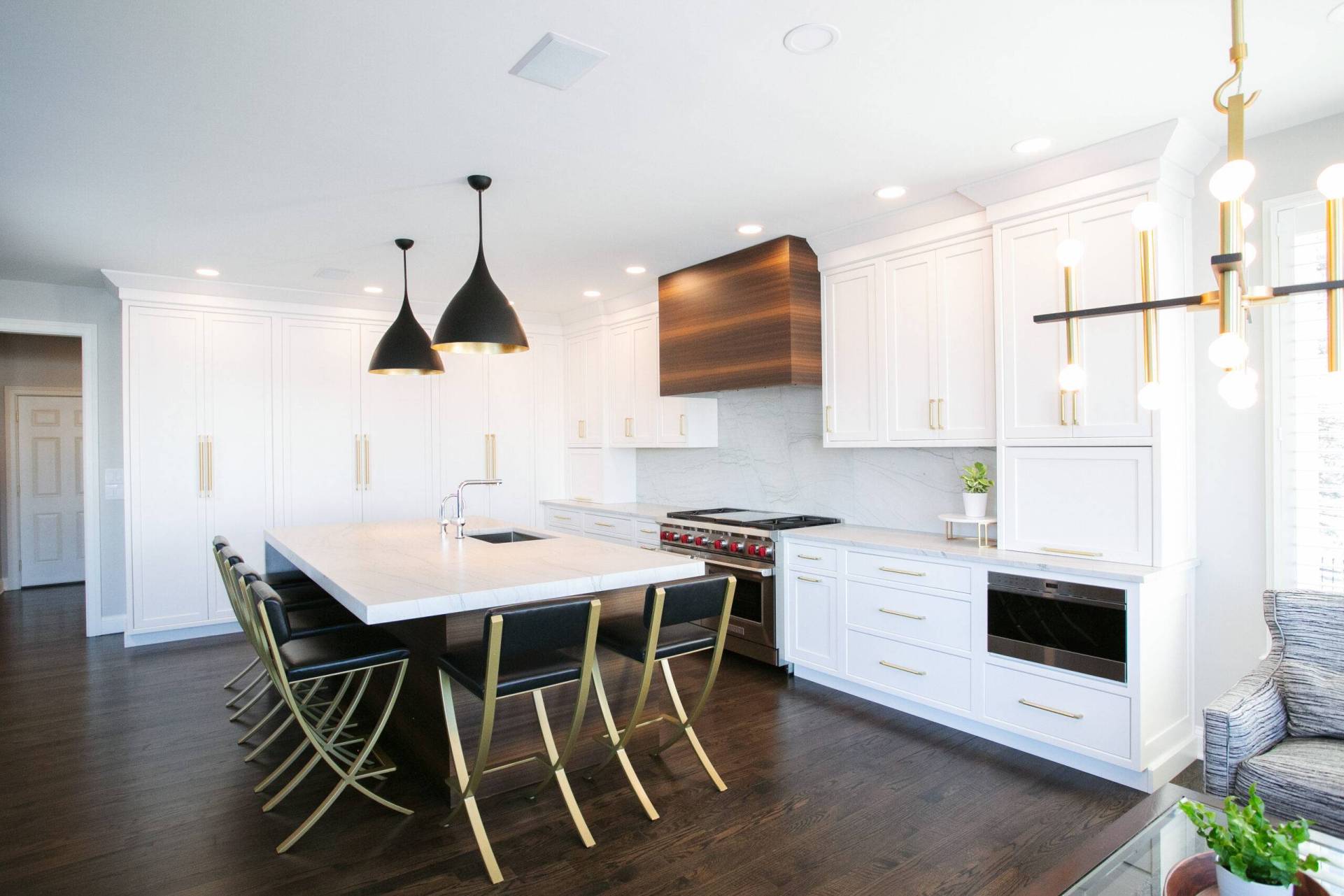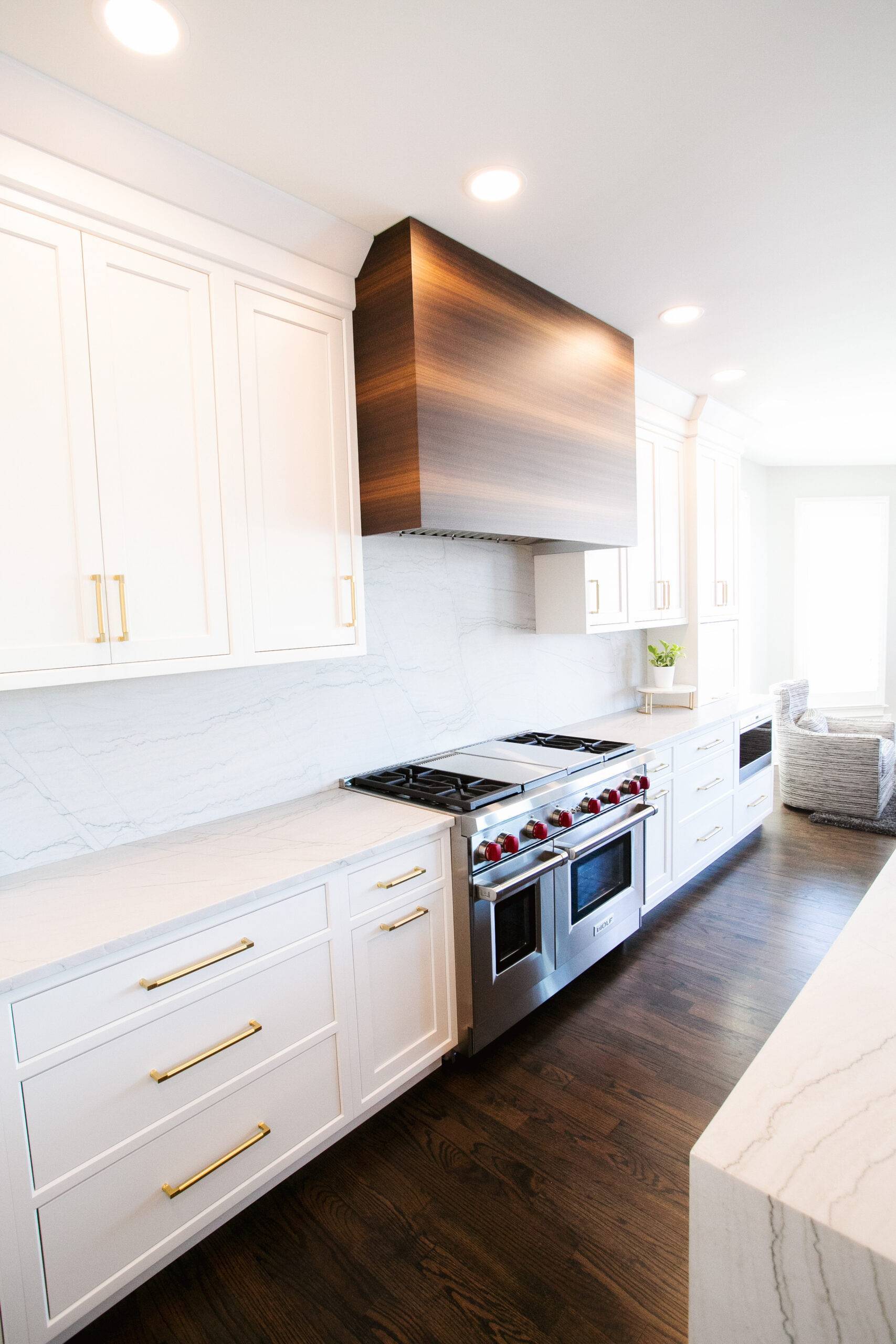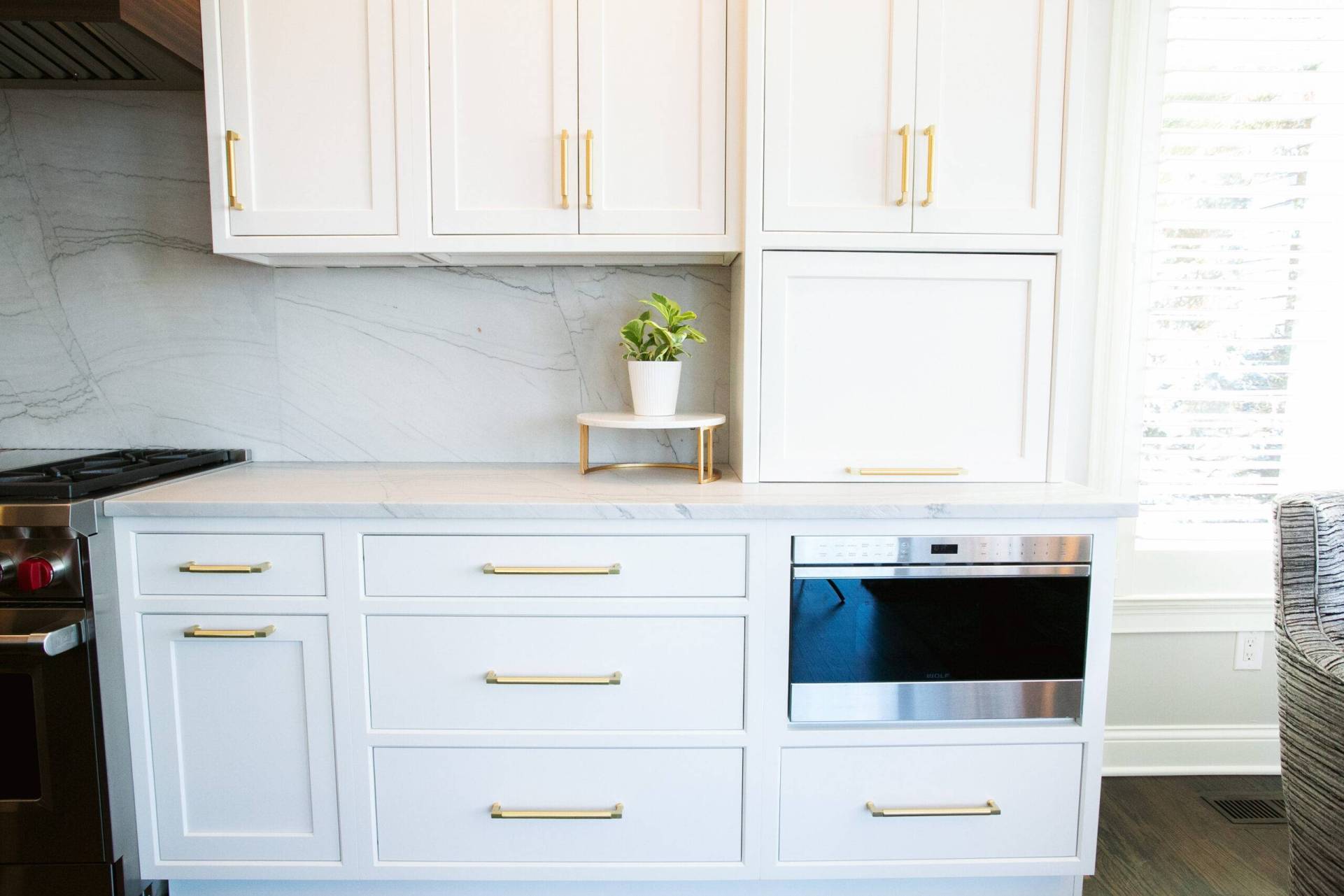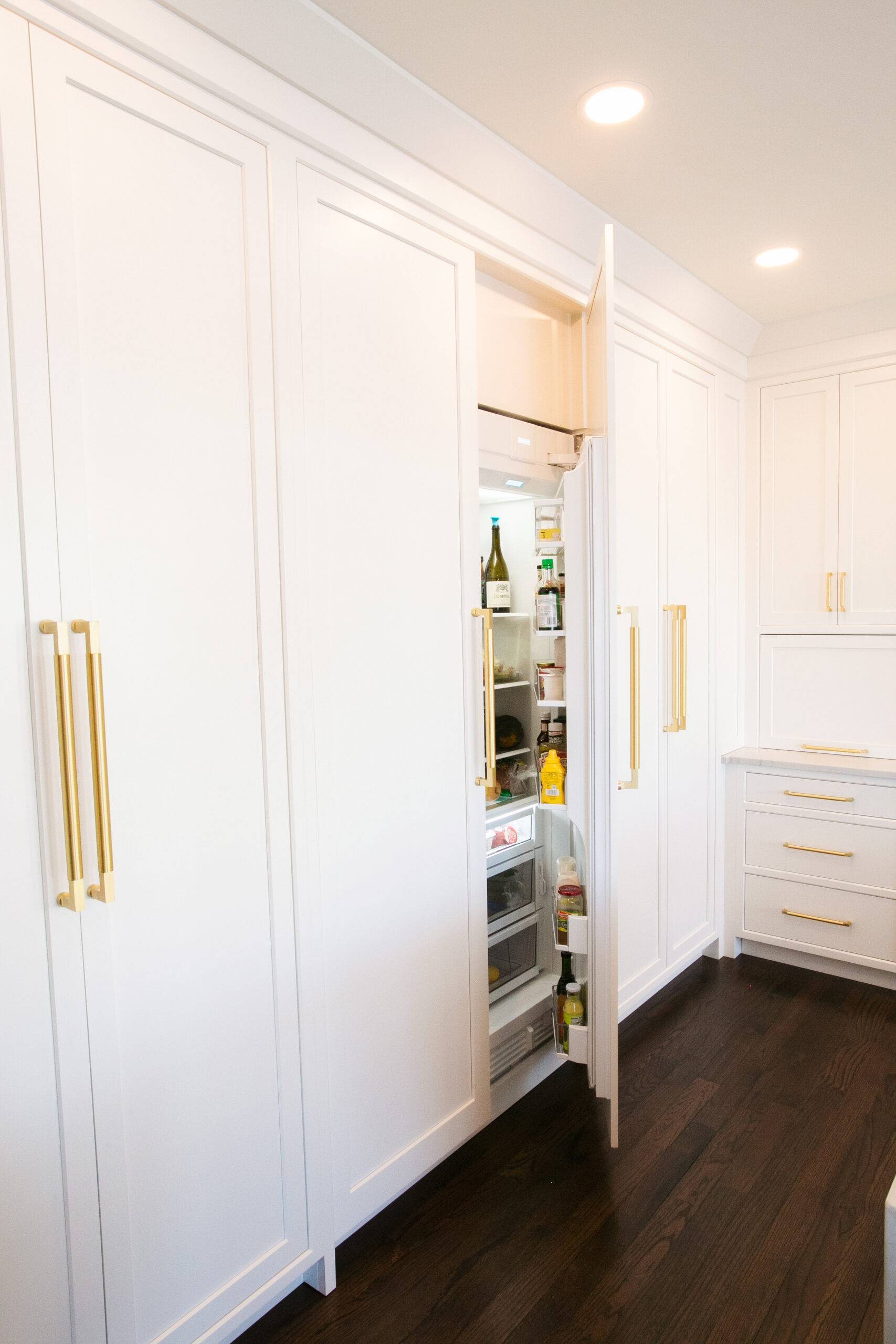 The homeowners wanted to be sure there would be enough seating and that the appliances would seamlessly blend in with the cabinets. They also wanted a sleek, modern feel. The house has a very traditional style, so we wanted to modernize the kitchen while still keeping the aesthetic of the rest of the home.
Katelyn POWELL | Craftsman Residential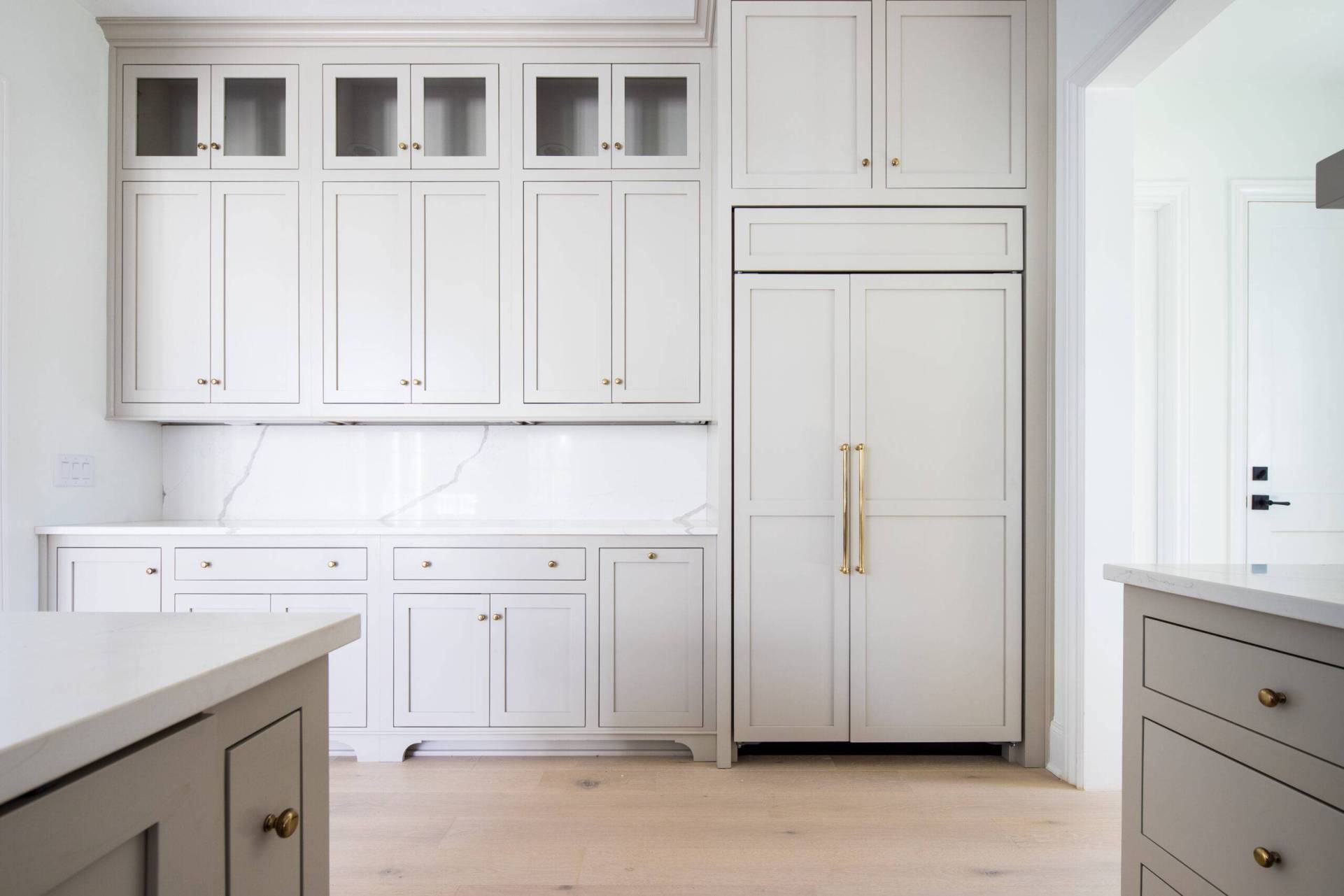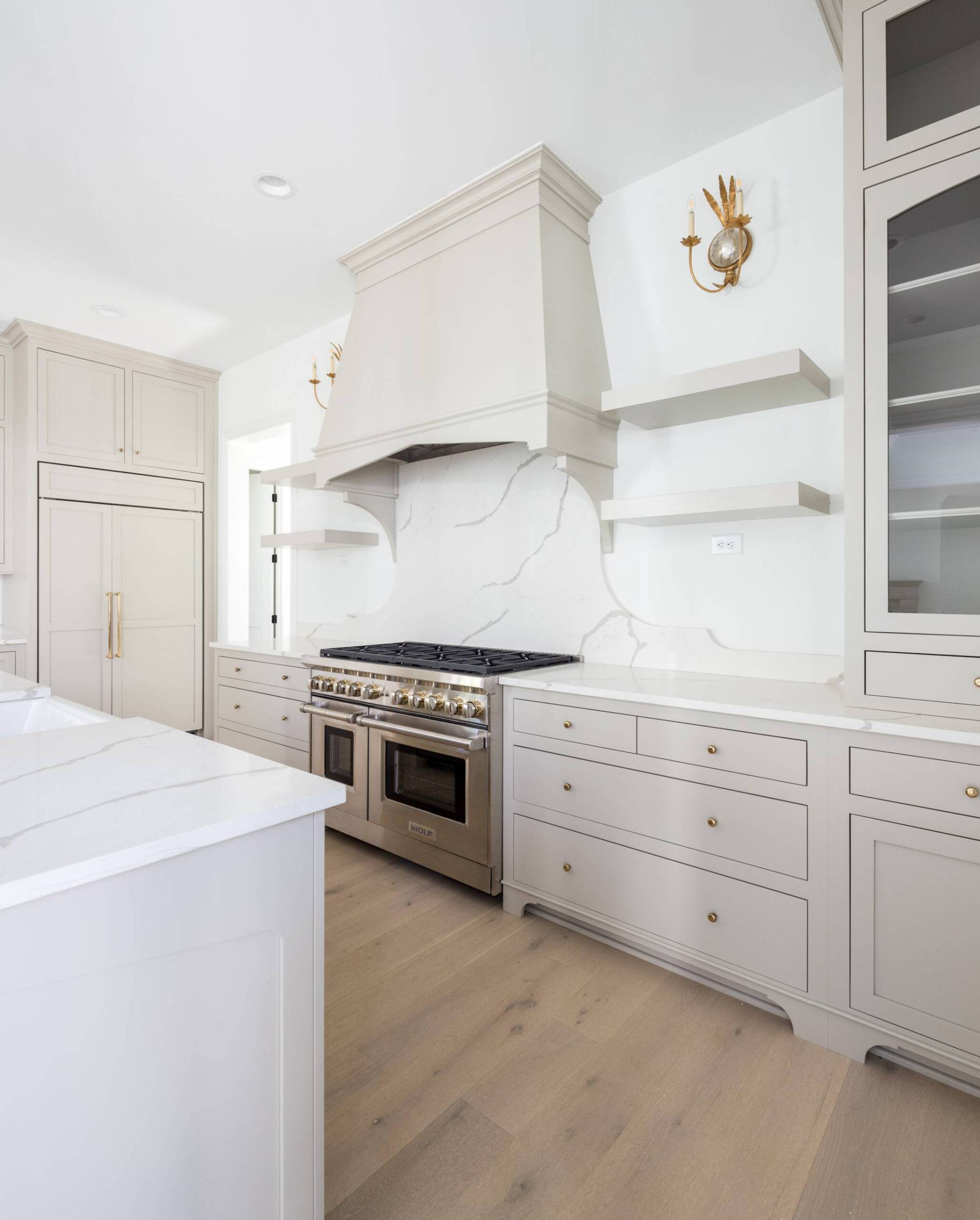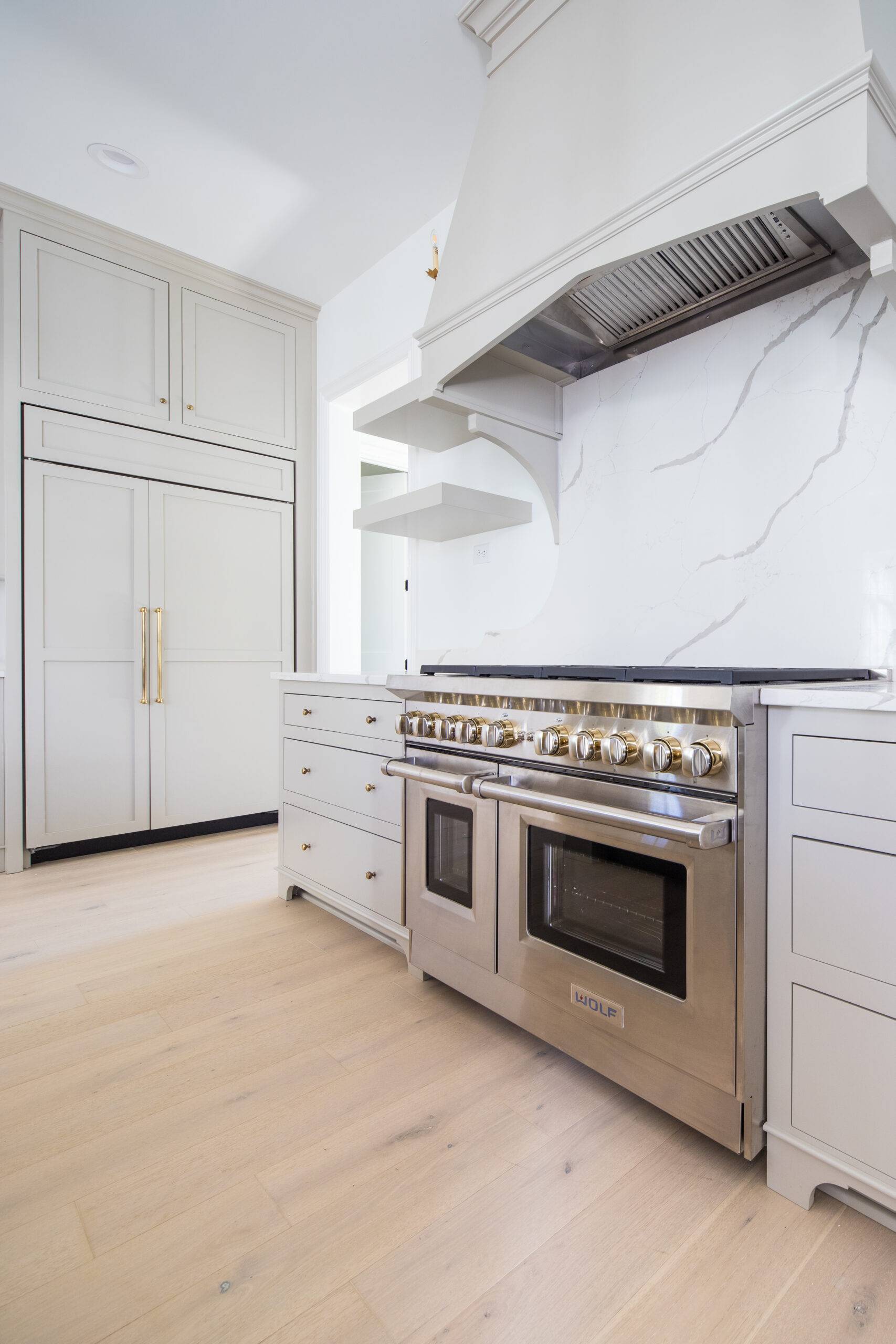 The homeowners goals were to combine functionality for a family home, with a luxurious aesthetic and seamless cabinet designs. As the design professional, our goal was to provide a soft serene color palette that is inviting for a family to gather. The house did not have another area where we could add extra under-counter refrigeration, so it was important to have a large main fridge Sub-Zero column.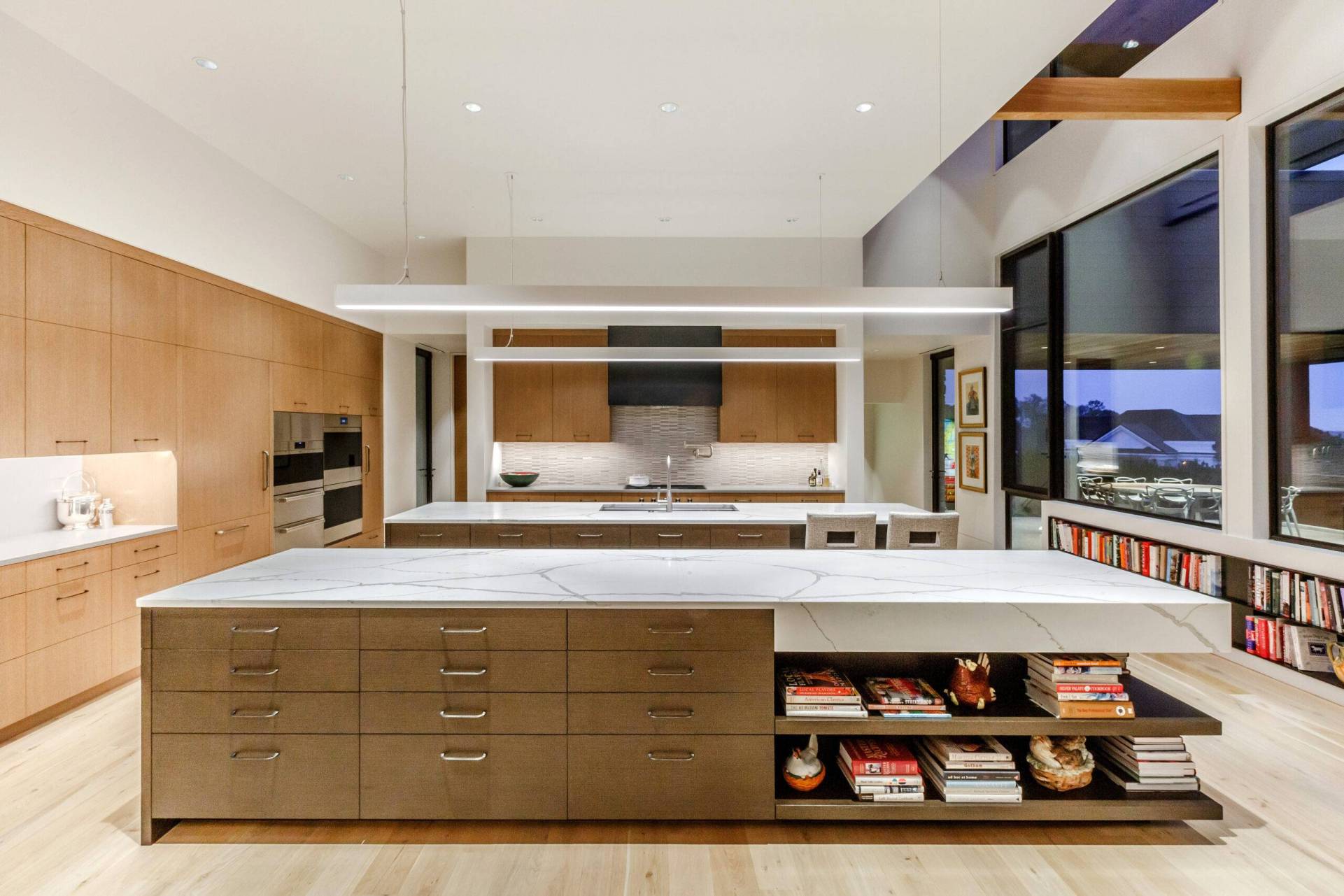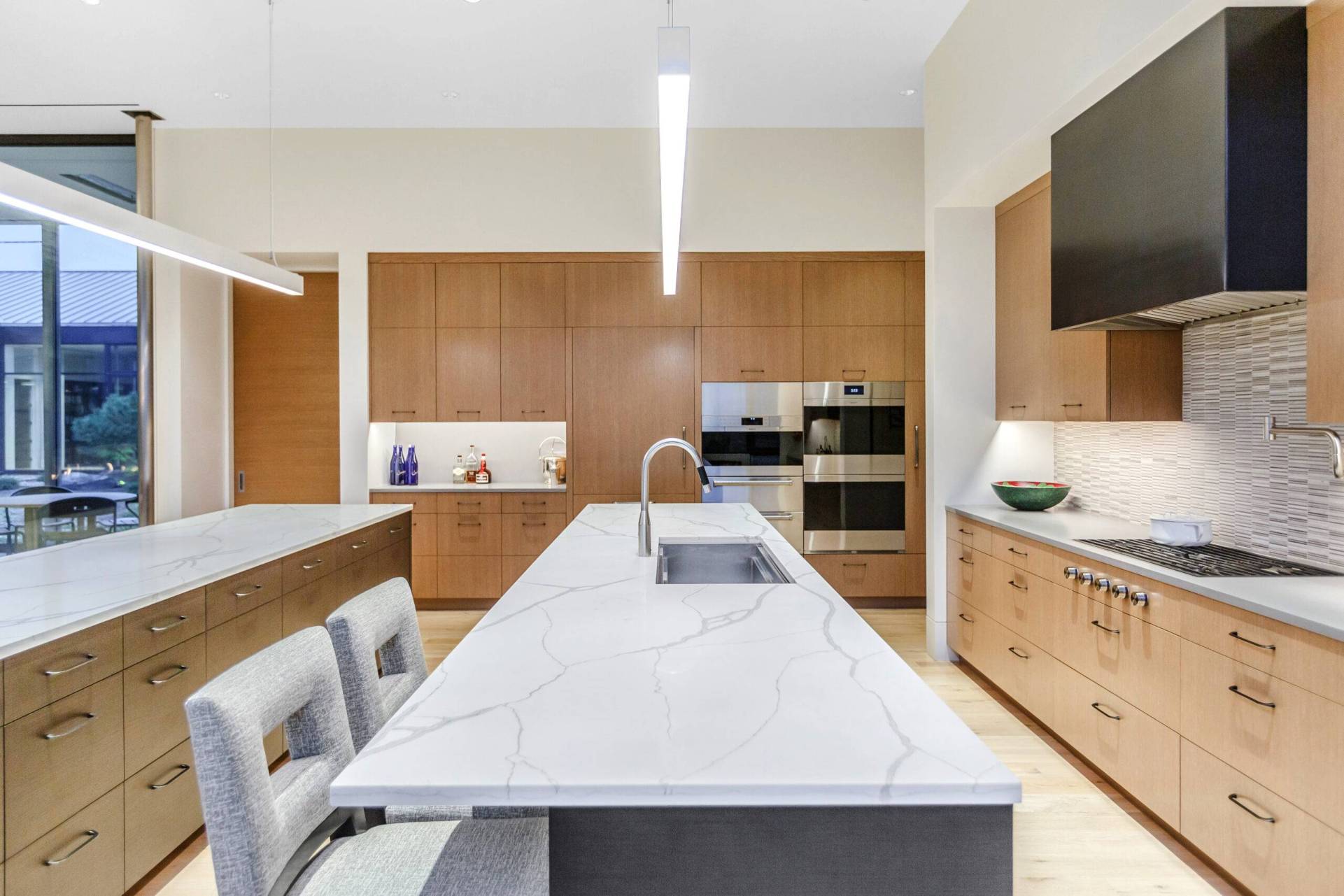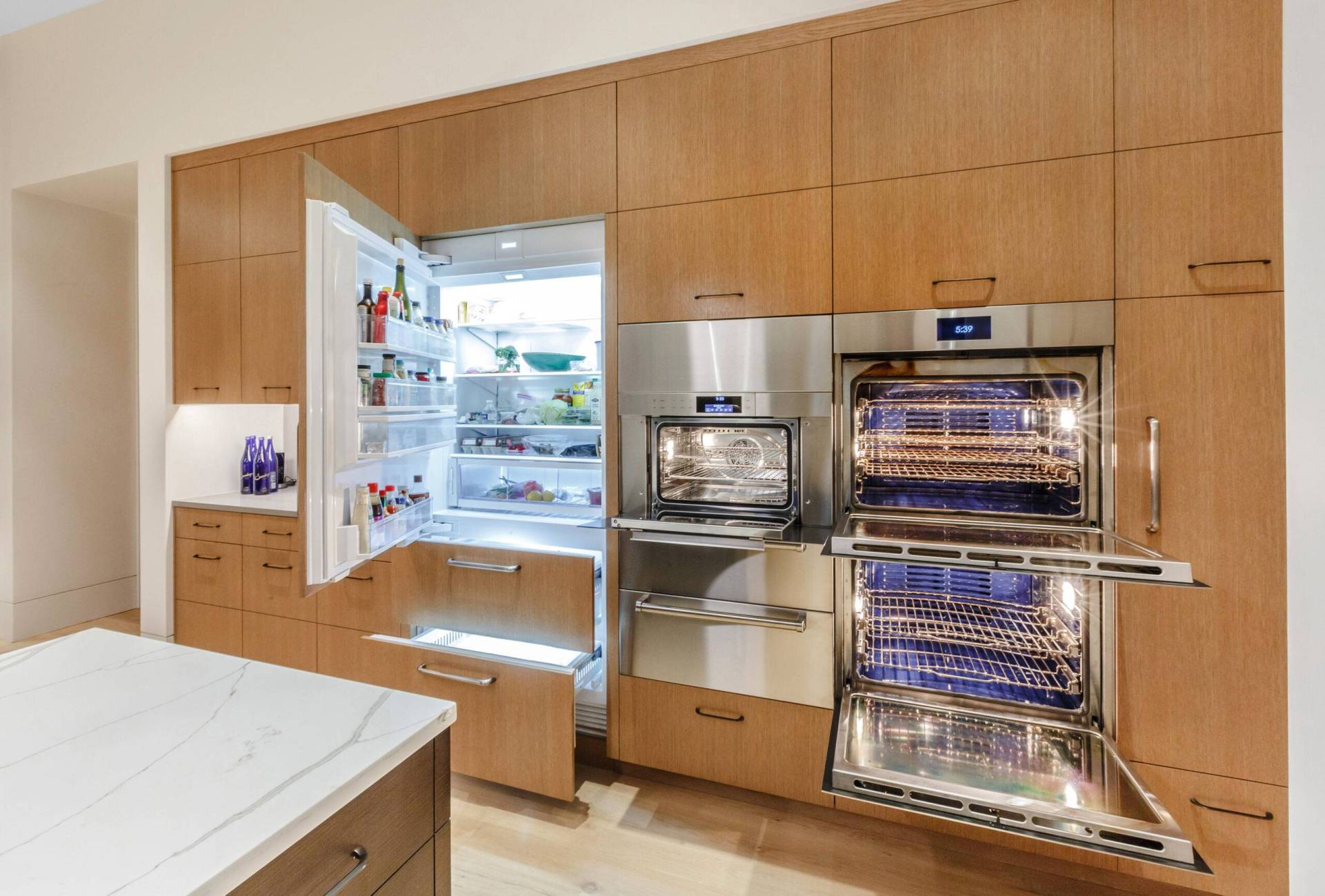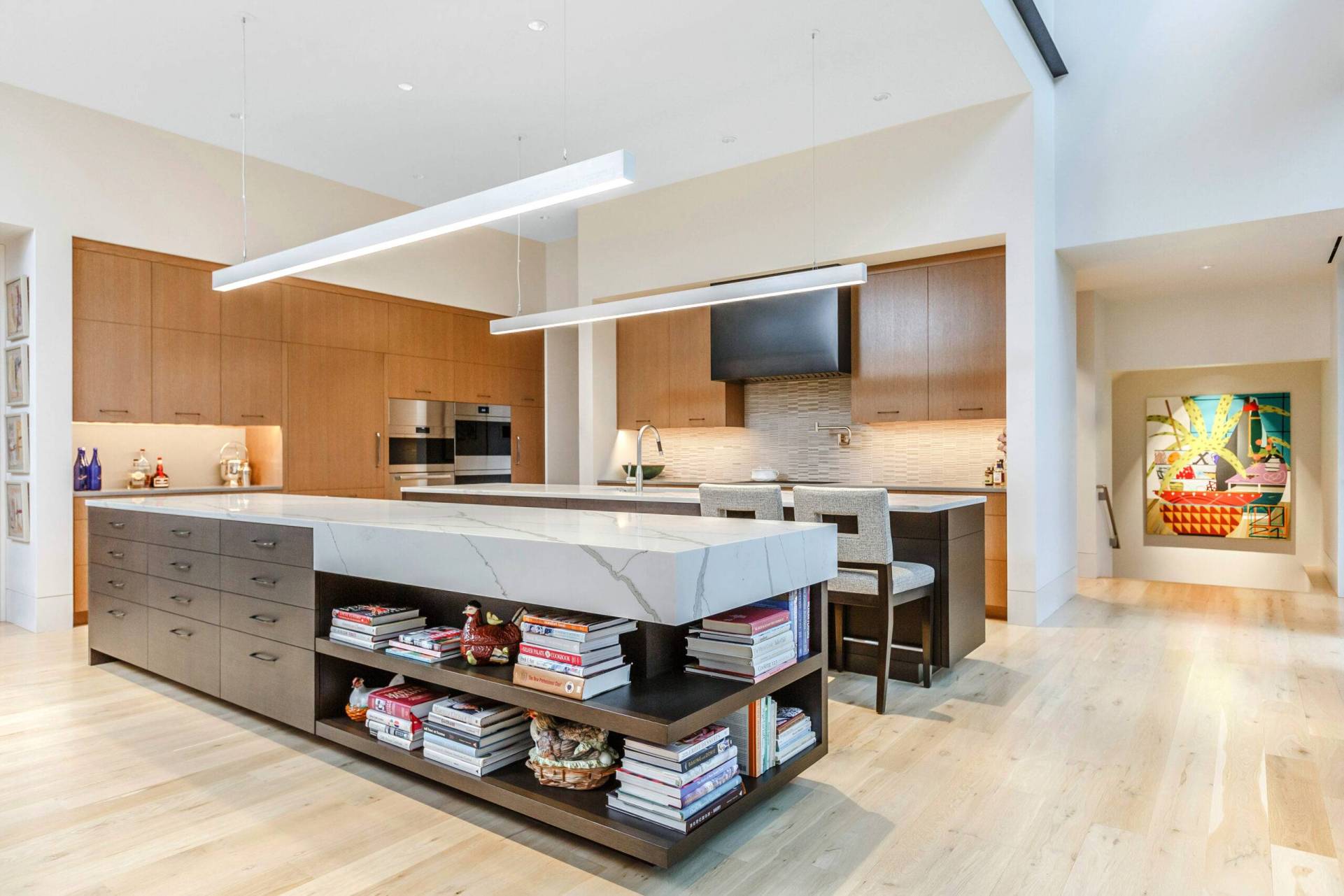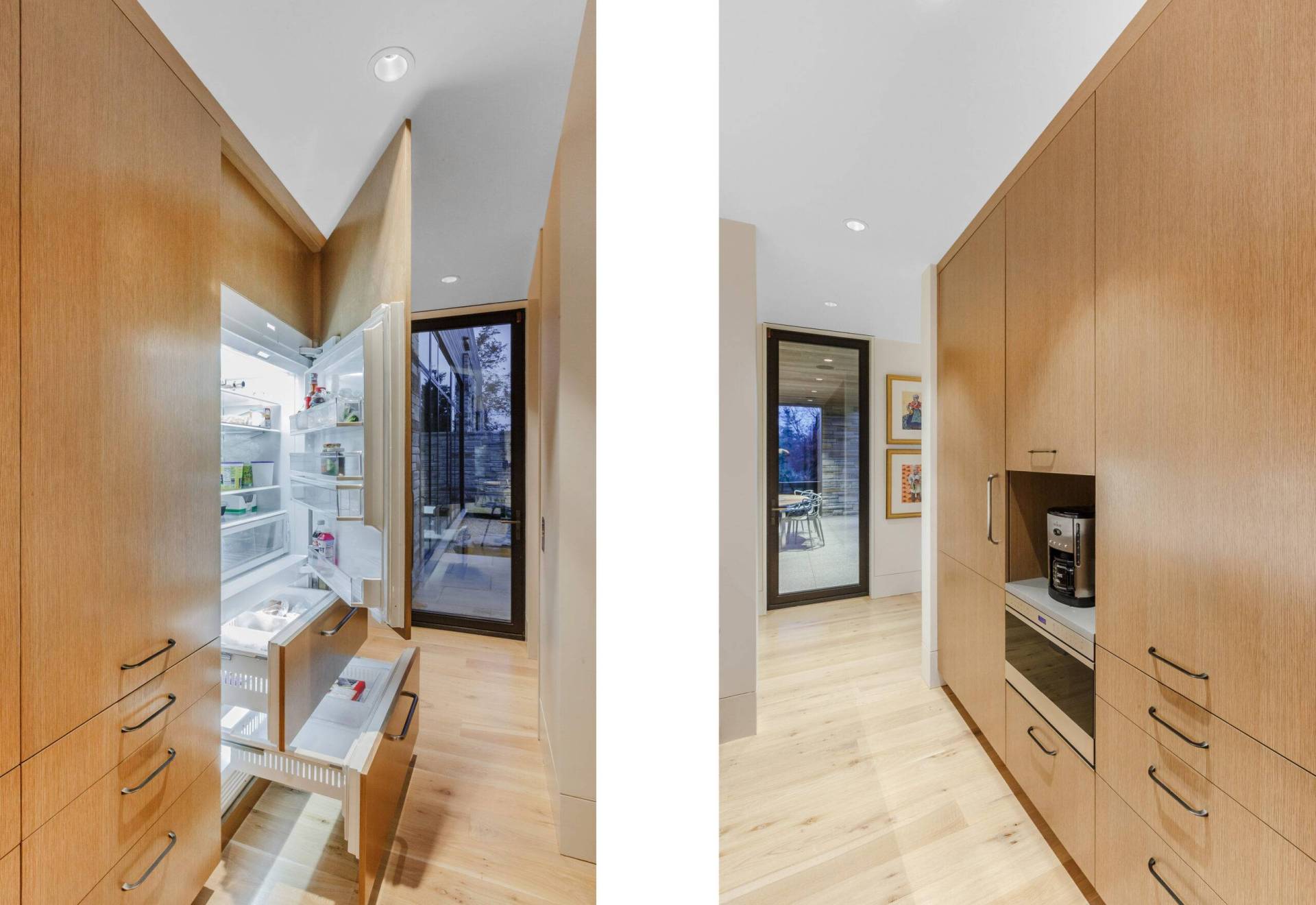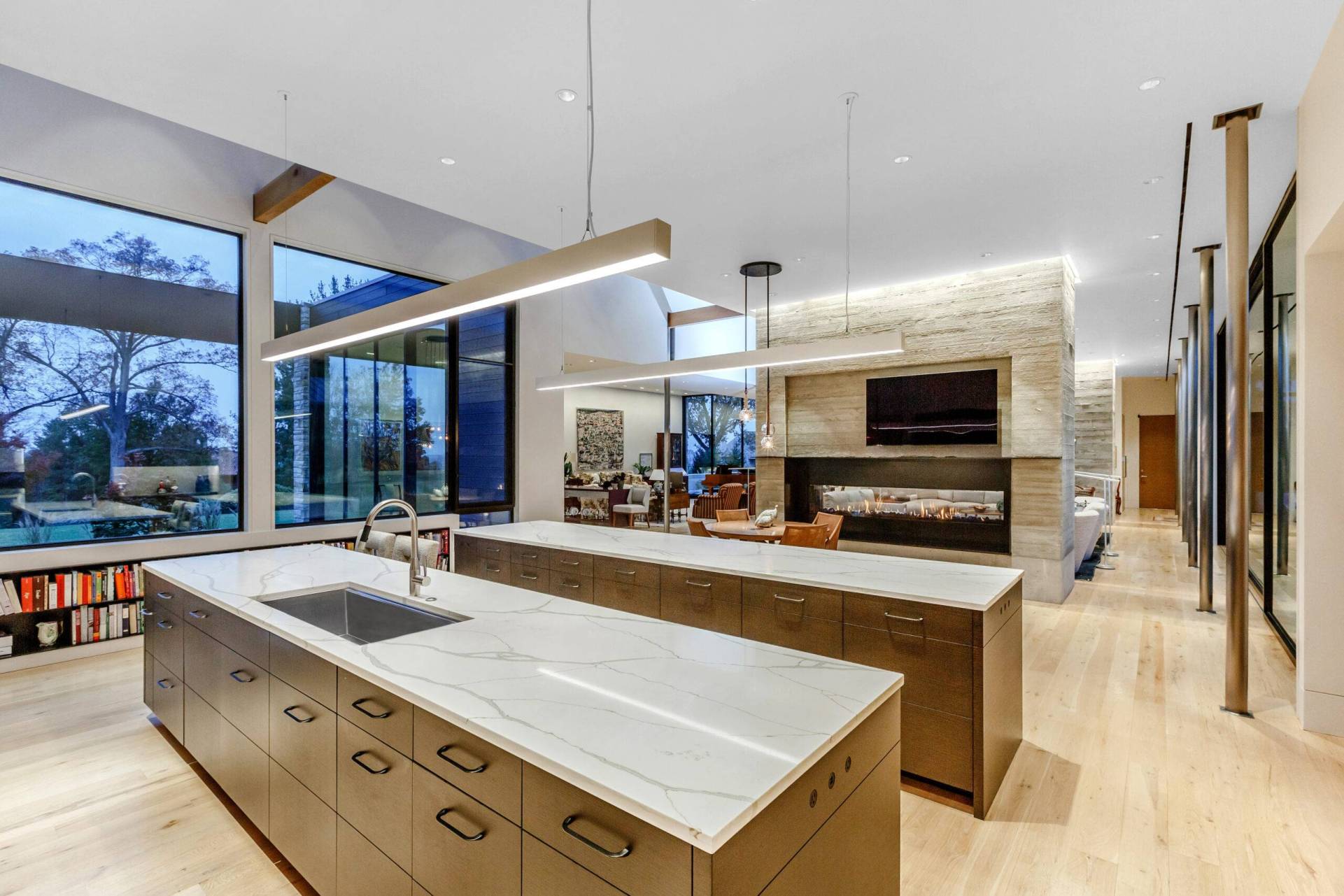 lead designers: rob busch and evonne morales
interior designer: john harrison/DIGS
This kitchen was for an enthusiastic and accomplished cook and baker, so a functional, well-organized, and easy to use kitchen was a priority. The kitchen had to 'work' and not be just for show. Additionally, the primary cook wanted a place where her husband could interact without being underfoot. It was very important that the homeowners' large collection of cookbooks, scattered about their previous home, could be assimilated into the kitchen space. In addition to the practicality of bringing the cookbooks to the kitchen, they are showcased to reflect the owner's personalities while adding color and vibrancy to the space. The homeowners also wanted a breakfast table and fireplace in the kitchen and did not want to dine exclusively at an island.
Sydney Marszalek | Craftsman Residential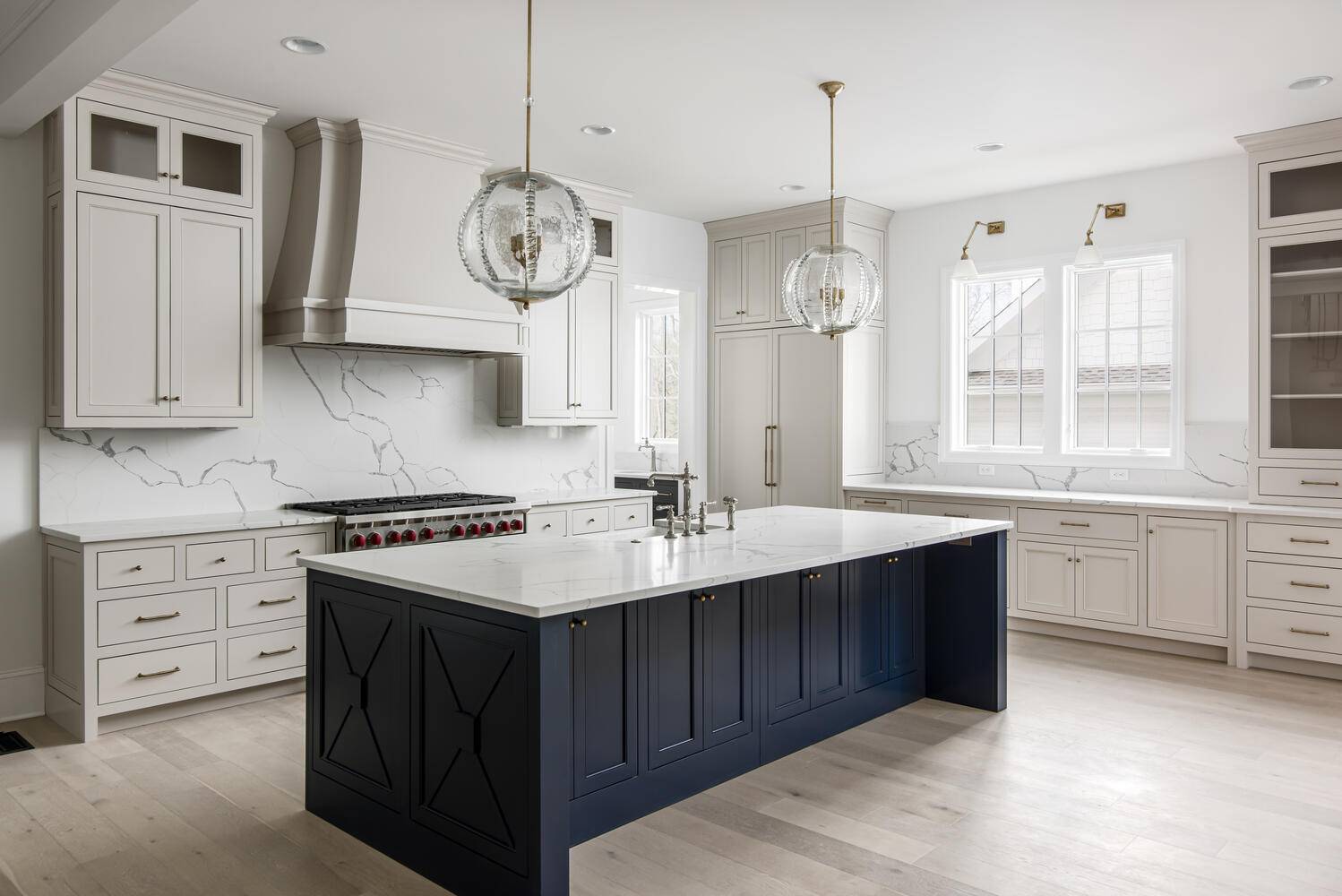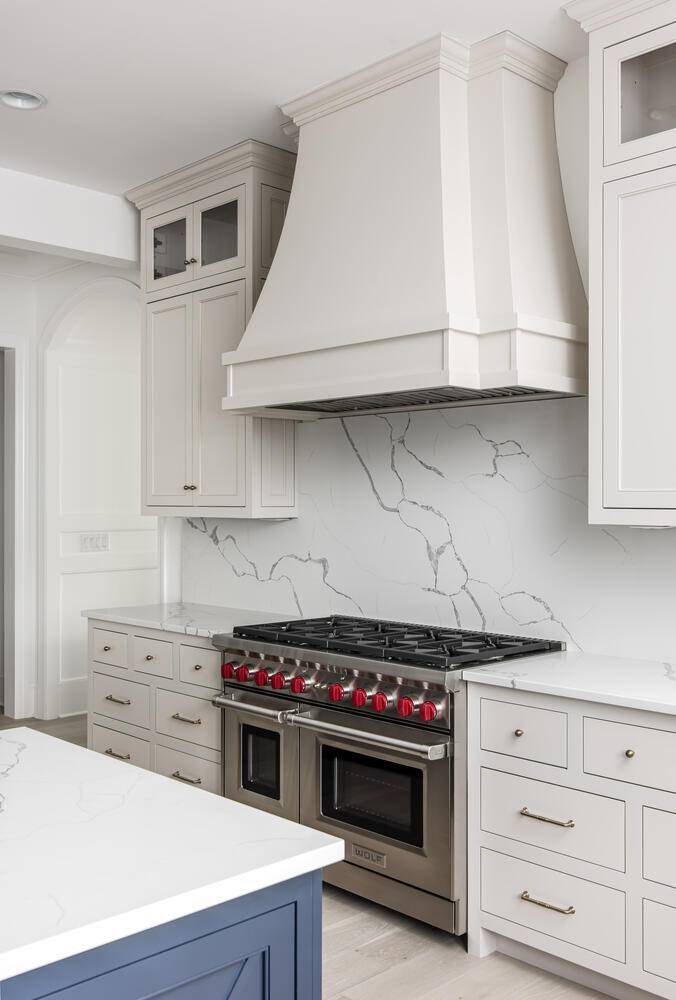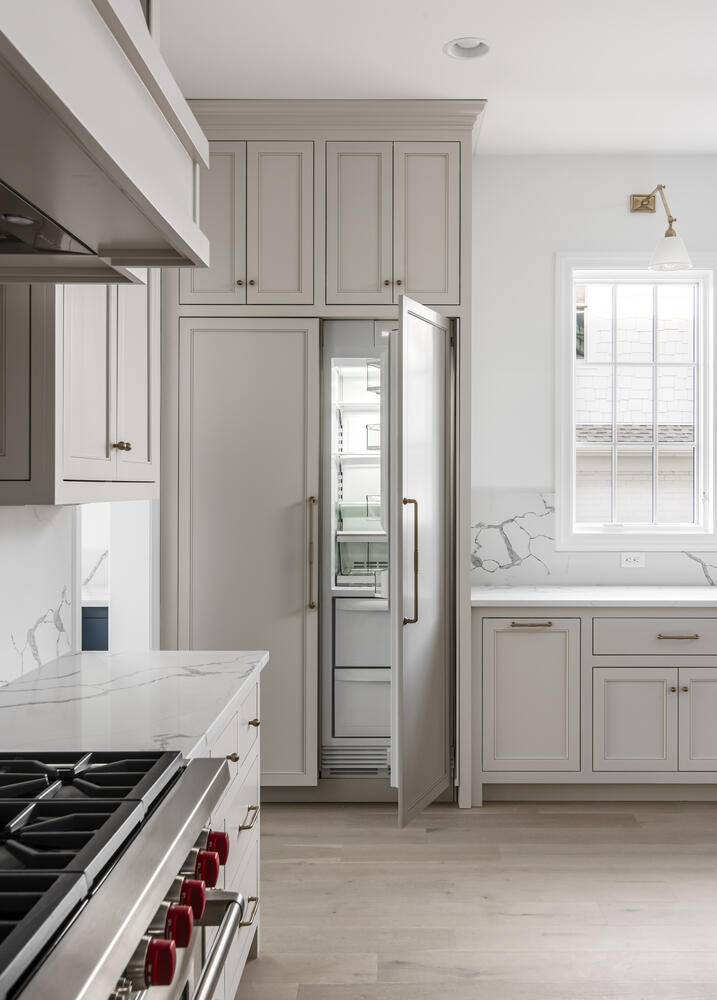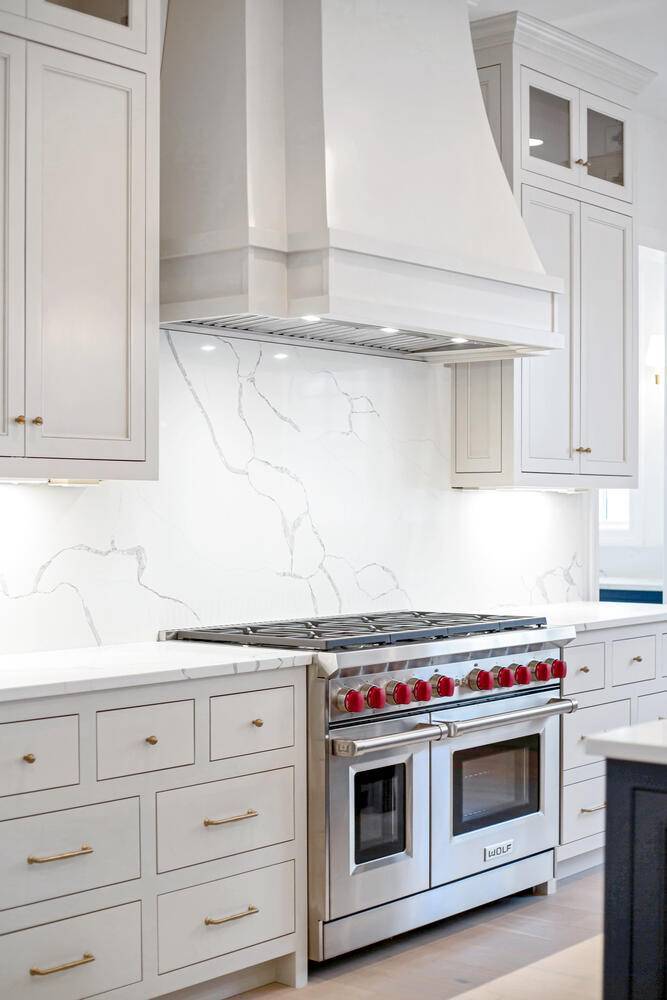 The homeowner wanted a pop of color on the island, and thought it was important to showcase the red knobs on the range. The top project goals were to create a spacious layout, with lots of room for entertaining.
Lori Sain Smith | Daffodilly Design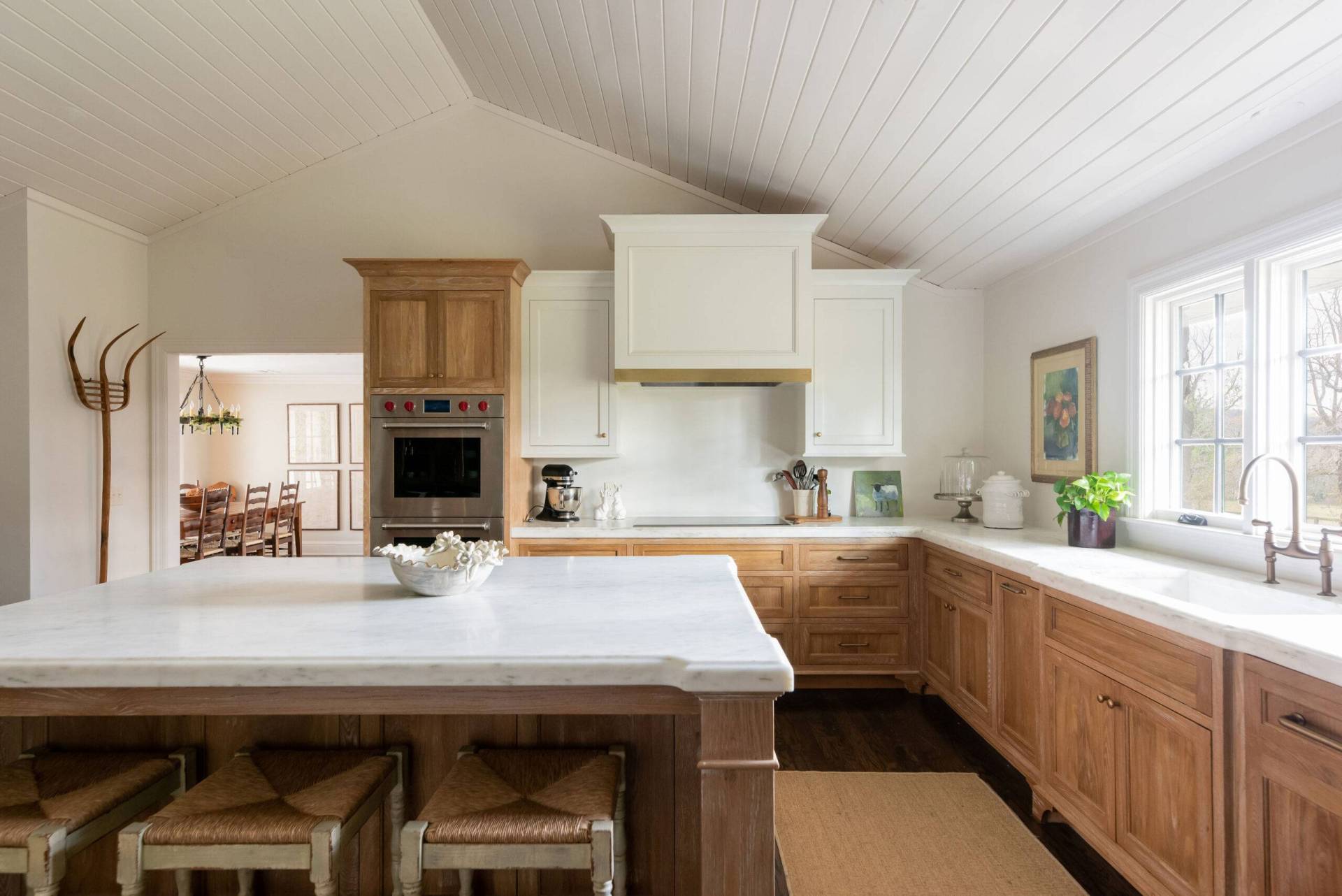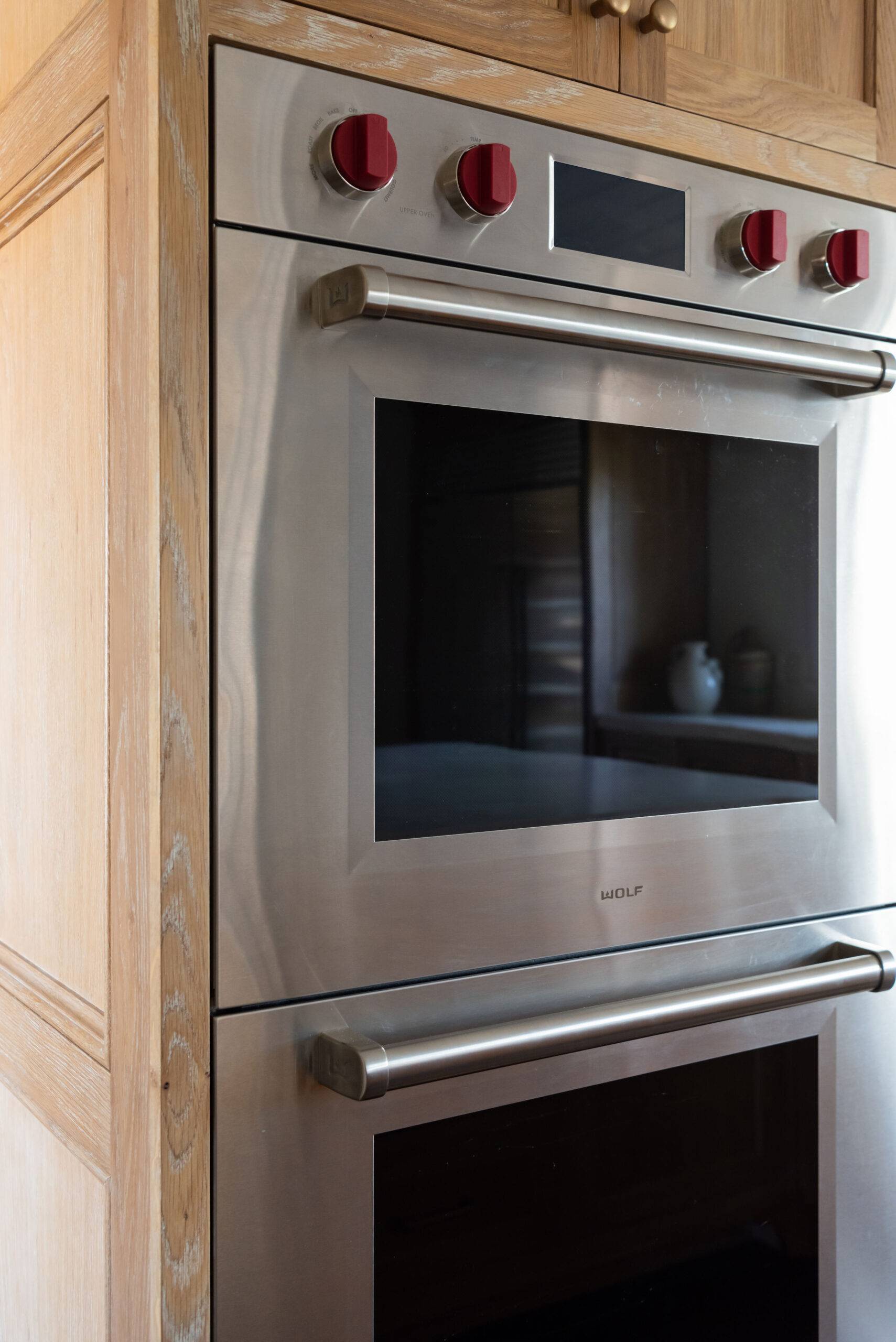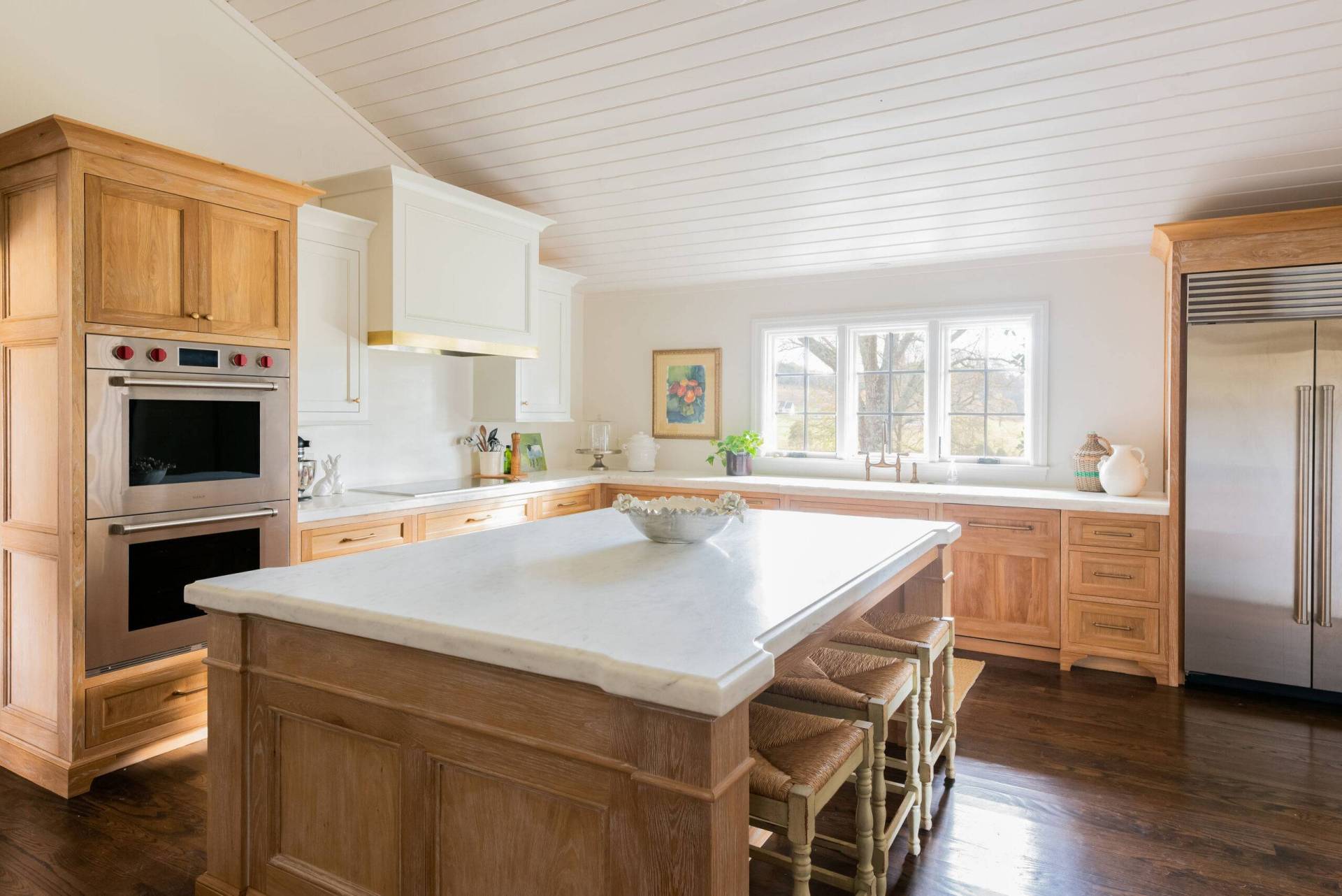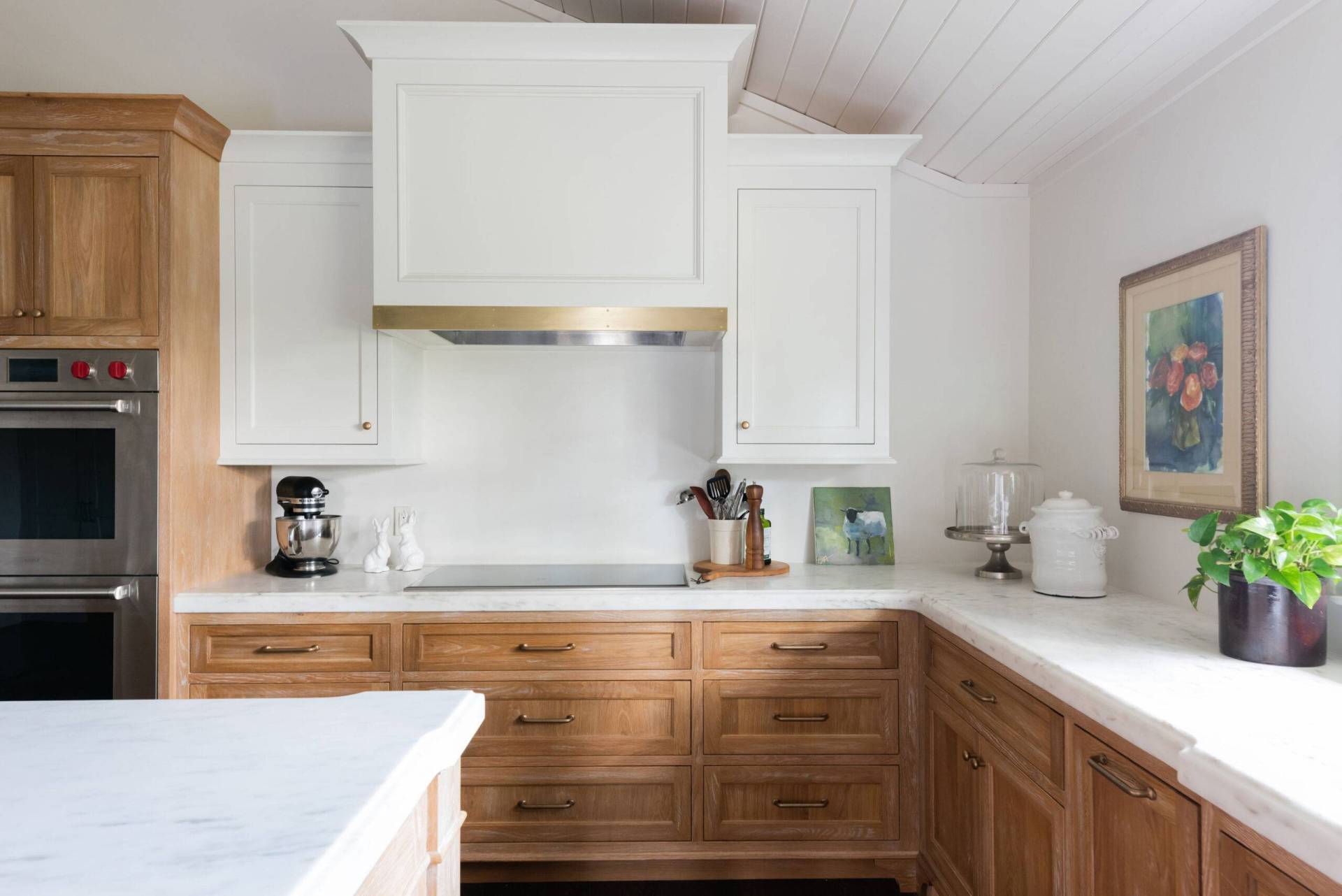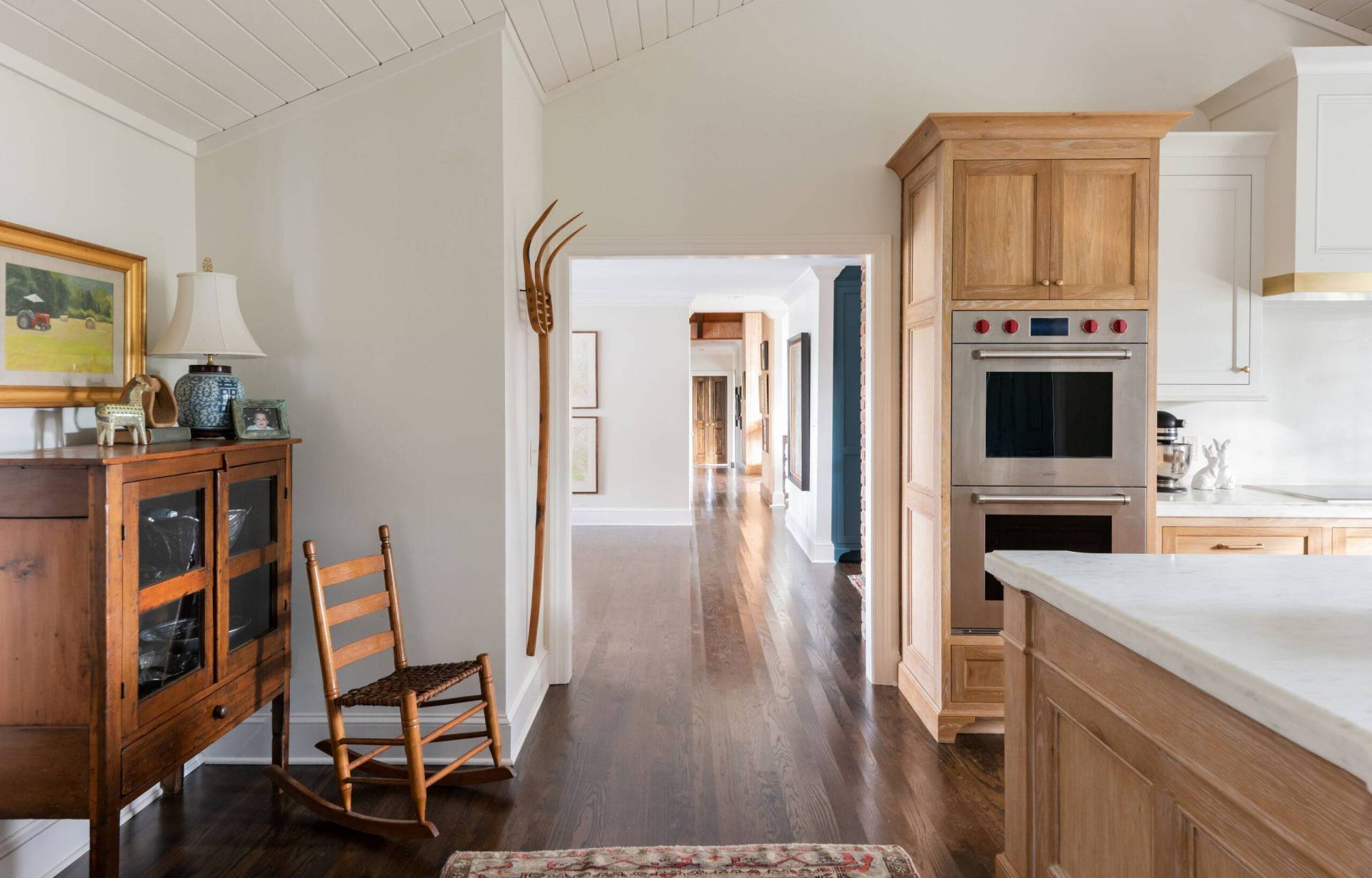 The primary objective for this project was the incorporation of the existing floorplan and ranch-style roof plan into a home with European flair. Family artifacts and antiques had to remain in the decor, so we created a plan that embraced the antiquities and added natural finishes and products that looked as though they had always been there. Another goal was opening spaces up for a better flow and a grand appeal that made the various ceiling heights all work well together, while also creating a perfect setting for entertaining.
LINDA BRATTON | Architectural Kitchen and Baths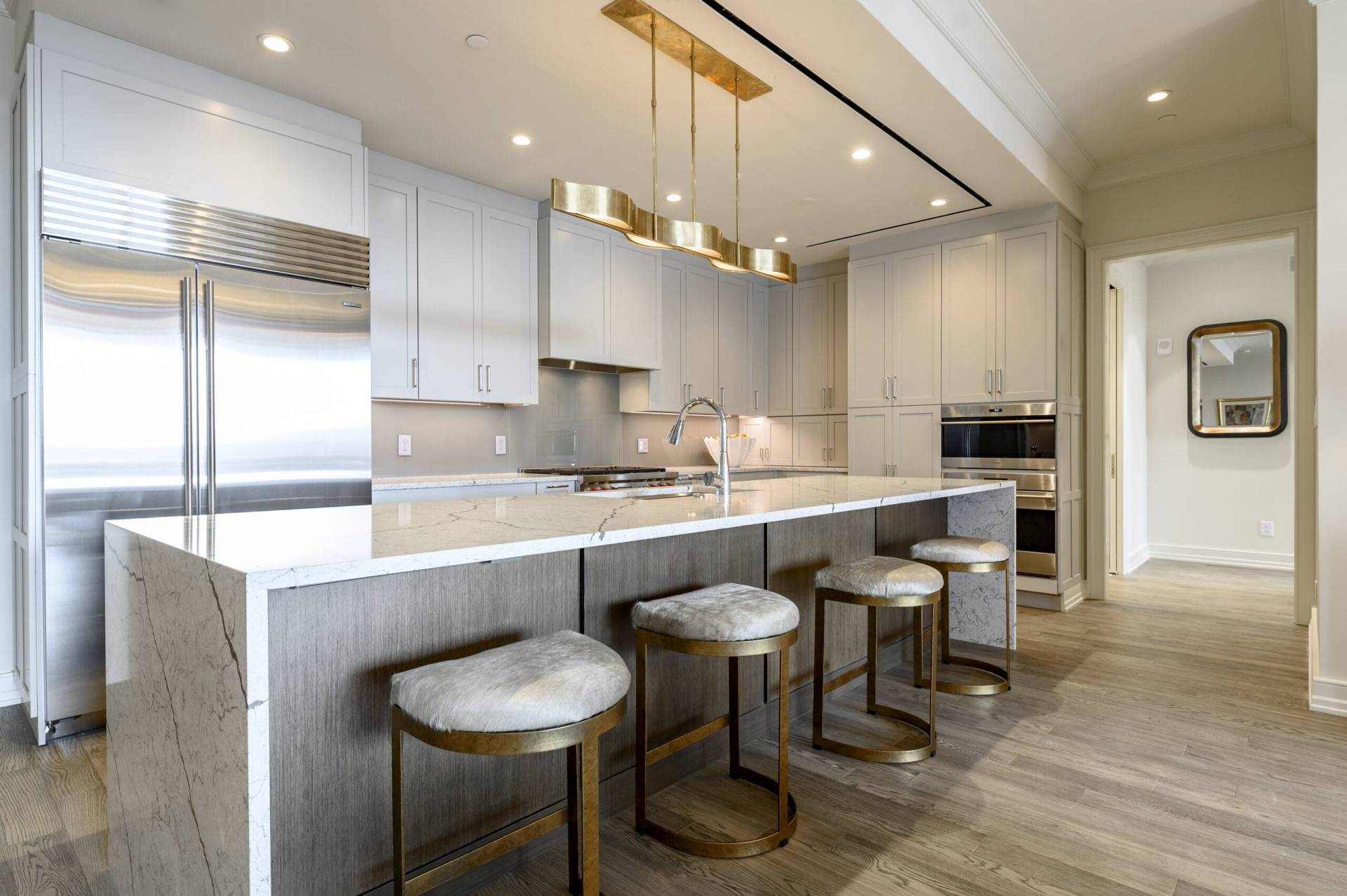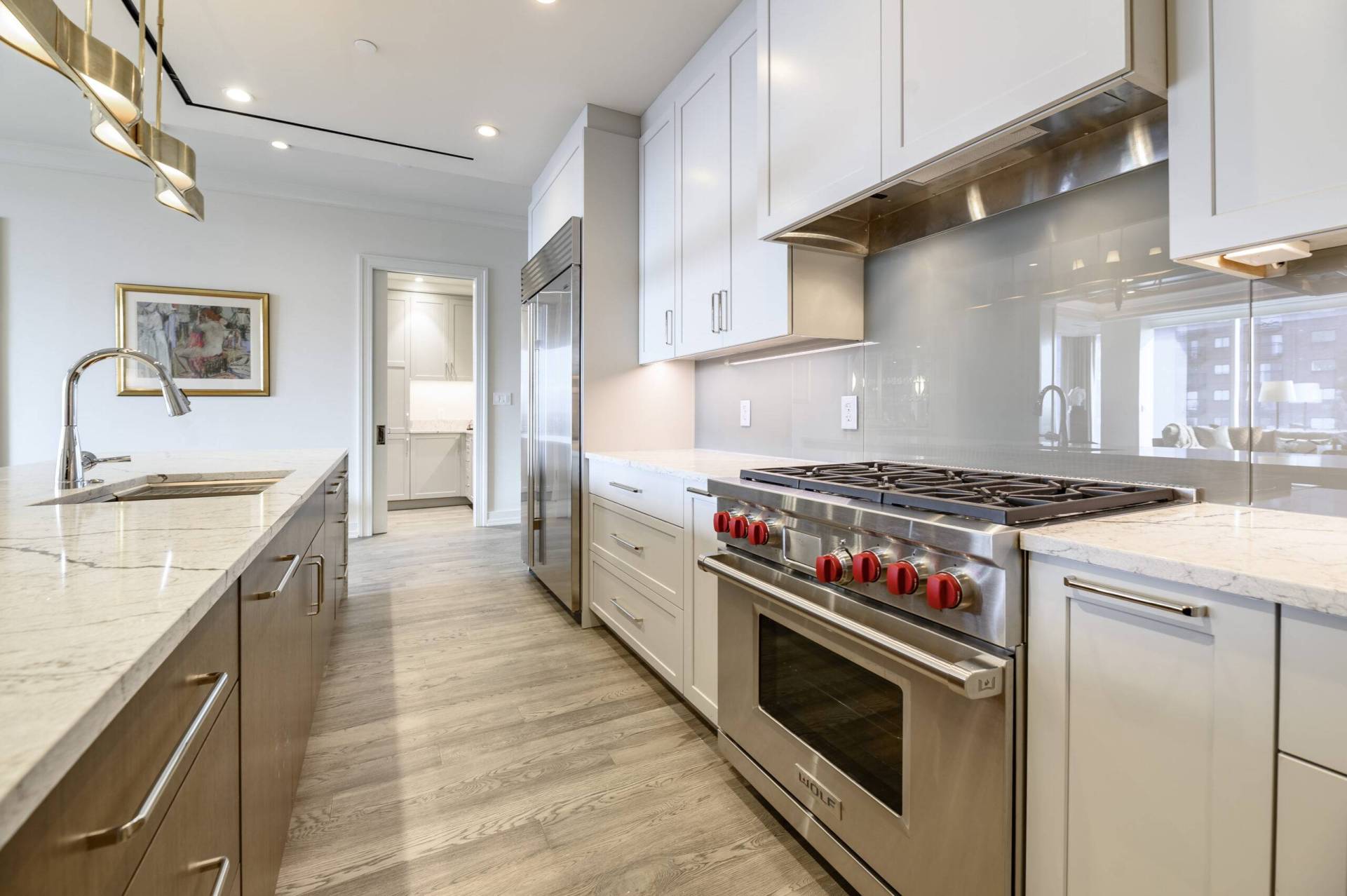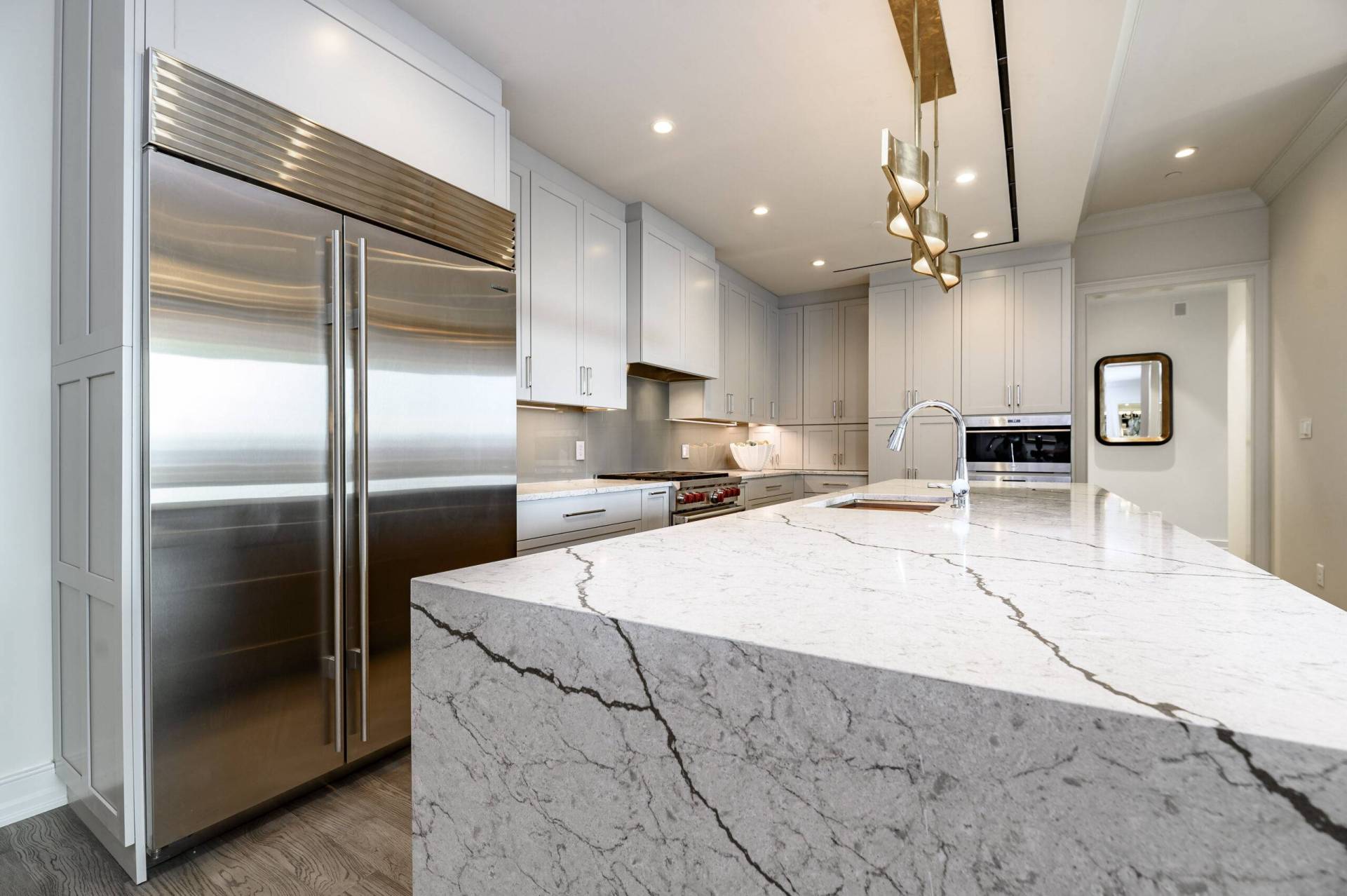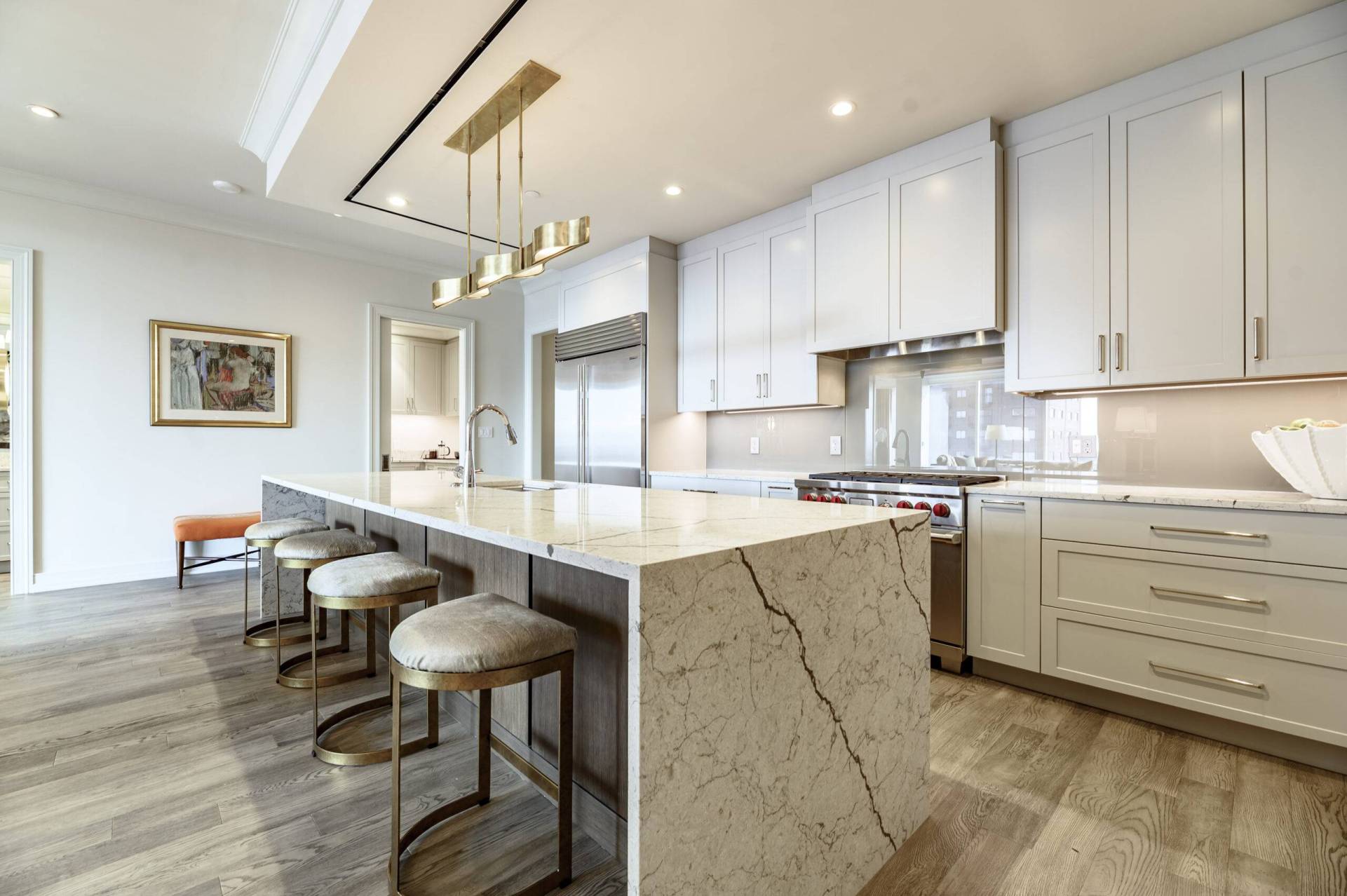 The main design goal of the homeowner was to create a unique vertical living space that was unique to Lexington and more in keeping with larger cities like Miami and New York. Creating open spaces with dynamic viewpoints of the unit itself and the skyline of the city beyond was always at the forefront of design. Providing luxury appliances and cabinetry was necessary to complete this vision. Wolf and Sub-Zero products were the only ones considered because of the level of detail and luxury that was specified. Only Wolf and Sub-Zero could meet the high end design goals of the team, and they were the only product that could serve as entertainment/event suite of appliances as well as serving the day-to-day use of a homeowner or family.
SAMM LEIBY | ANDERSON DESIGN STUDIO​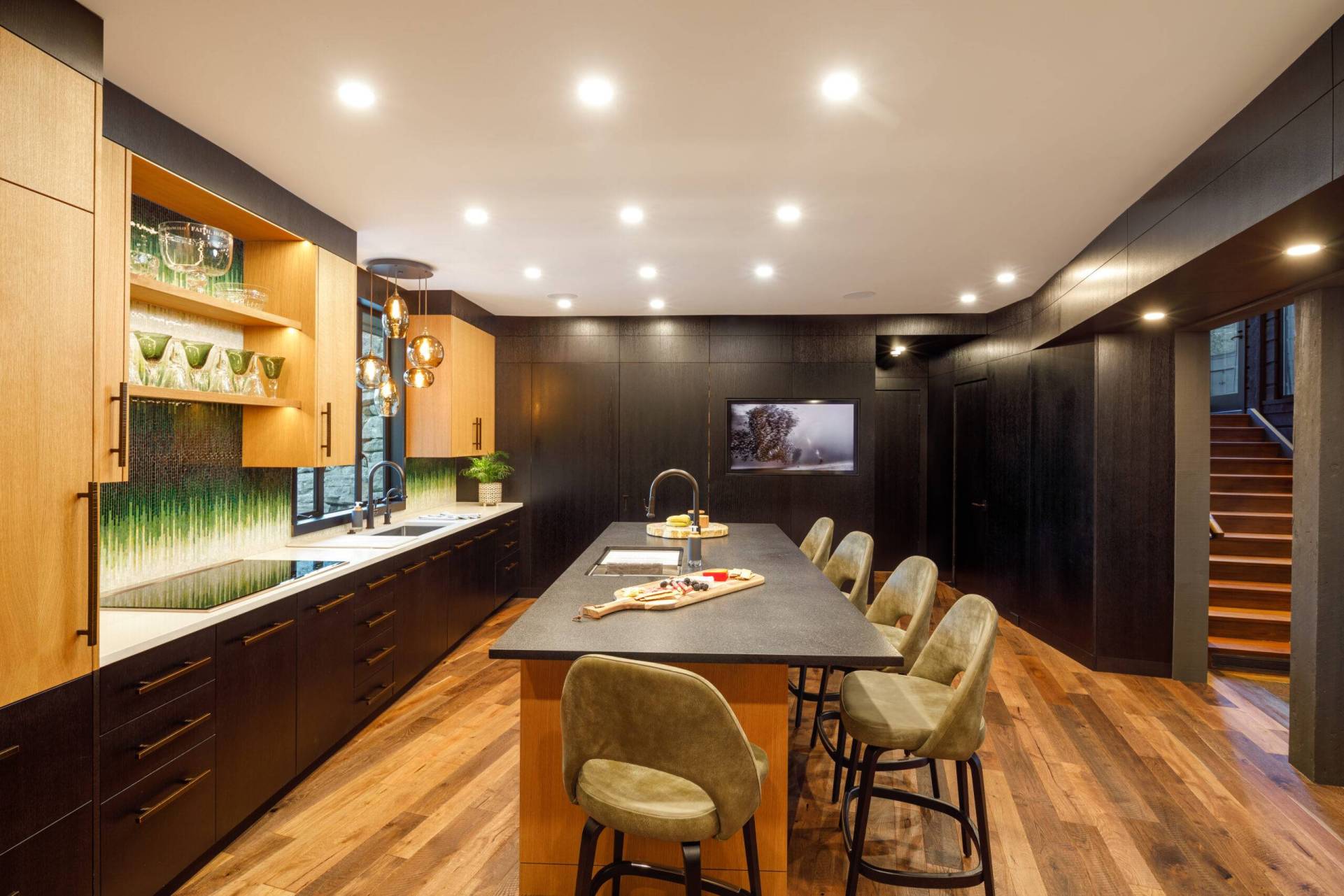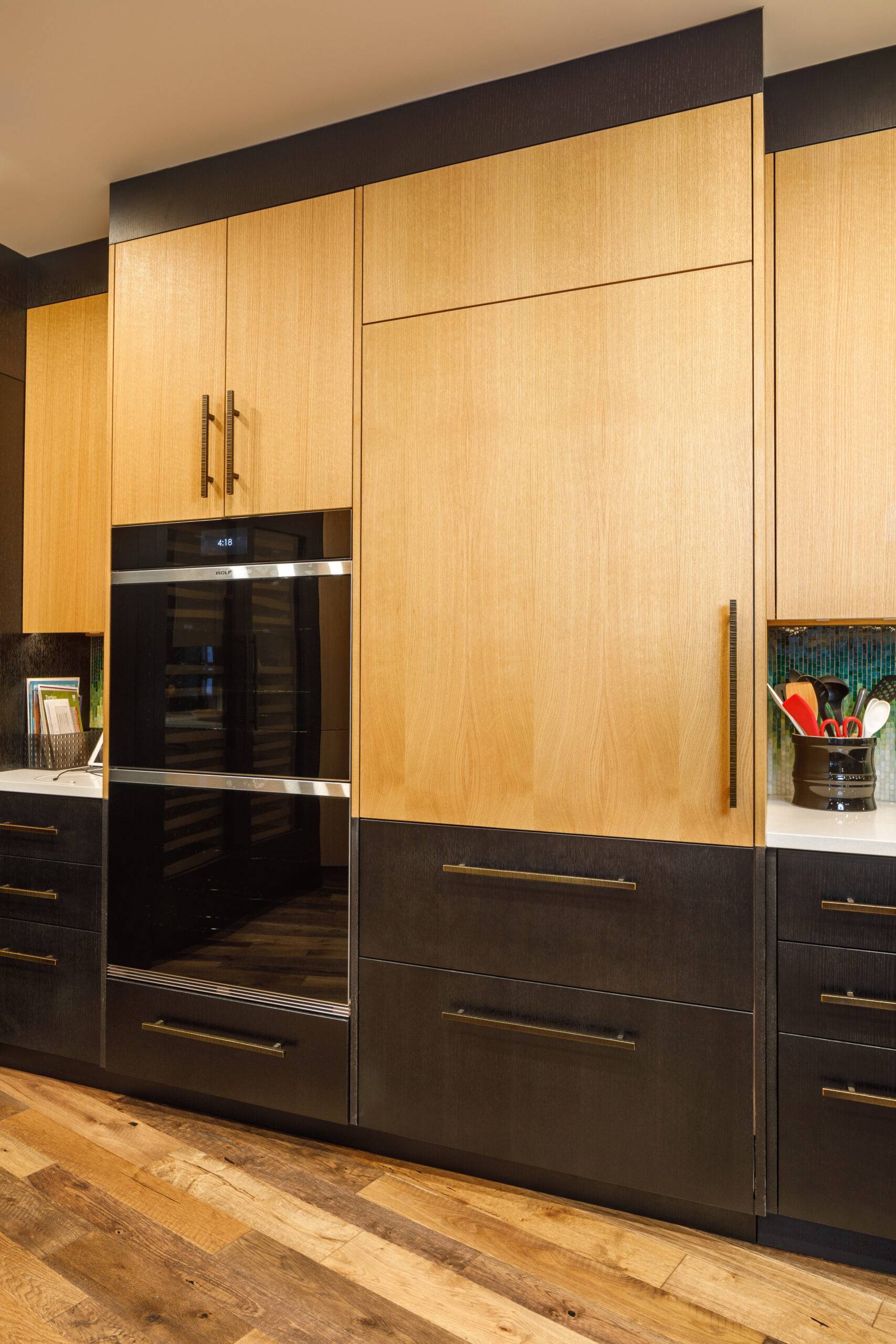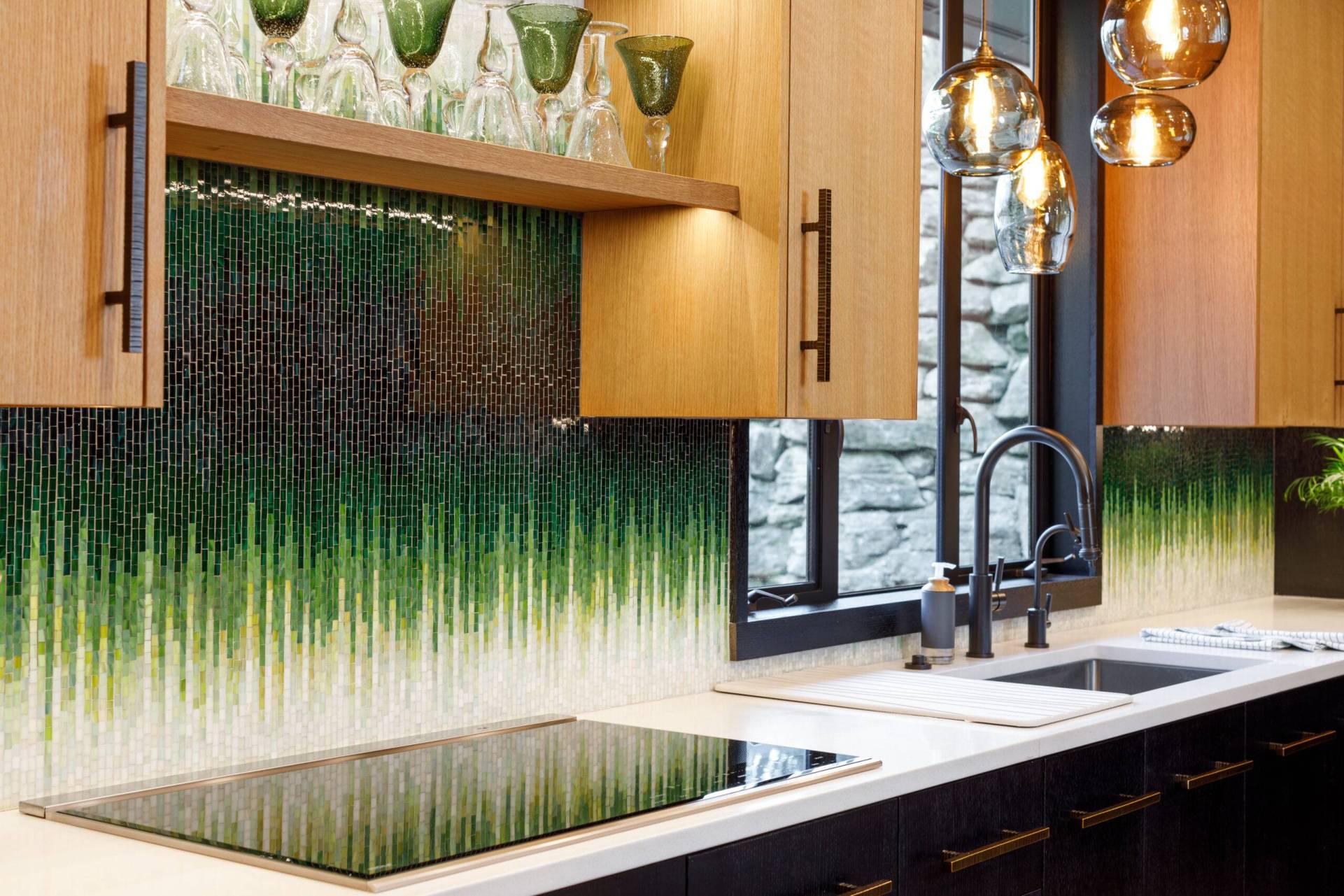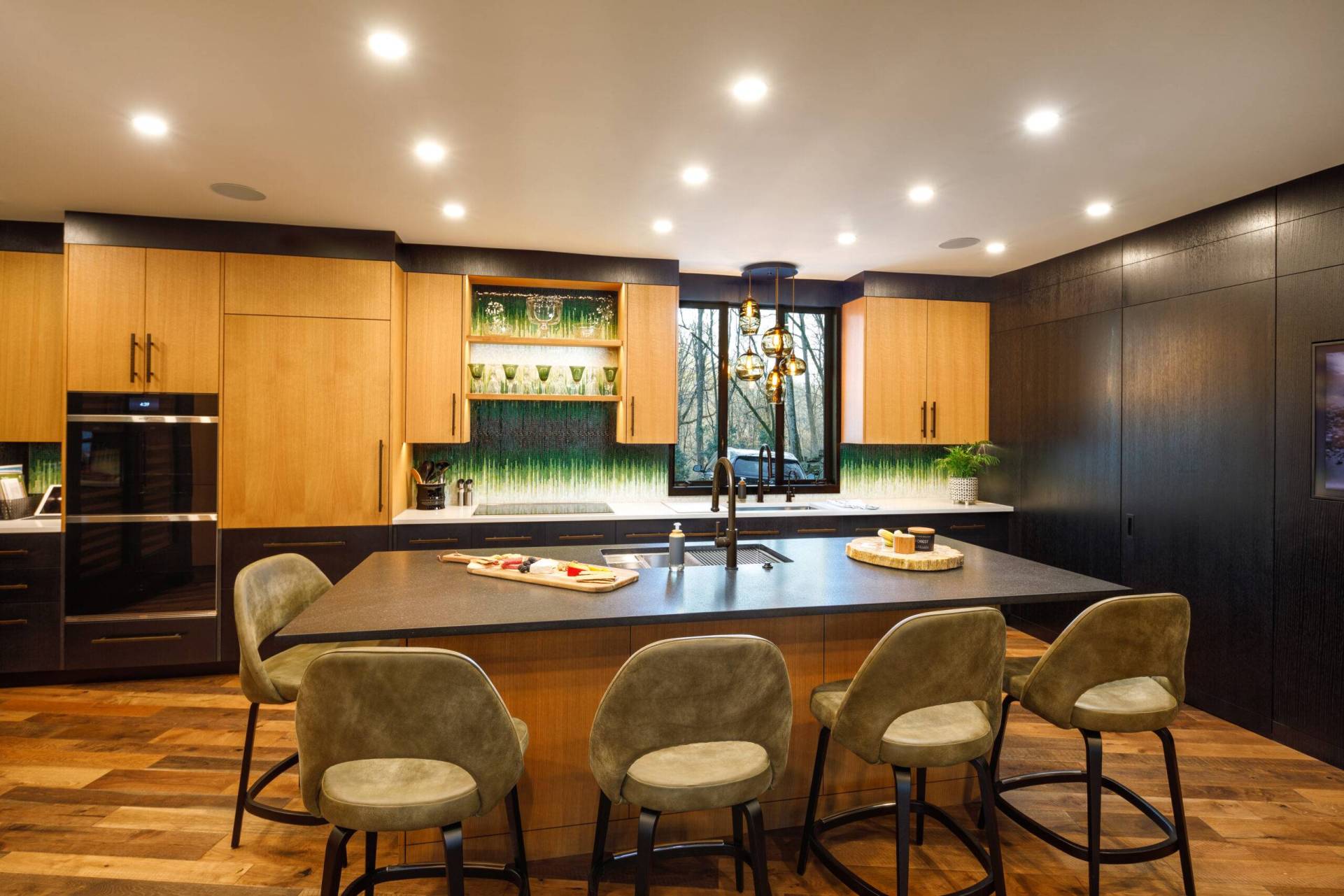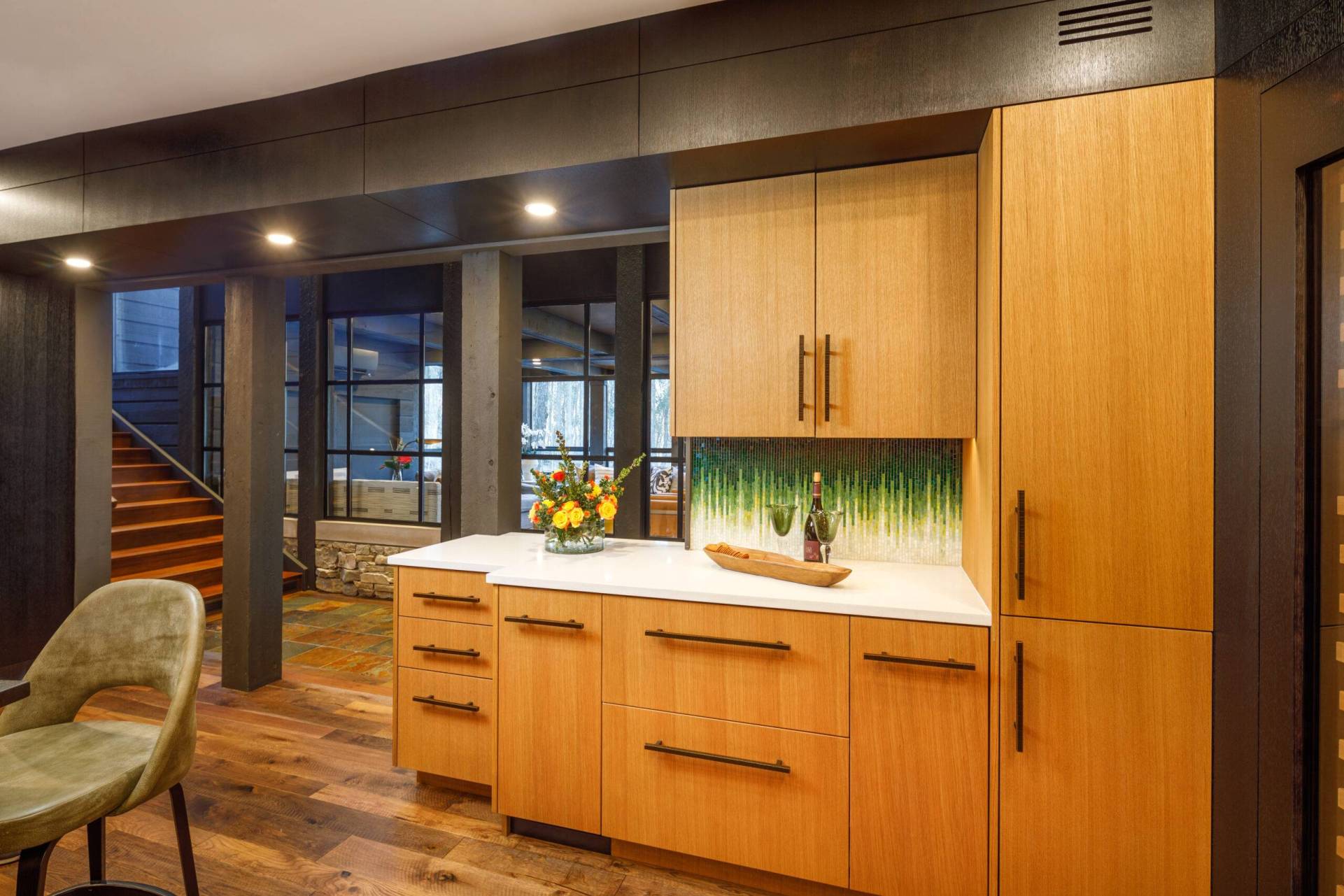 CO-ENTRANT
Kathy Anderson | ANDERSON DESIGN STUDIO
PHOTOGRAPHER: Bob Fawcett
The homeowners' wanted to shift the kitchen from being a butler's kitchen, to a more user-friendly space to hang out and entertain in. They desired more usable storage and improvement of the flow of cooking – wanting it to feel more comfortable and approachable. From a design goal perspective, it was important to take advantage of the beautiful views around the home by bringing the outside, in, and creating a more open space that flows with the rest of the home.
Lori goldsby | Cabinetry Ideas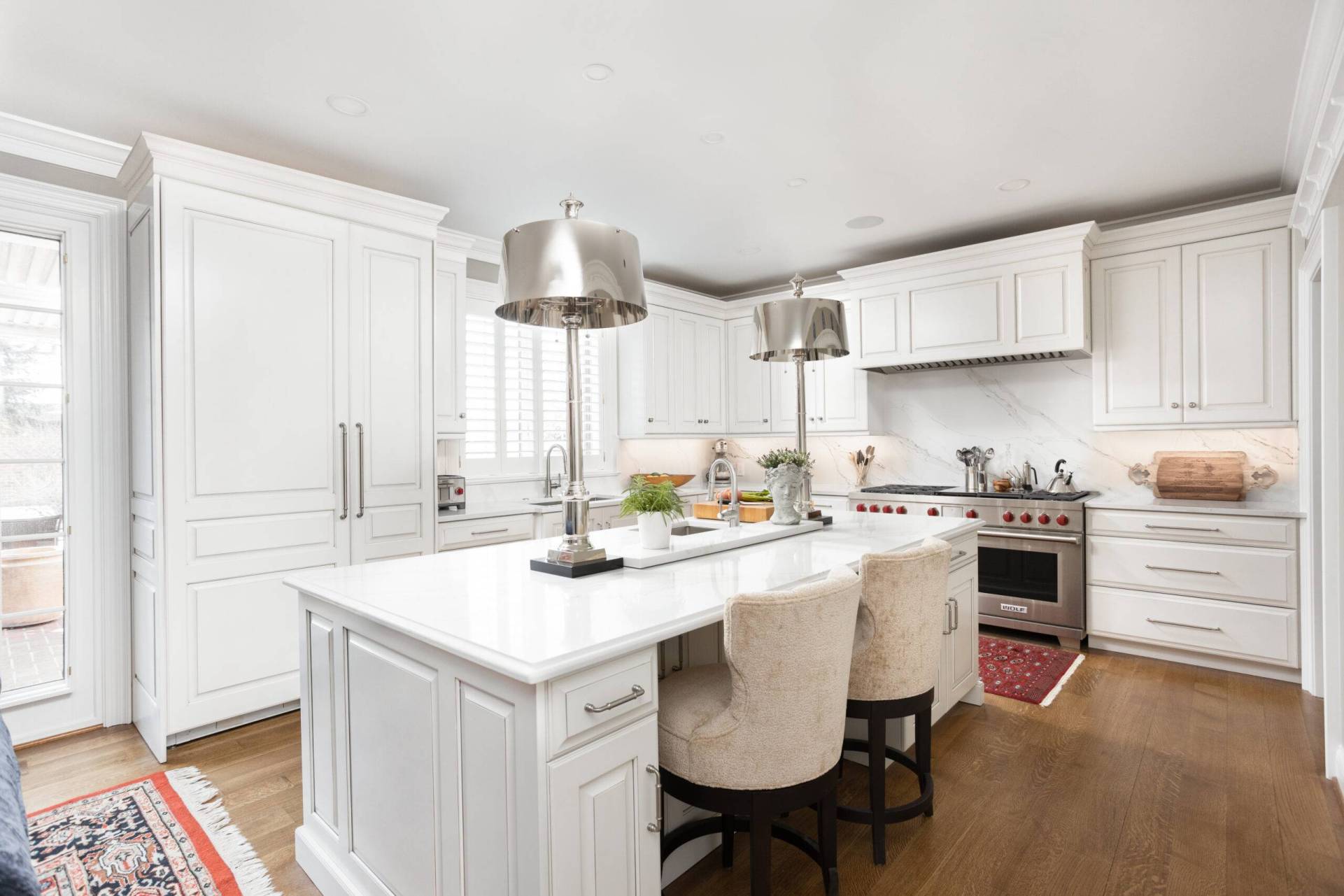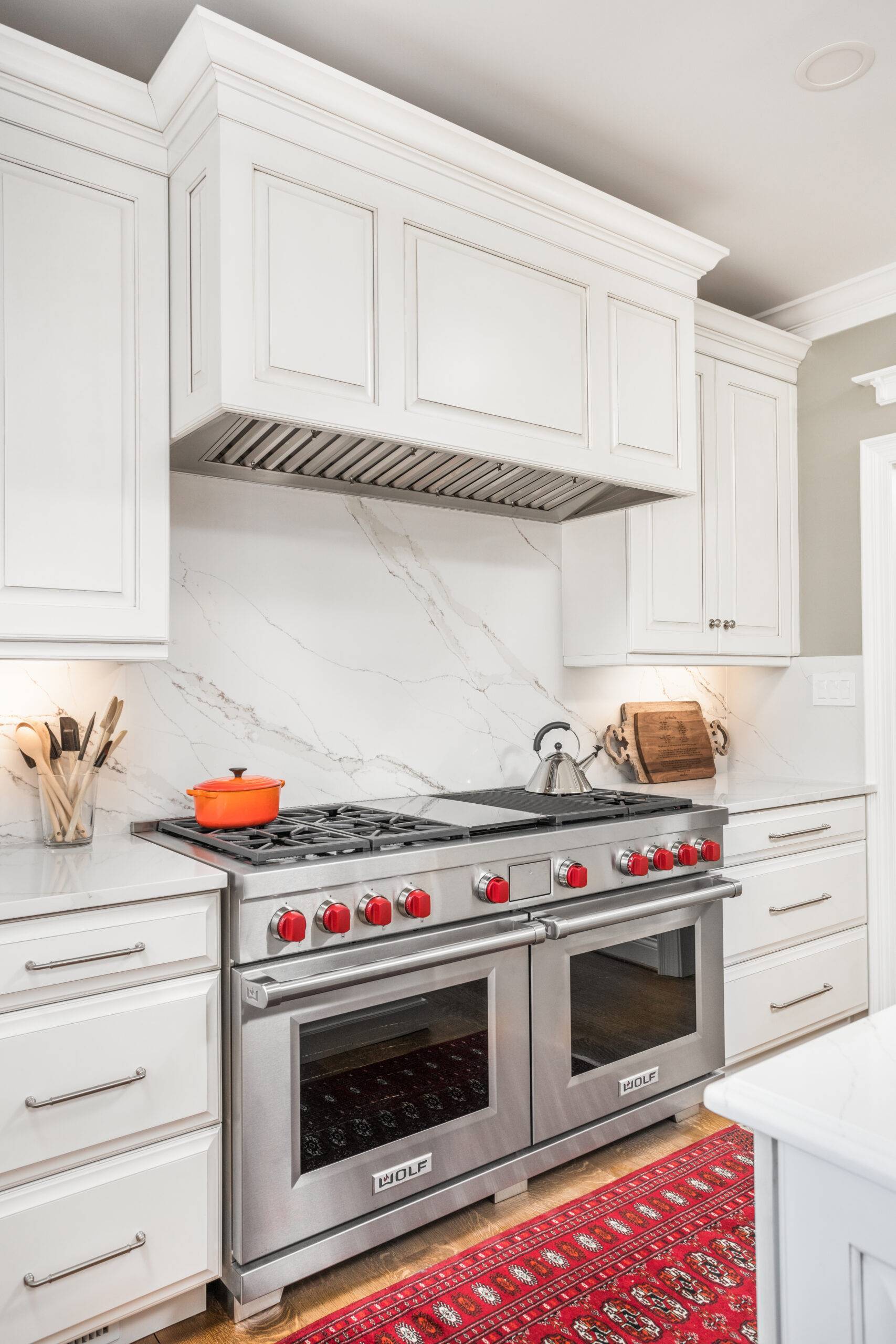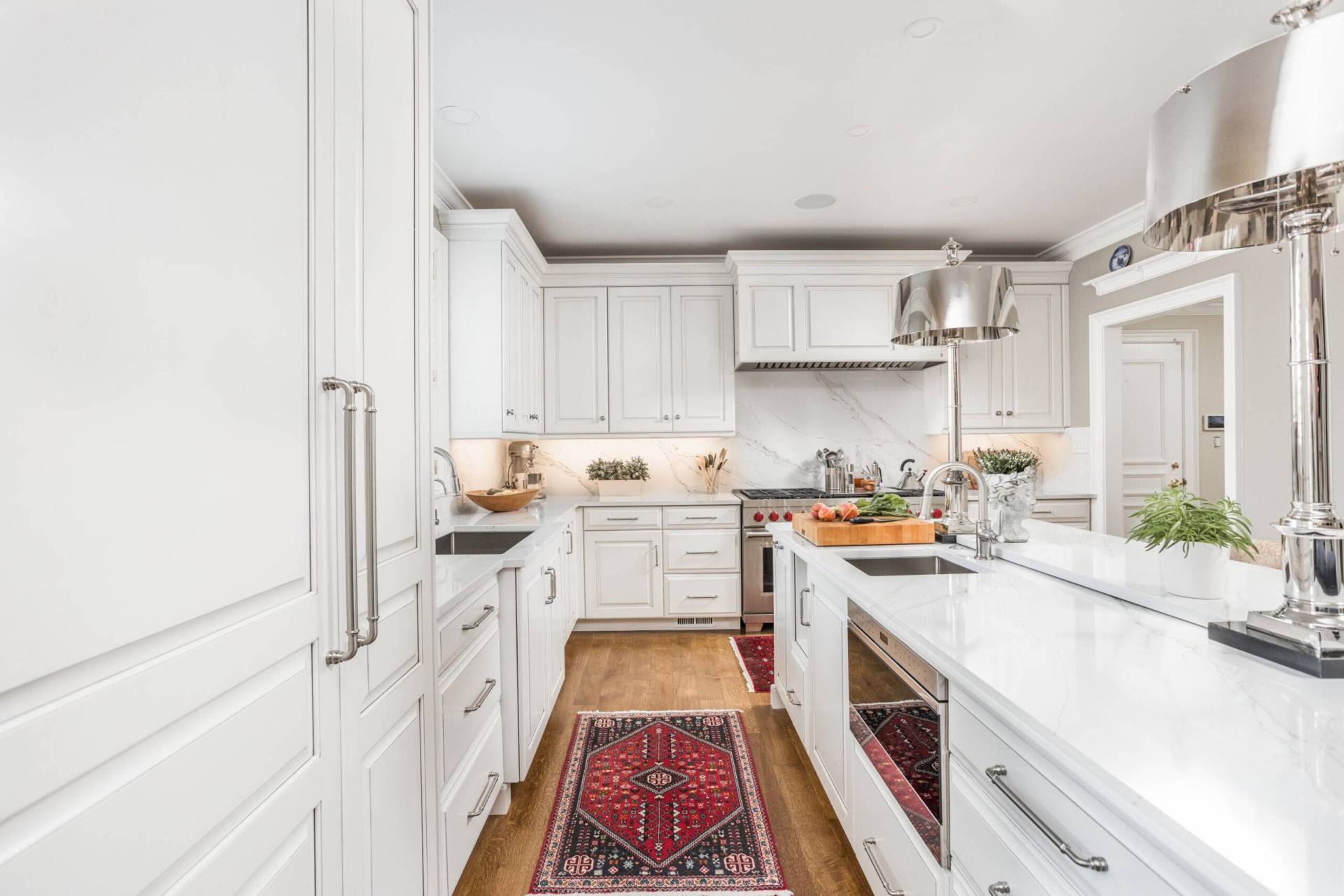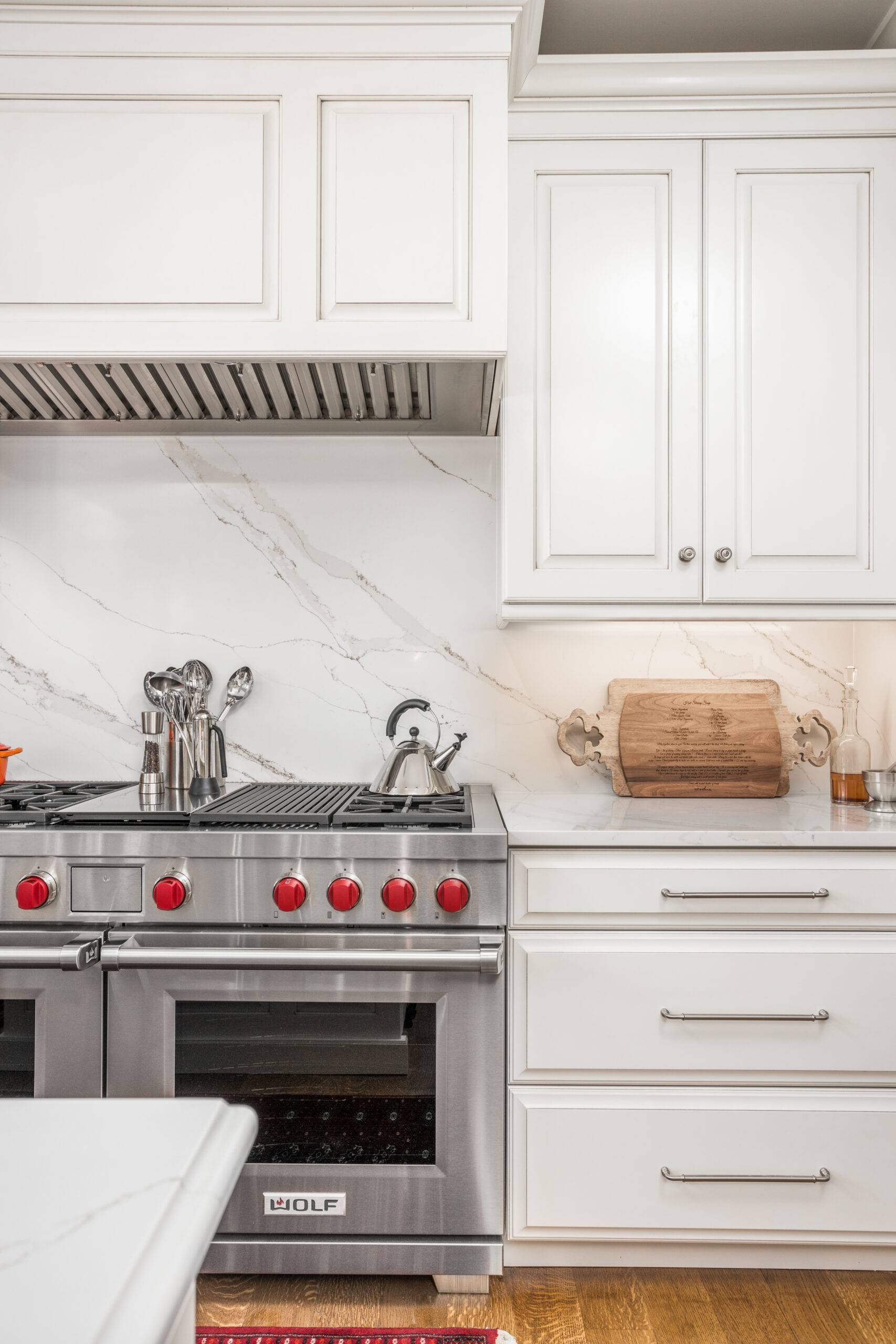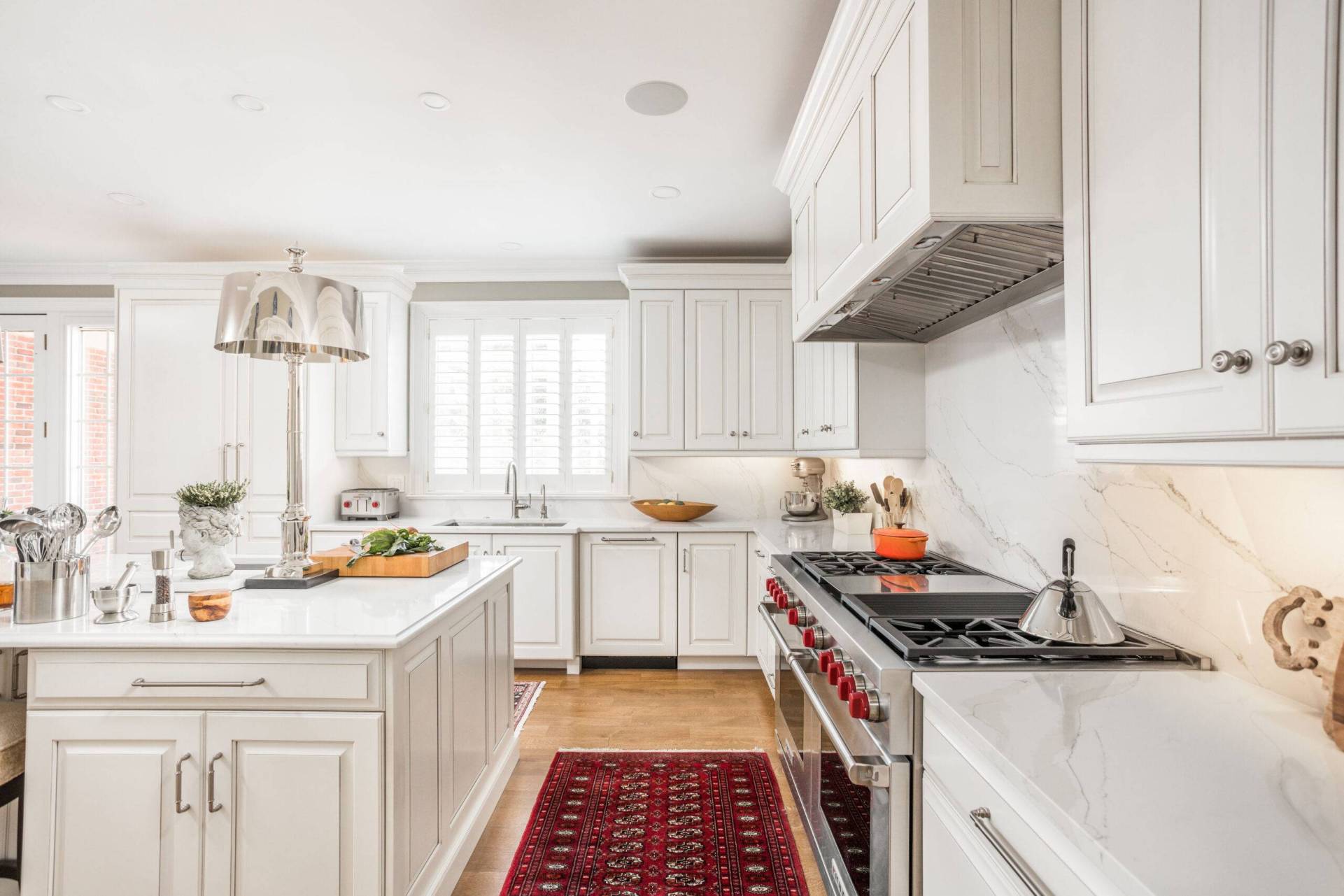 This contemporary couple needed the ability to take this traditional home and find ways to honor the existing beauty while bringing a fresh and modern perspective to this space. The lovely crown moldings, doors, and trim were already painted with a beautiful, lustered finish that we wanted to feature and compliment with our custom cabinetry. The placement of the large Wolf 60″ range definitely took center stage in this kitchen! This home chef loves to cook and entertain, so the functionality of each of the plan/prep/cook/serve/clean zones was vital to the success of this project!

Nate Slabaugh | Nathan Alan Design