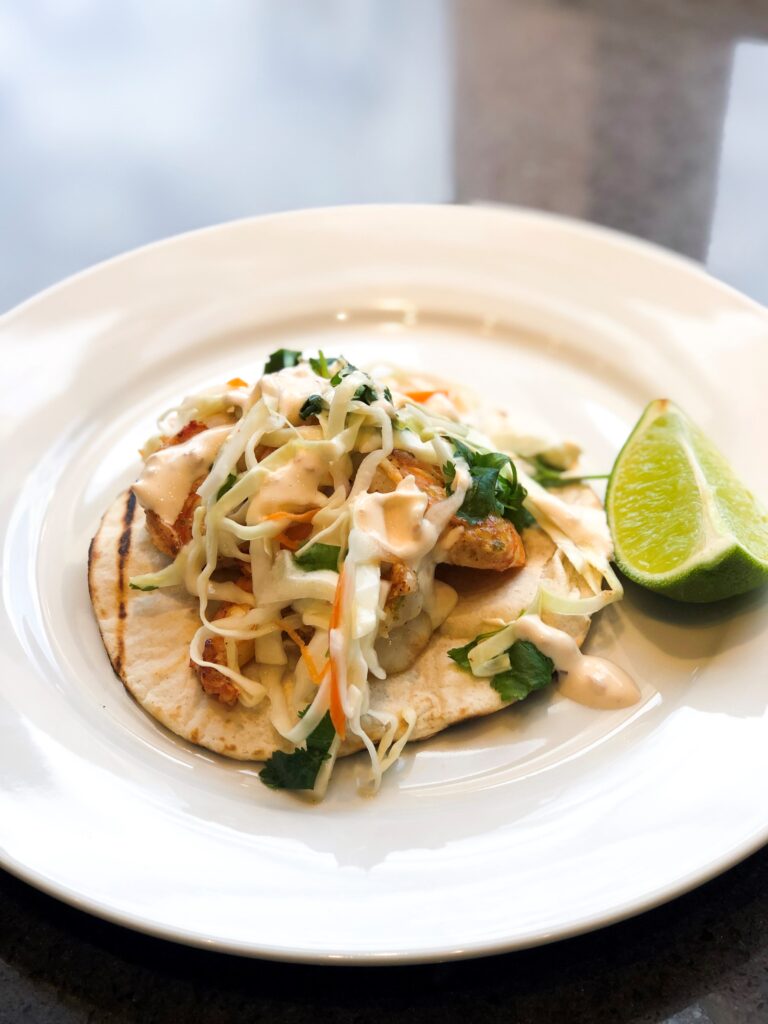 The teppanyaki griddle is an excellent tool for quick, high-heat cooking – and gives the shrimp in this recipe the perfect char.
Makes 8 Tacos
3 tablespoons Greek yogurt
1/3 cup mayonnaise
½ chipotle pepper in adobo, minced into a puree
1 pound large peeled and deveined shrimp
Juice and zest of one lime
¼ teaspoon chili powder
½ head medium green cabbage, finely shredded
2 medium carrots, coarsely grated
¾ cup roughly chopped fresh cilantro
Large pinch salt
1 tablespoon extra-virgin olive oil
8 corn or flour tortillas
In a small bowl, whisk together the yogurt, mayonnaise, and chipotle pepper. Set aside.
In a medium bowl, toss together the shrimp, juice and zest of 1 lime, and the chili powder. Season lightly with salt. Set aside.
In a large bowl combine the shredded cabbage, carrots, cilantro, the juice of the remaining lime, and the salt. Toss well.
Heat the teppanyaki griddle to high heat. Once hot, add a little oil to the surface. Add the shrimp and cook on one side until lightly brown, a minute or two. Turn them over and cook on the second side until done, another minute or two.
Grill the tortillas until lightly charred.
To assemble, spread a few teaspoons of the chipotle mayo along the center of a warmed corn tortilla. Lay 3 or 4 shrimp across the mayo. Top with a generous spoonful of the cabbage slaw. Serve additional slaw as a side salad.