Spicy Fish Tacos with Lemon-Chipotle Slaw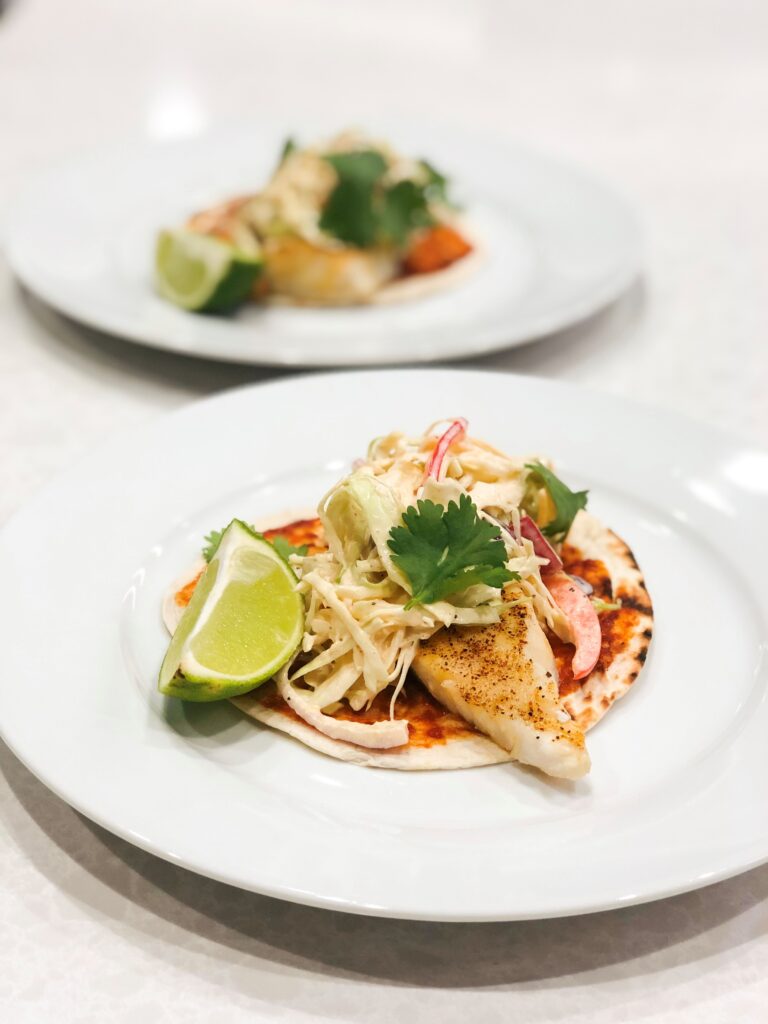 This recipe utilizes multiple appliances. First, using the induction cooktop you get the perfect simmer to create this delicious salsa diablo. Additionally, the Convection Steam Oven cooks the fish to the perfect temperature using the temperature probe. Finally, use the griddle to grill the tortillas for a beautiful finish.
SALSA DIABLO
Makes one generous cup
Salsa Diablo Ingredients:
• 5 quajillo chiles
• 3 arbol chiles
• 1 chipotle in adobo sauce
• 2 plum tomatoes
• 1 garlic clove
• 1 cup water
• ¼ cup white onion, roughly chopped
• 1 tsp salt
• ¼ tsp pepper
• Pinch of sugar
Salsa Diablo Ingredients:
Place all the ingredients for the Salsa Diablo in a sauce pan and bring to a boil. Once boiling, bring down to a simmer and cook for 20 minutes. Transfer to a food processer. Add a pinch of sugar and process until relatively smooth.
For milder sauce, strain through sieve before serving.


CHIPOTLE-LEMON SLAW
Chipotle-Lemon Slaw Ingredients:
Chipotle- Lemon Mayo:
• 1 cup mayonnaise
• 1 sprig thyme leaves, removed from stem
• Juice and zest of one lemon juice
• 1 tablespoon chipotle chili powder
• ¼ teaspoon cumin
Slaw:
• ½ head green cabbage, shredded (about 2 cups)
• 1 red bell pepper, julienned
• ¼- ½ red onion (to taste), julienned
• 1 cup seedless red grapes, diced
• 1/3 cup Chipotle-Lemon Mayo (see above)
• Salt and pepper, to taste
Chipotle-Lemon Slaw Directions:
Combine mayo ingredients. Reserve 1/3 cup to add to slaw.
Combine slaw ingredients, adding 1/3 cup Chipotle-Lemon Mayo (or to taste). Season with salt and pepper. Refrigerate until ready to serve.


FISH
Fish Ingredients:
• 4 mild white fish fillets (Cod, Halibut, or Sea Bass), patted completely dry
• 2 tablespoons olive oil
• 1 teaspoon blackening seasoning
• 1 teaspoon chili powder
• 1 teaspoon salt
• Black pepper, to taste
• 8 corn tortillas
• Cilantro leaves, for garnish
• Lime wedges, for garnish
Fish Directions:
Place solid pan in the Convection Steam Oven on position 2.
Combine oil, blackening seasoning, chili powder and salt. Coat all sides of the fish with the mixture. Place coated fish on perforated pan.
Press quick start to select convection steam mode. Set probe temperature to 160°F. Set oven temperature to 180°F. Press start.
While fish is cooking, grill tortillas until lightly charred.
To serve:
Coat each tortilla lightly with salsa diablo and place the fish on top. Evenly distribute slaw over the fish and garnish with cilantro leaves. Serve with lime wedges.