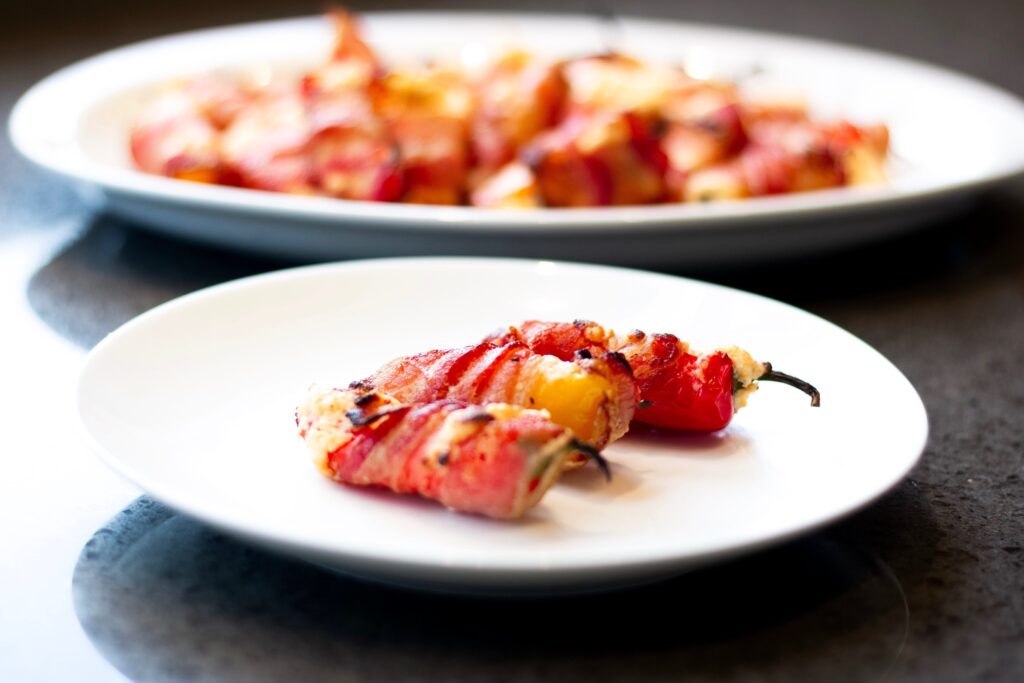 Baking in Convection mode perfectly browns and crisps the bacon on these colorful little peppers.
Tip: You can easily adapt your favorite recipes to convection by reducing the
temperature by 25°, and the bake time by 25%.
Serves 6-8 as an appetizer
INGREDIENTS:
18 mini bell peppers, cut in half, seeds and membranes removed
(1) 8-ounce package cream cheese, softened
1 cup shredded cheddar cheese
1 cup cooked chicken, finely minced
1 jalapeno pepper, seeded and finely minced
2 tablespoons fresh cilantro, chopped
1 teaspoon salt
Freshly ground black pepper to taste
Pinch of cayenne
Juice of ½ lime
12 bacon slices, cut in half
36 wooden picks

DIRECTIONS:

Preheat oven in convection mode to 375°F and place rack in position 3.
Stir together all ingredients except bacon. Spoon 1 ½ to 2 teaspoons of mixture into each pepper half, spreading to fill cavity. Wrap each half with a bacon piece, and secure with a wooden pick.
Place poppers on a lightly greased broiler pan. Bake until bacon begins to crisp, about 18 minutes. Increase oven temperature to broil, and broil until bacon is crisp, 2 to 3 minutes. Let stand 5 minutes before serving.