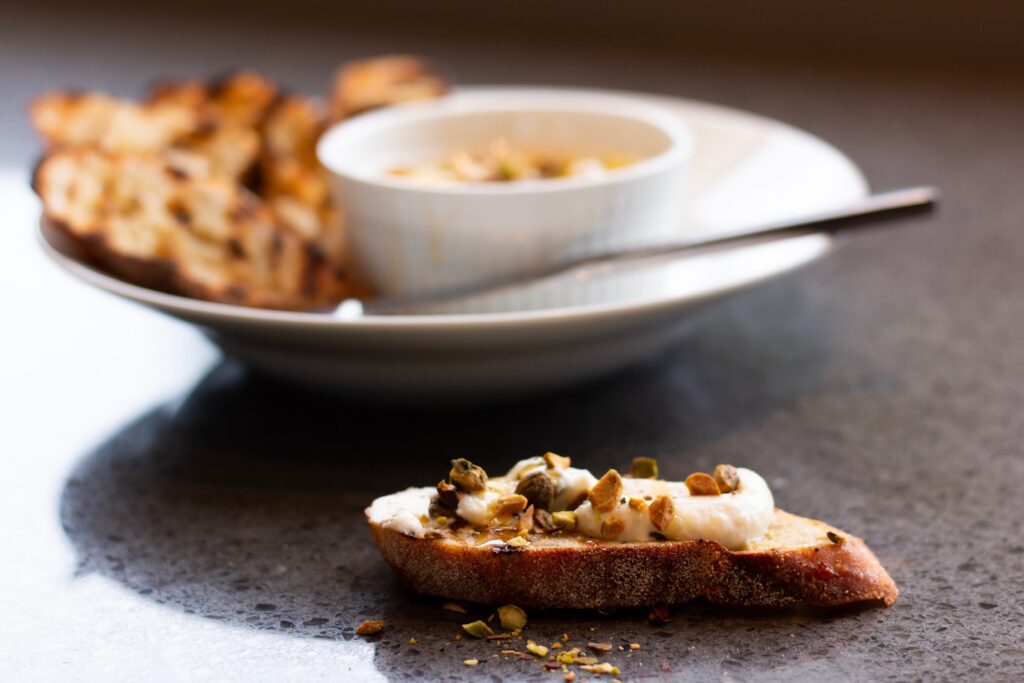 The Charbroiler is great for quick-grilling bread, fruits and vegetables.
Things to know: The charbroiler requires adequate ventilation
and is not recommended for island installation.
Serves 6-8 as an appetizer
INGREDIENTS:
• (1) 10-ounce loaf good quality rustic bread, sliced at long bias
• Olive oil, for brushing
• Salt and pepper
• (1) 15-ounce container whole milk ricotta cheese
• ½ cup honey, or to taste
• 3 ounces shelled pistachios, roughly chopped
• Freshly ground black pepper
DIRECTIONS:
Allow 10-15 minutes for the charbroiler to reach a medium to high temperature. Brush both sides of the bread with olive oil and season lightly with salt and pepper. Whisk the ricotta in a medium-large bowl until light and fluffy. Season lightly with salt.
To Serve:
Spread each bread with seasoned whipped ricotta. Drizzle with about 1 teaspoon honey. Sprinkle with chopped pistachios. Finish with freshly ground black pepper.
(Alternatively: Spoon the ricotta into a decorative bowl. Drizzle with honey. Top with chopped pistachios and freshly ground black pepper. Serve with grilled bread.)