Bourbon Bacon Brie Crostini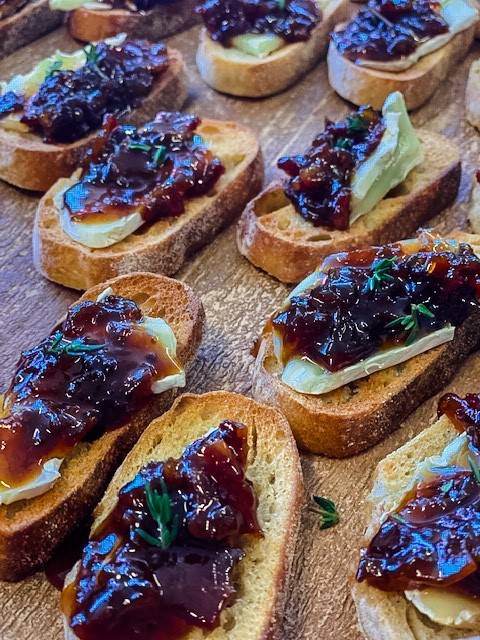 Makes: 20 pieces
INGREDIENTS:
● 1# Applewood Smoked Bacon (or bacon of choice)
● 1 small onion, finely diced
● 2 garlic cloves, minced or garlic confit
● 1 tbsp olive oil plus more for brushing
● ½ cup brown sugar
● ¼ cup sherry vinegar
● ¼ cup Bourbon
● ¼ cup maple syrup
● ¼ cup water
● 1 tsp smoked paprika
● 1 tsp dijon
● ½ tsp thyme, roughly chopped
● 1 large baguette
● 6-8 oz creamy Brie

DIRECTIONS:
Preheat the oven to 400°F and line a large rimmed sheet pan with foil and top with an oven proof wire baking rack. Lay the bacon strips in an even single layer on top of the wire rack and bake for 20 minutes until crispy. Remove from the oven and let cool on a paper towel lined plate. The bacon will be golden brown, crispy and will have shrunk in size considerably once done. The bacon will continue to crisp as it cools.
In a medium bowl combine brown sugar, sherry vinegar, bourbon, maple syrup, water, smoked paprika, and dijon in a small bowl and set aside.
In a medium sauté pan, add the diced onion and olive oil and sauté on medium heat for about 10 minutes until they are soft and translucent. Add the minced garlic and let cook for about 30 seconds until fragrant. Add the brown sugar and bourbon mixture, turn heat to medium low and let simmer for about 30 minutes until the mixture has reduced and started to thicken. Chop the crispy bacon into ½ to 1" pieces. Add bacon pieces and chopped fresh thyme to the bourbon mixture and continue simmering for about 5 more minutes. Remove from heat and transfer mixture to a heat proof bowl and let cool at room temperature for 30 minutes, then transfer to the refrigerator for 2 hours (or up to 3 days). The bacon jam will thicken as it cools.
Preheat the oven to broil and place the oven rack on the upper third section (about 8 inches from the broiling unit). Slice the baguette into ½ inch slices and brush with olive oil. Place baguette slices oil side up on a large baking sheet. Broil for about 2 minutes until lightly toasted. Remove immediately. Top with a slice of creamy brie cheese while still warm. Next, top with about one tablespoon of the bourbon bacon jam and serve at room temperature. Garnish with small amount of thyme leaves.