Roasted Fig and Apple Salad with Burrata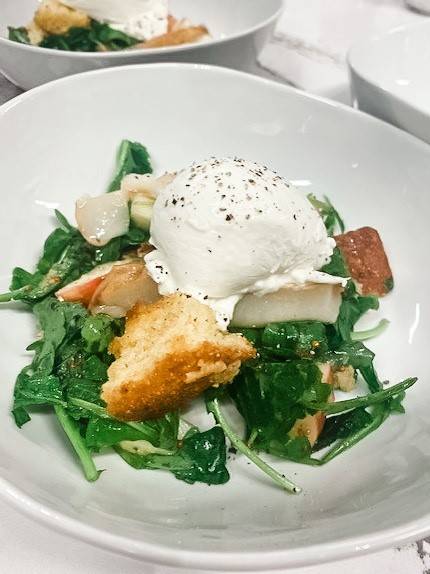 Makes: 4-6 servings
INGREDIENTS:
● 1 pint of figs, cut in half lengthwise
● 1 tbsp olive oil
● 2 apples, preferably honeycrisp or pink lady, cubed
● 8 oz burrata torn or shaved parmesan or cheese of choice
● Cornbread cut into 1 inch cubes, either homemade or store bought boxed mix
● 1 cup pecans
● ½ cup granulated sugar
● 2 tablespoons maple syrup
● 3 tablespoons apple cider vinegar
● 2 tablespoons grainy mustard
● ⅓ cup olive oil
● Salt and pepper
● 3 cups mixed greens of choice

DIRECTIONS:
Preheat oven to 400°F. Line two sheet pans with parchment paper. On one pan toss cornbread cubes with 1 tablespoon olive oil and a pinch of salt and pepper. On the second sheet pan, toss figs with remaining tablespoon of olive oil and a pinch of salt and pepper. Roast the cornbread for 10 minutes or until browned slightly around the edges.
Roast the figs for about 8 minutes, flipping with spatula halfway through cooking. Allow to cool slightly.
In a non-stick skillet, place sugar and pecans over medium heat and stir with spatula until sugar is melted and walnuts are coated. Remove and immediately spread onto parchment paper to cool.
To make the dressing, combine maple syrup, apple cider vinegar, grainy mustard into a bowl. Whisk in ⅓ cup olive oil and season with salt and pepper to taste. Drizzle over salad mixture and gently toss to coat. Sprinkle salad with blue cheese crumbles if desired. In a bowl combine mixed greens, apples, croutons, and nuts. Toss with vinaigrette. Plate each salad, top with figs and torn burrata.