Cornbread and Sourdough Stuffing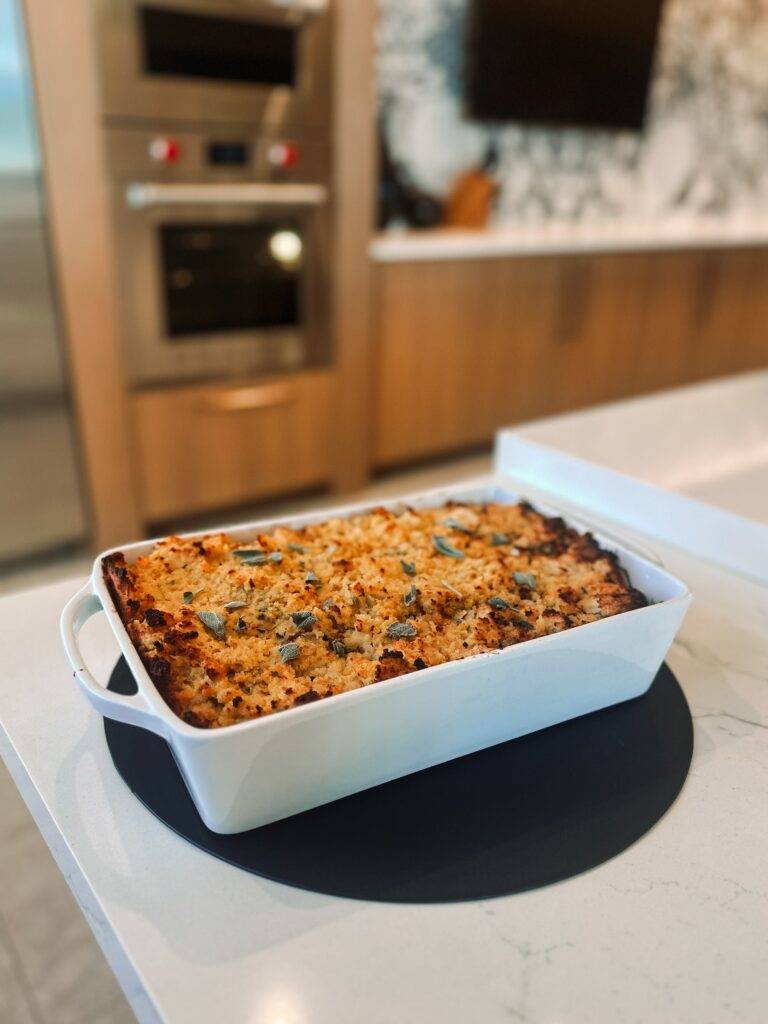 Makes: 8 servings
INGREDIENTS:
10 cups finely crumbled cornbread, use food processor if necessary
4 cups hand torn white bread pieces of any kind (sourdough recommended)
¾ cup unsalted butter, melted
2 tbsp chopped fresh sage
1 lb. thick cut bacon, chopped
2 cups yellow onion, chopped
1 cup celery, chopped
¼ cup fresh flat leaf parsley
2 tbsp fresh thyme leaves
Salt and pepper
3 ½ cups chicken stock, divided plus more as needed
2 large eggs
1 cup buttermilk
DIRECTIONS:
Preheat the oven to 325°F convection or 350°F bake mode.
Toss cornbread, white bread, ½ cup melted butter, and sage in a large bowl.
Cook bacon until crispy and add to the bread mixture.
Using bacon drippings, cook onion, celery, parsley, thyme, salt and pepper. Cook until softened, about 5 minutes. Add onion mixture to cornbread.
Whisk together broth, buttermilk, eggs, salt and pepper in a medium bowl. Fold ¾ of mixture into cornbread mixture.
Spoon into a 9×13 baking dish. Drizzle with melted butter and bake for 35 minutes. Drizzle stuffing with more broth halfway through cooking if needed.