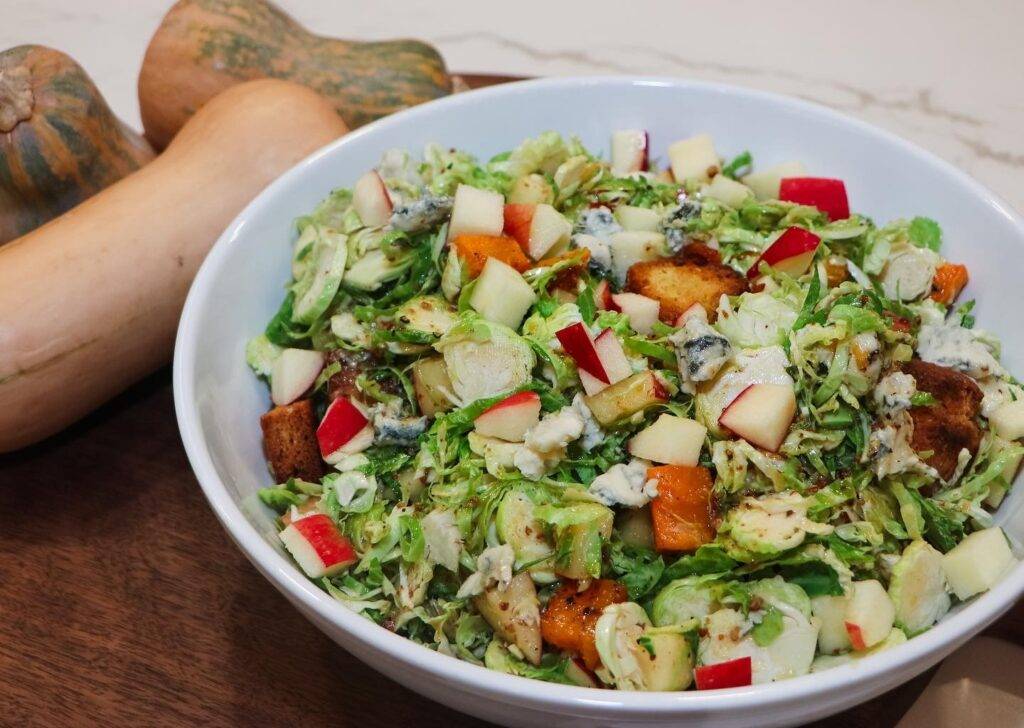 Makes: 8 servings
INGREDIENTS:
1 ½ lb. brussels sprouts, outer leaves removed and core discarded
2 small butternut squash, peeled and cut into ¾" dice, about 4 cups total
2 Pink Lady or Honeycrisp apple, peel on, cut into ¼" dice
4 cups cornbread, cut into 1 inch cubes (either homemade or store bought)
4 tbsp olive oil, divided
4 tbsp maple syrup
6 tbsp apple cider vinegar
2 tbsp grainy or dijon mustard
⅔ cup olive oil
Salt and pepper
1 cup gorgonzola crumbles, or cheese of your choice (parmesan, goat, and blue cheese all work great here)
DIRECTIONS:
Preheat oven to 375°F convection or roast. Line two sheet pans with parchment paper.
On one pan, toss cornbread cubes with 2 tbsp olive oil and a pinch of salt and pepper.
On the second sheet pan, toss butternut squash cubes with remaining 2 tbsp of olive oil and a pinch of salt and pepper. Roast the cornbread for 10 minutes or until browned slightly around the edges. Roast the butternut squash for 20-25 minutes, flipping with spatula halfway through cooking. Allow to cool to room temperature.
Using a slicing attachment on a food processor, mandoline, or knife, slice brussels sprouts. To a large serving bowl, add diced apple to brussels sprouts along with butternut squash and cornbread croutons.
To make the dressing, combine maple syrup, apple cider vinegar, and grainy mustard into a bowl. Whisk in olive oil and season with salt and pepper to taste.
Drizzle over salad mixture and gently toss to coat. Sprinkle salad with cheese crumbles if desired.