Everything Bagel Parker House Rolls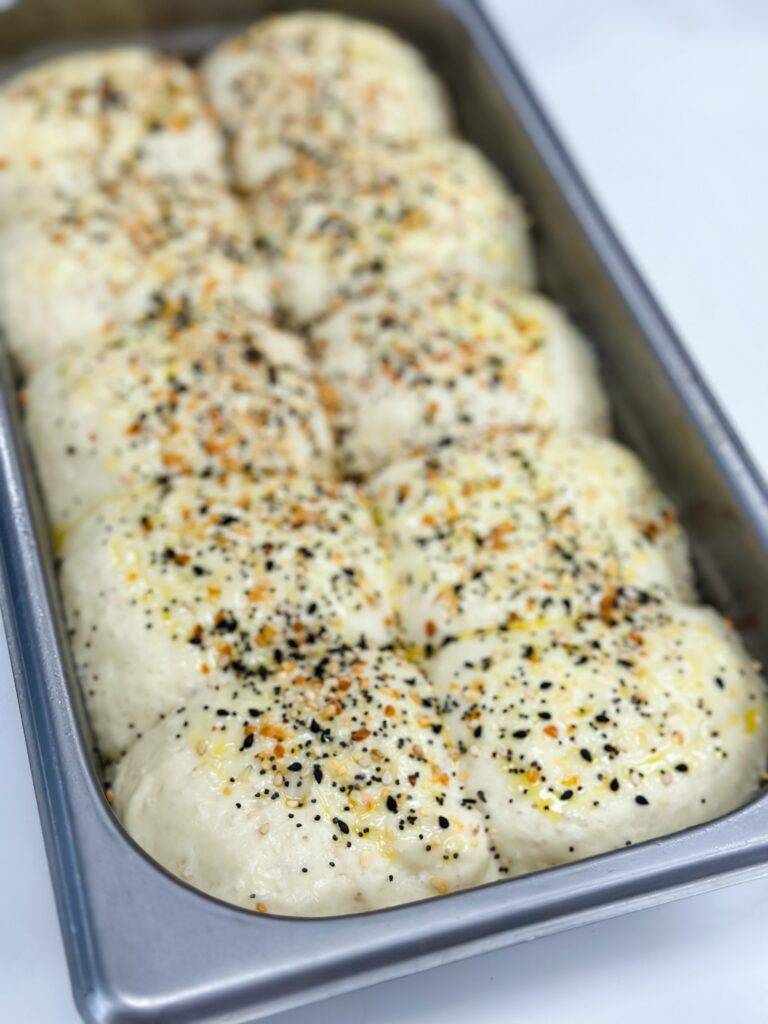 Makes: 12 rolls
INGREDIENTS:
● 1 cup/237 ml whole milk
● 4 tbsp/57 grams (½ stick) unsalted butter, plus more for greasing
● 3½ cups/448 grams all-purpose flour
● ⅓ cup/32 grams dry milk powder
● ¼ cup/50 grams granulated sugar
● 2¼ teaspoons instant yeast powder
● 1 tsp kosher salt
● 2 large eggs
● Everything bagel seasoning

DIRECTIONS:
In a medium pot, heat the milk and 4 tablespoons butter over medium until the mixture is just warm to the touch (about 95 degrees) and the butter is melted, 1 to 2 minutes. In the bowl of an electric mixer fitted with a dough hook attachment, combine the flour, milk powder, sugar, yeast and salt with 1 egg and the warmed milk mixture. Mix on low for 3 minutes, then increase the speed to medium and mix until the dough is smooth, about 3 minutes. Transfer the dough to a lightly greased bowl, cover with plastic wrap, and let rise in a warm place for 1½ hours. The dough may not double in size, but it should be noticeably puffy. Divide the dough into 12 even pieces (about 71 grams each). Gently round into balls: Cup your hand and fingers around a piece of dough then roll it on your work surface until it forms a tight ball. Repeat with the remaining pieces.
In a lightly greased 9-by-13-inch pan, arrange the balls in three rows of four. Cover the rolls with plastic wrap and let rise in a warm place until noticeably puffy, 45 minutes to 1 hour. Heat the oven to 325°F convection or 325°F convection humid. In a small bowl, beat the remaining egg. Brush the surface of each roll with the beaten egg and sprinkle each generously with everything-bagel seasoning (about 2 teaspoons per roll). Bake the rolls for 8 minutes, then brush the surface of the rolls generously with the melted butter. Bake until the rolls are evenly golden-brown, 12 to 15 minutes. Brush the baked rolls generously with the remaining melted butter. Let cool 10 to 15 minutes before serving.