Pecan Tassies (Kentucky Bourbon Pecan Tarts)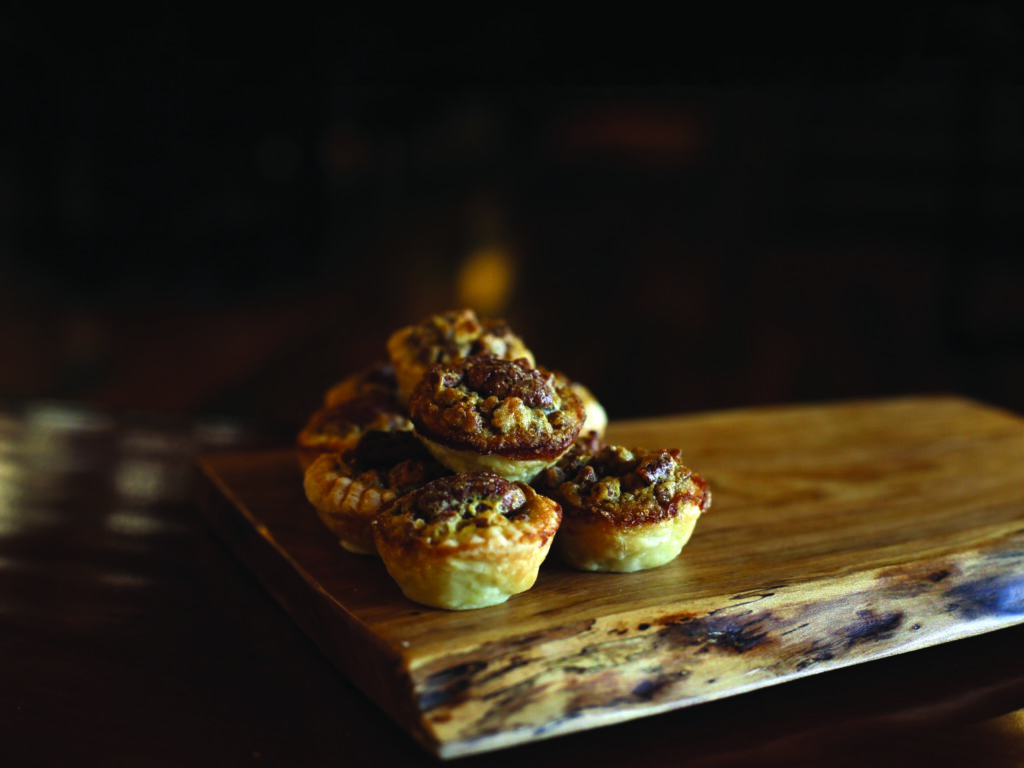 Makes: About 2 dozen
INGREDIENTS:
● Cream cheese pastry (recipe follows)
● 2 eggs
● ½ cup granulated sugar
● ½ cup karo light or dark corn syrup
● 2 tbsp bourbon
● 1 tbsp Mazola margarine, melted and room temp (or unsalted butter)
● ½ tsp vanilla
● 1 cup chopped pecans
● Confectioners sugar (optional)
DIRECTIONS:
Preheat oven to 350°F Bake mode if doing one pan of tassies or 325°F Convection mode if doing more than one pan. Spray 1 ¾" muffin pan with non-stick cooking spray. Prepare cream cheese pastry (recipe below). Divide dough in half. On a floured surface, roll out one half to ⅛" thickness. Cut into 12 rounds, 2 ¼" each. Press into muffin cups making sure to come up the sides of each cup. Repeat with remaining pastry then refrigerate the pan.
In a medium bowl beat eggs. Stir in granulated sugar, corn syrup, bourbon, margarine or butter and vanilla until well blended. Remove muffin tins from the fridge and spoon 1 heaping teaspoon of pecans into the bottom of each cup. Top with 1 tbsp corn syrup mixture. Bake for 20-25 minutes or Convection 18-20 minutes or until lightly browned and a toothpick inserted into the center comes out clean. Cool in pans for 5 minutes then remove and cool completely on a wire rack. If desired, sprinkle cooled tarts with
confectioners sugar.
*can be made in Wolf Convection Steam Oven at 325°F Convection Humid mode and
bake for 18-20 minutes or until golden brown.
Cream Cheese Pastry Dough
*can double recipe and freeze for later use in pot pies or desserts
INGREDIENTS:
● 6 tbsp unsalted butter, cold, cut into cubes
● 1 cup + 1 tbsp all-purpose flour
● 1/8 tsp kosher salt
● 1/8 tsp baking powder
● 1/4 cup cream cheese, cold, cut into cubes
● 1 tbsp ice water
● 1 ½ tsp cider vinegar
DIRECTIONS:
Add flour, salt, baking powder to a food processor and pulse to combine. Add in cold cream cheese cubes and pulse a few times. Do the same adding in butter. Add ice water and apple cider vinegar while pulsing the dough. Pulse just enough to combine them, remove and knead on a floured surface. Use the palm of your hand to push out and knead to create flaky layers. Form into disk, plastic wrap and refrigerate for at least 30 minutes while you make the filling.