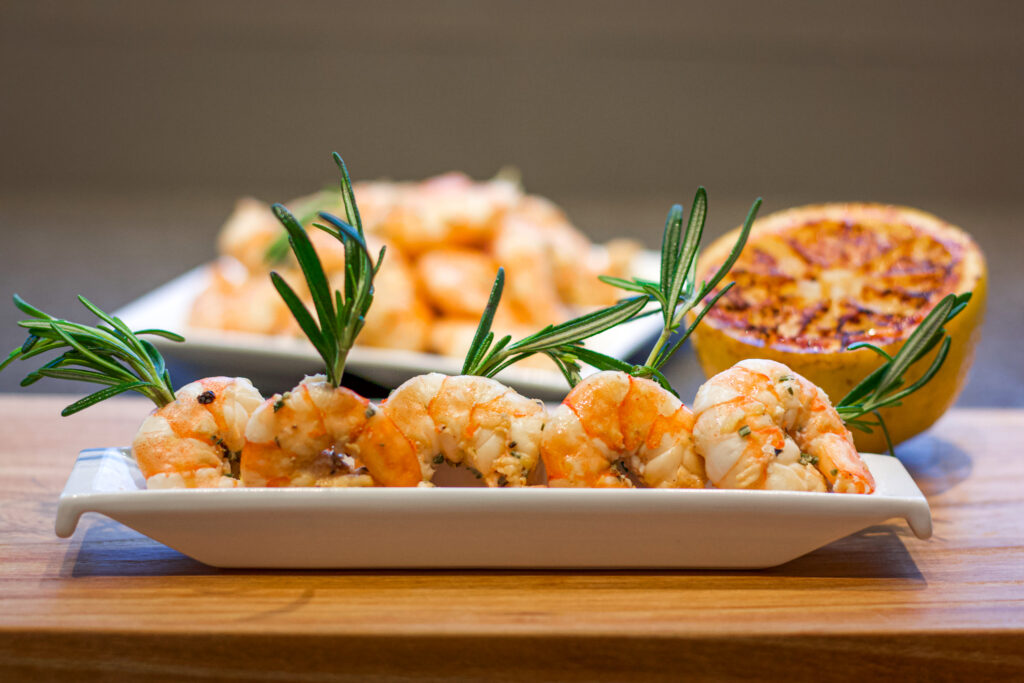 Serves: 4 as an appetizer | Prep Time: 5 minutes | Cook Time: 20 minutes
The teppanyaki is perfect for quick cooking foods like shrimp! They're ready in minutes. Once cooked, bathe the shrimp in an easy infused oil and finish them with warm lemon juice. Pass in a shallow bowl with crusty bread for soaking up all that good, garlicky oil.
INGREDIENTS:
• 16 jumbo raw shrimp, peeled and deveined
• Olive oil, salt and pepper for shrimp
• 1/2 lemon
• Lemon wedges, for serving
• Chopped parsley and full rosemary sprigs for garnish
• Crusty bread for dipping
INFUSED OIL INGREDIENTS:
• 1/2 cup olive oil
• 4 cloves garlic, smashed
• 1/4 teaspoon crushed red pepper flakes
• 1/2 teaspoon good quality Spanish paprika
• 2 tablespoons fresh rosemary, minced
• Salt and pepper
DIRECTIONS:
In a small saucepan combine the olive oil garlic, crushed red pepper flakes, paprika and rosemary. Heat until barely bubbling. Immediately reduce heat and hold over low- simmer for 15 or 20 minutes.
Heat the Teppanyaki over medium high heat. Coat lightly with oil. Toss shrimp with a small amount of olive oil and season with salt and pepper. Cook the shrimp, 1- 2 minutes per side or just until done. In the last minute of cooking, place the lemon half, cut side down, on the teppanyaki.
Transfer the shrimp to a serving bowl. Pour infused oil over. Squeeze the warm lemon over the shrimp. Sprinkle with chopped parsley and garnish with rosemary sprigs; serve immediately with lemon wedges and crusty bread for dipping into the oil.