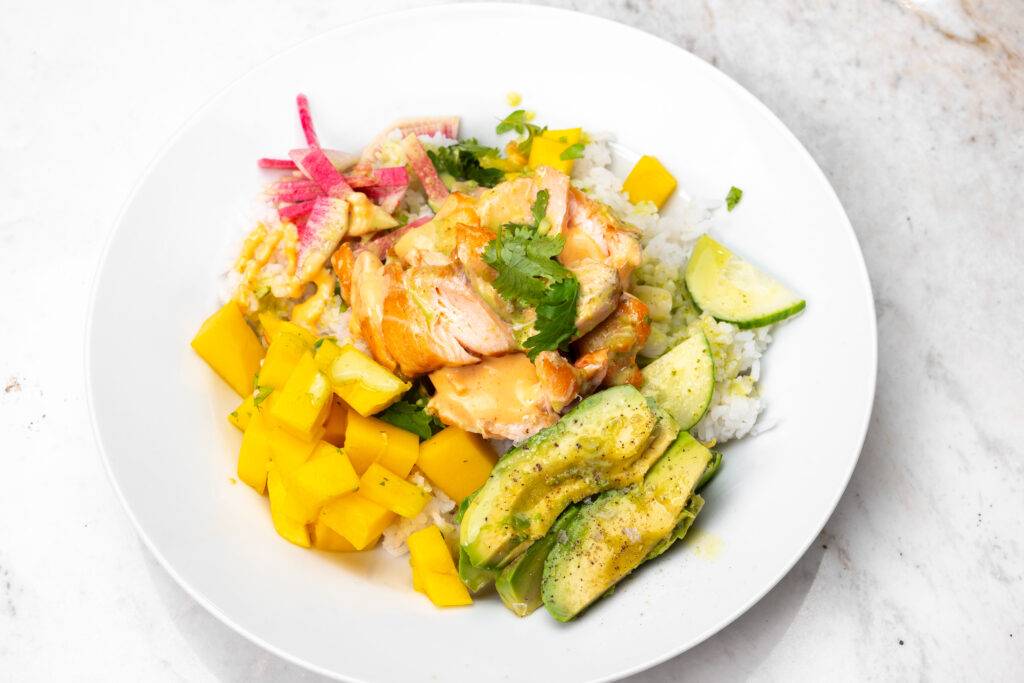 Watch the full recipe walkthrough on our YouTube channel:
Makes: 2 servings
INGREDIENTS:
● 1 cup dry rice, rinsed
● 2 cups water or stock of choice
● 1 salmon filet, about 6 oz, skin off, cut into large cubes
● 2 tbsp soy sauce
● 2 tbsp rice wine vinegar
● 1 tbsp brown sugar or mirin
● ½ tbsp sesame oil
● 1 garlic clove, minced
● 1 tsp ginger, grated
● 1 tsp lime juice
● Salt and pepper, to taste
● 1 avocado, peeled and sliced
● 2 radishes, thinly sliced
● 1 scallion, thinly sliced
● Cilantro for garnish
● ¼ cup mango, cubed (optional)
Mayo sriracha ingredients:
● 3 tbsp mayonnaise
● 1 tbsp sriracha or hot sauce

DIRECTIONS:
Mix mayo and sriracha together and set aside.
Start by placing rice and water or stock in a microwave safe dish covered with plastic wrap or microwave safe lid. Using the Wolf Gourmet mode in the Wolf Speed Oven, select #8 for rice setting and hit start. Allow that to cook while salmon marinates. Make marinade by mixing soy sauce, rice vinegar, brown sugar, sesame oil, garlic, ginger, lime juice and salt and pepper to taste. Reserve ⅓ of the marinade. Place
salmon in the remaining marinade. When rice is finished, place salmon pieces in a single layer on an oven safe pan. Place on the top rack of the Speed Oven and set the oven to Broil for 7 minutes.
Build the bowls by adding rice on bottom then salmon pieces on top. Continue with avocado, radishes, scallion, and mango if using. Drizzle with remaining unused marinade and drizzle with sriracha mayo.