Spice Carrot Cake with Ras El Hanout Frosting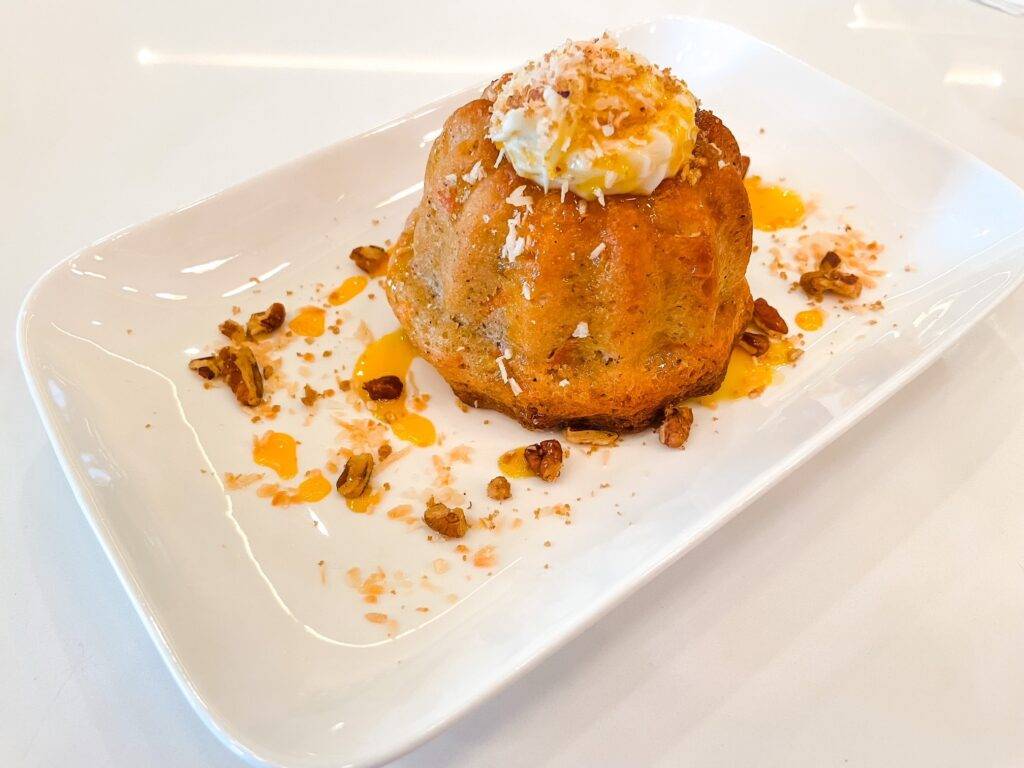 Makes: 10 small cakes or 1 large
CARROT CAKE INGREDIENTS:
● 3 cups all purpose flour
● 3 cups finely grated carrots
● 2 cups sugar
● 1/2 cup yogurt
● 1/2 cup apple sauce
● 1/3 cup unflavored oil
● 2 tbsp milk
● 1 1/2 tsp sweet Ras El Hanout
● 1 1/2 tsp baking powder
● 1 tsp vanilla extract
● 1/2 tsp baking soda
● 1/4 tsp salt
FROSTING INGREDIENTS:
● 8 oz cream cheese
● 8 oz unsalted butter
● 7 cups of powdered sugar
● 1/2 an orange, zested
● 1/2 tsp vanilla
● 1/2 tsp salt
CARROT GLAZE INGREDIENTS:
● 16 oz Carrot Juice
● 1 tsp Ginger
● 1 tsp salt
● 5 tbsp Sugar
TOPPINGS:
● 1/2 cup of unsweetened shredded coconut
● 1 cup chopped pecans

CARROT CAKE DIRECTIONS:
Preheat the oven to 350°F degrees. Butter and flour two 8-inch-wide and 3-inch-deep cake pans and set aside, or butter and flour individual cake molds (if using). In a clean bowl, combine the dry ingredients: flour, Ras El Hanout, baking powder, salt, and baking soda. In a separate bowl, whisk together the sugar, yogurt, apple sauce, oil, milk, and vanilla extract. Mix together the wet and dry ingredients until it is just combined, be sure to not over mix. Fold in the grated carrots until it is properly distributed in the cake. Divide the cake batter between the two prepped pans. Bake in the pre-heated oven for 45-50 minutes. The cake should be just mildly springy in the middle once it is completely done. Cool the cake on a cooling rack, and prep the cream cheese frosting.
FROSTING DIRECTIONS:
To make the cream cheese frosting, simply beat the cream cheese and butter (preferably
with an electric mixer), until it is homogeneous. Gradually beat in the powdered sugar on low speed, adding it in one cup at a time. Beat in the vanilla, salt and orange zest. The frosting should be smooth and spreadable. Simply assemble the cake as neatly or as rustic as you wish, and top with the coconut
flakes.
CARROT SYRUP GLAZE DIRECTIONS:
Combine all ingredients. Bring to Boil and Reduce until syrup like consistency has been achieved, 10-15 minutes.
TOPPINGS:
Toast Coconut and Pecans in Oven at 300F degrees on convection mode until lightly
browned