Quick Steamed Cheese Ravioli with Spring Vegetables & Tarragon Vinaigrette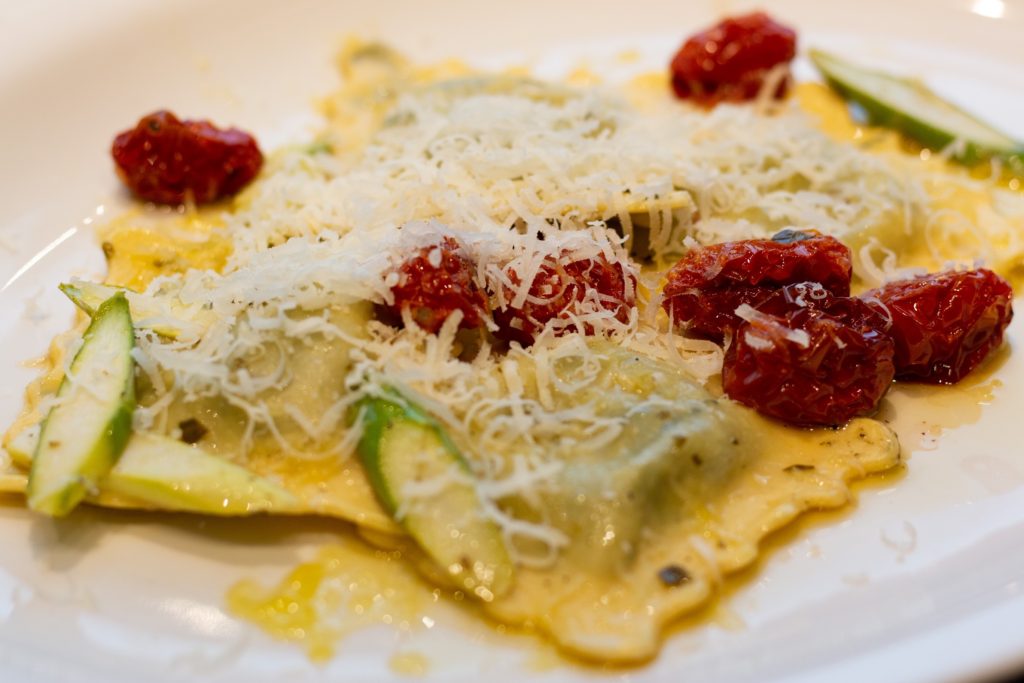 Serves: 4 as an appetizer or 2 as a main course
TARRAGON VINAIGRETTE INGREDIENTS:
• ½ cup extra-virgin olive oil
• ¼ cup sherry vinegar
• Salt and fresh cracked pepper to taste
• 1 tsp chopped fresh tarragon
• 1 packet of stevia for sweetness
TARRAGON VINAIGRETTE DIRECTIONS:
Shake or whisk all ingredients together to combine well and emulsify. You will need to repeat this often to retain your mixture.
STEAMED RAVIOLI INGREDIENTS:
• 1 twelve-ounce box of pre-made fresh cheese ravioli or tortellini
• 4 large stalks of asparagus, trimmed and peeled, tips reserved and stalks sliced thinly on the bias
• 16 ounces of good grape tomatoes
• Extra-virgin olive oil
• Fresh thyme
• Kosher salt
• 2 ounces of tarragon vinaigrette
• Parmesan Reggiano, to taste
STEAMED RAVIOLI DIRECTIONS:
Pierce each tomato, then toss with extra-virgin olive oil, kosher salt and fresh thyme. Place in convection oven set at 200°F and dehydrate for 2 hours or until skins burst and tomatoes lose a third of their weight.
Using the Convection Steam Oven, set mode to Steam 210°F and place ravioli and asparagus in a single layer onto perforated pan lined with parchment paper. Steam for 6-7 minutes or until ravioli is completely tender. Remove ravioli and asparagus from steam oven and using mixing bowl combine with dehydrated tomatoes.
Add tarragon vinaigrette and carefully toss until everything is well coated. Evenly portion out pasta mixture and top with freshly grated Parmesan reggiano to serve.