Broken Down Roasted Turkey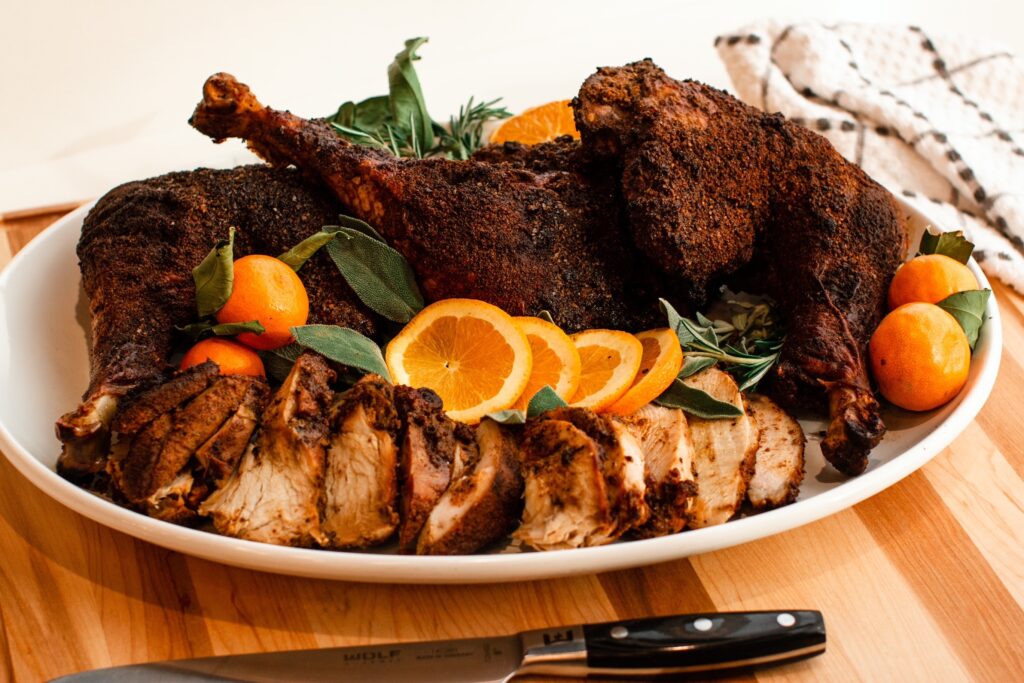 Makes: 8-10 servings
INGREDIENTS:
12-14 lb. turkey, neck and giblets removed (either break down yourself or ask your butcher)
4 tbsp crushed black pepper
4 tbsp kosher salt
2 tbsp garlic powder
2 tbsp onion powder
1 tbsp smoked paprika
1 tbsp dried thyme
1 tbsp brown sugar
Handful of fresh herbs of your choice (thyme, oregano, rosemary, sage, parsley)
4 cloves of garlic or garlic confit
2 strips of orange zest
⅓ cup soy sauce
⅓ cup sherry or red wine vinegar
⅓ cup honey
6 tbsp vegetable or canola oil
DIRECTIONS:
Mix together the pepper, salt, garlic powder, onion powder, paprika, thyme, and brown sugar. Place turkey pieces, skin side up, on a rack over a baking sheet. Generously sprinkle on mixture and allow to rest in the fridge uncovered, for at least 24 hours (2 days is ideal).
Remove turkey pieces from the wire rack and rinse baking sheet and rack. Line the pan with layers of foil and replace the rack. Place turkey pieces (dry rub still on), skin side up on rack and allow to come to room temperature, 1-2 hours.
During this time, heat herbs, garlic, orange zest, soy sauce, vinegar, and honey in a small saucepan over medium heat until glaze thickens – about 10 minutes. Remove from heat.
Place a rack in the middle of the oven and preheat to 400°F Convection Roast or in Wolf Convection Steam oven at 400° F, Convection Steam Mode. Rub turkey pieces with oil and pour 1 cup of water into the baking sheet (water only if not using steam oven). Place probe in one of the turkey breasts first and set probe temp alert to 163°F. Roast turkey until skin is mostly brown, about 25 minutes.
Reduce oven temperature to 300°F and continue to roast turkey, brushing with glaze every 20 minutes until internal temp is reached. Alternatively, check the breast meat starting at 1 hour to see if internal temp has reached 163°F. Add more water to pan in small increments as needed, if not using the steam oven.
Once the breast reaches temp, remove them from the pan to rest and place the probe in one of the thighs, set to 178°F. Alternatively, check every 30 minutes with an external probe. Once thighs reach temp, remove from oven.
Allow all turkey pieces to rest for at least 1 hour before slicing.