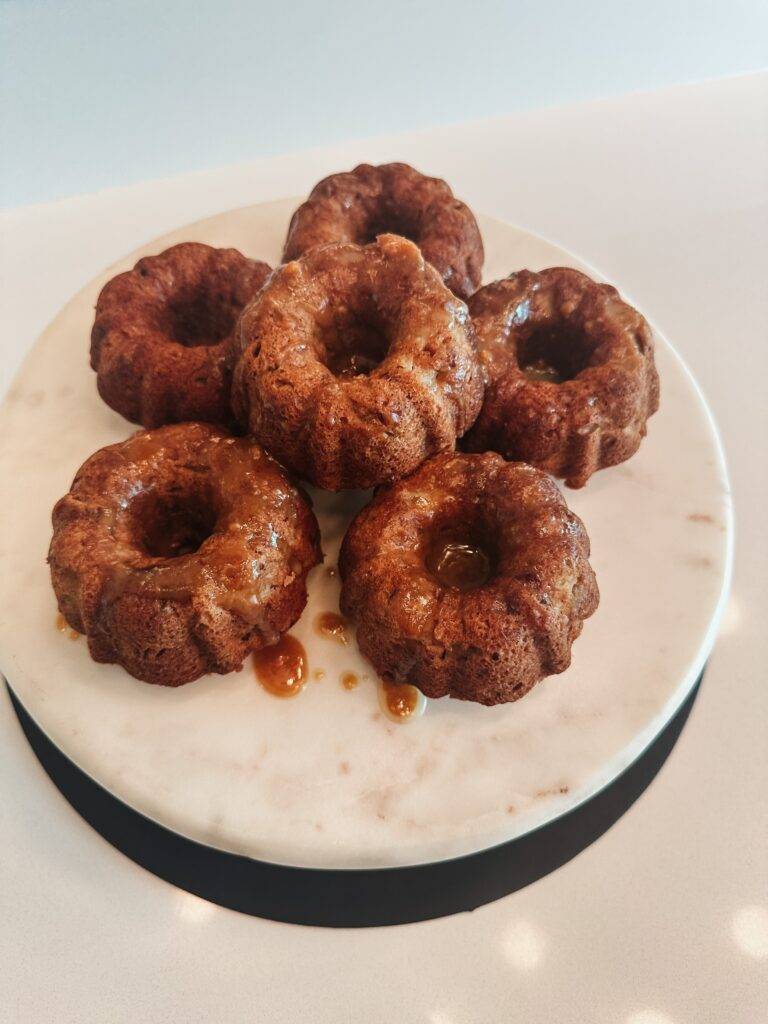 Makes: 12 servings
INGREDIENTS:
1 cup dates, pitted and coarsely chopped
1 cup water
1 cup AP flour
1 tsp ground cinnamon
¾ tsp baking powder
¾ tsp baking soda
½ tsp salt
¾ cup brown sugar
¼ cup unsalted butter, room temperature
2 large eggs
2 medium Bartlett or Anjou pears, peeled, cored and cut into small pieces, about 2 cups
Sauce:
¾ cup unsalted butter
1 cup brown sugar
3 tbsp white miso paste
1 cup heavy cream
Ice cream or whipped cream for serving
DIRECTIONS:
Preheat oven to 350°F bake or 325°F convection mode. Grease a 12 cup muffin tin with non-stick spray.
Stir together dates and 1 cup of water in a small saucepan. Bring to a boil and cook until dates are softened and liquid is mostly absorbed, about 5 minutes. Remove from heat and let cool. Using a fork, mash date mixture until smooth. Set aside.
Whisk together flour, cinnamon, baking powder, baking soda, and salt in a bowl.
Place brown sugar and butter in a bowl of a stand mixer fitted with a paddle attachment. Beat until light and fluffy, about 5-7 minutes. Add eggs, one at a time until fully incorporated before adding the next. With the mixer on low, gradually add the flour mixture, mixing until just combined. While mixture is still on low, add in date mixture.
Turn off mixer, remove bowl, and gently fold in pears. Do not overmix.
Spoon batter evenly into prepared muffin tin, leaving room at the top so the tops are flat. Bake in a preheated oven until firm in the center, about 18-22 minutes.
For the sauce, melt butter in a medium saucepan over medium low. Add brown sugar, miso and whisk until dissolved. Whisk in heavy cream. Be careful, as it may bubble up. Let mixture come to a gentle boil while whisking, about 1 minute. Remove from heat and set aside.
Once cakes are done, remove from oven and immediately poke holes in cake with skewer. Spoon about 1 tablespoon of sauce over each cake. Let cakes cool in muffin tin, about 20 minutes, occasionally poking holes so the sauce sinks in. Invert cakes onto serving plates and top with more sauce and whipped cream or ice cream.
*Can also be done in a springform pan or 8". Allow cook time to be 30-45 minutes.