Caramelized Onion Potatoes Au Gratin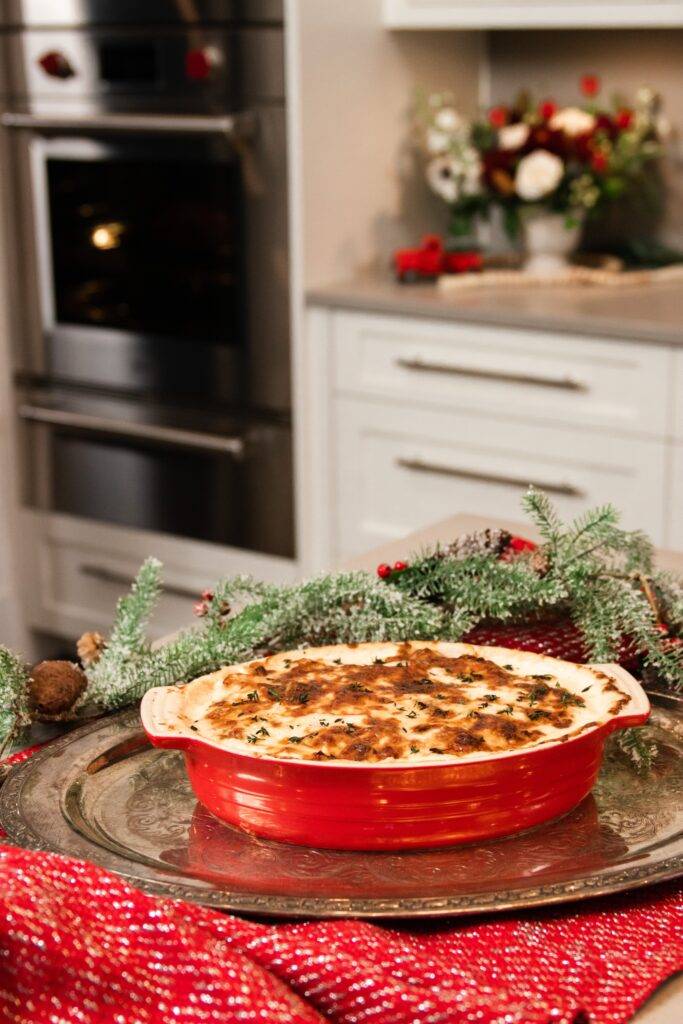 Watch the recipe walkthrough on our YouTube channel:
Makes: 8 servings
INGREDIENTS:
● 4 tbsp unsalted butter divided
● 2 sweet yellow onions thinly sliced
● 1 tsp sugar
● 4# about 4-5 large russet potatoes, peeled and sliced about 1/8″ thick on a mandoline
● 2 ½ cups heavy cream
● 1 ½ cups half & half
● 3 garlic cloves grated
● 2-3 sprigs of fresh thyme
● 2 bay leaves
● Pinch of Nutmeg
● 6 oz gruyere cheese shredded on box grated
● Kosher salt and black pepper
DIRECTIONS:
In a medium skillet, melt 2 tablespoons of butter over medium-low heat. Add the onions to the skillet and toss to coat. Season with some salt and cook, stirring occasionally, until they start to turn golden brown. Sprinkle with the sugar and cook until deeply amber in color. Set aside to cool. In a 4 qt pot or dutch oven, combine the cream, half and half, garlic, thyme, bay leaves, and nutmeg. Season with salt and pepper. Add the potatoes to the pot and bring to a gentle simmer over low heat. Simmer for 15 minutes, or until the potatoes are just starting to become tender. Season to taste with salt and pepper, if needed. Remove from the heat and rest for 10 minutes.
Preheat an oven to 375°F bake or 350°F convection . Butter a 3 qt baking dish with the remaining butter and set aside. Discard the thyme sprigs and bay leaves from the potatoes. Using a slotted spoon, transfer half of the potatoes to the prepared baking dish. Layer in half of the caramelized onions and cheese and cover with the rest of the potatoes. Pour the remaining creamy sauce in the pot over the potatoes and top with the remaining onions and cheese. Bake uncovered for 35-40 minutes if using bake mode and 30-35 minutes if using convection mode until the cheese is bubbly and golden brown and the potatoes are tender. Rest the potatoes for 15 minutes before serving. Top with more fresh thyme, if desired.