Pumpkin Salted Caramel Cheesecake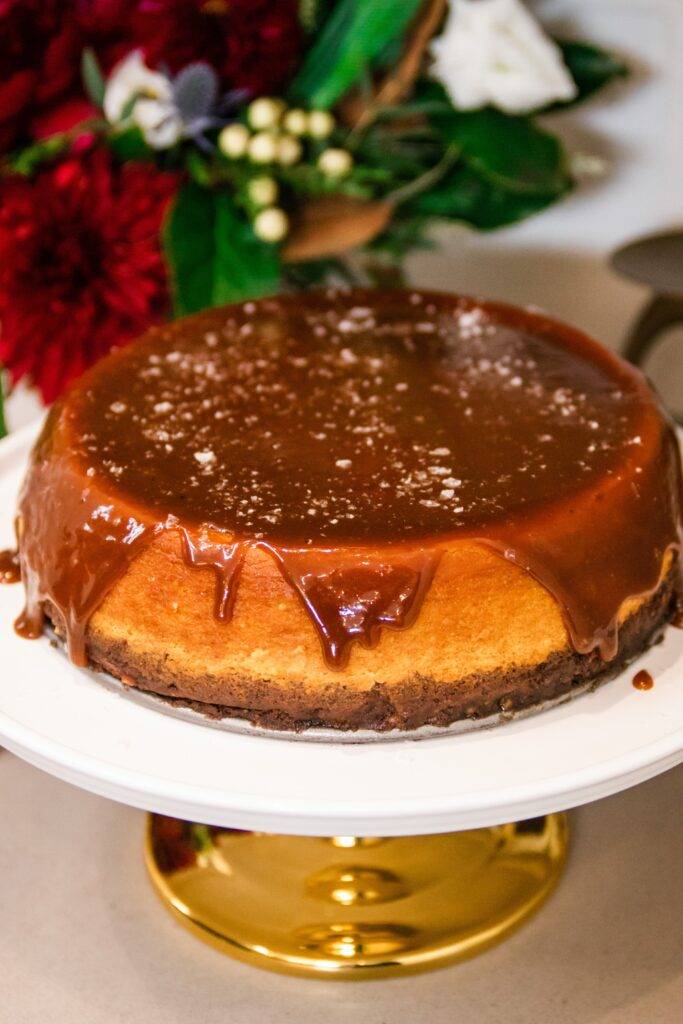 Watch the recipe walkthrough on our YouTube channel:
Makes: 12 servings
SALTED CARAMEL INGREDIENTS
● ⅔ cup granulated sugar
● ¼ cup water
● ⅔ cups heavy cream, room temp
● 4 tbsp unsalted butter
● 1 cup packed dark brown sugar
● 1 tsp flake sea salt, plus more for topping, if desired
● 1 tsp vanilla extract or paste
● 1 tbsp bourbon
CHOCOLATE PECAN COOKIE CRUST INGREDIENTS
● 8 oz chocolate wafer cookies
● ¼ cup chopped pecans
● 6 tbsp unsalted butter, melted
CHEESECAKE FILLING INGREDIENTS
● 24 oz cream cheese, at room temperature
● 1 ½ cups granulated sugar
● 15 oz pumpkin puree
● ¼ cup salted caramel sauce, homemade or store-bought, plus more for topping
● ¼ cup sour cream
● 3 large eggs plus 1 egg yolk
● 1 tsp ground cinnamon
● ½ tsp fresh ground nutmeg
● ¼ tsp ground cloves
● 2 tbsp all-purpose flour
● 1 tsp vanilla extract or vanilla bean paste
DIRECTIONS:
Make the caramel sauce first. Place the sugar and water in a medium pot or saucepan, swirling to coat the sugar. Bring the mixture to a boil over high heat, then reduce to medium and cook, swirling the pan occasionally to dissolve the sugar, until the sugar turns a dark amber color, 8-10 minutes.
Meanwhile, microwave the heavy cream in a small heatproof bowl until warmed, about 30 seconds.
Once the sugar in the pot reaches the desired color, lower the heat to low and add the butter, stirring, until melted. Slowly add the heavy cream a little at a time, stirring constantly (be careful as the mixture will bubble over), until fully added. Once all the cream is combined, add the dark brown sugar, salt, vanilla, and bourbon.
Bring the mixture back to a simmer, stirring for 30 seconds. Pour the caramel into a
heatproof bowl and place plastic wrap on the surface. Preheat the oven to 325°F bake or 300°F convection mode. If using the Wolf Convection Steam Oven, preheat Convection mode to 300°F. Spray a 9-inch springform pan with nonstick cooking spray. In the bowl of a food processor, combine the cookies and pecans. Pulse until finely ground. Add the butter and pulse until moistened. Press into the bottom and halfway up the sides of the pan. Bake for 10 minutes in preheated oven. Place on a wire rack to cool.
Change mode to Convection Steam 300°F.
In the bowl of a food processor or electric mixer, beat the cream cheese, sugar, pumpkin puree, cooled caramel, and sour cream until smooth. Add the eggs and yolk, cinnamon, nutmeg, cloves, flour, and vanilla and puree until just combined. Pour over the crust and spread evenly. Bake for 1 hour, or until set and dry at the edges but slightly jiggly in the center. Turn off the oven and allow to cool inside for 15 minutes before removing to a cooling rack to cool to room temperature, Refrigerate for at least 6 hours, or overnight. The cheesecake can be refrigerated for up to 3 days. Pour caramel sauce over the top.