The Real Deal Green Bean Casserole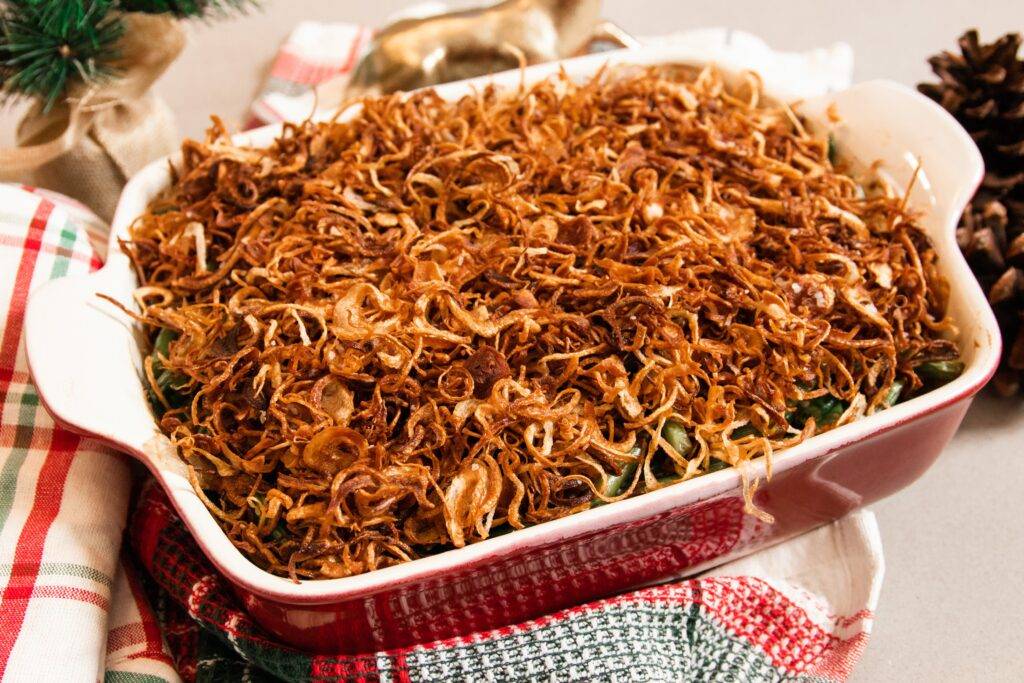 Watch the recipe walkthrough on our YouTube channel:
Makes: 10-12 servings
INGREDIENTS:
● 1# shallots, peeled and sliced 1/8 inch thick on a mandoline
● 2 cups canola oil
● Kosher salt
● 1 ½# baby bellas finely chopped
● 1 tbsp soy sauce
● 2 tsp fresh lemon juice
● 2 cups chicken or veggie stock
● 1 ½ cups heavy cream
● 2 tbsp unsalted butter
● 2 cloves garlic, finely minced or grated
● ¼ cup all-purpose flour
● Black pepper
● 2# green beans, preferably haricot verts, ends trimmed, cut into 2-inch segment
DIRECTIONS:
Combine shallots and oil in a medium saucepan. Place over high heat and cook, stirring frequently, until shallots are completely golden, about 15-18 minutes. Remove with a slotted spoon or spider and drain on power towels. Salt while still hot. Reserve shallot oil. Allow shallots to cool completely. Once they've cooled, transfer to a sealed airtight container. Shallots can be made up to 3 days in advance.
Combine soy sauce, lemon juice, chicken stock, and heavy cream in a 1-quart liquid measuring cup or medium bowl. Add 2 tbsp reserved shallot oil and butter to a 12-inch nonstick skillet. Heat over high heat until butter is melted and foaming subsides. Add mushrooms and pinch of salt to the skillet and cook, stirring occasionally, until liquid has evaporated and mushrooms begin to sizzle, 6 to 10 minutes.
Reduce heat to medium-high. Add garlic and cook, stirring constantly, until fragrant,
about 30 seconds. Add flour and cook, stirring constantly, until light golden blond, 1 to 2 minutes. Whisking constantly, add stock and cream mixture. Bring to a boil, reduce to a simmer, and cook until mixture achieves a texture between pancake batter and heavy cream, about 5 minutes. Season to taste with salt and pepper. Preheat the oven to 350F bake mode or 325F convection mode. In a large pot, bring 1 gallon water and ¼ cup kosher salt to a boil over high heat. Fill a large bowl with ice water. Add green beans to water and boil until tender but still bright green, about 6 minutes. With a slotted spoon or spider, transfer to ice water until completely cooled. Drain green beans and set aside. Combine green beans, mushroom sauce, and 1 cup fried shallots in a large bowl. Transfer to a 9- by 13-inch rectangular baking dish or a 10- by 14-inch oval baking dish. Bake until hot and bubbly, 15-20 minutes for bake or 12-15 mins if using convection.
Top with remaining cup fried shallots and serve.