Crispy Artichoke Pakoras with Charred Scallion Remoulade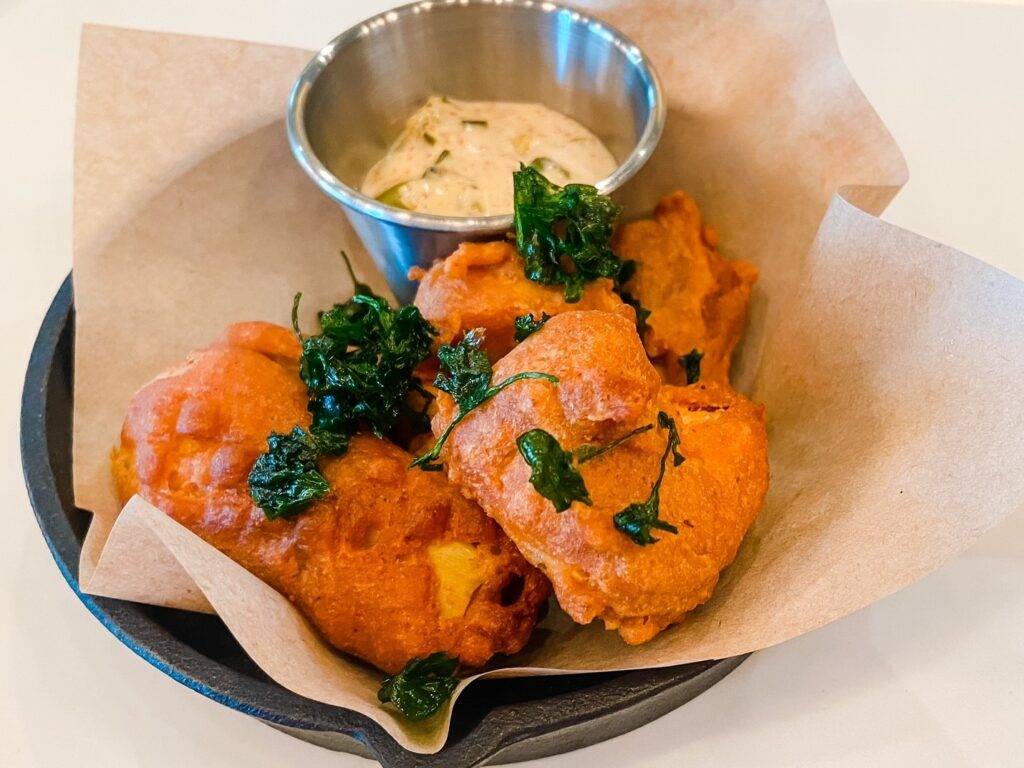 Makes: 4-5 appetizer portions
Artichoke Ingredients:
● 1 large can artichoke hearts
● 2 Tbsp chickpea flour
● 1 tsp rice flour
● 2 tsp chili powder
● 1 tsp cumin powder
● Salt & pepper
● Olive oil for frying
Remoulade Ingredients:
● 1 egg yolk
● 1/4 cup Creole mustard (preferably Zatarain's), or other whole grain mustard
● 2 1/2 tbsp red wine vinegar
● 1 tbsp prepared horseradish
● 1 tsp kosher salt
● 1/2 tsp cayenne
● 1/4 tsp freshly ground black pepper
● 1 clove garlic, minced
● 3/4 cup vegetable oil
● 1/4 cup olive oil
● 1/2 cup finely minced celery
● 1/2 cup charred green onions/minced (white and green parts)
● 1/4 cup mayonnaise
● 1/4 tsp Worcestershire sauce

Artichoke Directions:
Drain the artichoke hearts from the can and pat dry. Cut in Half. Combine chickpea flour, rice flour, chili powder, cumin, salt, pepper, & just enough water to blend everything together (1-2 tbsp). Toss with artichokes. Heat pan over medium/high heat with 2-3 tbsp olive oil. Fry artichokes until golden brown on all sides and transfer to a paper towel lined sheet tray. Toss with Salt, Pepper, Herbs and Serve.
Remoulade Directions:
Using charbroiler, season green onions with olive oil, salt & pepper and grill until marks are evident, but scallions are not burned. Chop and Reserve.
In a nonreactive mixing bowl, whisk together the egg yolk, mustard, vinegar, horseradish, 3/4 teaspoon of the kosher salt, cayenne, and black pepper. On a cutting board, mash the garlic to a paste with the remaining 1/4 teaspoon of kosher salt using the side of a chef's knife. Add the garlic paste to the bowl and whisk to combine.
Combine the oils in a measuring cup with a pour spout and while whisking continuously, drizzle the oil blend very slowly into the mustard mixture until a smooth, thick emulsion is formed. Whisk in the celery, green onion, mayonnaise, and Worcestershire sauce and chill thoroughly before using, up to 2 days in advance.