Spring Vegetable Panzanella with Leek Vinaigrette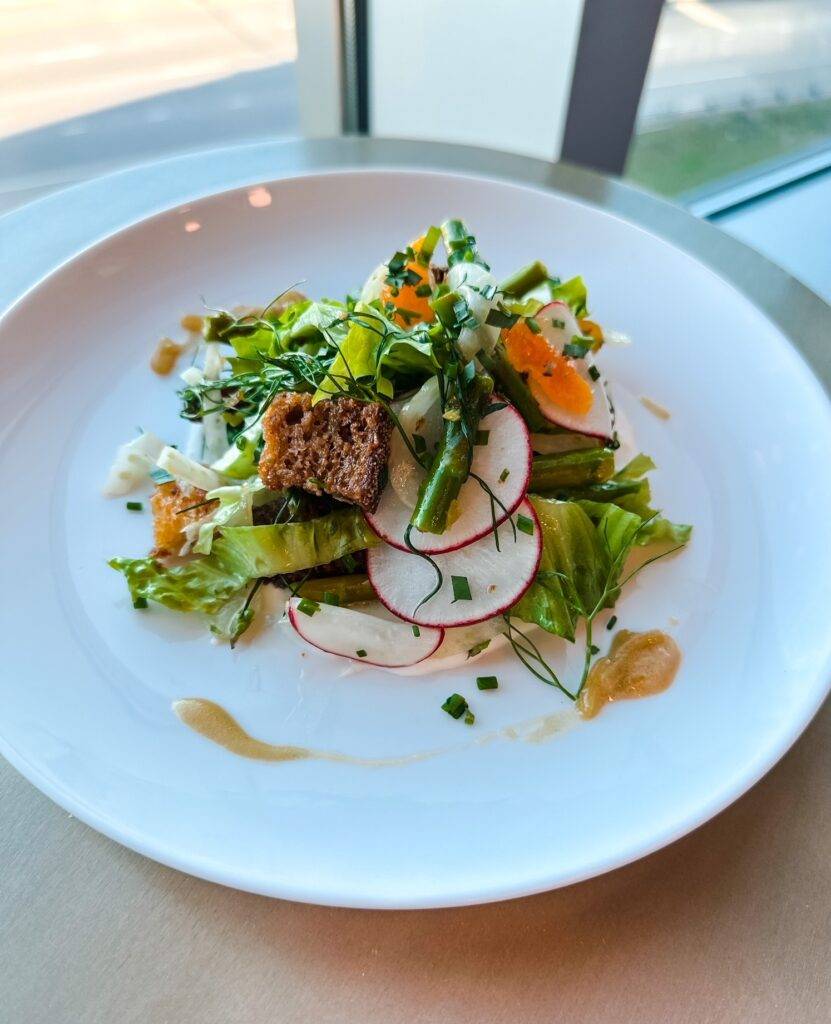 Makes: 5-6 appetizer salads
SALAD INGREDIENTS:
● 1 bunch asparagus
● 2 Heads Frisee Lettuce
● 1 lb english peas
● 1 bunch red radishes
● 1 large bulb fennel
● 8 oz dried apricots
● 1 loaf torn bread
● 6 oz chives
● 3 oz tarragon
● 2 oz olive oil
● 1 lemon (juiced)
● Salt & pepper
WHIPPED FETA INGREDIENTS
● 8 ounces block quality feta, drained
● ¾ cup Greek yogurt
● 1 lemon zest
● 2 tablespoon extra virgin olive oil, more as needed
● 1 teaspoon Aleppo pepper, or red pepper flakes (to your taste)
LEEKS VINAIGRETTE INGREDIENTS
● 1 medium leek (white and pale green parts only), chopped
● 3 tablespoons olive oil
● 1 tablespoon red wine vinegar
● 1 tablespoon Dijon mustard
● 1 teaspoon Worcestershire sauce

SALAD DIRECTIONS:
Cut asparagus into 1 inch pieces. Steam asparagus & english peas in steam Oven for 12 minutes at 210°F. Then shock in ice cold water and save for later.
Clean & cut radishes into thin slices on mandoline. Clean & cut fennel into thin slices on mandoline. Soak apricots in water and 1 tbsp sugar to rehydrate, if needed.
Tear bread, toss with salt, pepper, and 1 tbsp olive oil and cook on 350°F convection until browned and crispy. Mince chives and tarragon and save for later.
WHIPPED FETA DIRECTIONS
In the bowl of a large food processor fitted with a blade, combine the feta, Greek yogurt and lemon zest. Blend, and while the processor is running, drizzle olive oil through the top opening, until the feta is whipped to a smooth mixture. Save for Later. Can be made a day in advance.
LEEKS VINAIGRETTE DIRECTIONS
Steam leeks in Convection Steam Oven on Steam mode for 10 minutes or until tender, set aside. Whisk olive oil, vinegar, mustard and Worcestershire sauce in a medium bowl. Stir in leeks. Season dressing with salt and pepper. Can be made 1 day ahead. Cover; chill.
ASSEMBLE SALAD
Toss peas, asparagus, fennel, apricots, radishes, herbs, frisee lettuce & croutons in large bowl with lemon juice, olive oil, salt & pepper. Spread small amount of whipped feta on the bottom of plate or bowl. Mound salad on top of whipped feta. Drizzle with leeks vinaigrette, both on top and around the plate.