Edamame "Pesto", Burrata, Lemon, Dill Toasts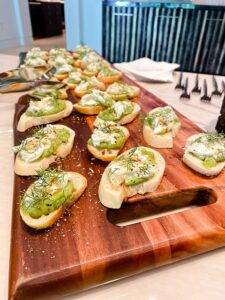 Vegetarian
Serves: 40
INGREDIENTS:
● 2 baguettes
● Bag frozen shelled edamame, thawed
● Handful of basil
● EVOO
● 2 large or 4 small burrata balls, torn
● Zest and juice of 2 lemons
● Fresh dill sprigs for garnish
● Lemon mint leaves for garnish
● Hot honey, homemade or store bought
● Kosher salt
● Flake salt and black pepper

DIRECTIONS:
Zest lemons and set zest aside. Juice lemons for pesto. Make pesto by combining
edamame, basil, lemon juice, evoo in blender with pinch of kosher salt. Spread on toast.
Put a small amount of torn burrata on top, garnish with a dizzle of hot honey, dill sprig,
lemon mint sprig, lemon zest, flake salt and black pepper.