Marinated Watermelon and Whipped Feta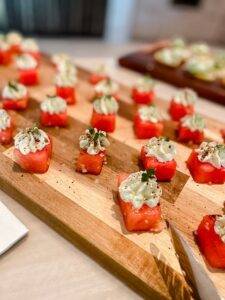 Gluten-Free, Vegetarian
Serves 30-40
INGREDIENTS:
● 2 tbsp Champagne vinegar
● 1 small shallot, minced
● One 2" piece of ginger, peeled and finely grated
● ¼ cup plus 3 tbsp EVOO
● Kosher salt
● One 5# seedless watermelon, peeled and cut into 4-by-1-inch rectangles
● 1 tbsp pink peppercorns
● 1 ½ tsp black peppercorns
● 1 tsp sumac
● ½ tsp cayenne
● 1# feta cheese, preferably Greek
● ⅓ cup lightly packed mint leaves, torn
● Flaky salt and black pepper

DIRECTIONS:
In a medium bowl, whisk the vinegar with the shallot, ginger and 3 tbsp of the olive oil.
Season the marinade with kosher salt. Place the watermelon in a large resealable bag
and pour in the marinade. Refrigerate for 30 minutes.
Meanwhile, in a small skillet, toast the pink and black peppercorns over moderately high
heat until fragrant, 2 minutes. Transfer to a spice grinder or mortar and pestle and let
cool, then grind to a powder. Transfer to a small bowl and mix with the sumac and
cayenne.
In a food processor, puree the feta until smooth. With the machine on, drizzle in the
remaining ¼ cup of olive oil.
Spread or pipe the whipped feta on each slice. sprinkle with the spices. Garnish with the
mint and salt and pepper.