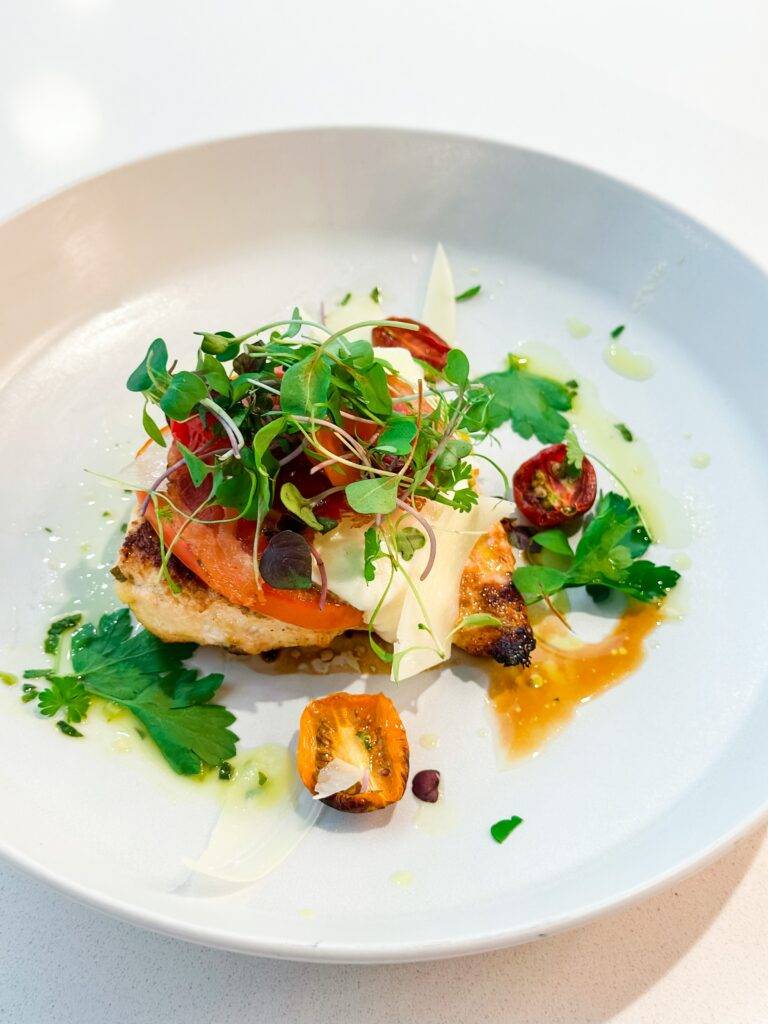 Makes: 4 servings
INGREDIENTS:
● 4 chicken breast cutlets
● 1 cup lemon dressing
● ¼ cup kalamata or castelana olives, pitted
● 4 slices pancetta
● Olive oil
● Salt and pepper
● 1 large heirloom tomato, sliced
● ¼ cup carrot top pesto or basil pesto
● 1 large ball mozzarella, sliced
● 2 cups baby greens or micro greens
● ½ cup parsley leaves, left whole
● ¼ cup shaved parmesan
● Handful sun dried tomatoes for garnish
DIRECTIONS:
Season chicken cutlets lightly with salt on both sides and toss them with ¼ cup lemon dressing. Allow to sit in the refrigerator for up to 2 hours to marinate. During marinating, use a blender or food processor to combine olives with 5 tbsp lemon dressing, creating a thick olive spread. Preheat oven to 350°F convection. Place slices of pancetta on sheet pan and cook until crispy, about 4-6 mins. Transfer to paper towels and drain. Make sure chicken is at room temperature or close. On the charbroiler, griddle, or saute pan, place about a tablespoon of oil on surface and cook chicken over medium heat for 5 minutes per side. Top each chicken cutlet with 1 slice of tomato, 1 tablespoon of pesto, and 1 slice of mozzarella cheese. Place on sheet pan in oven and cook for 5 mins or until the tomato is heated through and cheese is starting to melt.
To serve, plate chicken. In a bowl, toss greens and parsley with remaining lemon dressing, and place on top of chicken. Garnish with crispy pancetta and parmesan cheese.