Roasted Sweet Potato and Beet Salad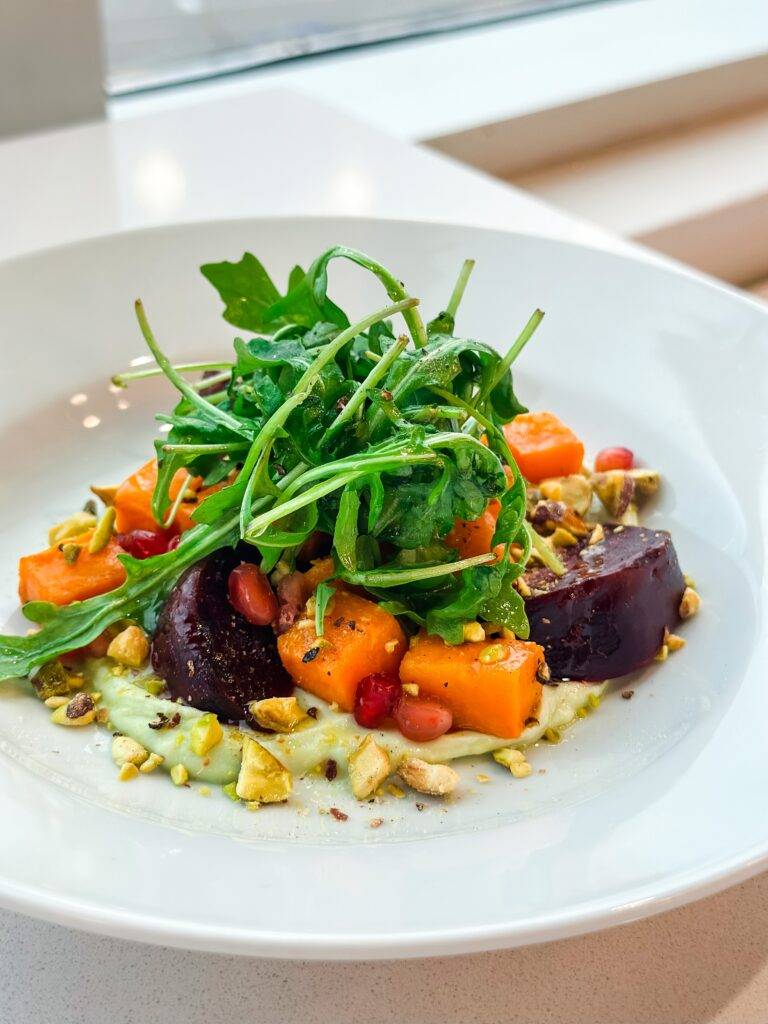 Makes: 4-6 servings
INGREDIENTS:
● 6 beets
● Olive oil
● salt and pepper to taste
● 6 sweet potatoes, scrubbed, peeled and cubed into 1" pieces
● 1 ½ cups full fat ricotta
● 1 tbsp honey
● ½ avocado
● 1 tbsp fresh lemon juice
● ½ cup toasted pistachios, roughly chopped
● ¼ cup pomegranate seeds
● 2 cups baby arugula
● 2 tbsp orange juice
● 1 tbsp olive oil
DIRECTIONS:
Preheat oven to 375°F roast mode. Wash beets under cold water and cut off the top and bottom. Cut beets in half and toss with olive oil, salt & pepper. Lay out a large piece of tinfoil, top with a piece of parchment paper. Wrap and seal beets. (or place beets in a greased baking dish and cover).
Roast the foil package for 1 hour or until beets are tender when poked with a fork. Using rubber gloves or paper towels, rub the beets and the skins will just slide right off. Toss sweet potatoes with olive oil and roast in same oven but remove after 25-30 minutes or until golden. To make the dressing, combine ricotta, honey, avocado, and lemon juice in food processor. Process until smooth. Add salt and pepper and olive oil (if needed). Should be a thick spread like consistency.
Combine the fresh orange juice and olive oil. Toss small amount with arugula. Place ricotta mixture on bottom of plates. Top with beets and sweet potatoes, dressed arugula, pistachios, and pomegranate seeds.