Grilled Pineapple with Malibu Rum Caramel Drizzle and Toasted Coconut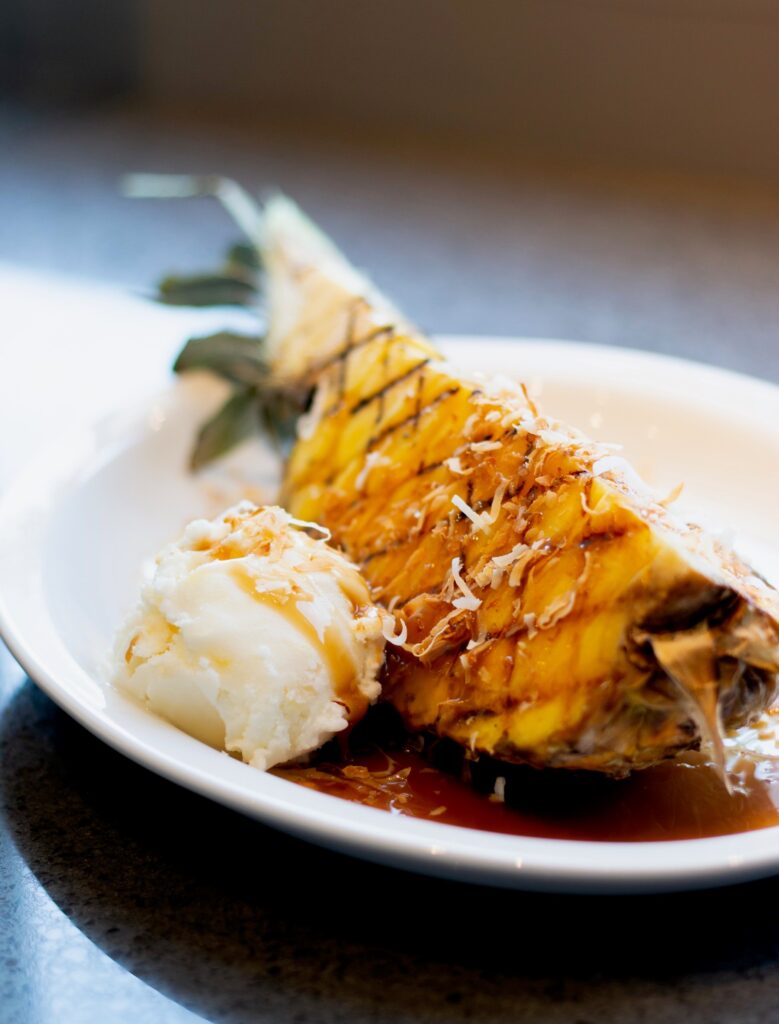 The Charbroiler is great for quick-grilling fruits, vegetables and breads.
Things to know: The charbroiler requires adequate ventilation
and is not recommended for island installation.
Serves 4 as a dessert
INGREDIENTS:
• 1 whole pineapple, cut into quarters lengthwise, greenery left intact
• Canola oil, for brushing
• Malibu Rum Caramel Drizzle, recipe follows
• ¼ cup unsweetened coconut flakes, toasted*
• Vanilla or coconut ice cream, if desired
DIRECTIONS:
Allow 10-15 minutes for the charbroiler to reach a medium to high temperature. Brush both sides of each quarter of pineapple with canola oil. Grill, turning ¼ turn after about 1-1 ½ minutes, to create a diamond pattern. Repeat on the other side.
Once cool enough to handle, use a thin flexible knife to follow the shape of the pineapple to remove the flesh from the skin. Cut each piece into 5-6 slices and return to pineapple shell.
*To toast coconut: Heat a skillet over medium heat. Add the coconut and toast until lightly golden brown.
To serve: Drizzle each piece of pineapple with Malibu Rum Caramel Drizzle and scatter toasted coconut over top. Serve with vanilla or coconut ice cream if desired. (Tip: Grill extra pineapple to add to salads, rice dishes or yogurt at another meal.)
MALIBU RUM CARAMEL SAUCE INGREDIENTS:
• ¾ cup brown sugar
• ½ cup dark corn syrup
• 2 tablespoons butter
• ½ cup heavy cream
• ½ teaspoon pure vanilla extract
• 1 tablespoon Malibu rum
MALIBU RUM CARAMEL SAUCE DIRECTIONS:
Combine brown sugar, corn syrup and butter in a 1-quart saucepan. Stirring frequently, bring to a full boil over medium heat and boil 1 minute. Remove from heat; immediately stir in cream, sea salt, vanilla extract and Malibu rum. Refrigerate leftovers.
Optional variations:
Bourbon: Add 1 tablespoon bourbon to brown sugar, corn syrup and butter mixture and follow recipe.
Cinnamon: Add 1/2 teaspoon ground cinnamon with cream, sea salt and vanilla. Mix well.
Praline: Add 1/2 cup chopped, toasted pecans with cream, sea salt and vanilla.