Herb Marinated Chicken Breast or Hanger Steak with Chimichurri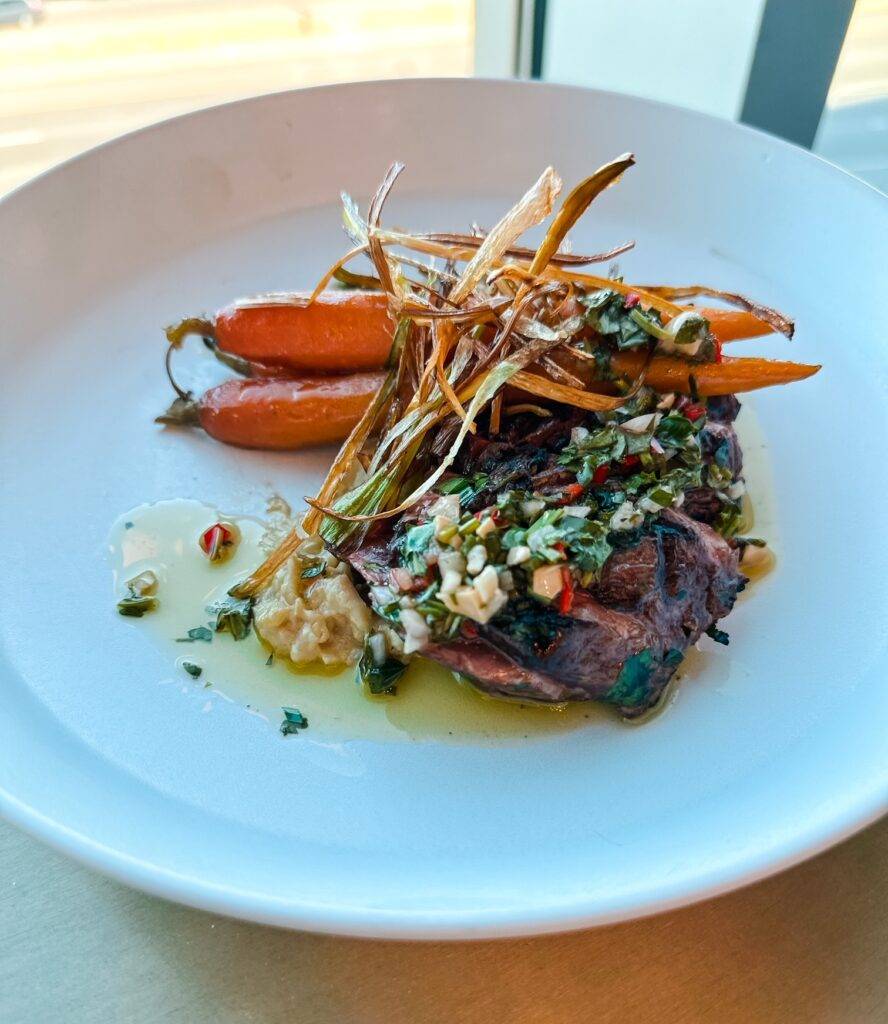 Makes: 4 Portions
INGREDIENTS
● 4 ea airline/frenched chicken breast or Hanger steak
● 1 tbsp parsley(chopped)
● 1 tbsp tarragon(chopped)
● 1 tbsp chives(chopped)
● Olive oil
● Salt & Pepper
CHIMICHURRI INGREDIENTS:
● 1 shallot, finely chopped
● 1 Fresno chile or red jalapeño, finely chopped
● 3-4 garlic cloves, thinly sliced or finely chopped
● ½ cup red wine vinegar
● 1 tsp kosher salt, plus more
● ½ cup finely chopped cilantro
● ¼ cup finely chopped flat-leaf parsley
● 2 tbsp finely chopped oregano
● ¾ cup extra-virgin olive oil
Method:
CHICKEN BREAST:
Marinate chicken breast with herbs, salt & pepper, and olive oil. Seal in Ziplock or Sous Vide Bag for several hours or up to 24 hours ahead of time. Heat Oven to 250°F roast mode and place chicken on a wire roasting rack. Insert probe and set probe temperature to 160°F . Cook chicken until alerted it has reached internal temperature and remove to rest.
Heat griddle top to highest temperature and once hot, sear chicken on skin side until golden brown and crispy. This should take 3-4 minutes.
HANGER STEAK:
Marinate hanger steaks in herbs, garlic, salt & pepper. This can be done night before or several hours ahead of time. Heat charbroiler and grill steaks until you reach your desired temperature.
CHIMICHURRI DIRECTIONS:
Combine shallot, chile, garlic, vinegar, and 1 tsp. salt in a medium bowl. Let sit for 10 minutes. Stir in cilantro, parsley, and oregano. Using a fork, whisk in oil. Transfer ½ cup chimichurri to a small bowl; season with salt and reserve as sauce.
If using it for beef, place meat in a glass, stainless-steel, or ceramic dish. Toss with remaining chimichurri. Cover and chill at least 3 hours or up to overnight. Remove meat from marinade, pat dry, and grill. Spoon reserved chimichurri over grilled meat.