Loaded Mini Baked Potato Skins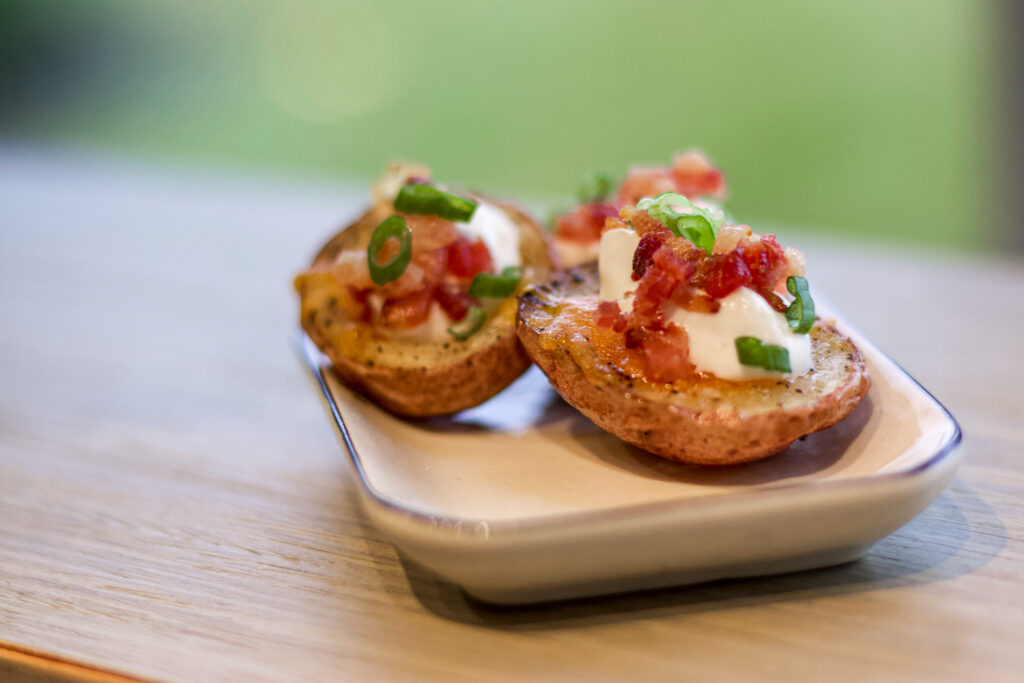 Makes: 24 pieces | Prep Time: 20 minutes | Cook Time: 15 minutes
The variations with this recipe are limitless. Top these little potatoes with caviar, smoked salmon, grilled vegetables, chutney…the list goes on. You can bake the shells the night before and reheat them gently before topping with cheese and broiling. Serving them warm is preferred but room temperature works, too. Use more- or less- cheese and toppings, just make sure to keep them finely chopped in keeping with the small scale of the potatoes.
INGREDIENTS:
• 12 small (uniformly sized) redskin potatoes, pierced a couple times with a fork
• Olive oil or olive oil spray
• Salt and pepper
• 1/2 cup sharp cheddar, finely grated (or 1/2 cup blue cheese, finely crumbled)
• Sour cream
• 3 strips bacon, cooked and finely crumbled
• 2 green onions, very thinly sliced
DIRECTIONS:
Heat oven to 350°F on Convection Mode. Working in batches, microwave potatoes a minute or two until just slightly softened. When cool enough to handle, cut each in half. Cut a small slice off the bottom of each to prevent the potatoes from tipping, Use a melon baller to remove the center of each potato, leaving about a 1/4-inch border.
Spray (or brush) a baking sheet with olive oil. Place shells, cut side up, on the prepared baking sheet. Spray (or brush) with olive oil again. Sprinkle with salt and pepper.
Bake 15 minutes or until edges are golden brown. Divide cheese between potatoes; broil until bubbly and melted, about 1-1/2 minutes. Top each potato shell with a dollop of sour cream, bacon and green onion slices. Sprinkle with a bit more black pepper. Serve.