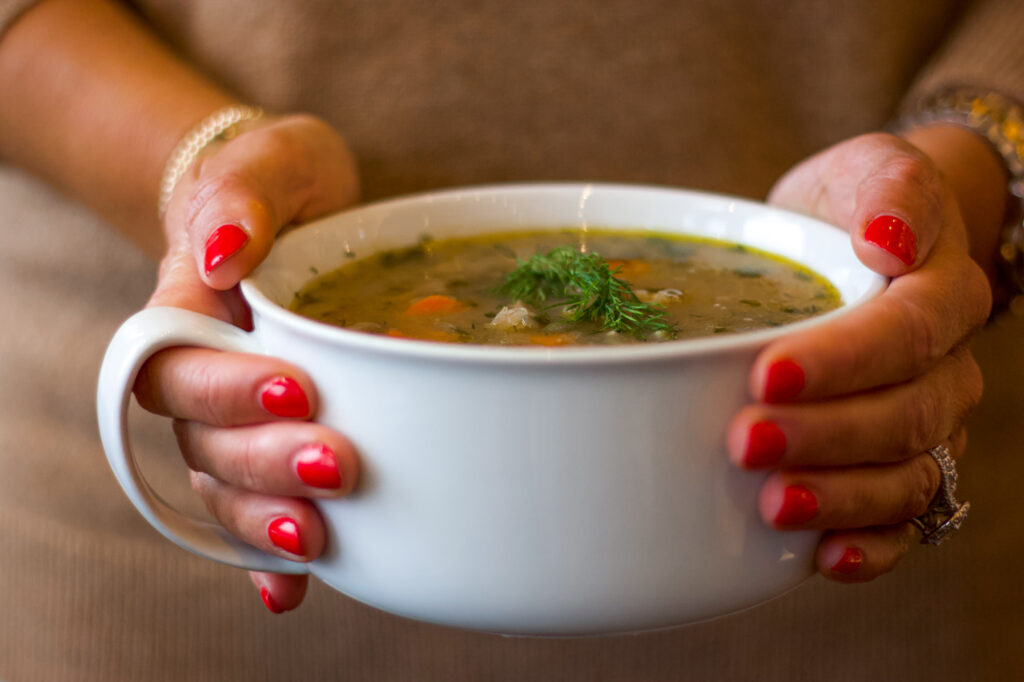 Serves: 6-8 | Prep Time: 15 minutes | Cook Time: 1 hour
This recipe is not only warm and delicious, but with it's health benefits it could alternatively be called ABC Soup as it's a great source of vitamins A, B and C. Carrots and celery are both good sources of vitamin A, which we need for our skin, eyesight and immune system. Mushrooms are packed with B vitamins which help convert food to energy and promote healthy skin, hair, muscles and brain function. Barley has a good amount of B vitamins, too. Vitamin C is a potent antioxidant that promotes skin health, aids our immune system and may boost the body's ability to metabolize fat. And although dill is rarely consumed in large amounts, it is proportionately rich in vitamin C. Another C is calcium and, ounce for ounce, parsley has more calcium than milk.
INGREDIENTS:
• 1/4 cup (1/2 stick) butter
• 1-pound mushrooms, stems removed, cut into quarters
• 2 large carrots, chopped
• 2 large celery stalks, chopped
• 1 onion, chopped
• 1/2 cup pearl barley, rinsed
• 2 tablespoons flour
• 8 cups vegetable broth
• 1/4 cup chopped fresh parsley
• 1 tablespoon chopped fresh dill
DIRECTIONS:
Melt butter in heavy large Dutch oven over medium-high heat. Add mushrooms, carrots, celery, onion and barley. Sauté until vegetables begin to brown, about 20 minutes.
Add flour to pot and stir 5 minutes. Gradually mix in broth. Bring soup to boil, stirring frequently. Reduce heat to medium and simmer until barley is tender and soup is beginning to thicken, about 40 minutes. Mix in parsley and dill. Season to taste with salt and pepper.
TIP:
Take the time to let the vegetables brown- it adds so much to the depth of flavor of this soup. You can really taste the mushrooms, celery and carrots. I'm always amazed at how delicious these simple ingredients can be. I like to quarter the mushrooms for great visual and textural appeal.