Reverse Seared Filet with Grilled Onion Jam, Garlic Thyme Butter Baste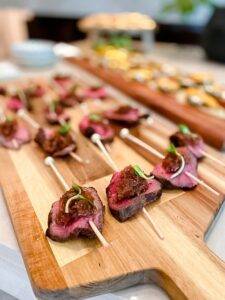 Serves: 12
FILET INGREDIENTS:
● 2 filets, about 5 oz each
● Garlic thyme butter (see recipe)
● Grilled onion jam (see recipe)
● Microgreens
● Salt and peppery
FILET DIRECTIONS:
Sous vide steak and butter at 131°F for 1-2 hours. Alternatively, turn on the oven to Roast
Mode 250°F and place the temp probe into steak. Set probe to 131°F and remove steak
once internal temp is reached. Allow to rest up to 3 hours. Sear in cast iron with garlic
thyme butter, slice, serve with jam and garnish with flake salt.

ONION JAM INGREDIENTS:
Makes 1 ½ cups
● 6 red onions, sliced
● Extra-virgin olive oil, for
brushing
● Kosher salt
● Pepper
● 3 cups apple cider vinegar
● ¾ cup pure maple syrup
● ¾ tsp finely chopped thyme
ONION JAM DIRECTIONS:
Light a grill or preheat a grill pan. Brush the onions with oil and season with salt and
pepper. Grill over moderate heat, turning once, until lightly charred and tender, about 7
minutes.
In a saucepan, bring the vinegar and maple syrup to a boil. Add the onions and simmer
over moderately low heat until thick and syrupy. Transfer to a bowl of food processor or
blender. Blend slightly until still chunky. Stir in the thyme. Season with salt and pepper.

GARLIC BUTTER INGREDIENTS:
● 6 tbsp unsalted butter, softened
● 2 tbsp minced thyme
● 6 garlic cloves, grated (or roasted and smashed)

GARLIC BUTTER DIRECTIONS:
In a bowl, blend the butter, thyme and garlic. Brush the herb butter on the steaks and
grill over high heat, turning once, until sizzling, 1 minute per side. Transfer to a carving
board. Slice the steaks and serve with the onion jam.