Miso Butterscotch Pot de Creme + Creme Fraiche Whipped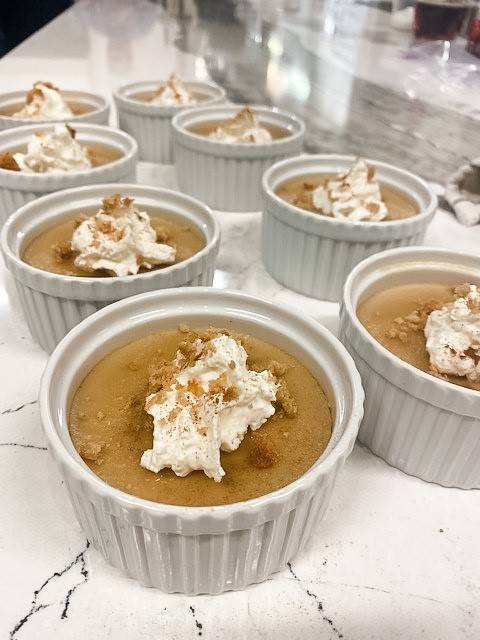 Makes: 10 ramekins
INGREDIENTS:
● 10 egg yolks, room temp
● 1 ½ cups dark brown sugar, packed
● 4 ½ tbsp unsalted butter
● 4 cups heavy cream
● ½ tbsp pure vanilla extract
● 1 tbsp miso paste
Creme Fraiche Whipped Ingredients
● ¾ cup whipping cream
● 3 tbsp buttermilk creme fraiche
● Flake salt for garnish

DIRECTIONS:
Preheat the steam oven to 200°F steam. Set a fine mesh sieve over a large liquid measuring cup. Place egg yolks in a large bowl and set aside. In a medium saucepan, cook brown sugar and butter, without stirring, until the sugar turns a deep amber color and develops a nutty smell, 10-15 mins. Pour the heavy cream into the mixture gradually, whisking constantly. Remove from heat and stir in miso paste. Slowly pour hot butterscotch mixture into the egg yolks, whisking constantly. Stir in vanilla. Strain the custard through the sieve into the measuring cup. Pour into the ramekins. Place in the steam oven and cook for 35 mins or until set. Should not jiggle when you shake the pan. Remove and allow to cool. Can be refrigerated for up to 1 week. Serve with whipped cream and flake salt over the top.