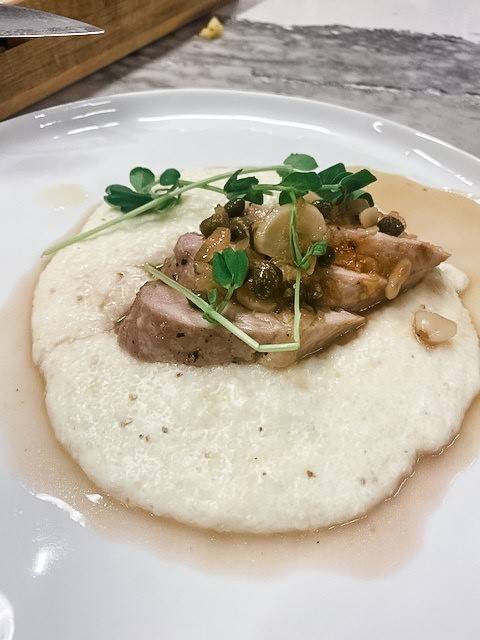 Makes: 10 servings
INGREDIENTS:
● 2 pork tenderloins
● Kosher salt
● 2 ½ tbsp sugar, divided
● 8 tbsp. extra-virgin olive oil, divided
● 5 large shallots, chopped
● 20 garlic cloves, thinly sliced
● 1 cup red wine vinegar
● 15 sprigs rosemary
● 5 tbsp drained capers
● 10 tbsp unsalted butter, cut into pieces

DIRECTIONS:
Season pork with salt and sprinkle evenly with 2½ tsp sugar. Heat 5 tbsp oil in a large skillet over medium-high. Sear pork on all sides. Reduce heat to medium and remove pork and place on rack over roasting pan and cook in 375°F Convection oven on Wolf Gourmet using temperature probe. Pour remaining 3 tbsp oil into same skillet and add shallot and garlic. Cook, stirring often, until softened and just beginning to brown, about 3 minutes. Add vinegar and remaining sugar to skillet. Cook, swirling pan occasionally, until vinegar is nearly evaporated, about 2 minutes. Add rosemary, capers, and ½ cup water to skillet; season with salt. Reduce heat as needed to maintain a very low simmer. Add butter and swirl pan continuously (and vigorously) until sauce becomes smooth, glossy, and emulsified. Transfer pork to plates and spoon sauce over.