Black Bean Soup with Bacon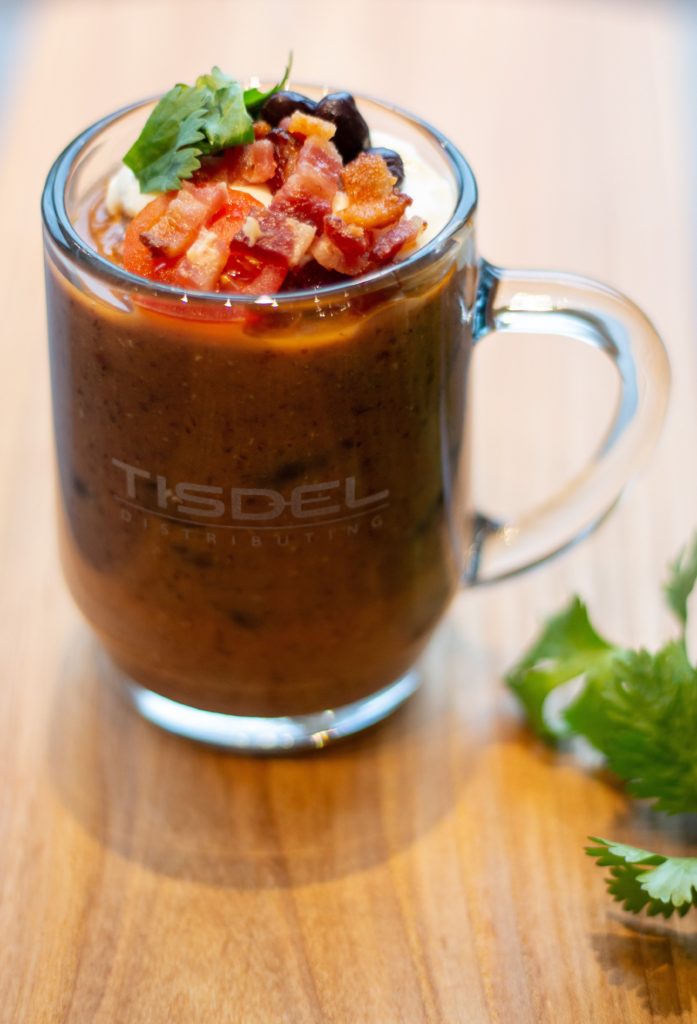 Serves: 4 | Prep Time: 15 minutes | Cook Time: 30 minutes
Tip: If you're trying to eat healthier, keep this soup in mind. Beans are packed with fiber, potassium, folate, vitamin B6 and help to lower cholesterol and decrease the risk of heart disease. This soup can easily become vegetarian by skipping the bacon and replacing the chicken broth with vegetable broth. Try adding a little smoked paprika to replace the bacon's smokiness. Don't skip the squeeze of lime- it's what adds a sparkly bright flavor to the beans. If you have a ripe avocado, dice it up and sprinkle over top too.
INGREDIENTS:
• 2 tablespoons olive oil
• 1 onion, chopped
• 3 slices bacon, diced, plus more for garnish, see below
• 4 garlic cloves, minced
• 1 tablespoon ground cumin
• 1 jalapeño, seeded and chopped
• 2 15-ounce cans black beans, drained and rinsed, divided
• 1 15-ounce can diced tomatoes, with juice
• 1 1/2 cups chicken broth
• Juice of ½ a lime
• Salt and pepper to taste
Garnish:
• Sour cream
• 2 strips crisply cooked bacon, crumbled
• Chopped fresh cilantro
• Sliced green onions
Heat oil in heavy large pot over medium-high heat. Add onion, bacon and garlic; sauté until onions are soft. Stir in cumin and jalapeño. Add one can of beans, tomatoes with juice, and broth; bring to a boil. Reduce heat to medium, cover and cook 15 minutes. Using a stick blender puree the soup (or transfer the soup to blender and puree until smooth. Return pureed mixture to pot). Stir in remaining can of beans. Simmer about 15 minutes. Stir in lime juice; season to taste with salt and pepper.
To Serve: Ladle soup into bowls. Garnish with sour cream, crumbled bacon, cilantro and green onions.
Make ahead: The soup can be made several days ahead and re-heated. Stir in a little more lime juice just before serving. Keep some Baked Bacon in the fridge. It makes for easy BLT's, super quick eggs & bacon and an effortless garnish for the soup.