Roasted Butternut Squash and Goat Cheese Tart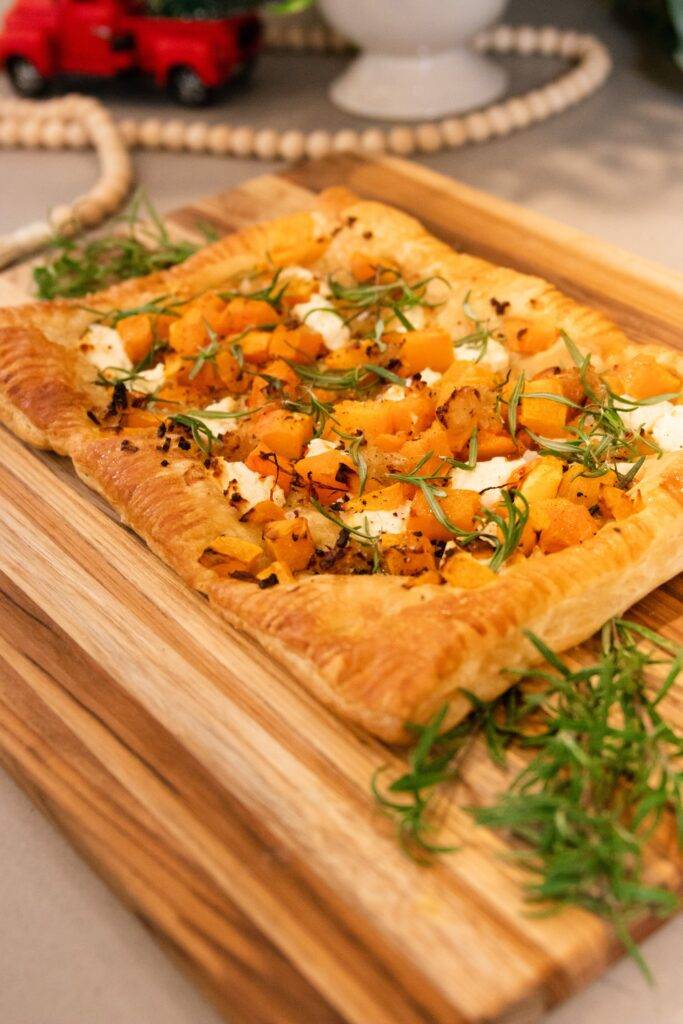 Watch the recipe walkthrough on our YouTube channel:
Makes: 4-6 servings
INGREDIENTS:
● 1 medium butternut (or delicata, buttercup, etc) squash peeled and chopped into wedges
● 2 tbsp olive oil
● 1 pack ready rolled puff pastry or pie crust
● 8 oz goat cheese log
● 1 tbsp butter
● 1 large shallot, finely diced and sauteed in butter until golden
● 2 medium rosemary sprigs roughly chopped
● 1 tbsp honey
● 1 tsp red pepper flakes
● 1 small egg beaten, for glazing
● Fresh cracked pepper
DIRECTIONS:
Preheat the oven to 375°F roast or 350°F convection. Place the squash on a sheet pan and toss with 1 tablespoon of olive oil. Season with salt and pepper and roast for about 15 minutes until it begins to soften and turns golden. Roll out the puff pastry into a baking tray. Score about ½" border around it and prick the inside of the border with a fork, all the way to the bottom of the baking tray. Spread with olive oil and scatter the small chunks of goat cheese all over. Add roasted butternut squash. Brush the scored border with egg wash. Drizzle with the remaining olive oil, season some more and place back in the oven for about 20 minutes until crisp and golden. Mix honey and red pepper flakes and drizzle over tart and sprinkle with rosemary and black pepper.