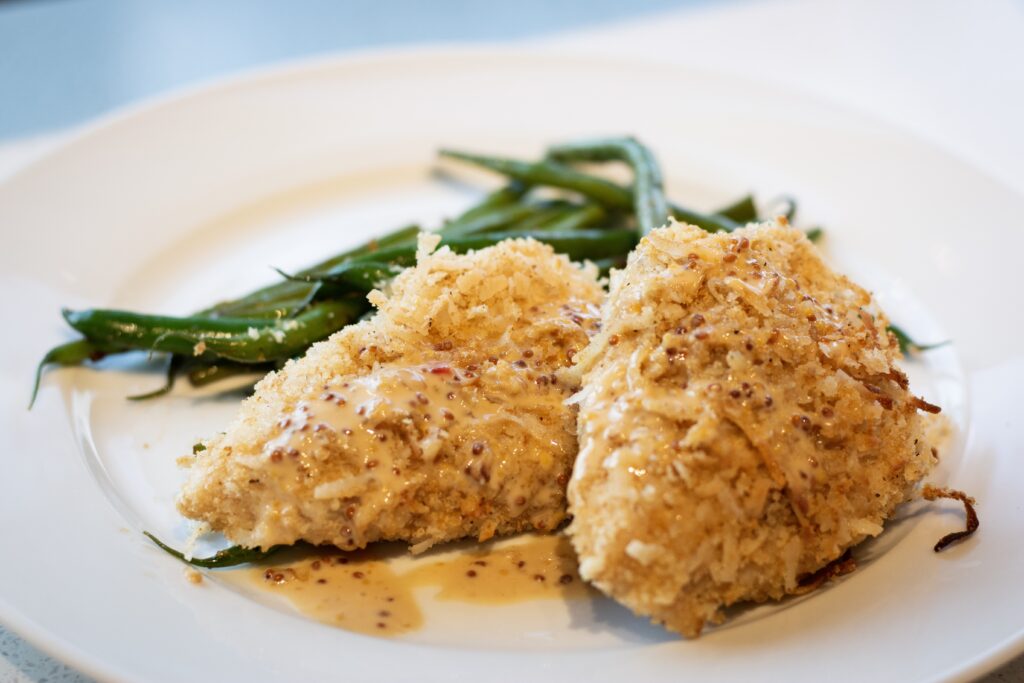 Convection Roast mode on the M-Series ovens will bring this recipe to perfection!
Serves: 4
COCONUT CHICKEN INGREDIENTS:
• 4 boneless, skinless chicken breasts (about 1 pound)
• 1 large egg white
• 1/8 teaspoon coconut extract
• 1/4 cup panko breadcrumbs
• 1/4 cup plain breadcrumbs
• 1/4 cup unsweetened (or sweetened shredded coconut)
• 1/4 teaspoon salt
• 1/4 teaspoon black pepper
• 1 teaspoon canola oil
COCONUT CHICKEN DIRECTIONS:
Preheat the oven to 425°F. Cover the chicken breasts in plastic wrap and gently pound to 1/4-inch thickness. Set aside.

In a medium shallow bowl, whisk together the egg white and coconut extract. In another medium shallow bowl mix together the breadcrumbs, coconut, salt, pepper and oil.

Dip each breast into the egg mixture, allowing excess to roll off, roll in coconut crumbs and place on a baking sheet. Spray the chicken breasts with cooking spray and bake for 18-20 minutes, or until coating is golden brown and chicken is cooked through.
(Quick Tip: Here is a tasty drizzle to take this recipe over the top! Whisk together 1 tablespoon each Dijon mustard, light mayonnaise, and honey, and 2 teaspoons apple cider vinegar. Drizzle about 1 tablespoon across each cooked chicken breast just before serving.)
ASIAN GREEN BEANS INGREDIENTS:
• 1 pound fresh green beans, trimmed, freshly cooked just until crisp-tender
Sauce:
• 1 tablespoon sesame oil
• 1 tablespoon brown sugar
• 2 tablespoons chili paste with garlic
• 2 tablespoons soy sauce
• 1 tablespoon rice wine vinegar
ASIAN GREEN BEANS DIRECTIONS:
Heat sauce in a shallow skillet until combined and bubbly. Remove from heat. Add freshly cooked beans, stir to coat. Serve.