Homemade Gyros with Tzatziki & Tabouleh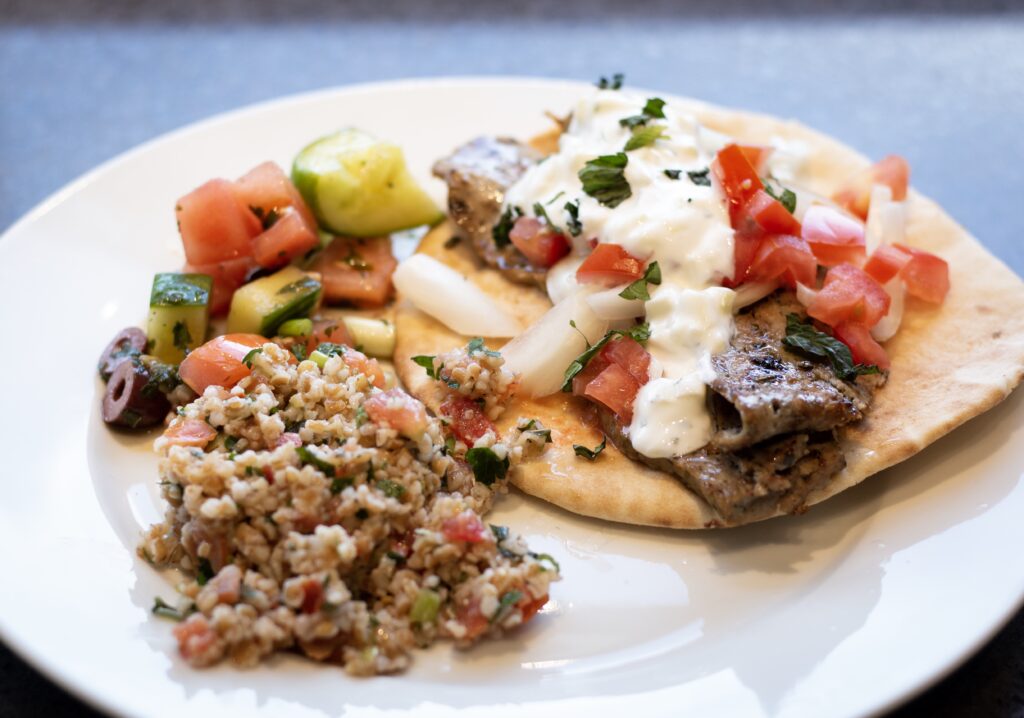 The steam from the Convection Steam oven will keep the lamb moist while the convection heat speeds up the cooking process. Additionally, using the steam to cook the bulgar wheat is a great alternative to boiling or soaking in water.
CUCUMBER YOGURT SAUCE INGREDIENTS:
Makes 1 ½ cups
• 1 cup plain yogurt
• ½ medium cucumber, peeled, seeded, and finely chopped
• Pinch kosher salt
• 2 cloves garlic, finely minced
• 1 teaspoon olive oil
• 2 teaspoons white wine vinegar
• 3 mint leaves, finely minced
CUCUMBER YOGURT SAUCE DIRECTIONS:
In a medium mixing bowl, combine the yogurt, cucumber, salt, garlic, olive oil, vinegar, and mint. Serve as a sauce for gyros.
GYRO INGREDIENTS:
• 2 cloves garlic
• 1 teaspoon dried marjoram
• 1 ½ teaspoons dried rosemary (or 1 tablespoon fresh)
• ½ medium onion, grated
• 2 1/2 teaspoons kosher salt
• 3/4 teaspoon freshly ground black pepper
• 1 pound ground lamb
• Thinly sliced onion, chopped tomatoes and Greek pitas for serving
GYRO DIRECTIONS:
Preheat steam oven to 300°F on Convection Steam Mode.
In a food processor, while running, drop the garlic, marjoram, rosemary, onion, salt and pepper into the feed tube. Process until finely chopped and well blended, scraping down sides of bowl as needed.
Press the lamb mixture in an ungreased loaf pan; place the loaf pan into the steam oven on wire rack. Bake for 30 minutes, then carefully drain off fat. Let stand 20 minutes. Remove meat from pan; slice into very thin lengthwise slices. Serve in pitas with Cucumber Yogurt Sauce, sliced onions and chopped tomatoes.
TABOULEH INGREDIENTS:
Makes: 6 Servings
• 1 cup bulgur wheat
• 1 1/4 cups water
• 1/3 cup olive oil
• 3 tablespoons fresh lemon juice
• 3 plum tomatoes, seeded and diced
• 2 green onions, finely chopped
• 2 cups fresh Italian parsley, chopped
• 2 tablespoons chopped mint
• Kosher salt
• Freshly ground black pepper
TABOULEH DIRECTIONS:
Pour the bulgur wheat into a small baking dish or 9×9 inch pan. Place into the steam oven on the wire rack in the center of the oven. Select the Steam Mode set to 210°F. Cook for 25-30 minutes. Remove from the oven and stir
gently. Place on the counter or in the refrigerator to cool.
In a small bowl whisk together olive oil and lemon juice and set aside.
Pour the bulgur into a large bowl. Add remaining ingredients and stir to combine. Pour the oil mixture into the salad and stir. Season with salt and pepper to taste. Allow flavors to blend for at least 45 minutes before serving, stirring occasionally.