Salted Caramel Mini Peach Pies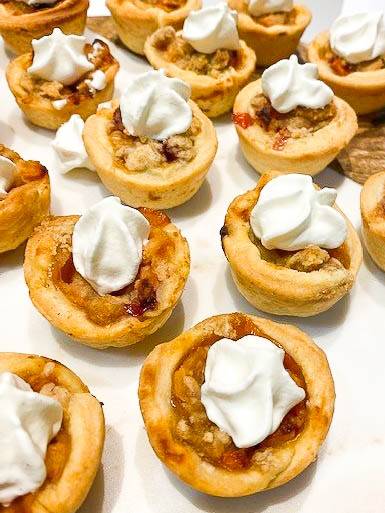 Makes: 12
INGREDIENTS:
● 2 refrigerated pie crusts or homemade

For Filling:
● 3 ½-4 cups diced fresh peaches (weight about 18 oz when peeled and pitted)
● 2 tbsp caramel sauce, store bought or homemade
● Kosher salt
● 2 tbsp cornstarch
● ¼ tsp cinnamon

For Crumb Topping:
● 1 cup all-purpose flour
● ¼ cup light brown sugar
● ¼ cup granulated sugar
● ½ tsp cinnamon (or more to taste)
● 6 ½ tbsp unsalted butter-melted and cooled
DIRECTIONS:
To make the filling, toss diced peaches with cornstarch and caramel sauce to coat all
peaches well. Season with a little salt. Set aside. To make the crumb topping combine all
ingredients and stir with a fork until pea sized crumbs form. Place in the fridge until
ready to use. Preheat the oven to 400F Convection Mode or 425F Bake mode. Spray a
regular cupcake pan with nonstick spray or brush each cup generously with vegetable
oil. Roll out pie crust on floured work surface and using a 4 inch cutter cut out 12
circles. Press each circle of pie crust into the bottom and sides of each cup.
Add about 2 tablespoons of peach filling in each cup (fill almost to the top).
Top each pie with a pile of crumbs. Bake 8 minutes at 425 F or 10 minutes if baking at
400F, then reduce heat to 325 F (if using convection) and 350F (if using bake) and bake
for additional 20-25 minutes, until the crumbs and pie crust becomes golden brown.
Cool the pies in the pan for 25 minutes, then transfer to a rack to cool completely.
Drizzle with caramel sauce for serving. Sprinkle with flake salt and/or top with dollop of
whipped cream if desired.