Sweet Potato Cake with Ganache, Sous Vide Vanilla Cardamom Poached Pears & Candied Pistachios with Black Pepper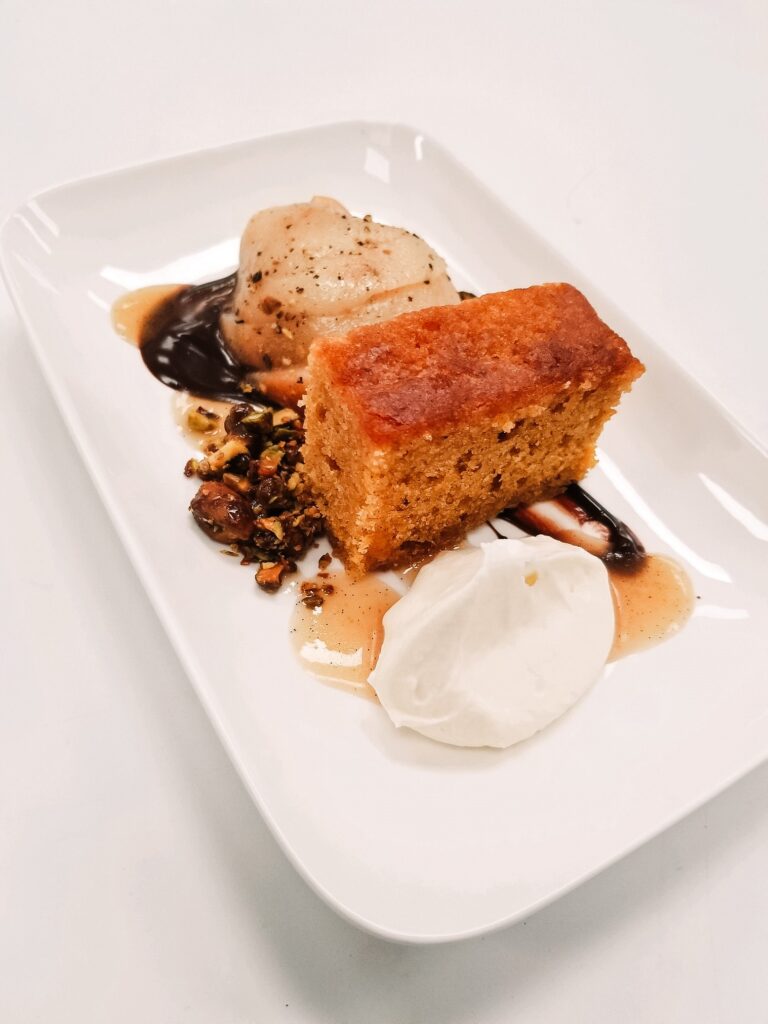 Serves: 12
SWEET POTATO CAKE INGREDIENTS:
● 1lb. sweet potatoes (2–3 medium), peeled, cut into 1″ pieces, or 1 cup (250 g) canned sweet potato purée
● Unsalted butter or nonstick vegetable oil spray (for pan)
● 2½ cups (313 g) all-purpose flour
● 1¾ tsp. kosher salt
● 1 tsp. baking powder
● ½ tsp. baking soda
● 2 tsp. ground cinnamon
● ½ tsp. freshly grated nutmeg
● ¼ tsp. ground cloves
● 2 large eggs, room temperature
● 1½ cups (300 g) granulated sugar
● 2 tsp. finely grated orange zest
● 1 tsp. vanilla extract
● 1 cup vegetable oil

SWEET POTATO CAKE DIRECTIONS:
Place a rack in the middle of the oven (position 2 or 3) and preheat to 400°F. If using raw sweet potatoes, wrap in foil and roast on a parchment-lined baking sheet until tender (a knife should slide easily into flesh), about 50–60 minutes. Unwrap sweet potatoes and let sit until cool enough to handle. Transfer to a small bowl. Using a potato masher or fork, smash until smooth. Measure out 1¼ cups (250 g) purée; save any extra for another use. Reduce oven temperature to 325°F. Butter a 9×5″ loaf pan, or lightly coat with nonstick spray. Line pan with parchment paper, leaving overhang on the long sides. Whisk flour, salt, baking powder, baking soda, cinnamon, nutmeg, and cloves in a medium bowl. Whisk mashed sweet potato (homemade or canned), eggs, granulated sugar, zest, and vanilla extract in a large bowl until smooth. Gradually add oil, whisking constantly until completely incorporated. Using a rubber spatula, fold in dry ingredients in 2 batches, mixing just until combined after each addition. Scrape batter into prepared pan and smooth surface with an offset spatula. Bake cake until golden, and a tester inserted into the center comes out clean, about 75–90 minutes. Transfer cake to a wire rack and let cool in pan for 15 minutes. Using parchment overhang, lift cake out of pan and onto rack. Remove parchment and let cake cool completely.

GANACHE INGREDIENTS:
● ½ cup heavy cream
● 4 tbsp unsalted butter, cut into 1″ pieces
● 3 tbsp. granulated sugar
● 2 tbsp. brewed coffee
● ¼ tsp. kosher salt
● 8 oz. (227 g) bittersweet chocolate
● ½ tsp. vanilla extract

GANACHE DIRECTIONS:
Bring cream, butter, sugar, coffee, and salt to a simmer in a small saucepan over medium heat. Remove from heat, add chocolate and vanilla, and whisk until chocolate is melted and mixture is smooth. Let cool until thickened slightly, around 40–60 minutes. Pour ganache over cake (it should flow over the sides) and using a small offset spatula, smooth it evenly over surface. Chill cake until ganache is set, 20–30 minutes. Bring cake to room temperature before serving.
Do ahead: Unglazed cake can be baked 3 days ahead. Store tightly wrapped at room temperature.


SOUS VIDE VANILLA CARDAMOM POACHED PEARS INGREDIENTS
Serves 4
● 2 large, red Bartlett pears, rinsed and dried
● 3 oz. raw honey
● ½ fresh vanilla bean, split and scraped
● 4 pods cardamom, crushed

SOUS VIDE VANILLA CARDAMOM POACHED PEARS DIRECTIONS
Fill and preheat the CSO Sous Vide to 156°F. Peel, core, and halve the pears and put them into a cooking pouch with the honey, vanilla, and cardamom. Submerge in the water oven to cook for 35 minutes, depending on ripeness. They should be past "al dente". Carefully remove them from the water bath and refrigerate or serve.


CANDIED PISTACHIOS WITH BLACK PEPPER INGREDIENTS + DIRECTIONS
● 225g pistachios
● 20g EVOO
● 30g coconut sugar
● 30g maple syrup
● 4g salt
● 4g black pepper

Bake at 350°F for 15 minutes.