Fall Salad with Pumpkin Goddess Dressing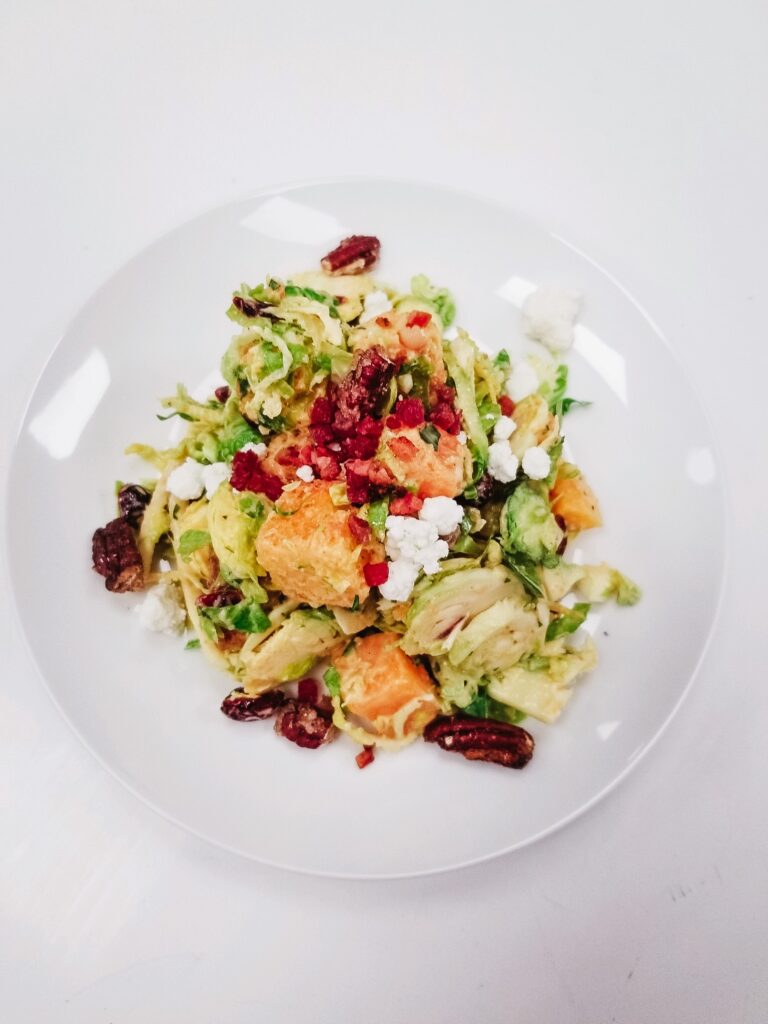 Serves: 5-6
INGREDIENTS:
For the Pumpkin Goddess Dressing:
● ½ cup plain Greek-style yogurt or sub with sour cream or mayonnaise
● 1 tbsp apple cider vinegar
● 1 tbsp olive oil
● 1 tbsp maple syrup
● ¼ cup sour cream or additional plain Greek-style yogurt
● ¼ cup pure pumpkin puree
● 1 tsp minced garlic
● ½ tsp salt
● ¼ tsp dried thyme leaves
● ¼ tsp cinnamon

For the Salad:
● 1 acorn squash plus olive oil, maple syrup, cinnamon, and salt for roasting*
● 1 cup cubed butternut squash
● 1 honeycrisp or pink lady apple, thinly sliced
● ½ cup candied toasted pecans
● ¼ cup dried cranberries
● 4 cups shaved brussels sprouts (about 1 ½" whole, then cut off ends and outer leaves)
● Cornbread, toasted and cubed
● Goat or gorgonzola crumbles (or substitute shaved parmesan or cheddar)
● Crispy pancetta or prosciutto


DIRECTIONS:
Combine dressing ingredients in a blender or food processor. Store in the fridge for up to 2 weeks.

Cut ends from acorn squash and then in half. Scoop out seeds, then slice into thin, half-moon slices. Roast in a 375°F Convection Oven on a sheet pan lined with parchment paper (for easy clean up), for about 30 minutes or until soft and golden brown. Toss halfway through cooking. Do the same for the butternut squash, but peel them if using whole. Otherwise the store-bought cubed butternut squash work great. Cube and toast cornbread at 350°F on Bake mode, or 325°F on Convection mode for 10-15 minutes or until browned on edges. Toss halfway through. Allow all ingredients to cool. Combine ingredients in a bowl and toss with dressing.