Standing Rib Roast with Sauce Trio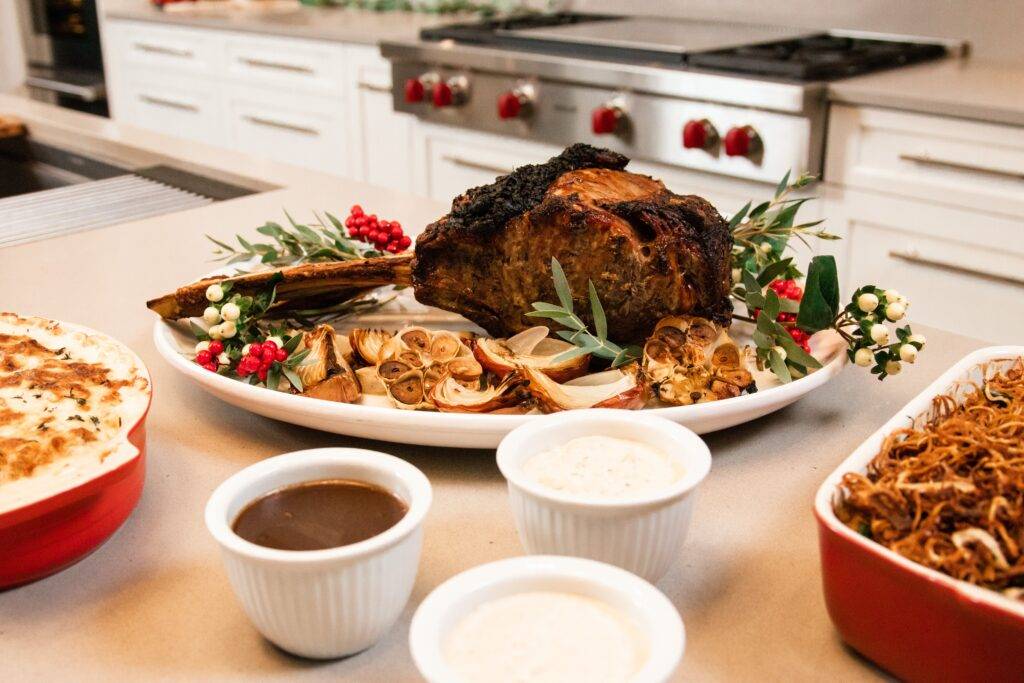 Watch the recipe walkthrough on our YouTube channel:
Makes: 6-8 servings
INGREDIENTS:
● 5# standing rib roast/prime rib, bone in or out
● 1 onion, unpeeled, quartered
● 1 head of garlic , unpeeled, halved horizontally
● 5 sprigs thyme
● 3 sprigs rosemary
Garlic butter
● 10 tbsp unsalted butter , softened
● 5 garlic cloves, minced or roasted garlic cloves
● 2 tsp finely chopped fresh rosemary (or 1 tsp dried)
● 2 tsp finely chopped fresh thyme (or 1 tsp dried)
● 2 tsp kosher salt
● 1 tsp black pepper
DIRECTIONS:
Take beef out of the fridge 1-2 hrs before cooking to bring to room temp. Pat dry with paper towel. Preheat the oven to 450°F roast mode and 425°F convection. You can also follow steps on
beef roast using the Wolf Gourmet on your oven if applicable. Adjust the rack so beef will be sitting in the middle of the oven. Place onion, garlic and herbs in a heavy based ovenproof skillet or use a roasting pan.
Mix ingredients for garlic butter together. Spread a thin layer of butter on the underside of the beef (the bone side). Place beef on onion bed, butter side down. Spread about 2/3 of the butter on the top and sides. Reserve some for the next step.
Roast for 20 minutes. If using temp probe, program to internal temp of 140°F for medium rare. Remove, spread over remaining butter. Turn the oven down to 250°F roast and 225°F convection and roast for another 1 ½ hrs, basting every 30 minutes with juices in the bottom of the pan, until the internal desired temperature is reached. Transfer beef to a shallow dish and tent for 30 minutes to allow it to rest.
RED WINE JUS INGREDIENTS:
● 1 ½ cups low sodium beef stock
● 2 ½ cups dry Pinot Noir
● 1 tbsp cornstarch
● 2 tbsp water
RED WINE JUS DIRECTIONS:
Place the skillet with onion and garlic left in it on the burner over high heat. Add wine and beef stock, rapidly simmer for 10 minutes until it reduces by ⅔ or so, down to 1 ½ cups of liquid. Lower heat to medium. Mix cornstarch with 2 tbsp water. Drizzle in half and stir. Sauce will thicken in 1 minute or so. Add more cornstarch water mixture if you want thicker consistency. Check for seasoning and season accordingly. Strain and keep warm to serve.
CREOLE MUSTARD CREAM SAUCE INGREDIENTS:
● 1 shallot, minced, about 3 tbsp
● 1 tbsp olive oil
● 1 garlic clove, minced or roasted garlic clove
● 1 cup dry white wine
● ¼ cup Creole mustard
● 2 tsp sugar
● 1, 8 oz container sour cream
● Kosher salt and black pepper
CREOLE MUSTARD CREAM SAUCE DIRECTIONS:
Sauté shallot in hot oil in a medium skillet over medium heat 2 minutes or until soft; add garlic, and sauté 1 minute. Stir in wine, mustard, and sugar; bring to a boil. Cook, stirring constantly, 3 minutes or until mixture has thickened and is reduced by about half. Remove from heat, and whisk in sour cream, salt, and pepper. Serve warm.
ALEPPO HOT HONEY YOGURT SAUCE INGREDIENTS:
● 1 cup Greek yogurt
● Juice of 1 lemon
● 2 cloves garlic, grated or roasted cloves
● 1 tsp smoked paprika
● 3 tbsp hot honey, store bought or honey mixed with red pepper flakes
● 2 tsp kosher salt
● 2 tsp cumin
● 2 tsp Aleppo pepper
● 2 tsp sumac
ALEPPO HOT HONEY YOGURT SAUCE DIRECTIONS:
Mix all ingredients together in a bowl or in a food processor for smoother consistency.
Serve chilled or room temperature.